diy sprinkles art
This post may contain affiliate links. Please read my disclosure policy.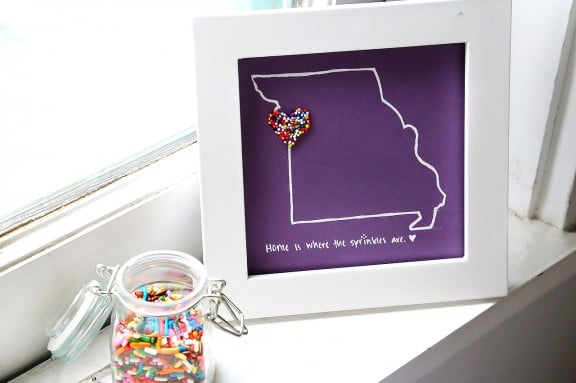 Hey everyone! It's Ali, over from Gimme Some Oven. I got a little crafty last week while making a gift, so thought it would be fun to share a step-by-step tutorial with you here at Gimme Some Style!
This project was inspired by a going away present that I created for my good friend Cassie. She moved this week from Kansas City to her new home in the heart of Missouri, so I made the initial version of this art with two hearts that you can see here. But afterwards, my friends who were over and saw the project in process mentioned that they would love to know how to make a version for their (single) home city. So thus, this DIY "sprinkles art" tutorial idea was born!
I've attempted my first little DIY craft tutorial below, so bear with me as I learn how to give step-by-step instructions for things that aren't food! ;)  Hopefully it will answer your questions, and inspire you to create a little sprinkles art of your own.
Cheers to great cities, great homes, and of course, great sprinkles!!!

Supplies You Will Need:
Photo Step-By-Step Tutorial:

Instructions:
Assemble your materials as listed above.
Cut out a piece of colored scrapbook paper to fit the size of your frame. (I just pulled out the temporary photo that came with the frame, and cut the paper to match that size.)
Then go online and Google Image Search your desired state/city/country, or whatever you would like the outline in the artwork to be. Print it out in a size that fits your frame. (I had to downsize my Missouri printout a bit, which you can do in Photoshop, your photo software, or often you can even do in the "Print Setup" page. Or you can also draw your state freehand if you get something simple like Colorado!!)  :)
Use the white gel pen to trace the outline of your state. I went over my outline twice to give it a little extra thickness.
Then draw an approximate outline of your "heart" in your desired city, and write a caption if you'd like. I wrote "home is where the sprinkles are".
Next comes the part where you need to move quickly. Get your sprinkles ready, and position your paper over a plate or something that can catch the extra sprinkles. Use a hot glue gun to quickly and accurately fill in the heart shape in your desired location. Go quickly, but also be sure to take time to get the shape just right because it is hard to fix later.
Then immediately pour the sprinkles on top of the glued heart, and press down very lightly to make sure that they stick. Then lift up the paper and shake off the extra sprinkles, and also carefully detach any hot glue strings that may be remaining.
Then admire your heart!!! (***A few notes for if your heart isn't as perfect as you'd like. If the shape really isn't what you were going for, you can wait for the glue to dry and then carefully pry it off the paper and try again. But if there are just a few sprinkles out of place, I also grabbed a pair of tweezers and removed/added a few extra sprinkles where they needed to go. You can use the tweezers to ever-so-slightly dip a sprinkle into the hot glue to stick it on. But alas, this is the perfectionist in me!***)
Then use a glue stick to cover the back of the frame thoroughly with glue. Carefully press the colored paper onto the back of the frame, then secure the front of the frame to form your photo. If you want, you can add in the glass, but the frame I bought didn't have room with the glass for the sprinkles, so I left it open.
Enjoy this in your home, or give it away as a gift. The more sprinkles in the world, the merrier! :)