Super-Easy Ravioli Lasagna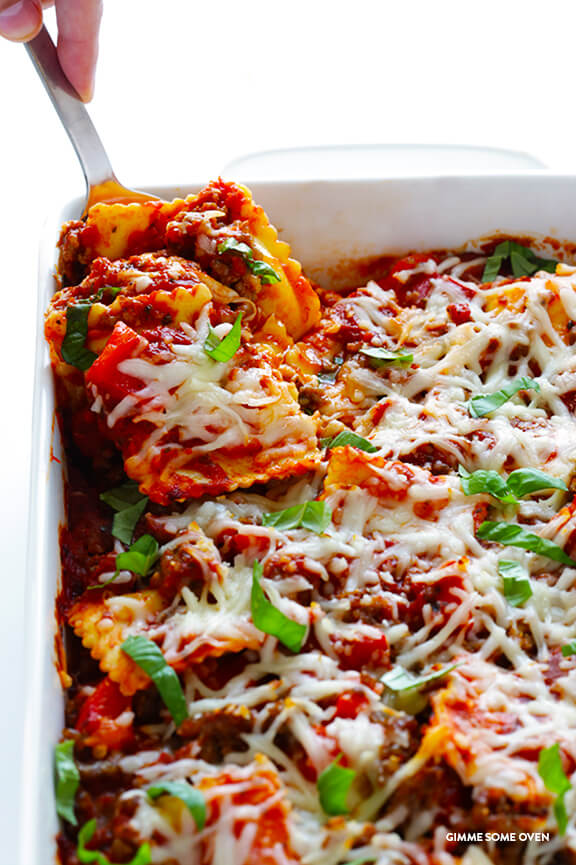 It's back-to-school time around here, and oh my goodness, my social media feeds are all kinds of adorable.
Facebook's algorithm, especially, seems to have picked up on the fact that I will "like" every single photo with kiddos pausing to pose for the classic first-day-of-school pic before running to catch the bus, because my feed right now is one solid ode to education.
And I love it.
I love seeing siblings lined up next to one another, another year older and probably an inch or two taller.  I love seeing the brand-new backpacks, the oh-so-carefully-selected outfits, the busses and bicycles and "brand new" clunkers that the 16-yr-olds are driving for the first time.  I love the those smiles that are worth a thousand words — so eager and excited and full of anticipation to begin a new year, yet always a little nervous after a restless night wondering what the new school year will bring.  And of course, I love the posts from their parents — who a week ago were so ready to send those kids back to school — but today are all hot, loving, little messes, all choked up about having to wave good-bye and send off their brave kiddos into that big wide world all by themselves.
As Ferris Bueller says, "Life moves pretty quickly.  If you don't stop and look around once in awhile, you could miss it."  Always so true, which makes me especially grateful for little traditions and moments like these where we stop to document another milestone in the lives of kiddos and celebrate the wild and wonderful lives they're creating.  Of course, armed with shiny new pencils and notebooks and a good dose of hope for the year ahead as well.  :)
Anyway, from watching the blog's statistics and comments behind the scenes this week, it's clear that everyone's already in full-on back-to-school mode cooking too.  So today I prepared a super-easy dinner recipe that only requires a few minutes of prep and is sure to be a favorite with even the pickiest of eaters coming home after a big day at school.  And all you need are 7 ingredients to make it happen.
Let's make some ravioli lasagna!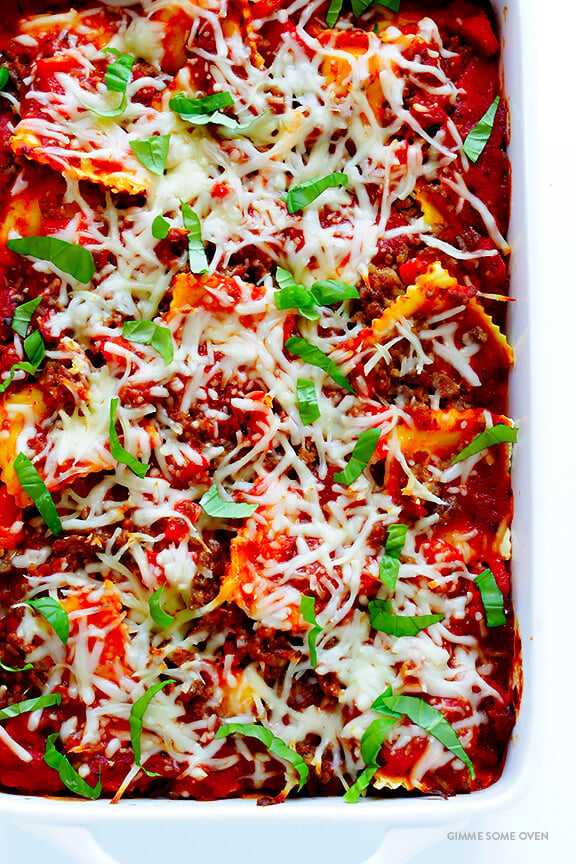 Yep, a few bags of frozen ravioli are the rockstar ingredient in this recipe, and the best news is that you totally don't even have to cook them!  Just grab all of your ingredients and layer them in the pan, and then let your oven do all of the work for you, baking this casserole up to delicious cheesy perfection.
I chose to make mine more of a "meaty" lasagna, browning up some (hot) Italian sausage and then tossing it with some roasted red peppers for extra flavor.  But you could also sub in ground beef or shredded chicken, or nix the meat entirely and add in some spinach and/or sauteed veggies to make this dish vegetarian.  Totally up to you!
The basic method of making the ravioli lasagna is simple.  Begin with a layer of sauce, add in half of your ravioli, top with the sausage mixture, a little more sauce, and then lots of cheese.  And then repeat, cover, and bake until the cheese is melted and the sauce is bubbly and everything is deliciously warm and ready to go.  Top it with a little fresh basil if you'd like, especially since it's in season this time of year…
…and then gather your family or friends around the table, and dive in and enjoy all of these classic flavors of lasagna (without all of the classic work)!
I'm pretty sure everyone will give this one an A+.  So simple, so satisfying, and SO GOOD.
So to all of you students and parents and teachers out there, I wish you all the best this schoolyear!  You've got this!  :)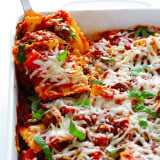 Super-Easy Ravioli "Lasagna"
This Super-Easy Ravioli "Lasagna" is simple to prepare, made with just 7 ingredients, and it tastes like the traditional lasagna we all love!
Ingredients:
1 pound ground Italian sausage
1 (12-ounce) jar roasted red peppers, drained and diced
2 (28-ounce) jars marinara pasta sauce
2 (30-ounce) packages frozen cheese ravioli, unthawed
1 (8-ounce) package shredded part-skim mozzarella cheese
1/2 cup freshly-grated Parmesan cheese
(optional) 1/2 cup chopped or julienned fresh basil leaves, loosely-packed
Directions:
Heat oven to 400°F.  Grease a 9 x 13-inch baking pan with cooking spray, and set aside.
In a large saute pan, cook sausage over medium heat until browned and no longer pink, stirring and breaking up the sausage with a metal spatula or spoon while it cooks.  Drain off the excess grease, then stir the diced roasted red peppers in with the sausage.  Set aside.
To assemble the lasagna, spread half of a jar of marinara sauce (about 1 3/4 cups) evenly across the bottom of the baking dish.  Spread the contents of 1 package of ravioli in an even layer on top of the sauce.  Spread half of the sausage and red pepper mixture evenly on top of the ravioli, followed by the remaining half of a jar of marinara sauce, half of the mozzarella, and half of the Parmesan cheese.  Repeat each of these layers, minus the Parmesan.  (So that means a second round of sauce, ravioli, sausage/peppers, sauce, and mozzarella.)
Cover the dish with aluminum foil and bake for 35 minutes.  Uncover and bake for a final 15 minutes, or until the cheese is melted and the sauce is bubbly.  Remove, and garnish with the remaining Parmesan cheese and fresh basil, if desired.
Serve warm.
All images and text ©
If you make this recipe, be sure to snap a photo and hashtag it #gimmesomeoven. I'd love to see what you cook!