DIY Sprinkles Ornaments
This post may contain affiliate links. Please read my disclosure policy.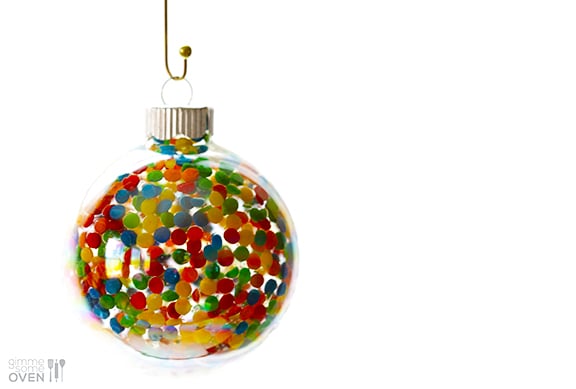 Hey everyone! Ali here, today. You all know that I love to do craft projects with sprinkles. So I thought it would be fun to share with you a really fun project that I recently did on a craft-a-thon day with my mom — these DIY Sprinkles Ornaments!
I saw the idea for these from a photo once upon a time on Pinterest. And as you can see, they are pretty much as cute as can be. And it turns that they are also easy, relatively quick, and they are a perfect way to use up those leftover half containers of sprinkles! (See my examples below.)  All you need to make them are some clear ornaments, varnish, sprinkles, and you're good to go.
So check out this step-by-step photo tutorial below to learn how!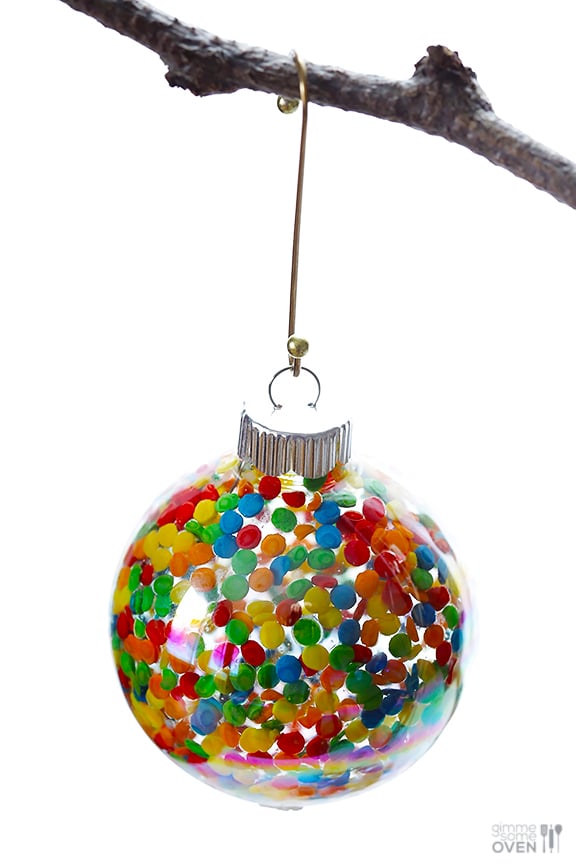 Alright, here goes…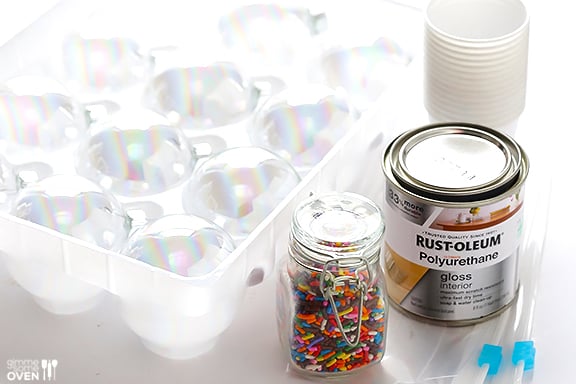 First, gather up all of your supplies. (I almost just said "ingredients" – can you tell I'm a food blogger?)  ? You will need (affiliate links):
sprinkles (the more colorful, the better in my opinion!)
varnish (any kind will work, it just needs to be clear)
clear ornaments (I used glass, but the shatterproof might be a little safer – available at any craft store)
hangers (I found these little gold hangers pictured above at Target, but you can get them anywhere or use string)
optional: dixie cups (for draining the varnish) and ziplock bags or a funnel (for pouring the varnish and sprinkles)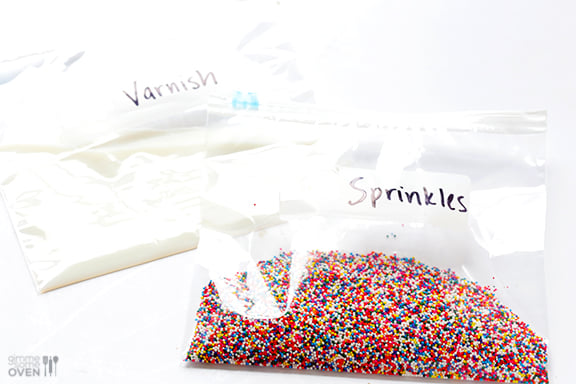 A funnel might actually be easier for pouring the sprinkles and varnish, but I didn't have one. So I went the ziplock (piping) bag route. Anything that you have on hand to help get the sprinkles and varnish inside the ornament opening will work!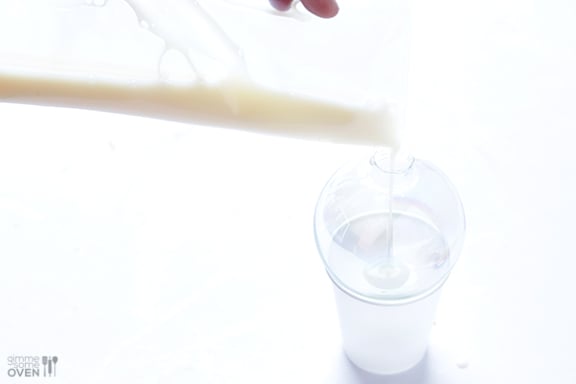 Start by pouring a little bit of varnish into the ornament. (As you can see, I set the ornament on the dixie cup for stability while pouring.)  You just need enough varnish to be able to coat the inside of the ornament, about 1 teaspoon or so.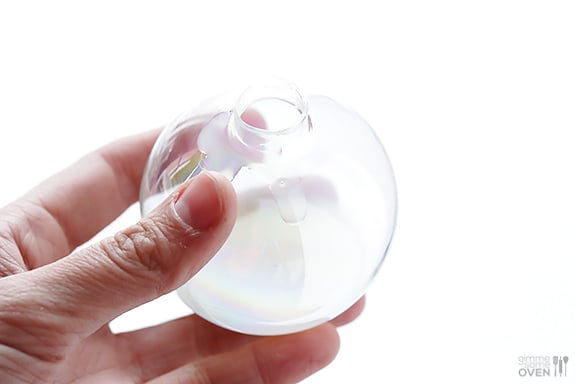 Then take the ornament in your hand and slowly swirl the varnish around so that it covers the entire inside surface area of the ornament.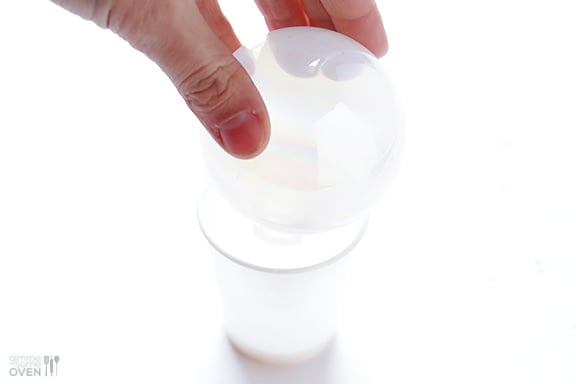 Then turn the ornament upside down and let it drain into the dixie cup for at least 30 minutes. (This was the easiest way I found to drain the excess varnish.)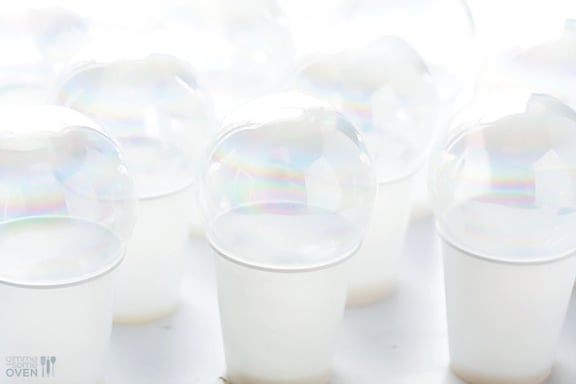 Now resist the temptation to pour in the sprinkles any earlier than a half hour. I got a little excited and started early when the varnish was still a little too wet, and some of the sprinkles bled just a bit. Ideally, you want the varnish to be fairly dried and just a little bit sticky.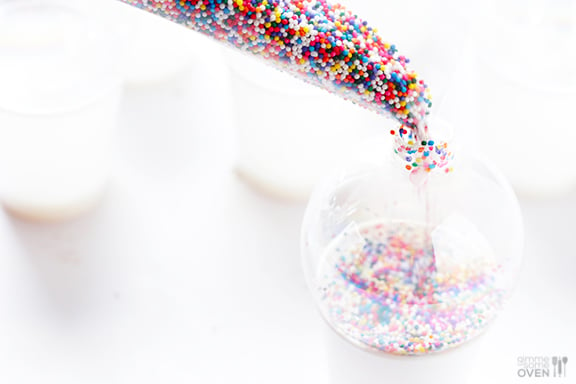 Once the ornaments are ready, use a funnel or your ziplock bags to pour the sprinkles into the ornament. You want just enough sprinkles to be able to cover the inside of the ornament. But if there are any extra sprinkles, you can just shake the excess into the opening of your next ornament. (Just place the openings next to one another and shake!)
Once the sprinkles are in, gently swirl them around to coat the inside…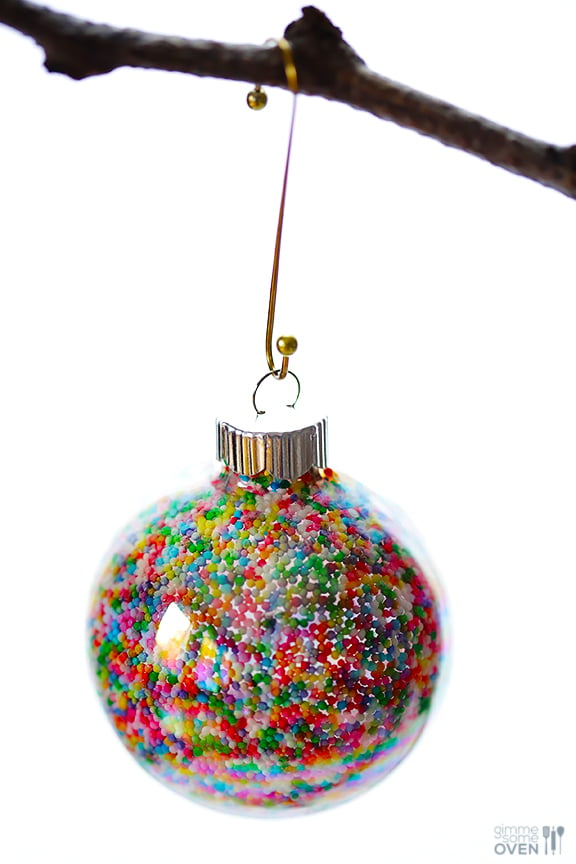 And then place the topper back on, with your desired hanger. And voila!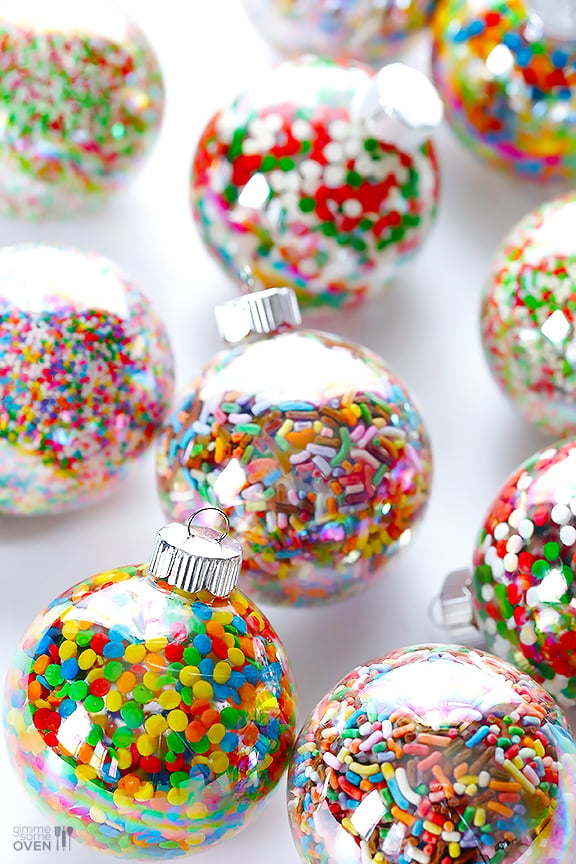 I, of course, had to try these with all kinds of different sprinkles.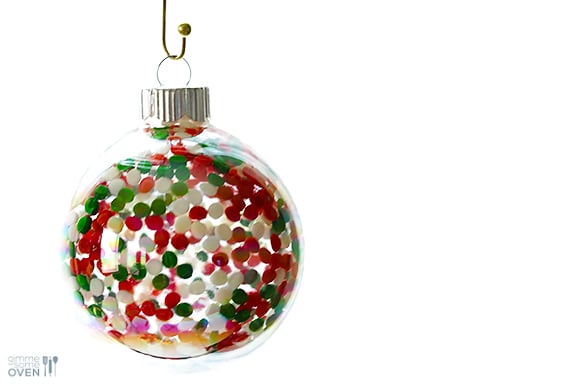 Every single one looked adorable!
The perfect "sweet" holiday decor. Perfect for gifting or adorning your own tree. Hope you enjoy!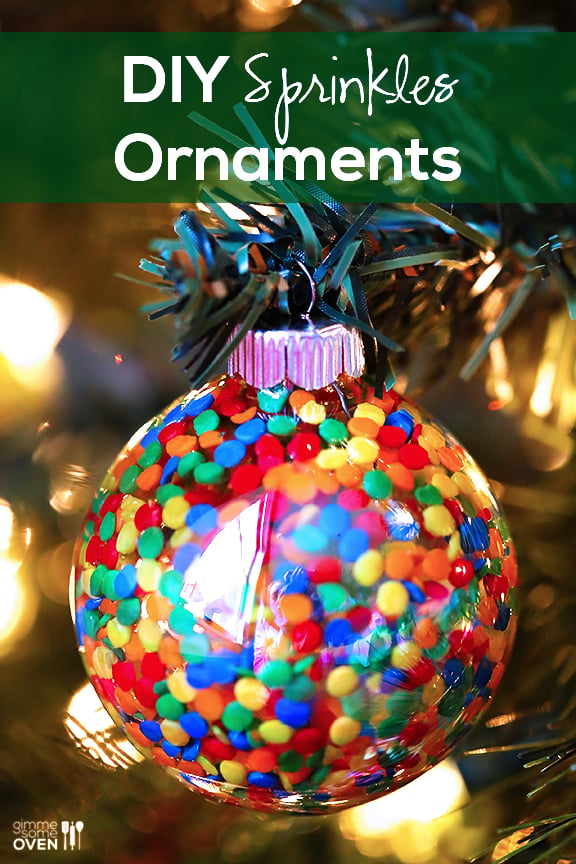 I can't remember which photo originally caught my eye on Pinterest, but I just found this one which I used as inspiration for the tutorial. It mostly focuses on paint-filled ornaments, which are also adorable. Check it out!