Easy DIY Easter Egg Art Prints
This post may contain affiliate links. Please read my disclosure policy.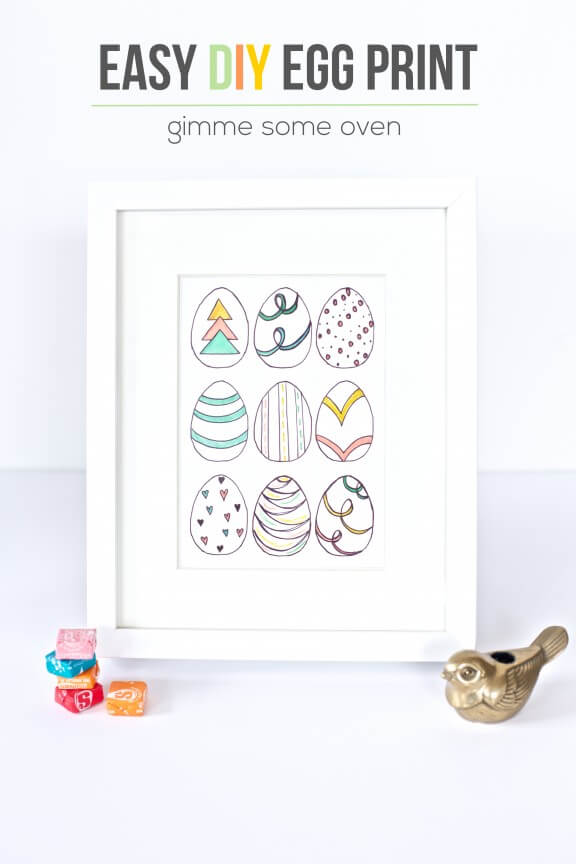 Easter is quickly approaching! Can you believe it is only a week away?
I am usually not one to go all out for holidays when it comes to decorating. (Well, with Christmas being the exception!)  In fact, I wasn't planning on decorating for Easter at all this year. But when I saw Ali's 4-Ingredient Easter Egg Oreo Truffles, I felt inspired to not only indulge in some delicious Easter treats, but also make a few egg art prints to brighten up my home!
These prints were simple, took very few materials, and were also so much fun to make! I haven't gotten around to dying Easter eggs at all this season, and most likely with the way things are shaping up with a busy spring, I probably won't get to this year. But I went all out decorating these "paper" Easter eggs!
So if you are feeling the itch to decorate eggs this year or if you're looking for some last-minute decor for Easter, maybe try making a few egg prints! They sure do last longer than a boiled egg! ;)
What You'll Need:
Picture frame (Mine is from Ikea and has a 5×7 matte)
Scissors
Black sharpie pen
Sharpie's of your choice (any colored markers will do)
Pencil
White paper
Tissue paper or tracing paper
Small piece of white cardstock
To Make Egg Stencil:
Using your phone, find an egg shape using google images, I used this shape. (I used my phone specifically because the egg was the perfect size on my iphone's screen)  If you would like a larger egg feel free to print your shape out from the computer and trace it.
Take your tracing paper or tissue paper and trace the image carefully with a pencil
Following your pencil markings carefully cut out the egg shape
Transfer the egg shape onto a small piece of cardstock and cut the image out again. (The cardstock should be sturdy enough to use as a stencil)
After I made my stencil I chose to cut around the stencil to make it a small rectangle to work with.

To Make DIY Easter Egg Art Prints:
Once you have your stencil cut out and ready to use you can let your creativity go! I chose to make a print with 3 rows of 3 eggs, but anything could be cute.
Since I had a 5×7 matte to go off of, I decided it would be easiest for me to start in each corner and work my way in. I just matched my stencil edge up with the corner of my cardstock and traced!
I traced the first set of eggs in pencil to make sure it looked the way I wanted it to look, and then carefully went over the pencil with a thin tipped black sharpie.
Once the eggs are all in place it is time to get creative. Like I said above, I used Ali's Oreo Truffles as inspiration, but I also chose to use a few of my current favorite patterns as well.
As soon as the sharpie dries you are ready to frame! I made two separate prints and chose to color in one print with a few Spring colors just for fun.
Frame your print and display it for all to see:)
See? So cute and easy!
These would also be a perfect craft to do with your kiddos (and also a little less messy than dying Easter eggs!). Or the big adult "kiddos" in your life. Everyone loves to color!
Definitely a fun, quick and easy idea for Easter decor that we've enjoyed in our house. Hope you enjoy it too!