4-Ingredient Easter Egg Oreo Truffles
Hee hee — look what I made!
Actually look what we made!  My designer friend, Meg, was the one who dreamed up the idea for these cute little truffles when she was in town visiting for a few days last week.  I told her that I was long overdue for some sort of cutesy recipe on the blog.  And being the fab designer that she is, she dreamed up a cutesy idea for Easter that turned out to be a little hip and classy-looking too.  Because, you know, that's how designers roll.  ;)
But I'm so excited to share with you how to make these adorable Easter Egg Oreo Truffles!  As the title points out, they only require 4 ingredients.  And the base truffle recipe couldn't be easier.  The hardest part is just figuring how how to decorate them!
We actually couldn't decide whether to go the classy brown/white route with regular chocolate Oreos, or make a white/pastel batch with golden Oreos.  So of course, we did both.  And I got a little photo-happy, so I'll be sharing the more colorful batch in a post tomorrow.  But for anyone who loves Oreos and decorating Easter Eggs, this is one recipe you've gotta try.  Here's the how-to!
Actually, let me introduce you first to my friend, Meg.  The web knows her now as the blogger and designer behind the site Bringing Design Home, where she shares all about transitioning from life as a city girl to living in a farmhouse with her husband in rural Oklahoma.  (Sound like another blogger you might know??)
But I actually met her on a prom night wayyy back in the year 2000, when my cute date took me to an after party at his "cool friend" Meg's house.  Fourteen years of friendship later, I can confirm that this girl is in fact pretty darn cool.  She's amazingly talented and creative, she has a mega-heart for people, she's a strong mama of an 18-month-old (with another one on the way!), and she's one of those friends I fully expect to be in my life 14 years from now, and 14 years after that, and on and on.
You might say, she's a good egg.  ;)
Speaking of which (like that transition?) — check out our eggs!!!
They are seriously too cute for you not to make this Easter.  Here's the simple tutorial.
First, we begin with the rockstar ingredient of the recipe — Oreo's.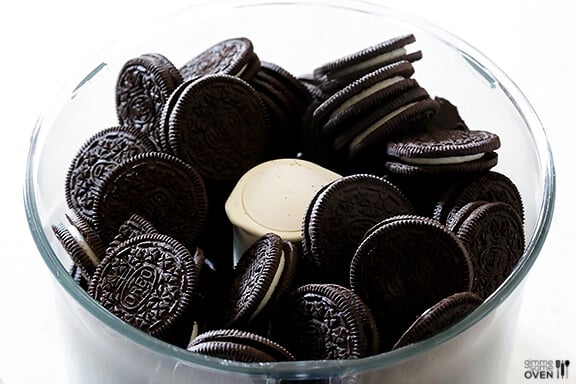 Pop those babies in a food processor and grind them up until they are nice and pureed.  Then add in a block of cream cheese (1 block per package of Oreos), and blend until smooth.  You may need to stir and  scrape the sides of the food processor bowl down a few times so that all of the mixture gets combined.
Then use a 1/4-cup ice cream scoop (or a spoon) to portion the dough and roll it into balls.  Then use your hands to shape those balls into the shape of eggs and place on a parchment-lined baking sheet.  Feel free to make yours larger or smaller, but this was the size that worked best for us.  Then pop them in the refrigerator or freezer until they are nice and firm.
Then melt some chocolate or almond bar until nice and smooth, and dip the eggs in until they are completely covered and transfer to another parchment-lined baking sheet.  (Or if you want them to drip cleanly, you can place the dipped eggs on a cooling rack.)  Pop them back in the refrigerator/freezer again until the chocolate is hardened.
And then if you'd like, use a piping bag to drizzle on a second color of melted chocolate.
We decided to go with white-on-brown for this batch.  But be sure to check out tomorrow's post for some colored options.
Alternately, you can also just keep the truffles plain with one color of chocolate.  Or you can add some sprinkles or chopped nuts or crushed Oreos to the first coat of chocolate, instead of drizzling on a second.  Whatever floats your truffle boat.
I have to say, though, I loved how the simple 2-toned design came out!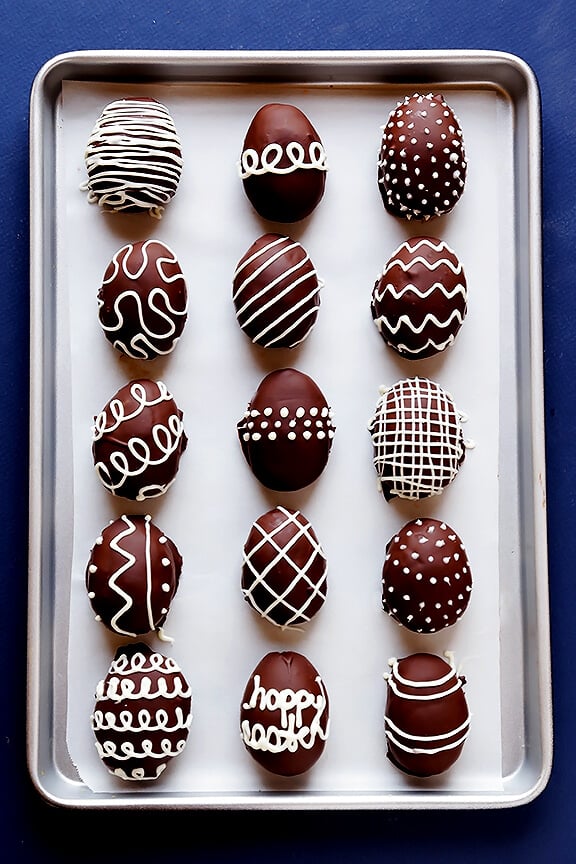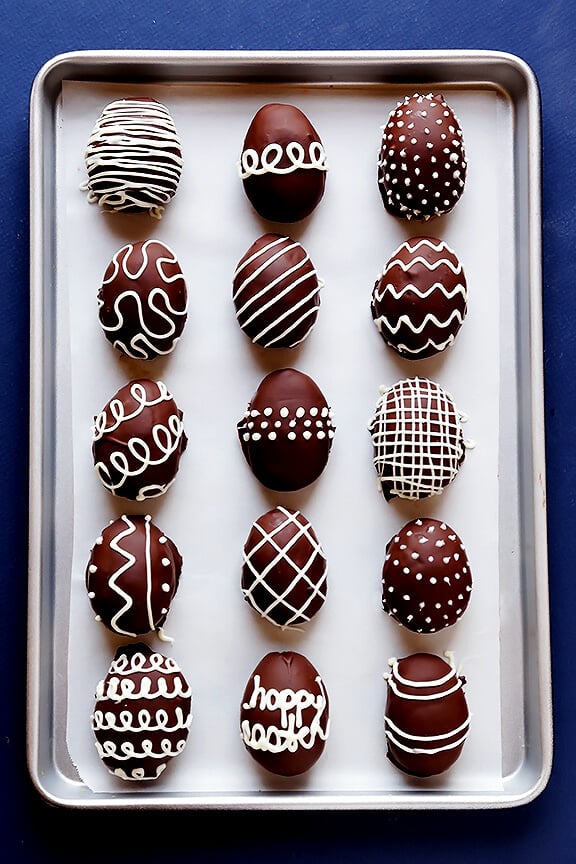 So fun and versatile and classy.  And pretty easy to do!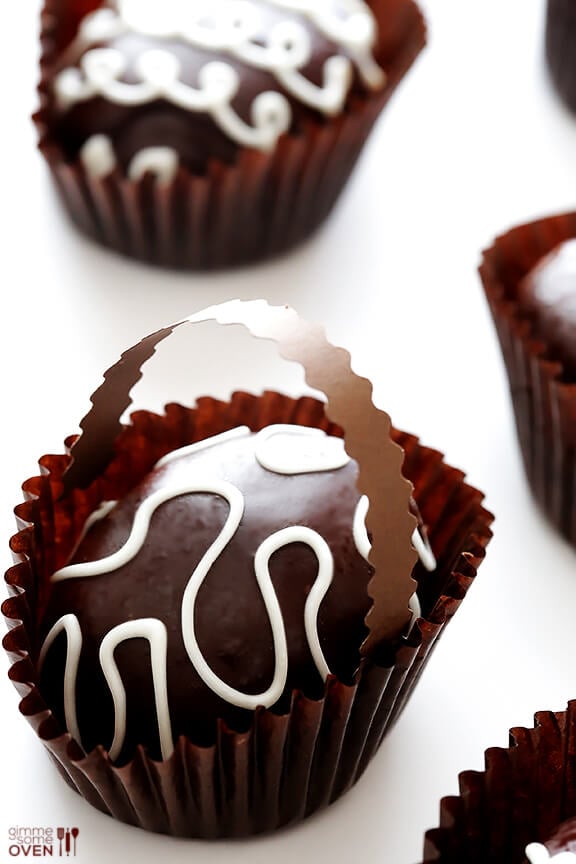 If you want to get extra cutesy, you can even attach a small strip of scrapbook paper or cardstock to a cupcake liner to make a little "Easter basket" for the eggs to be served.
But as cute as they are, I have to say that Oreo truffles taste even better than they look.  So perfectly sweet and delicious with all of that classic Oreo flavor we all love.  And did I mention the 2-ingredient filling?  Yep, it doesn't get much easier than that.
Big thanks to Meg for the inspiration for this recipe.  And if you attempt it yourselves, be sure to send me pictures.  Would love to see your creations!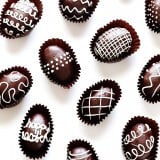 4-Ingredient Easter Egg Oreo Truffles
These Easter Egg Oreo Truffles are simple to make with just 4 ingredients, and they are such a fun treat for Easter!
Ingredients:
1 package classic Oreos (about 45 cookies*)
1 (8 ounces) brick cream cheese, softened
8 ounces (about 2 cups) dark or semisweet chocolate chips, melted (*see note below)
4 ounces white almond bark, melted
Directions:
Add the Oreos to a food processor, and pulse until evenly crumbled. Add the cream cheese and pulse until the mixture is smooth and well-blended, stopping to scrape down the sides of the food processor once or twice if needed.
(If you don't have a food processor, you can crush the Oreos in a large ziplock bag, and then stir/mix in the cream cheese by hand.)
Use a 1/4-cup ice cream scoop to portion the dough into 1/4-cup balls. Then roll by hand into egg shapes. Place the eggs on parchement-lined baking sheets, and chill in the refrigerator (or freezer) until hardened.
Once the eggs have chilled, carefully heat the dark or semisweet chocolate in a microwave or double-boiler until melted and smooth. (*If the chocolate is too thick, add in a few teaspoons or shortening or coconut oil to thin.) Dip the egg in the melted chocolate, and roll around until it is evenly coated. Transfer the egg to another parchment-lined baking sheet and let cool. Repeat with remaining eggs. Then transfer to the refrigerator once more to cool until the chocolate has hardened.
Melt the almond bark in a separate bowl, then either drizzle on the eggs with a fork or use a piping bag to pipe the chocolate on in your desired design.
Serve immediately or refrigerate in a sealed container for up to 1 week.
*At the time that this recipe was published, there were approximately 45 cookies in a standard package of Oreos.  Now there are about 36.  Feel free to just use slightly less cream cheese if you don't have enough cookies.
(I made a double batch for the photos, which I highly recommend doing.)
All images and text ©
If you make this recipe, be sure to snap a photo and hashtag it #gimmesomeoven. I'd love to see what you cook!
Be sure to also try the colored version of these — 4-Ingredient Easter Egg (Golden) Oreo Truffles!