Dreamy Tahini Dressing
This Dreamy Tahini Dressing recipe is quick and easy to make, and full of the best savory flavors that are sure to kick any dish up a delicious notch.  (This post contains affiliate links.)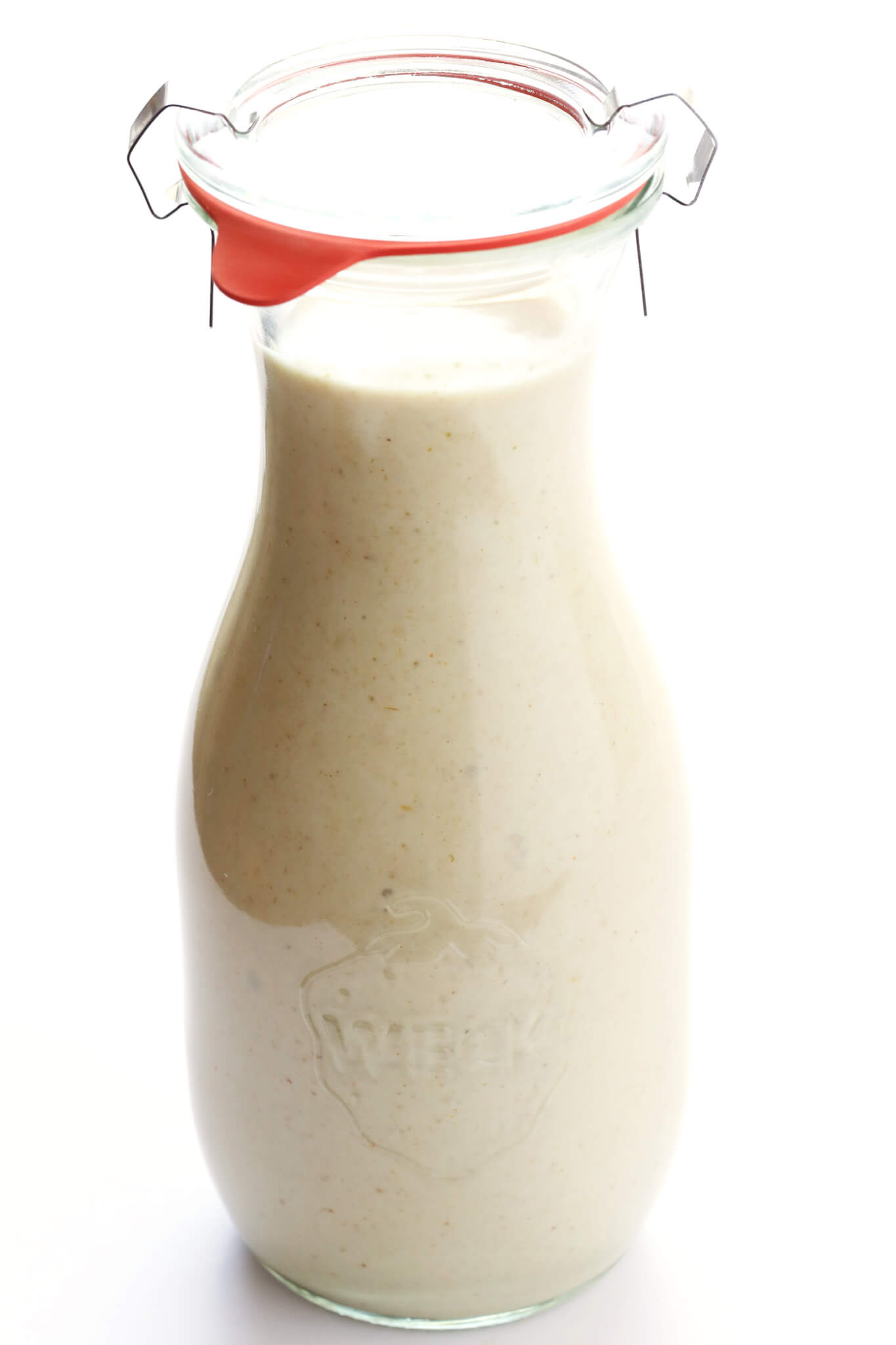 I still remember the first time I ever tried a tahini dressing.
It was back years and years ago when The Westside Local restaurant first opened in Kansas City, and I happened to notice that they were one of the first restaurants back then to offer a shaved Brussels sprouts salad (mixed with kale) on their menu.  Eager to support the new trend of Brussels in salads — and also swayed by the bacon and fried shallots included in the toppings — I ordered myself a big bowl.  But low and behold, the starring ingredient in the salad ended up being this irresistible maple tahini dressing that made every bite taste like absolute magic.  
Back then, it was the first time that any of my friends and I had even heard of tahini being mixed into a dressing.  But of course, it made perfect sense.  Its creamy, nutty, savory flavor was so rich and delicious, and was versatile enough that it had a way of pulling just about any variety of salad ingredients together perfectly.  And we couldn't get enough of it.
Years and years later — and literally dozens and dozens of these salads later — this dressing has fondly become known in our friend group as the "Dreamy Tahini Dressing".  And by now, I'm also happy to say that I've tweaked a homemade version that never fails to satisfy the craving here in my little "local" kitchen.
It's quick and simple to make, naturally gluten-free, easy to customize, and always SO good.
And, if you ask me, totally dreamy.  😉
Tahini Dressing Ingredients:
To make it, you'll need the following ingredients:
lemon juice (freshly-squeezed!)
minced garlic (preferably fresh, although you could sub in 1/4 teaspoon garlic powder in a pinch)
either ground cumin or smoked paprika (for a smokey kick)
cayenne
salt and pepper
How To Make Tahini Dressing:
Mix everything together along with 1/4 cup water until combined.  Then if the dressing seems to thick, whisk in an additional tablespoon or two of water at a time until the dressing reaches your desired consistency.
For a fresher kick, I also recommend pureeing this in the blender or food processor, along with a small handful of fresh cilantro leaves.  Or for an Italian kick, it also tastes delicious if you omit the cumin/paprika, and instead blend in a few fresh basil leaves.
Ways To Use This Dressing:
I recommend using this recipe:
as a dressing for green salads (such as my Roasted Cauliflower, Chickpea & Arugula Salad)
tossed with pasta salads (such as my Mediterranean Pasta Salad)
drizzled on top of roasted veggies or baked potatoes
drizzled on sandwiches or into wraps
as a dipper for fresh veggies or crusty bread
However you serve it, I really hope that you love it as much as we do!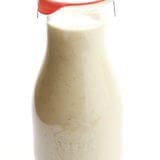 Dreamy Tahini Dressing
This Dreamy Tahini Dressing recipe is made with the most delicious savory ingredients, and it's easy to customize with some of the suggestions mentioned in the post above.
Ingredients:
1/2 cup tahini
1/3 cup freshly-squeezed lemon juice
1/4 cup warm water
2 small cloves garlic, pressed or minced
1/2 teaspoon either: ground cumin or smoked paprika
1/4 teaspoon each: Kosher salt, freshly-cracked black pepper, cayenne
(optional sweetener: 1 tablespoon maple syrup)
Directions:
Whisk together the tahini, lemon juice, water, garlic, cumin (or smoked paprika), salt, black pepper, cayenne and maple syrup (if using) in a small bowl until evenly combined.  (Or — my favorite — shake everything up in a sealed mason jar or salad dressing jar until evenly combined.)
Add an additional 1-3 tablespoons of water if you'd like to thin out the dressing a bit.
Serve immediately, or refrigerate in a sealed container for up to 1 week.
*The top photo in this post features a double batch of this recipe.
All images and text ©
If you make this recipe, be sure to snap a photo and hashtag it #gimmesomeoven. I'd love to see what you cook!
Be sure to also check out my other favorite salad dressings!