4-Ingredient Easter Egg (Golden) Oreo Truffles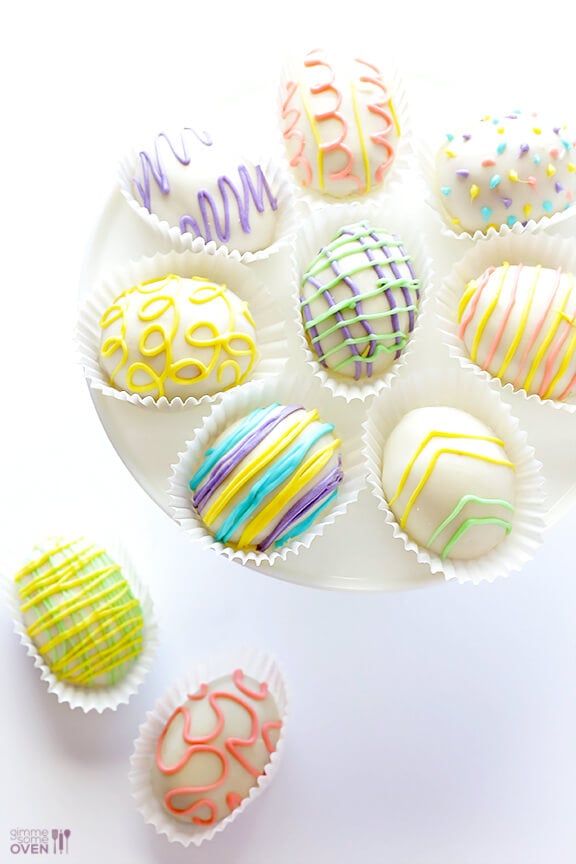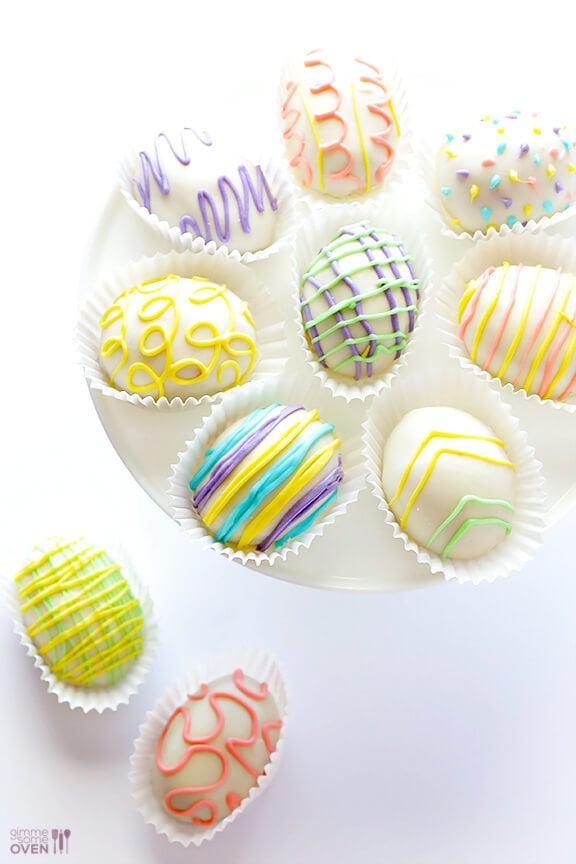 As I mentioned in yesterday's post, I got a little (ok, a lot) photo-happy with these little Easter Egg Oreo Truffles.  So today you're getting a second post with our second round of truffle decorating using a slightly different filling — Golden Oreos!
That's right!  This batch is made with a simple 2-ingredient filling using cream cheese and the super-sweet, goldenlicious, why-didn't-they-think-of-those-decades-ago cousin of the traditional Oreo.  (Which I secretly love more than traditional Oreos — I know.)  Then on the outside, my friend Meg and I dipped these babies in white almond bark and then drizzled on some pastel-colored almond bark for decor.  I mean, I loved the brown and white version we posted yesterday.  But you can't have Easter Eggs in life with a little pastel.  So for all of you who like color, this idea may be for you.
Oh, and just like yesterday's batch, these babies only take simple ingredients to make (plus food coloring).  Pretty egg-celent if you ask me.  Here's how to make 'em!
We begin with the rockstar ingredient of this batch: Golden Oreos.
SO. GOOD.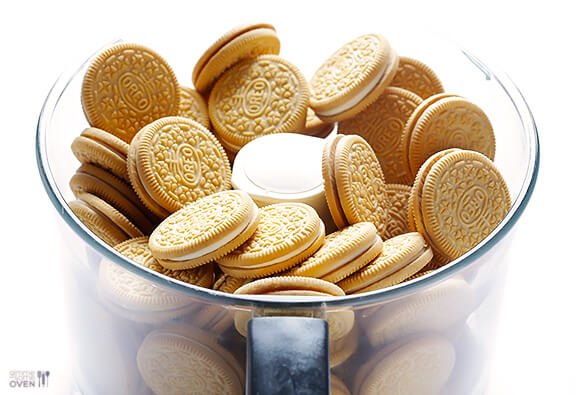 Pop them all in a food processor and pulse until blended.  (Or if you don't have a food processor, just pop them in a large ziplock bag and pound/mash the heck out of them until they are crumbled.
Add in cream cheese, and pulse/mash until the mixture is combined and smooth.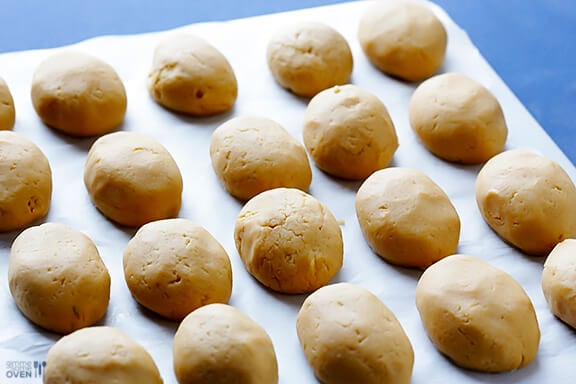 Then form the mixture into small egg shapes.  (You might need to pop the mixture in the fridge/freezer first to harden so that it's a little easier to work with.)
Then place them back in the fridge/freezer again until they are completely hardened.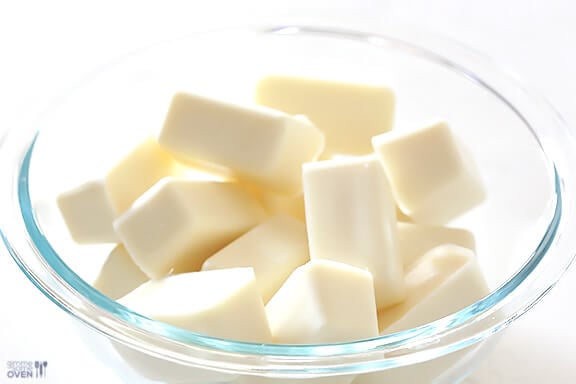 Meanwhile, melt half of your almond bark in the microwave or a double boiler until smooth.
(*You can also use white chocolate, but almond bark is way easier to work with and doesn't not burn as easily.*)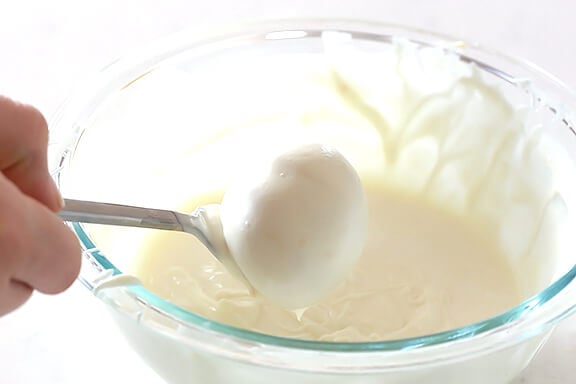 Use a fork or spoon to dip the eggs in the melted almond bark until they are completely covered.  Then lay them out to dry on a parchment-covered baking sheet.  Once the eggs are all coated, pop that baking sheet back in the fridge/freezer one more time so that the chocolate can harden.
Then melt your remaining almond bark and color it with gel food coloring.  I do not recommend drop/liquid food coloring for this recipe, as anything water-based can make melted chocolate seize and harden.  Plus, the gel food coloring is much more concentrated.
At this point, you can either just drizzle the colored chocolate on top of the eggs with a fork.  Or you can do what I did and transfer it to pastry bags for easy piping.  I just snipped the ends off the pastry bags for this project, but you could also use your desired piping tips.
Then comes the fun part — decorate those eggs!!!
I think I've decorated Easter Eggs every single year of my life.  So I'd had a little practice.  But the sky is the limit on whatever designs and colors sound fun to you!
The name of the game is just to have fun with it.  And make a big mess in the process and turn your hands all sorts of colors, because that's what you do with Easter eggs, right?  :)
Have fun with these, friends!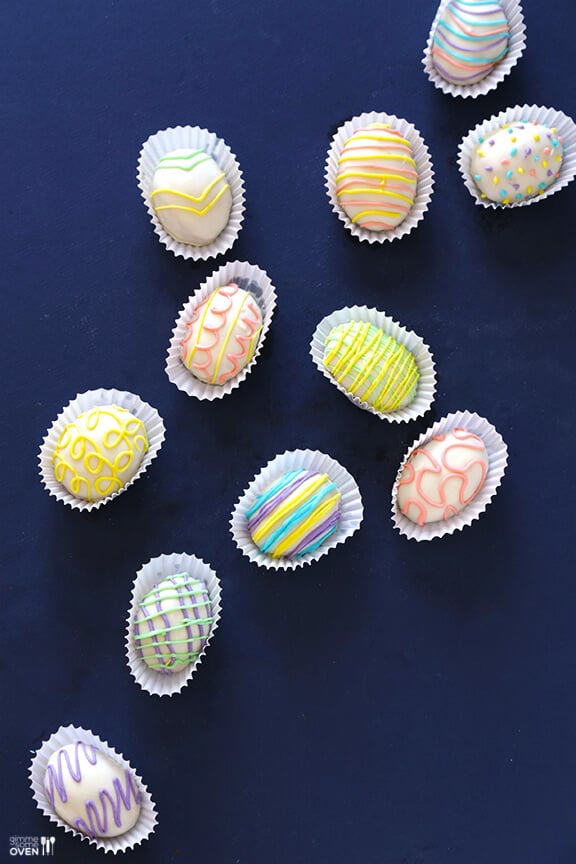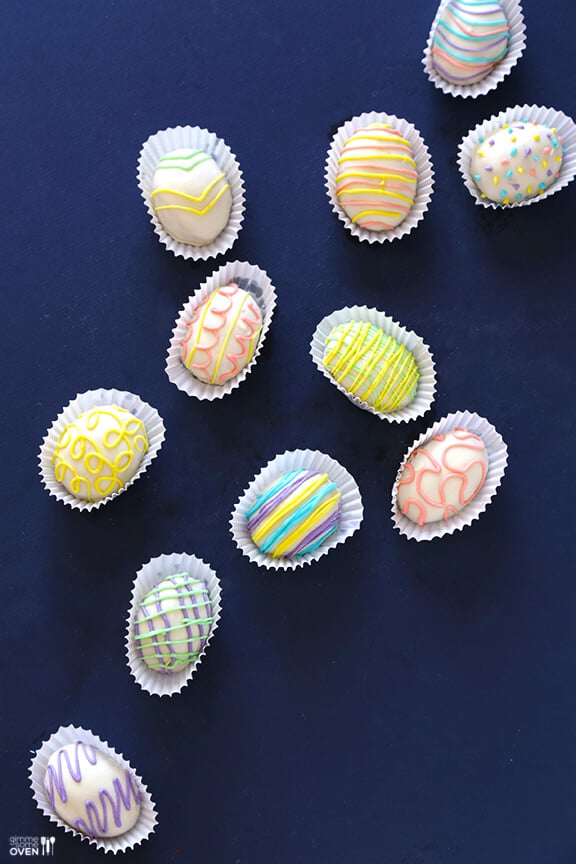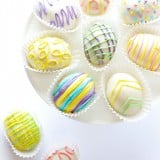 4-Ingredient Easter Egg (Golden) Oreo Truffles
These 4-Ingredient Easter Egg (Golden) Oreo Truffles are so fun to make, and filled with that creamy Oreo truffle mixture we all love!
Ingredients:
1 package Golden Oreos
1 (8 oz.) brick cream cheese, softened
1 lb. white almond bark, divided and melted (*see note below)
gel food coloring
Directions:
Add the Oreos to a food processor, and pulse until evenly crumbled. Add the cream cheese and pulse until the mixture is smooth and well-blended, stopping to scrape down the sides of the food processor once or twice if needed.
(If you don't have a food processor, you can crush the Oreos in a large ziplock bag, and then stir/mix in the cream cheese by hand.)
Use a 1/4-cup ice cream scoop to portion the dough into 1/4-cup balls. Then roll by hand into egg shapes. Place the eggs on parchement-lined baking sheets, and chill in the refrigerator (or freezer) until hardened.
Once the eggs have chilled, carefully heat half of the almond bark in a microwave or double-boiler until melted and smooth. (*If the almond bark is too thick, add in a few teaspoons or shortening or coconut oil to thin.) Dip the egg in the melted almond bark, and roll around until it is evenly coated. Transfer the egg to another parchement-lined baking sheet and let cool. Repeat with remaining eggs. Then transfer to the refrigerator once more to cool until the chocolate has hardened.
Divide the remaining almond bark into separate bowls (for however many colors you wish to use), then stir in your food coloring until the almond bark reaches your desired shade. Either drizzle the colored almond bark on the eggs with a fork or use a piping bag to pipe the almond bark on in your desired design.
Serve immediately or refrigerate in a sealed container for up to 1 week.
(I made a double batch for the photos, which I highly recommend doing.)
All images and text ©
If you make this recipe, be sure to snap a photo and hashtag it #gimmesomeoven. I'd love to see what you cook!