Easy Apple Tart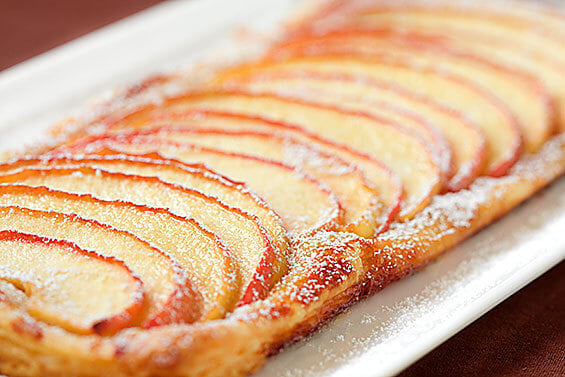 I tend to think that a meal's not a meal without dessert.  :)
But often, after already spending time in the kitchen making dinner, the last thing I want to do is spend a ton more time on another course.  So I'm always stoked to find a new desserts that can be pulled together in a snap!
This delicious apple tart recipe happens to be just that.  :)  Created by The Pioneer Woman herself, these little tarts are simple, full of classic apple (and I added cinnamon!) flavor, and rounded out by the magic that is puff pastry.  Totally love them!  And best of all, of course, they are super-speedy to pull together.
Feel free to serve these with ice cream, whipped cream, powdered sugar….or all three.  :)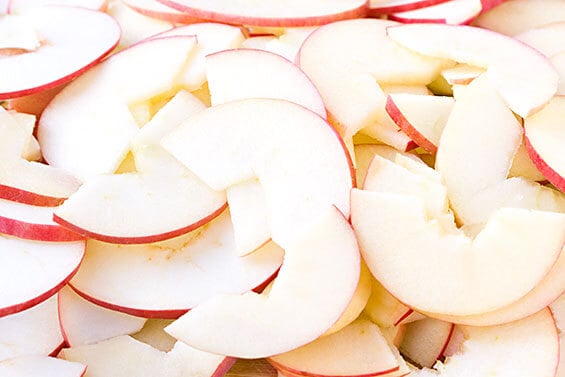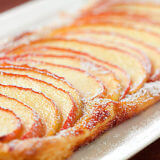 Easy Apple Tart
You'll love this Easy Apple Tart Recipe! So fresh, simple & ready to enjoy in less than 30 minutes!
Ingredients:
1 sheet puffed pastry, cut lengthwise into half or thirds (to make long, skinny rectangles)
3 apples, cored, halved vertically, and sliced super-thin (but not peeled)
1 Tbsp. lemon juice
1/2 cup brown sugar
1/2 tsp. cinnamon
1/4 tsp. salt
Directions:
Preheat oven to 415 degrees.
Place puffed pastry rectangles onto a baking pan that's been sprayed with nonstick spray. (To get added pastry height/thickness, you can also layer two rectangles on top of each other.) Add brown sugar, cinnamon, lemon juice and salt to apples. (Note: lemon juice helps to prevent cut apple wedges from browning.) Stir to combine. Allow to sit for a few minutes.
Arrange apple slices on the pastry rectangles in a straight line, overlapping as you go. Bake for 18 to 20 minutes, or until pastry is puffed and golden brown.
Remove from pan immediately and place on a serving platter. Serve plain, with caramel topping, whipped cream, ice cream, or a sprinkling of powdered sugar.
If you make this recipe, be sure to snap a photo and hashtag it #gimmesomeoven. I'd love to see what you cook!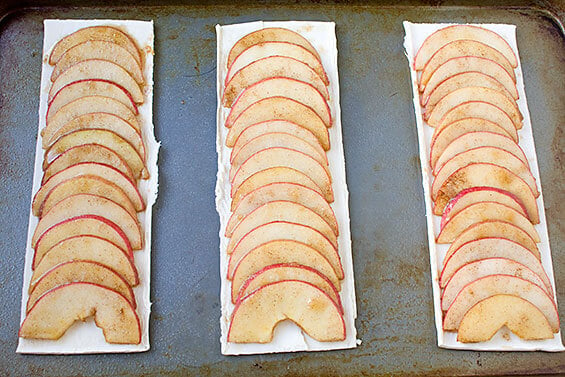 Ali's Tip:
Other fun suggestions for this might include:
subbing in other favorite fruits (such as peaches, pears, plums, etc.)
spreading a layer of cream cheese underneath the apples
drizzle with chocolate!