Easy Balsamic Veggie Pasta
This easy Balsamic Veggie Pasta recipe is overflowing with fresh veggies, and sautéed in a delicious balsamic sauce.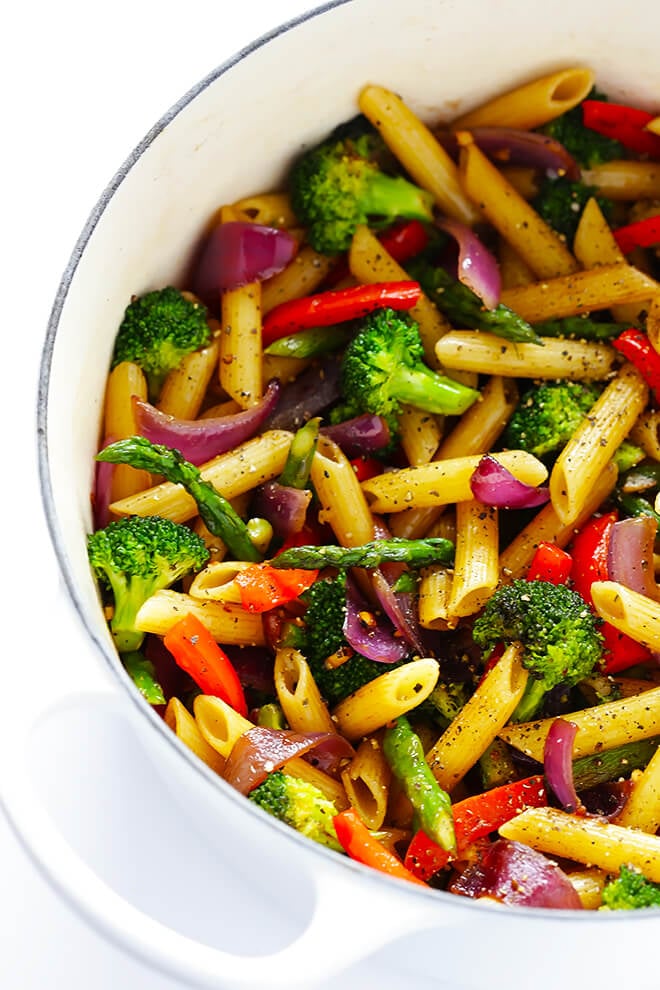 One of my favorite things about coming home after a long vacation is always that first big trip back to the grocery store.
Oh my goodness, it always feels so good.
I mean — don't get me wrong — I soak up every single fabulous meal on a vacation that I don't have to cook, and totally geek out over researching and trying out new restaurants and foods when traveling.  But man, it always feels so good to come home to a blank slate of an empty refrigerator, and then head out to the store in search of all of the familiar foods I've missed and have been craving.  Interestingly, for me, that almost always ends up being an entire shopping basket full of fresh veggies.  Like, a ridiculous amount of fresh veggies.  Like, had-to-switch-from-a-basket-to-a-cart-because-my-mountain-of-veggies-was-freaking-out-of-control at Trader Joe's this week.
Ha, does anyone else do the same??
Maybe it's just that the rainbow of beautiful produce seems like the loveliest way to fill an empty fridge.  Or maybe it's that I don't eat enough veggies and salads on vacation.  Or maybe it's just wanting to get life back home started off on the right foot.  Whatever the reason, I've been craving veggies galore every day since I've been back, and getting back in the kitchen and cooking them up with my favorite recipes has felt so good.
One of my favorite meals of the week?  This quick, easy, and oh-so-comforting Balsamic Veggie Pasta.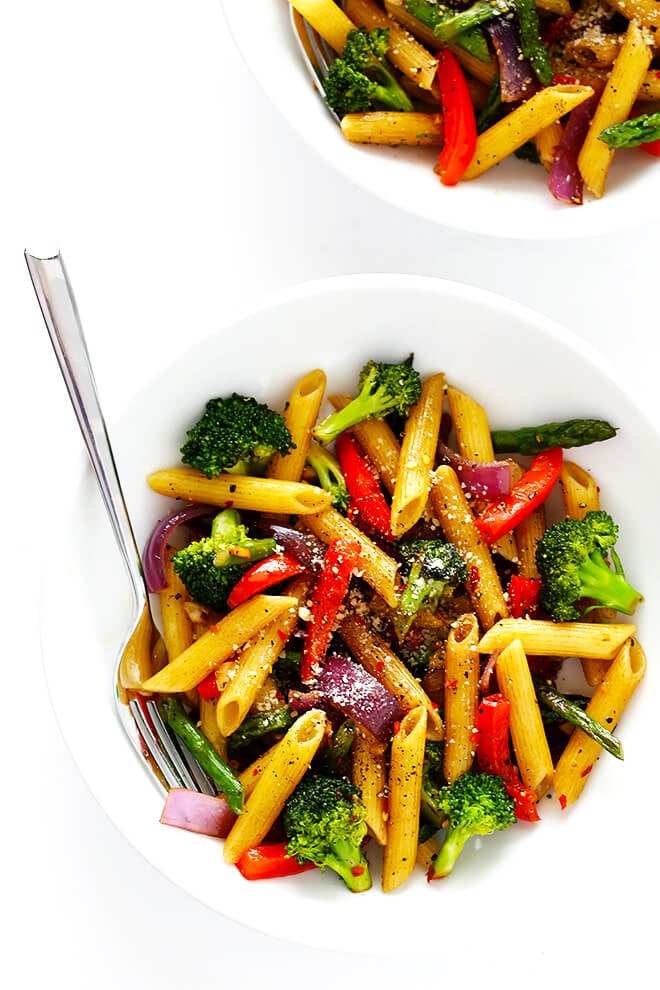 To be honest, one of the randomest cravings I had upon arriving home was driving by Noodles & Company, and suddenly all I wanted was their "Pasta Fresca" recipe that I used to eat for lunch once a week in my old job a decade ago.  Have any of you tried this pasta of theirs?  It's incredibly simple — just pasta, a few veggies and Parmesan, all tossed in a simple balsamic vinaigrette.  But the key is that they actually sauté the cooked pasta for a little bit in the sauce for a bit.  So the pasta is ever-so-slightly toasted and golden, which I happened to love.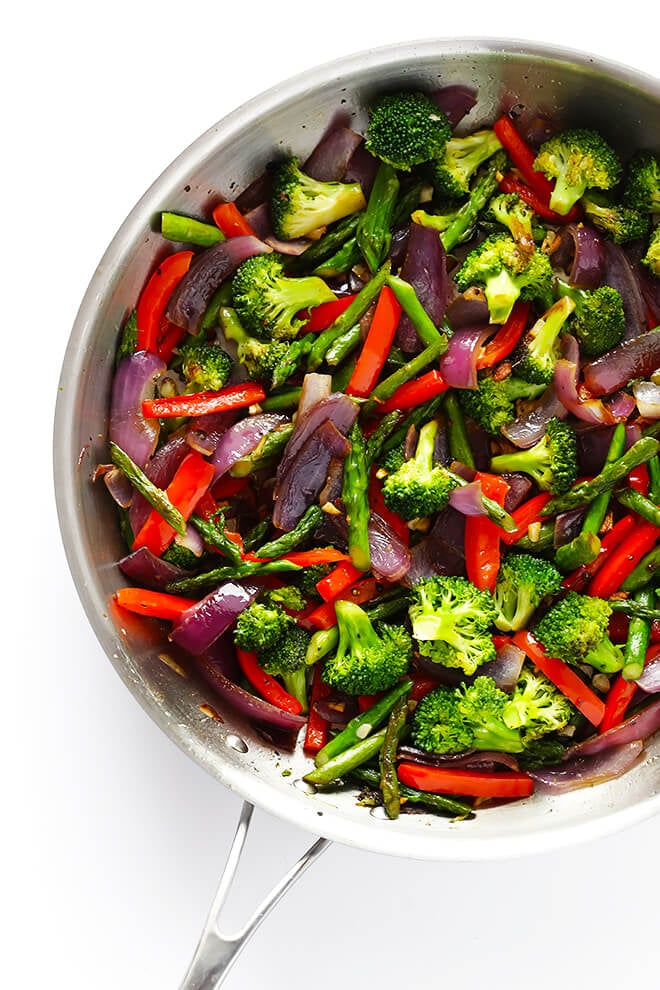 So, I decided to dig into my collection of veggies and make a batch of balsamic pasta for dinner.  I sautéed some red onions, asparagus, broccoli, red peppers, and lots and lots of garlic…  (You could really use just about any sautéed veggies and greens here!)
And while the veggies were cooking, I cooked up some penne pasta.  Then once it was ready to go, I popped it back on the stove and tossed it with balsamic and olive oil…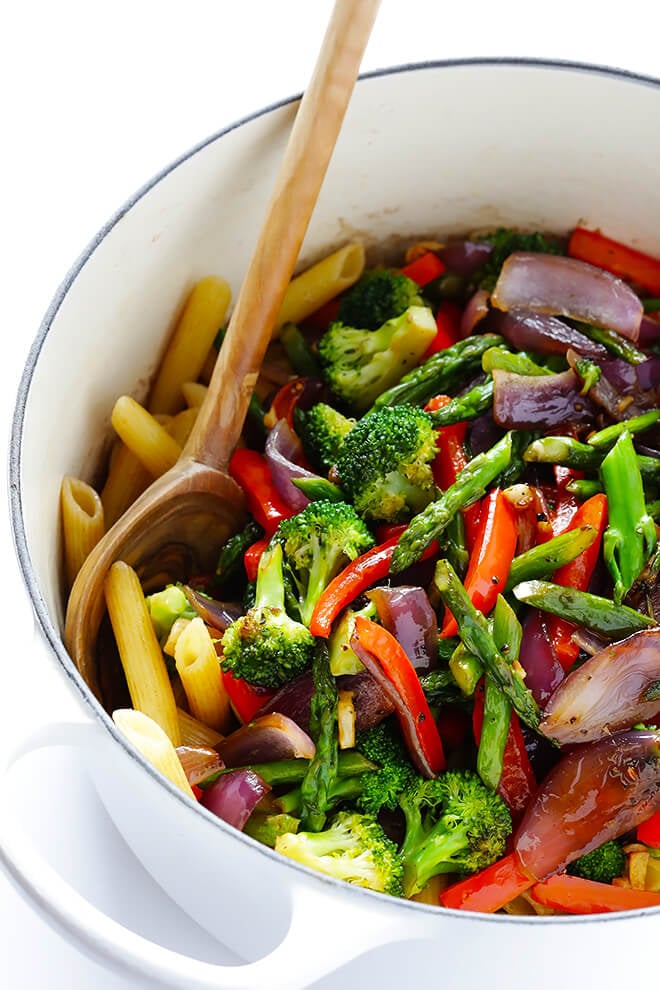 …added in my rainbow of veggies, and then sautéed everything for a few extra minutes to toast up the pasta just a wee bit.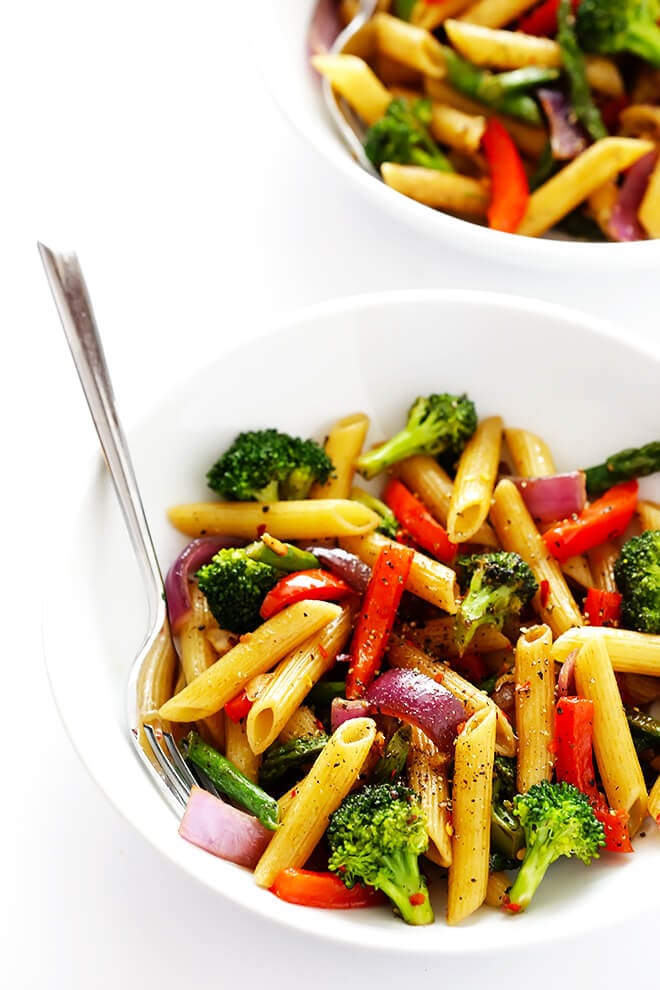 The result?  This amazing meal.
I like mine served up plain with a ton of freshly-cracked black pepper and Parmesan.  But feel free to also add in some fresh basil or any other kinds of cheese if you'd like.
Seriously, so easy, so flavorful, and all of those veggies so hit the spot.  It's good to be home.
Enjoy, friends!
Balsamic Veggie Pasta
This easy Balsamic Veggie Pasta recipe is loaded up with tons of fresh veggies and garlic, and tossed with a delicious simple balsamic vinaigrette.
Ingredients:
12 ounces uncooked pasta (I used penne)
3 tablespoons olive oil, divided
1 small red onion, peeled and thinly-sliced
1 pound asparagus, cut into bite-sized pieces (with ends trimmed off and discarded)
1 small head of broccoli florets, cut into bite-sized pieces
1 red bell pepper, cored and thinly-sliced
Kosher salt and freshly-cracked black pepper
5 cloves garlic, peeled and minced
3-4 tablespoons balsamic vinegar
freshly-grated Parmesan cheese
Directions:
Cook pasta in a large stock pot of generously-salted boiling water al dente according to package instructions.   Then drain the pasta, and set it aside.
Meanwhile, as the pasta water is heating and the pasta is cooking, heat 2 tablespoons oil in a large saute pan over medium-high heat.  Add the red onion and sauté, stirring occasionally, for 4 minutes.  Add the asparagus, broccoli, and red bell pepper, and season the mixture with a generous pinch of salt and pepper.  Continue sautéing for 4-5 more minutes, stirring occasionally.  (Adding in another tablespoon of oil if needed.)  Stir in the garlic and continue sautéing for 1-2 more minutes, stirring occasionally, until the garlic is fragrant.  Remove from heat.
Once the veggies and pasta have all finished cooking, return the stockpot to the stove over medium-high heat.  Add the remaining 1 tablespoon of oil, cooked pasta, veggie mixture, balsamic vinegar, lots of freshly-cracked black pepper, and toss to combine.  Sauté for 1-2 minutes, stirring occasionally, so that the pasta is very lightly toasted.  Taste, and add extra balsamic vinegar and black pepper if needed.
Remove from heat and sere warm, garnished with lots of Parmesan cheese.
*Feel free to also add a splash of dry white wine to the pasta along with the balsamic, if you'd like.  Delicious!
All images and text ©
If you make this recipe, be sure to snap a photo and hashtag it #gimmesomeoven. I'd love to see what you cook!