Easy Chai Popsicles
Sometimes I wish our culture would adopt the custom of taking siestas.
You know, those naps that the Spanish so famously take each afternoon after lunch?  They sound kind of brilliant to me.  Because afternoons are without a doubt the time that I seem to move a littttle bitttt morrre slowwwwly.  Mornings?  I'm super energized and motivated.  Evenings?  All of my creative juices start flowing.  But afternoons?  Let's just say "meh".  Energy and creativity are not quite there, and half of the time I find myself staring longingly out the window wanting to go on a long walk, or jealously at the couch where my dog is snoozing the mid-day away.  Naps sound just lovely.
But alas, life keeps moving and recipes need photographing and emails keep flowing in the afternoon, so strong cups of coffee and chai are my friend.  A few weeks ago, though, I stumbled upon a brilliant alternative — freezing my coffee and chai into popsicles!  It's like caffeine made fun!!  (Although if you don't drink caffeine, these are still super fun when made caffeine-free.)  ;)

This hardly counts as a recipe, but for anyone else looking for an afternoon energy "treat", I thought I'd share it with you today.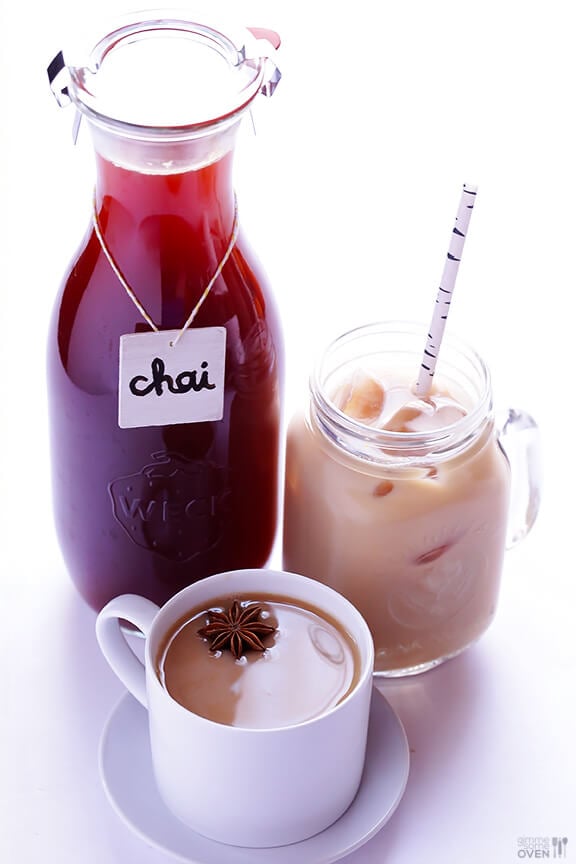 The inspiration for this recipe came from being a super fan of all things chai.
About a year ago, I started making my chai concentrate from scratch, and continue to make it at least once or twice a month.  Because I love chai.  I bounce back and forth between coffee and chai in the mornings, and love them both.
A few weeks ago, though, I had some leftovers from a batch of chai that I wasn't going to use in time and was trying to figure out what to do.  And then the idea occurred to me — why not freeze it and make chai popsicles??
So I did.  And the result was a batch of absolutely delicious chai pops that brilliantly turned into my new afternoon pick-me-up habit.  Because who doesn't love a popsicle in the heat of the afternoon?  And all the better if it's made with homemade chai??
Yep.  I'm a fan.  And the best part is that these guys take just minutes to make and only call for 2 ingredients!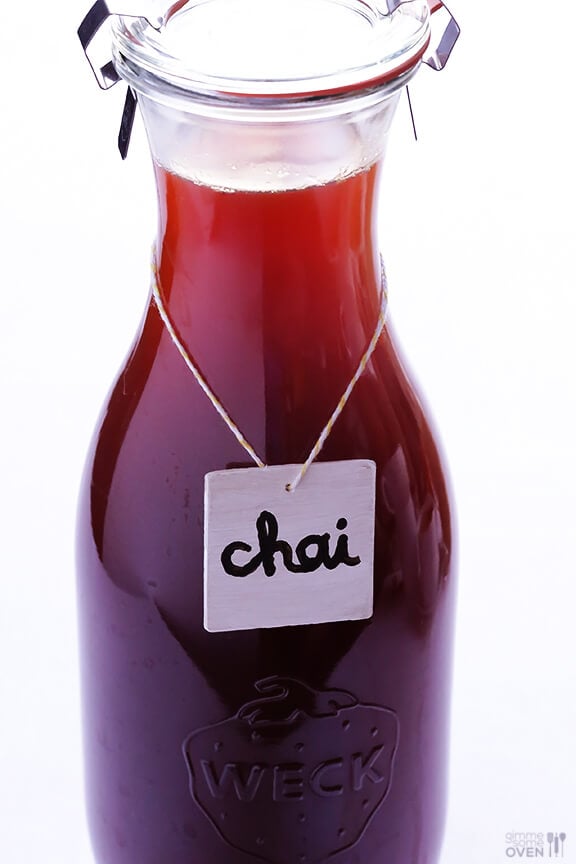 The first ingredient is chai concentrate.  I like to make mine homemade most of the time, but also buy the store-bought stuff on occasion.  Either will work.
Then just mix it with some milk.  (I usually do a 1:1 ratio, but you can add the milk to taste.  Also see my notes in the recipe below about what kinds of milk you can use.)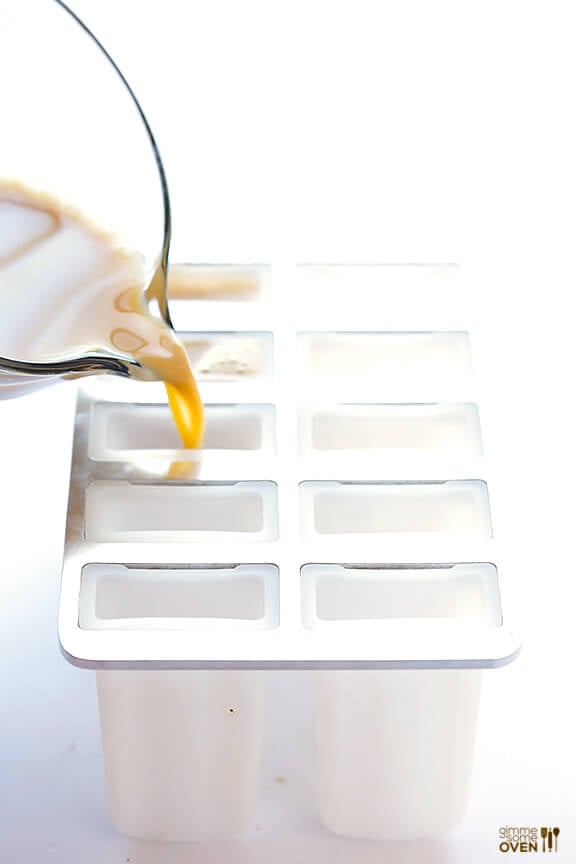 And then just pour your chai into your popsicle molds, and pop then in the freezer.
A few hours later, they will be good to go!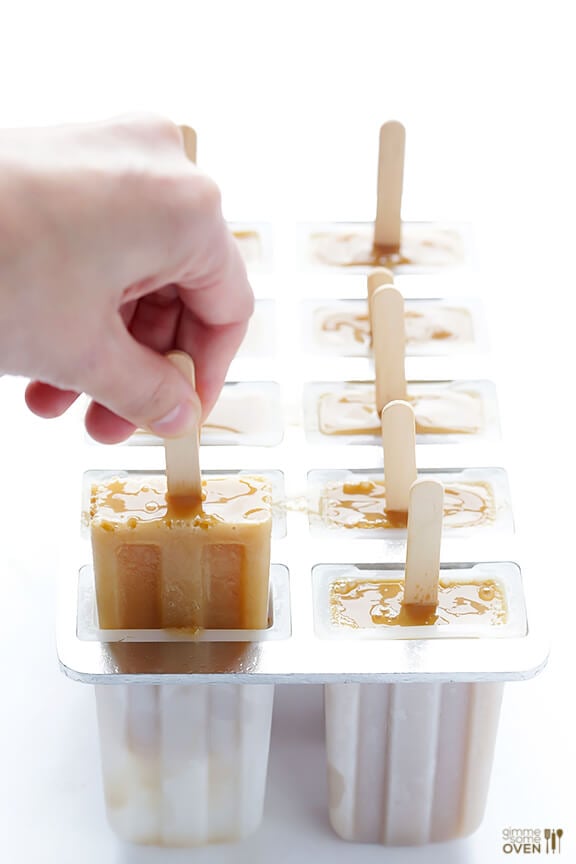 Too easy, right??  Ok, maybe this one wasn't deserving of an entire recipe post in and of itself.  But I have been "popping" these guys like crazy, and am a big fan.  So for anyone else who loves chai or who might need a little boost in the afternoon (while longing for a siesta), I'm happy to report that they are both tasty and energizing.  And just basically delightful.
So I hope you enjoy them!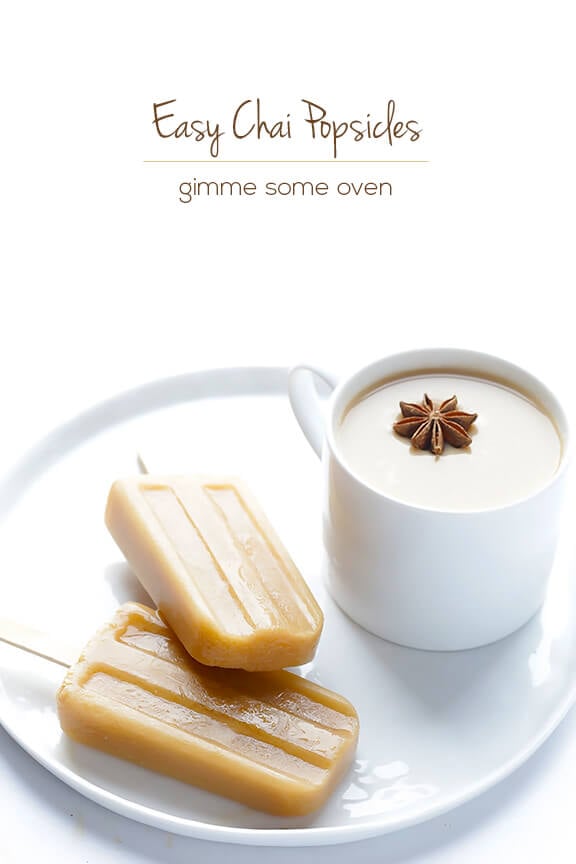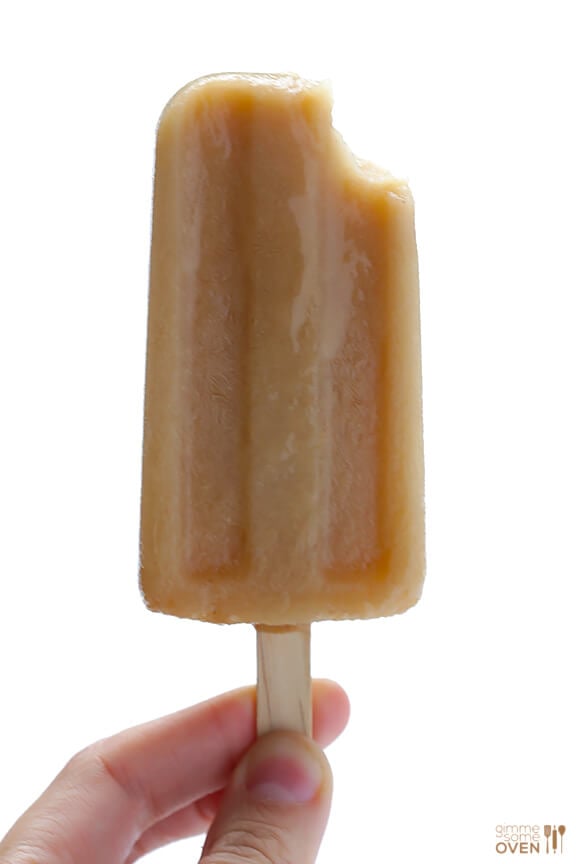 (Super) Easy Chai Popsicles
These easy chai popsicles are another great way to enjoy this tasty drink!
Ingredients:
Directions:
Stir together chai concentrate and milk until combined. Pour the mixture into popsicle molds, and place in the freezer until completely frozen.
When you are ready to eat the popsicles, run warm water over the outside of the mold to loosen the popsicles. Remove and serve immediately.
**For creamier popsicles, I recommend using canned coconut milk. For lighter popsicles, you can use any regular cow's milk (I used 2%), almond milk, soy milk, etc.
All images and text ©
If you make this recipe, be sure to snap a photo and hashtag it #gimmesomeoven. I'd love to see what you cook!