Easy Chicken Tortellini Soup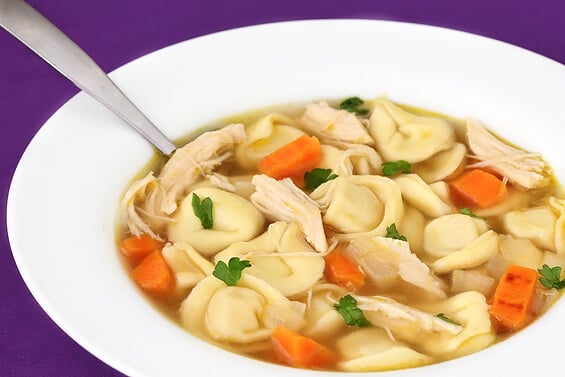 Being that it's the middle of May and strangely freezing right now — yes, suddenly we went from weather in the 90's back to highs in the low-50s — I've been craving warm soups.  So amongst some other favorite winter soup recipes I have pulled back out, I also recently gave this easy chicken tortellini soup recipe from Real Simple a try.
"Easy" is no exaggeration.  Made with fresh or frozen tortellini and shredded rotisserie chicken, this yummy soup literally cooks up in 15-20 minutes, with only about 2 minutes of that time being prep.  And it was delicious!!  I added in some extra rosemary to season the broth, which I loved.  And for any of you who love broth, I'd definitely recommend adding in an extra 3-4 cups of chicken broth (along with some extra rosemary, salt and pepper).  But otherwise, this was great "as is"!
Definitely a terrific "simple" soup to warm you up on a cold day…even if that falls in the middle of May!  :)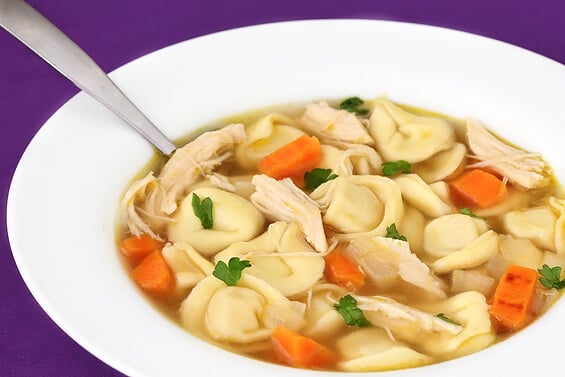 Easy Chicken Tortellini Soup
Ingredients:
4 carrots, cut into bite-size pieces
6 cups low-sodium chicken broth
8 ounces cheese tortellini (fresh or frozen)
1 1/2 cups rotisserie chicken, shredded
kosher salt and freshly-ground black pepper
2 Tbsp. chopped fresh flat-leaf parsley
1/2 tsp. ground rosemary (or 2 tsp. chopped fresh rosemary
Directions:
In a large saucepan, simmer the carrots in the broth until tender, 10 to 12 minutes.
Add the tortellini and simmer until tender, 2 to 4 minutes.
Add the chicken and cook, stirring occasionally, until heated through, 1 to 2 minutes more; season salt, pepper and rosemary, then sprinkle with the parsley. Serve warm.
If you make this recipe, be sure to snap a photo and hashtag it #gimmesomeoven. I'd love to see what you cook!
Ali's Tip:
This would of course also be great with different kinds of tortellini.  Also feel free to experiment with seasonings!