Mexican Egg White Omelet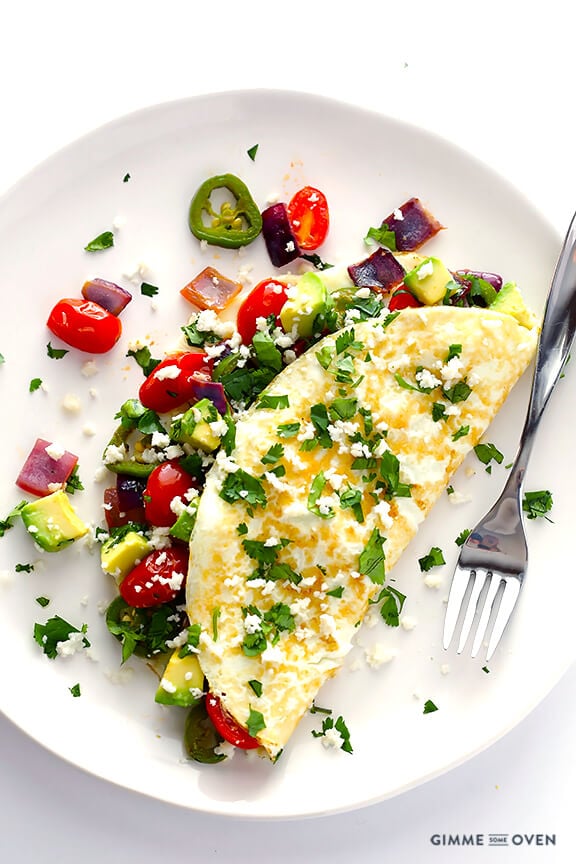 What?!  A recipe post on a Saturday?
I know, this isn't my norm.  But because of the tremendous response I keep getting to my single series on the blog, and the questions I continue to receive from readers about cooking for one, I'm thinking about starting a new Saturday series on the recipe side of this blog.  I even came up with a name.  Complete with alliteration, of course.
Single Serving Saturday!
Of course, it's not just for people who are single or cooking for one.  Anyone can double or quadruple these recipes for a crowd.  But for the 50.2% of Americans who are single, I thought it might be nice to have some recipes specifically written for a single serving.  Because cooking and enjoying great food doesn't have to mean that you're resigned to a life of leftovers day after day.  (Heck no.)  Nor does it mean that you have to buy a fridge full of a zillion ingredients that you can never use up in time.  (Yeesh.)  Quite the contrary — some of my favorite go-to recipes that I make for myself can naturally and easily be made in a single serving.
So!  I thought we could kick off this series with this quick, easy, healthy, naturally GF, easy-to-customize, single-serving and crazy good favorite of mine — a Mexican Egg White Omelet.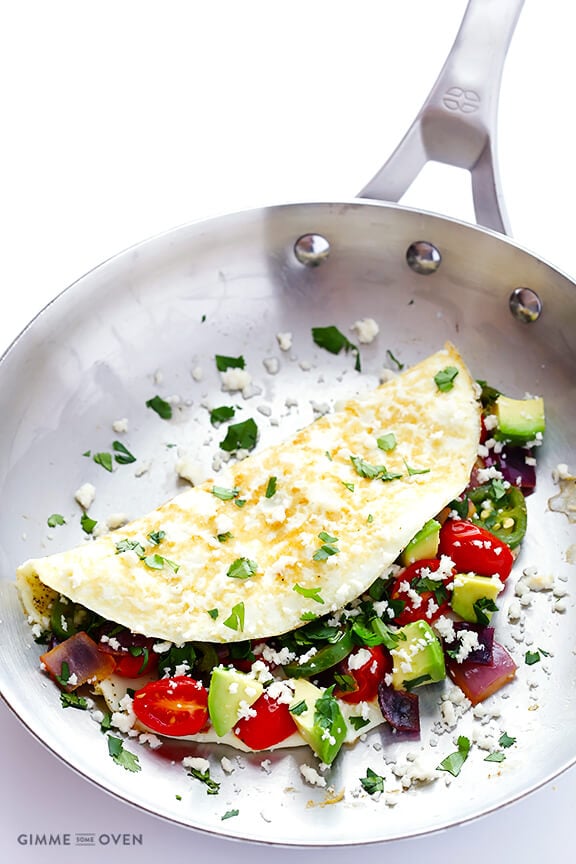 Seriously.  For anyone who thinks that single people sit around eating cold bowls of cereal for every meal, think again.
This is the time in life when you get to cook and eat whatever the heck you want!  It's the time when you can be adventurous, and try new things, and take risks!  It's the time when you can figure out what you really like to eat, and get really good at perfecting how to make it yourself.
It's YOUR TIME.
So in my single world, this basically means that I eat Mexican food (and egg drop soup) as much as humanly possible, including for breakfast!
And lately, this Mexican twist on a healthy egg white omelet has been my new go-to.
First of all, the main ingredient — eggs — are something I always have on hand.  Actually, I made this one with pure egg whites, since I've also become a fan of always keeping a little carton of egg whites on hand.  But then the filling ingredients are totally up to you!  I basically just used leftover ingredients from making a batch of my favorite perfect guacamole for this recipe (plus some grape tomatoes and cheese).  But seriously — feel free to use whatever you have on hand!
Just saute up your filling ingredients in a skillet.  Then transfer them to a separate plate, and cook your egg whites into a big pancake.  Add your filling ingredients back in at the end, then fold it over, and sprinkle with some extra cheese and cilantro on top for garnish.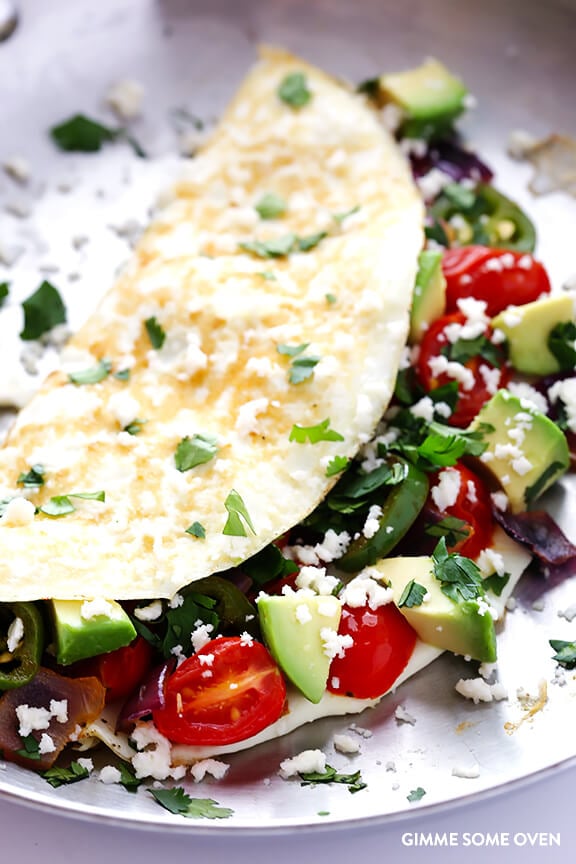 So pretty.  So easy.  And so much better than any bowl of cold cereal.  ;)
So what do you think about this series idea?  Any requests or recommendations on single-serving recipes you'd like to see on here?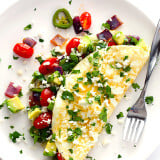 Mexican Egg White Omelet
This Mexican Egg White Omelet is simple to make, naturally gluten-free, and made with the most delicious fresh ingredients.
Ingredients:
2 teaspoons olive oil
1 small jalapeno, thinly sliced and seeded (if desired), stem discarded
1/2 cup diced red onion
1 clove garlic, minced
handful of grape or cherry tomatoes, halved
salt and pepper
6 egg whites, whisked
half an avocado, peeled, pitted and diced
chopped fresh cilantro
crumbled cotija cheese
Directions:
Heat oil in a medium saute pan over medium-high heat.  Add jalapeno and onion and saute for 3 minutes, stirring occasionally.  Add the garlic and tomato and continue sauteing for 3 minutes, stirring occasionally.  Season to taste with a pinch of salt and pepper.  Then transfer the mixture to a separate plate.
Return pan to the stove, and reduce heat to medium*.  Add the whisked egg whites and cook for 2-3 minutes until the eggs are set and the bottom of the egg is golden.  Remove from heat.  Add the onion mixture, diced avocado, cilantro and cotija cheese to the egg white, and fold over to form the omelet.  Serve warm, garnished with extra cilantro and cheese if desired.
*Your pan is probably still greased from the olive oil at this point.  But if not, you can add a bit more oil or mist the pan with cooking spray before adding the egg, in order to keep it from sticking.
All images and text ©
If you make this recipe, be sure to snap a photo and hashtag it #gimmesomeoven. I'd love to see what you cook!