English Toffee Bars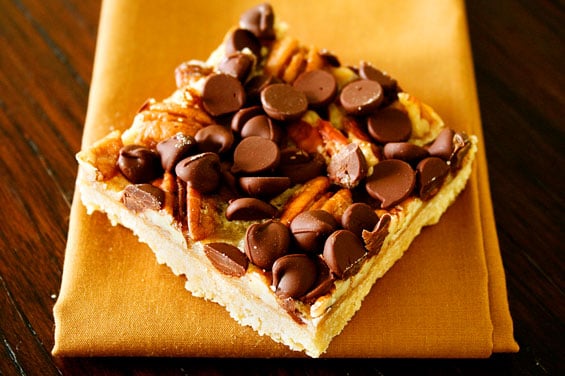 Wow, this has been a week.  In addition to a number of other things going on, this has been one of our busiest weeks of the year at work preparing to kick off our annual leadership institute tomorrow.  I absolutely love this event, and the wonderful people and energy and inspiration it brings, but whew – it definitely puts our staff on overdrive!
So during some extra hours or preparation last night, I decided I needed to bake something sweet and simple for a little extra motivation!  So I pulled out this recipe I'd bookmarked from Hershey's that (I admit) looked so yummy in the picture.  And even better — called for ingredients that I almost always have in the pantry!
While it's probably not going to go in my super-healthy file, it definitely proved to be super-delicious!!  I don't know how you can go wrong with toasted pecans mixed with the sweet toffee and chocolate.  But just to be sure, I did bring a plate of these in for my coworkers to taste-test today, and they happily agreed.  :)  Also, (especially with the help of my food processor) I'm happy to report these were a breeze to prepare.  Will definitely be revisiting this recipe again…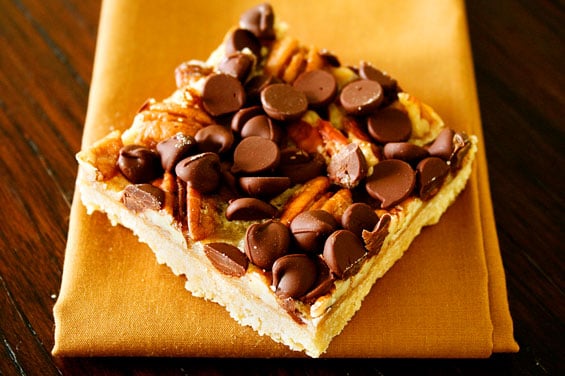 English Toffee Bars
A delicious candy-inspired dessert bar! Recipe and photos included.
Ingredients:
Toffee Bars Ingredients:
2 cups all-purpose flour
1 cup lightly-packed brown sugar
1/2 cup (1 stick) butter
1 cup pecan halves
1 cup chocolate chips (milk, bittersweet or dark)
Toffee Topping Ingredients:
2/3 cup butter
1/3 cup lightly-packed brown sugar
Directions:
Heat oven to 350°F.
Combine flour and brown sugar in large bowl. With pastry blender or fork, cut in butter until fine crumbs form, although a few large crumbs may remain. (See Ali's Tip below for shortcut.) Press mixture onto bottom of ungreased 13x9x2-inch baking pan. Sprinkle pecans over crust. Prepare toffee topping (instructions below); drizzle evenly over pecans and crust.
Bake 20 to 22 minutes or until topping is bubbly and golden; remove from oven. Immediately sprinkle milk chocolate chips evenly over top; press gently onto surface. Cool completely in pan on wire rack. Cut into bars. About 36 bars.
Toffee Topping:
Combine 2/3 cup butter and 1/3 cup packed light brown sugar in small saucepan; cook over medium heat, stirring constantly, until mixture comes to a boil. Continue boiling, stirring constantly, 30 seconds. Use immediately.
My favorite method for making crusts (especially the cutting-in-cold-butter step) is to use a food processor!  It magically takes your ingredients to the "fine crumbs" stage with just the push of a button.  I happen to have a tiny food processor, so often have to divide things into two batches, but it still saves time and I think mixes much better than I could by hand.  :)
If you make this recipe, be sure to snap a photo and hashtag it #gimmesomeoven. I'd love to see what you cook!