"Everything" Chicken
Kick your baked chicken up a major notch with some delicious everything bagel seasoning!  So simple and SO flavorful.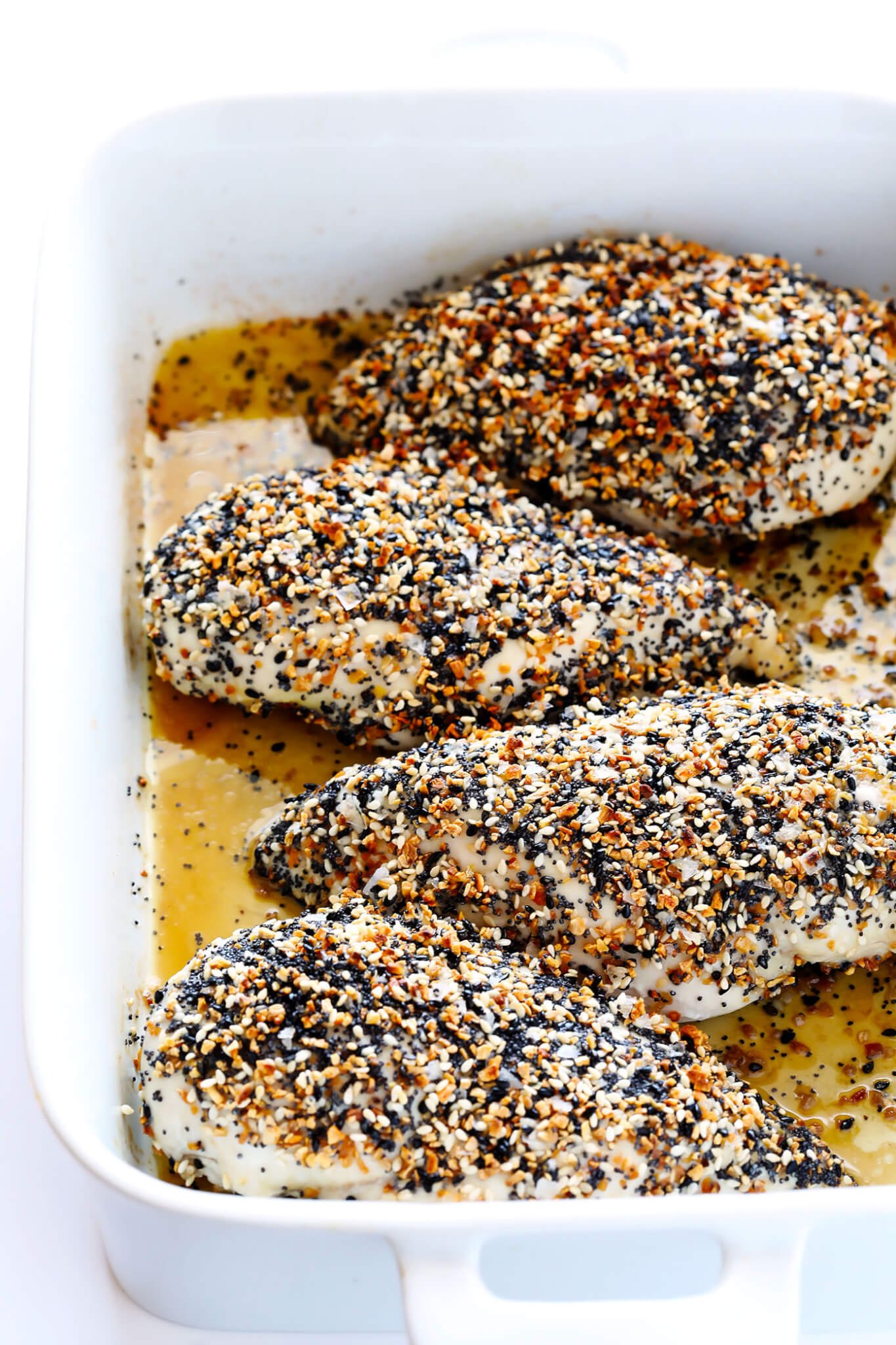 This recipe…is everything. 🤗
That's right.  As many of you saw on Instagram stories last week, I randomly decided to try sprinkling a leftover chicken breast with some everything bagel seasoning for dinner one evening.  And just like that…a new favorite of mine was born.  And just like that…my Instagram messages inbox blew up.  Ha, apparently you all love the idea of "everything" chicken as much as I do!
I tried to message the recipe as many of you as I could.  But for those I missed and anyone else who might be interested in trying this one, I baked and photographed another batch last weekend so that I could officially share it with you on the blog.  It's ultra quick and easy to prepare, it's baked with my foolproof 5-step method for juicy and tender chicken, it's full of amazing garlicky sesame savory flavors that would pair well with just about any side dish…and clearly, I just love "everything" about it.  😉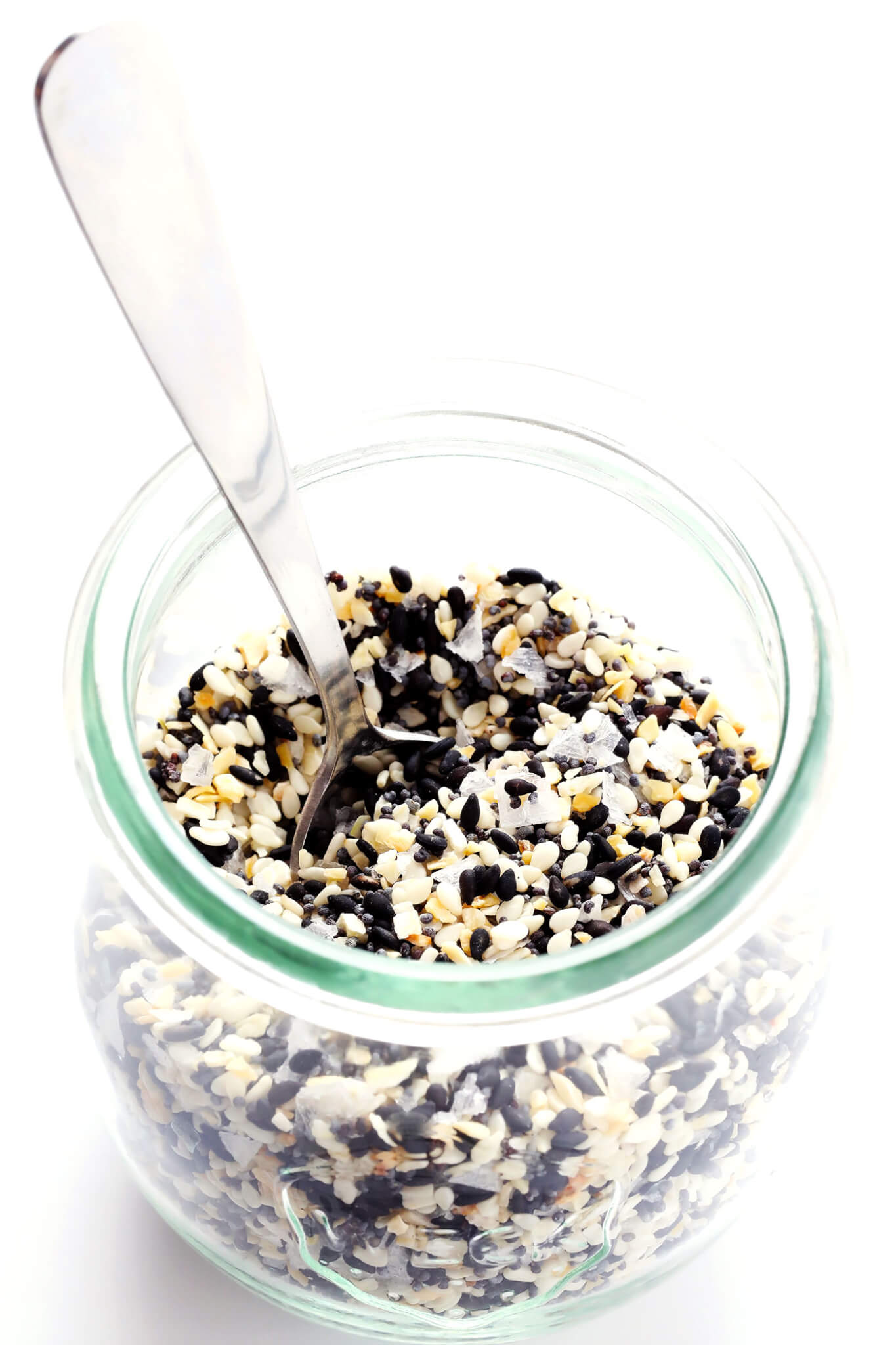 (This post contains affiliate links.)
To make the chicken, first let the chicken breasts brine in saltwater for at least 15 minutes.  (Unless your chicken breasts were sold pre-brined — just check the packaging.)  See details for brining in the recipe below.
Then while you're waiting, go ahead and prepare your 5-ingredient "Everything" Seasoning Blend.  (Or, if you happen to have a Trader Joe's nearby, they also sell a similar pre-mixed "Everything-But-The-Bagel Seasoning" which is delicious.)
Once the chicken is ready to go, give it a quick cold water rinse and then pat it dry with paper towels.  Then brush the chicken breasts on both sides with melted butter.  Add them to a baking dish or baking sheet.  And sprinkle generously with the seasoning blend.  (I thought the chicken was plenty flavorful with just seasoning on top of the chicken.  But if you'd like to go big, feel free to fill a plate or bowl full of seasoning, and then dip the chicken in the seasoning so that it's covered on all sides.)  Give the chicken a gentle pat to press down the seasoning, and then mist it briefly with cooking spray.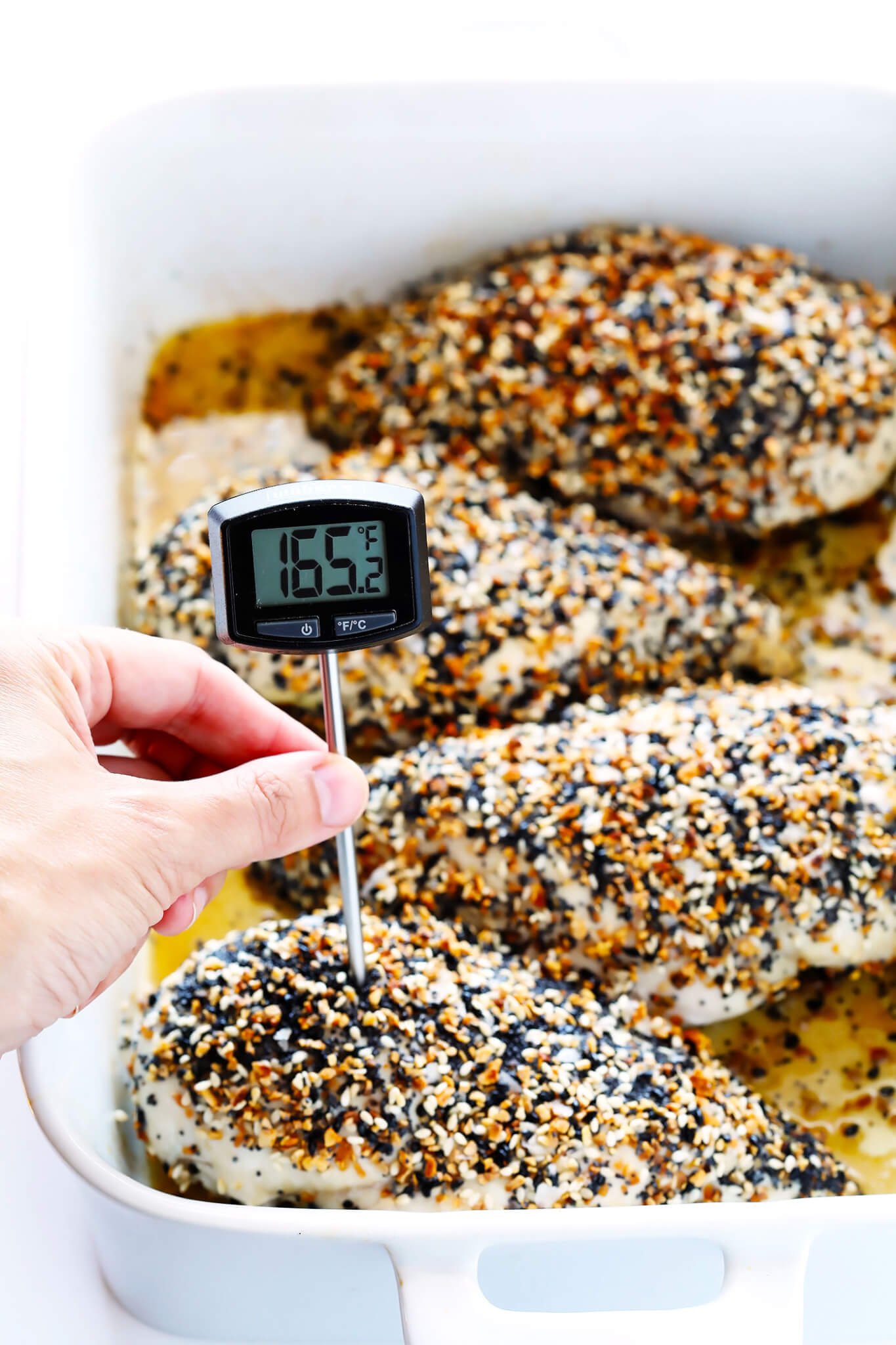 Then bake for about 20 minutes, or until a cooking thermometer (this $15 cooking thermometer from Amazon is my fave) reads an internal temperature of 165°F.
Remove the pan and place a loose tent of aluminum foil over the chicken to let it rest for at least 5-10 minutes.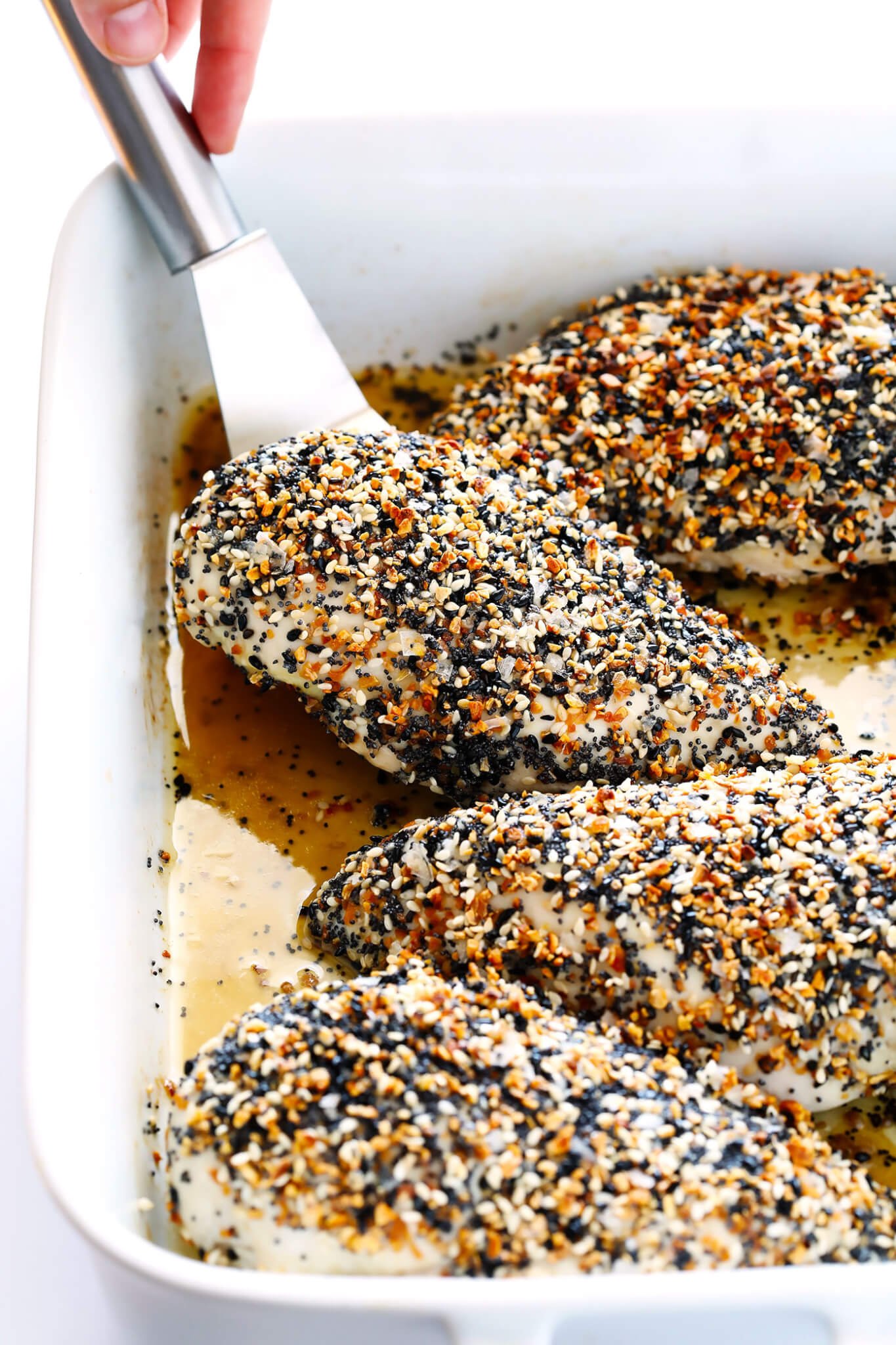 Then serve…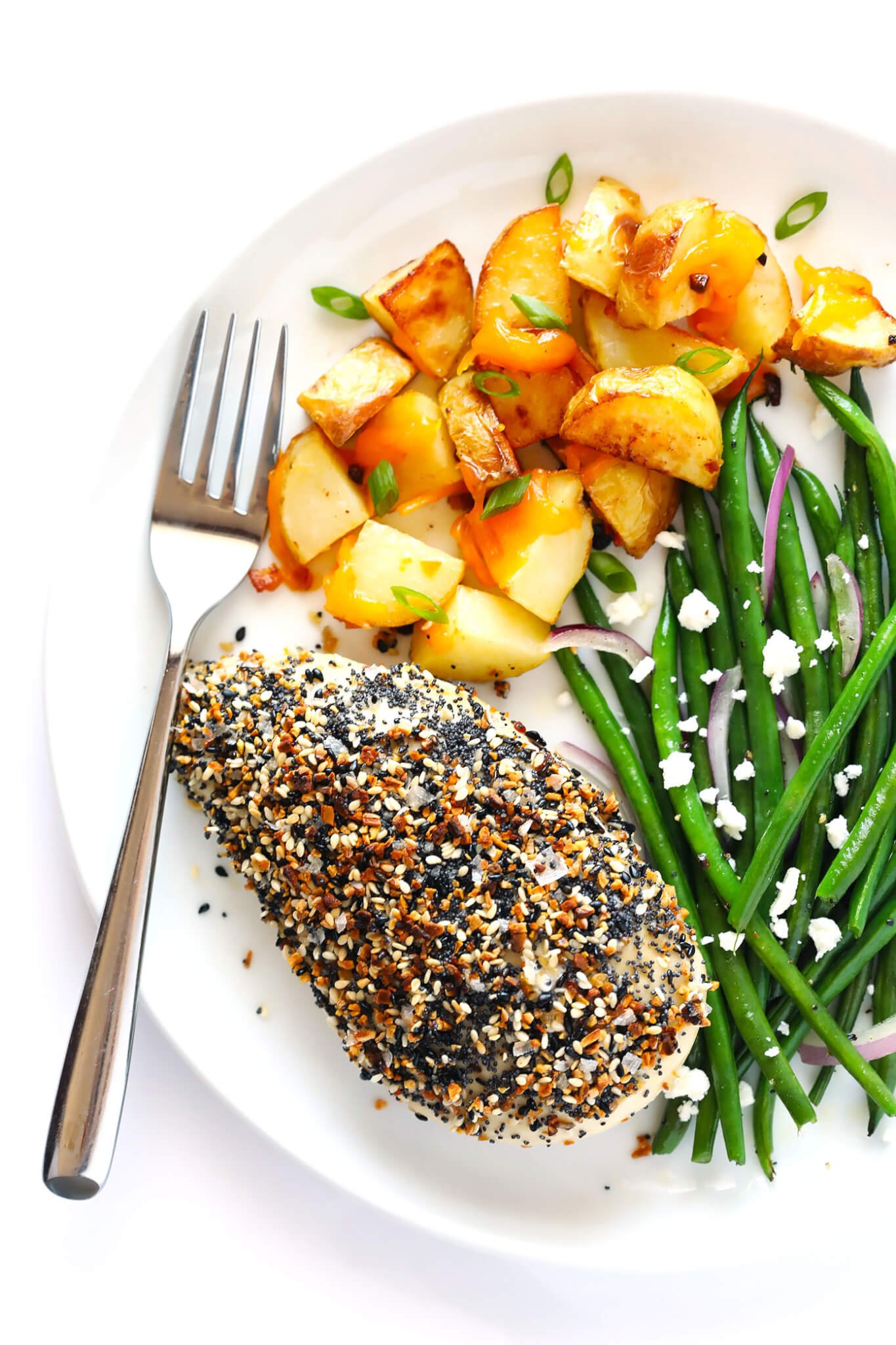 …and enjoy!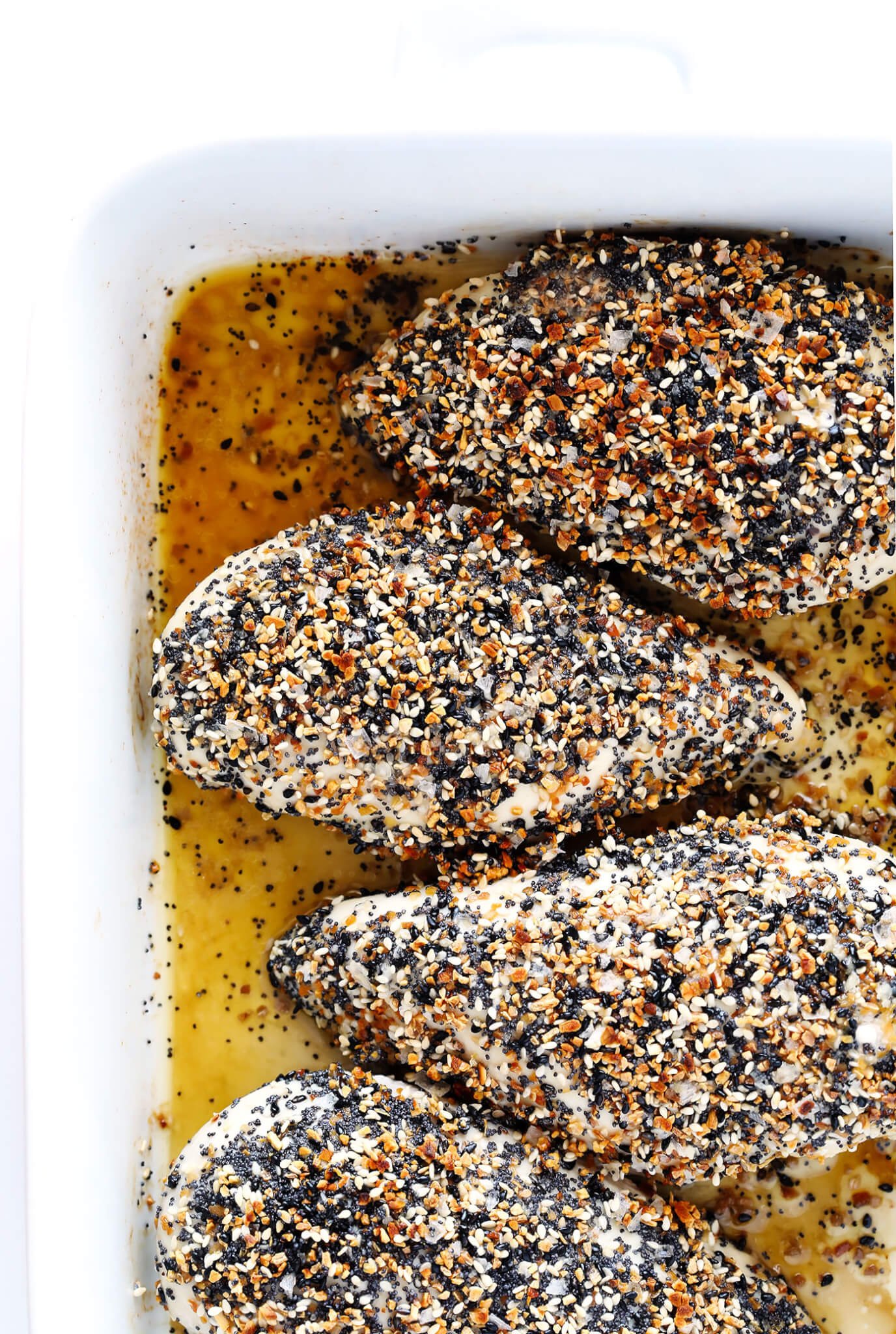 As I mentioned, this chicken would literally pair well with just about any sweet or savory side dishes.  And if you don't happen to have chicken breasts on hand, you could also use the seasoning to make baked chicken thighs or legs (or make chicken strips or nuggets).  The options are pretty limitless!  The one thing you've just gotta do is try it.
Enjoy, everyone!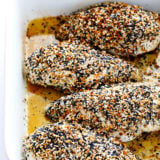 "Everything" Chicken
This "Everything" Chicken recipe is made with classic everything bagel seasoning, and baked in the oven to juicy, tender, delicious perfection.
Ingredients:
4 boneless skinless chicken breasts (pounded to even thickness)
kosher salt and freshly-cracked black pepper
2 tablespoons melted butter
1/4 cup "Everything" Seasoning Blend
Directions:
To brine your chicken breasts, simply fill a large bowl with 1 quart of warm water and 1/4 cup kosher salt.  Stir to combine until most of the salt is absorbed.  Add the chicken breasts and let them sit in the mixture to brine for 15 minutes.  Or you can also also cover the bowl and refrigerate for up to 6 hours.  Remove the chicken breasts from the brine, rinse them with cold water, then pat them dry with some paper towels.  (Again, though, if your chicken breasts are sold pre-brined in a sodium solution, skip this step.)
Heat oven to 425°F.
Place the chicken breasts in a single layer in a large baking dish.  Brush on both sides (turning once) evenly with the melted butter or olive oil.
Sprinkle approximately 1 tablespoon of the seasoning blend evenly on top of each chicken breast.  Gently pat the chicken to press on the seasoning, then mist the chicken with a brief shot of cooking spray.
Bake for 18-20* minutes, or until the chicken is cooked through and no longer pink.  If you use a cooking thermometer to measure the temperature thickest part of the breast, it should be between 160-170°F.  (The FDA recommends 165°F.)
Once the chicken is cooked, remove the pan from the oven and loosely tent the pan with aluminum foil.  Let the chicken rest for at least 5-10 minutes.  Then serve immediately.
Or, refrigerate in a sealed container for up to 3 days, or freeze for up to 3 months.
All images and text ©
If you make this recipe, be sure to snap a photo and hashtag it #gimmesomeoven. I'd love to see what you cook!