Favorite Vanilla Cupcakes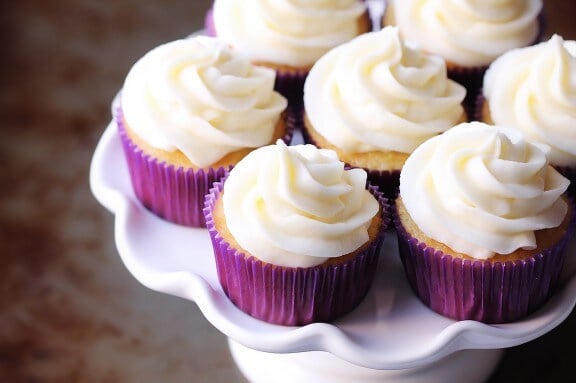 I love coming up with creative new cupcake flavors.  And I love being served creative new cupcake flavors.  But at the end of the day, if given a choice between, well, pretty much any kind of cupcake and a vanilla cupcake, that delicious little white cupcake almost always wins.
I don't know what it is about it, but I love a good vanilla cupcake.  Always have.  Always will.
But I feel like I need to make a confession.  When it came to homemade, I was a closet "box mix" girl for years.  Yep.  Would show up to a party with "homemade "vanilla cupcakes, and everyone would oooh and ahhh and think that they were from some fancy homemade recipe.  But the reality was that I had just never been able to find a recipe that rivaled the taste, texture and (admittedly) the ease of a box mix…until now.

MY LATEST VIDEOS
I think I have finally figured out my favorite homemade vanilla cupcake!!  And I kind of wanna shout it from the rooftops, because this recipe is amazing!!!  It has all of the wonderful vanilla flavor and the light texture of a box mix.  But it happens to be made from scratch with all normal everyday ingredients, plus a vanilla bean and some Greek yogurt.  Easy peasy.  And to stay pure, I topped these with a classic vanilla buttercream.
It doesn't get any more "vanilla" than that, people!  But if you're like me, you will love it too.  Enjoy!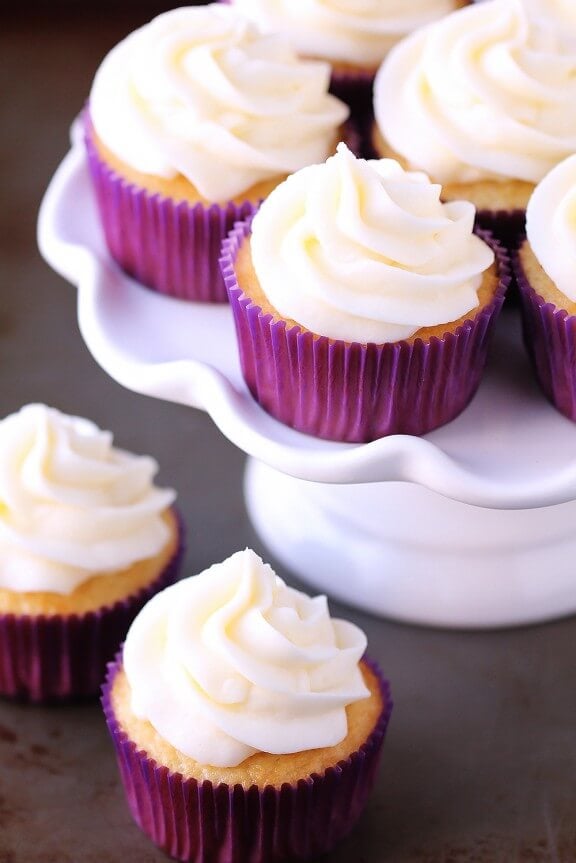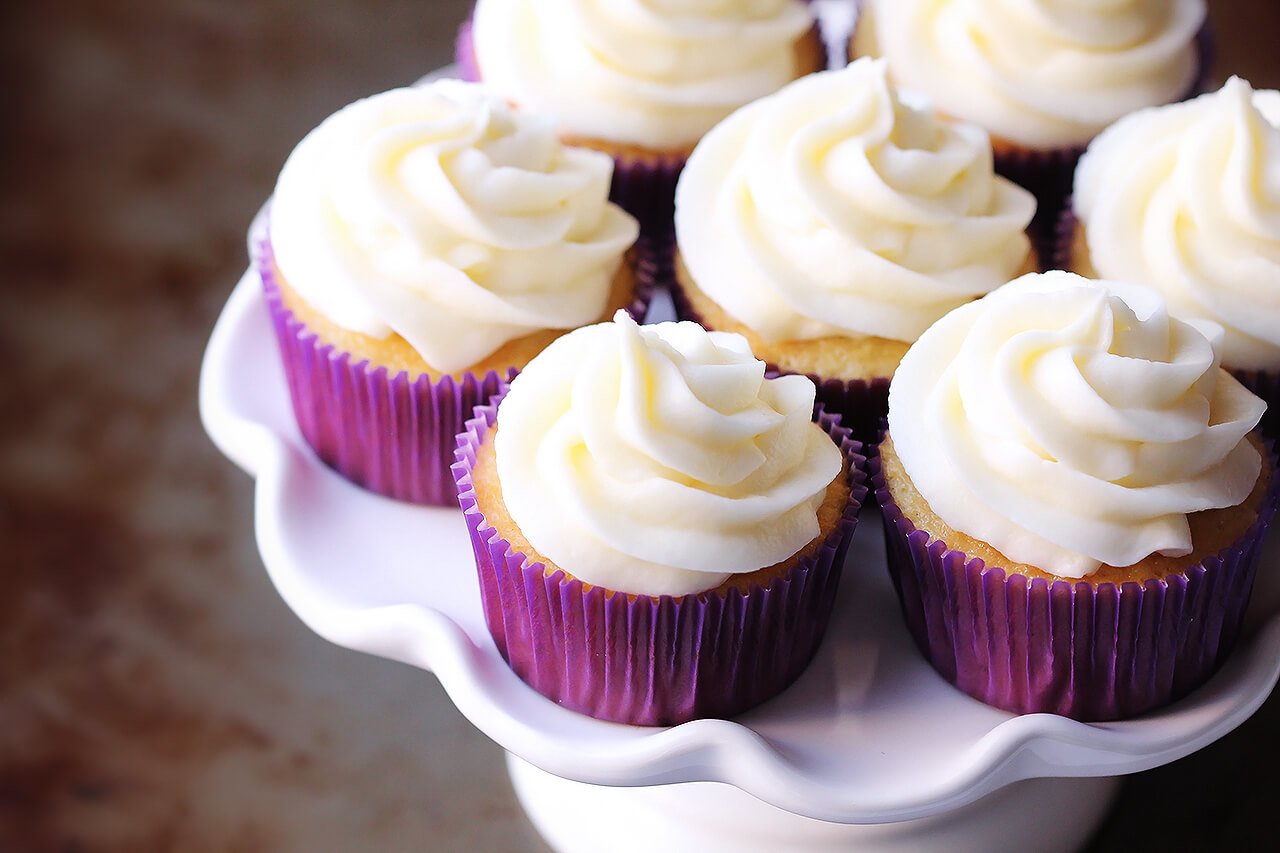 Favorite Vanilla Cupcakes
My favorite vanilla cupcake recipe with a classic vanilla buttercream!
Ingredients:
Vanilla Cupcakes Ingredients:
1 cup granulated sugar
1 vanilla bean, seeds scraped
1 3/4 cups cake flour
1 1/2 teaspoons baking powder
1/2 teaspoon baking soda
1/2 teaspoon salt
1/2 cup (1 stick) unsalted butter, room temperature
2 large eggs, room temperature
1/3 cup Greek yogurt or sour cream (avoid non-fat versions of either)
1 Tbsp. vanilla extract, store-bought or homemade
2/3 cup whole milk
Vanilla Buttercream Frosting Ingredients:
1 cup (2 sticks) unsalted butter, softened
4 cups powdered sugar
1/4 tsp. salt
1 Tbsp. vanilla extract, store-bought or homemade
1 vanilla bean (optional)
3-4 Tbsp. milk or heavy cream
Directions:
To Make The Cupcakes:
Preheat oven to 350 F (175 C).
Add granulated sugar and vanilla bean to the bowl of a stand mixer, and beat on medium speed for about 30 seconds until blended. Add in the cake flour, baking powder, baking soda and salt, and beat for an additional 1 minutes until well-mixed. Add butter and mix on medium-low speed for about 2 minutes until well combined and a little crumbly.
In a separate small mixing bowl, whisk together eggs, Greek yogurt (or sour cream), and vanilla extract until smooth. Add the egg mixture to the flour mixture and beat on medium speed until just combined.
Slowly add milk and mix on low speed until just combined. The batter will be very thin and liquid.
Fill cupcake liners just over 1/2 full. Bake for 14 minutes and then test to see if they are done. They are done when a toothpick comes out without wet batter stuck to it. Remove and let cool on a cooling rack. Once the cupcakes have reached room temperature, frost with the Vanilla Buttercream Frosting (recipe below).
To Make The Buttercream Frosting:
Add the butter to the bowl of a stand mixer and beat for 1 minute on medium speed until smooth. Add the powdered sugar, salt, vanilla extract, the seeds of a vanilla bean and about 2 Tbsp. milk and reduce speed to low. Beat for a minute or so until the sugar no longer sprays. Then increase speed to medium high and beat for an additional minute until smooth. Add an extra tablespoon or two of the milk if you need a thinner frosting.
If you make this recipe, be sure to snap a photo and hashtag it #gimmesomeoven. I'd love to see what you cook!