Flag Fruit Pizza
This post may contain affiliate links. Please read my disclosure policy.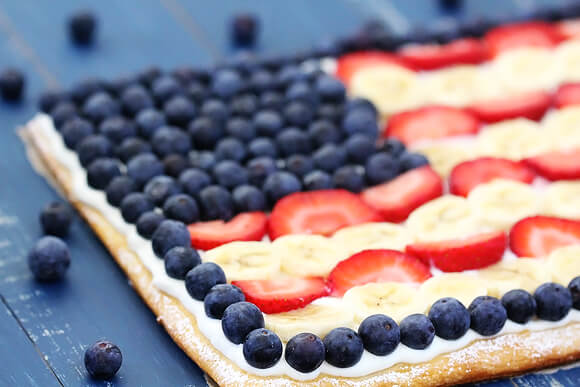 Eeeee — I have big news, people!!!
I'm super excited to announce that in addition to blogging here on my beloved Gimme Some Oven site, I am now also going to be a regular blogger over at Tablespoon.com! (In case you missed that being a live link, you should totally click here to check it out.)  I will be a regular contributor in their "Quick Dish" section, focusing on the quick and easy meals and desserts that I so love. It's going to be great, and I am thrilled to be working alongside an amazing team of foodies.
So for my first Tablespoon dish, I went all red-white-and-blue with this fun "Flag Fruit Pizza"! I know, I know — I was playing with my food again. But this pizza calls for super simple ingredients so that you can concentrate your energy on the fun and fresh decor. My friends gave this one a big seal of approval, mostly by polishing the entire pizza off in a flash! Definitely a great crowd-pleaser for 4th of July, Memorial Day, Labor Day, or any other red-white-and-blue occasion.
So pop on over to check out the recipe, and I look forward to sharing many more "Quick Dishes" to come!