Fresh Strawberry Margarita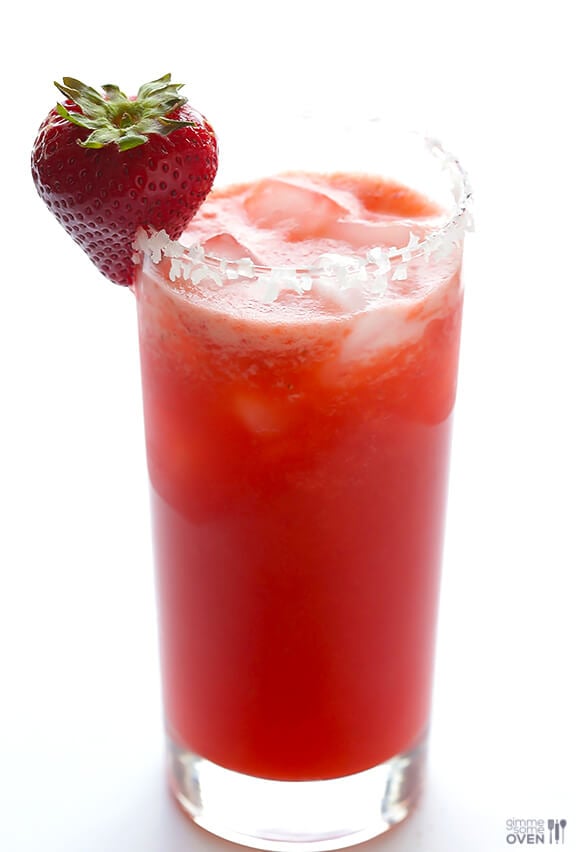 Hey, hey, it's my birthday!  And I made margaritas to celebrate!
Actually, I had all intentions of making a cake, but it's Cinco de Mayo week here on the blog.  (The best holiday ever to coincide with my birthday each year!)  And we all know that chips and salsa and margs are about my favorite thing to eat on the planet.  So hey, after 30 years of cakes, why not a margarita to celebrate the big 3-1?
I have to say, this recipe is one of my all-time favorites too.  Strawberry margaritas are a classic!  But instead of going the usual frozen strawberries route, I decided to make use of the beautiful ripe strawberries that are in abundance right now and make a fresh strawberry margarita version.  It is sweetened with honey (or agave).  It calls for just 5 simple ingredients.  It takes less than 5 minutes to whip up in a blender.  It can be served on the rocks or frozen.
And goodness, it is delicious.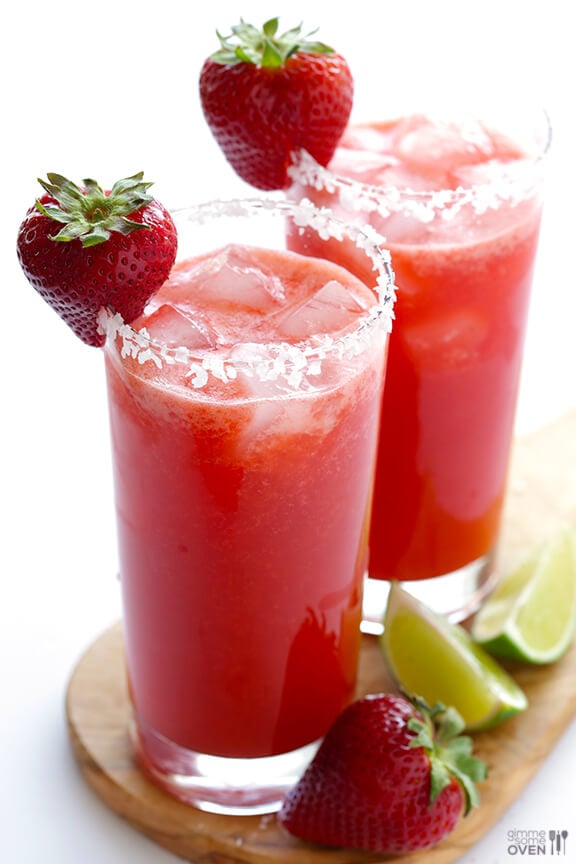 If you happen to be reading this at a time of year when strawberries aren't in season, or if you absolutely can't get your paws on a pound of fresh berries, you are more than welcome to use frozen berries.  You can either blend them up frozen, or let them thaw and get closer to the effect of a fresh strawberry margarita on the rocks.  But if you can find some fresh strawberries, I completely recommend using them!  I swear you can taste the difference of those sweet fresh berries.
And I actually love having a strawberry drink that — for once — isn't frozen.
So grab 5 ingredients and find 5 minutes and make a batch with me!  Here's how: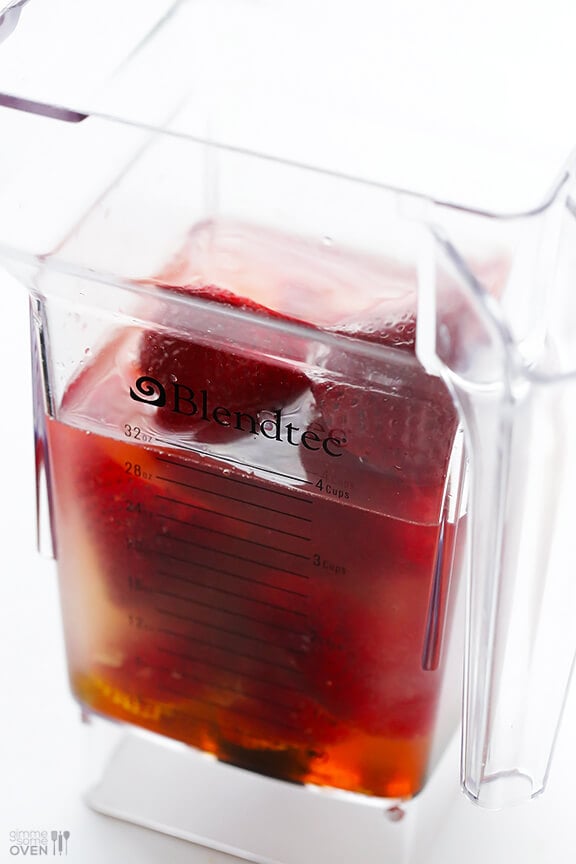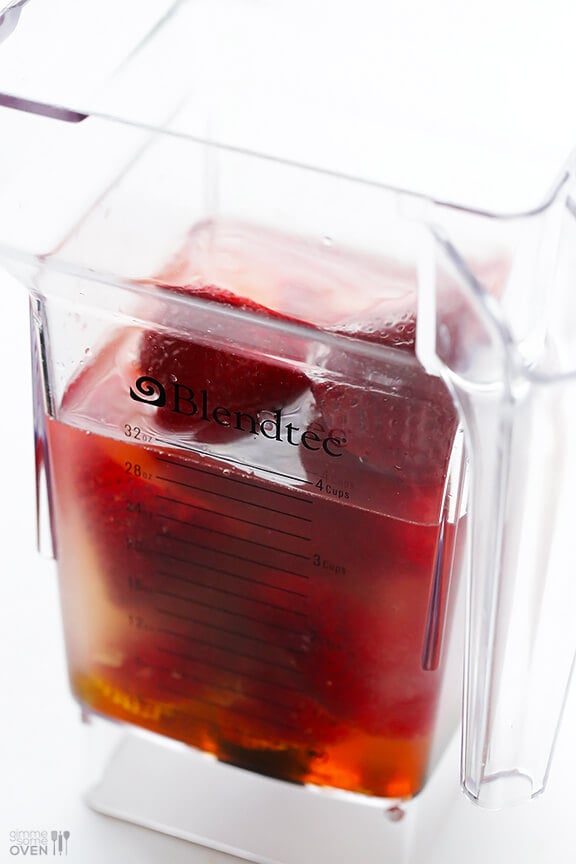 Well, actually there are hardly any instructions.  Just dump all 5 ingredients — strawberries, tequila, orange liqueur, honey (or desired sweetener), and some fresh lime juice in a blender.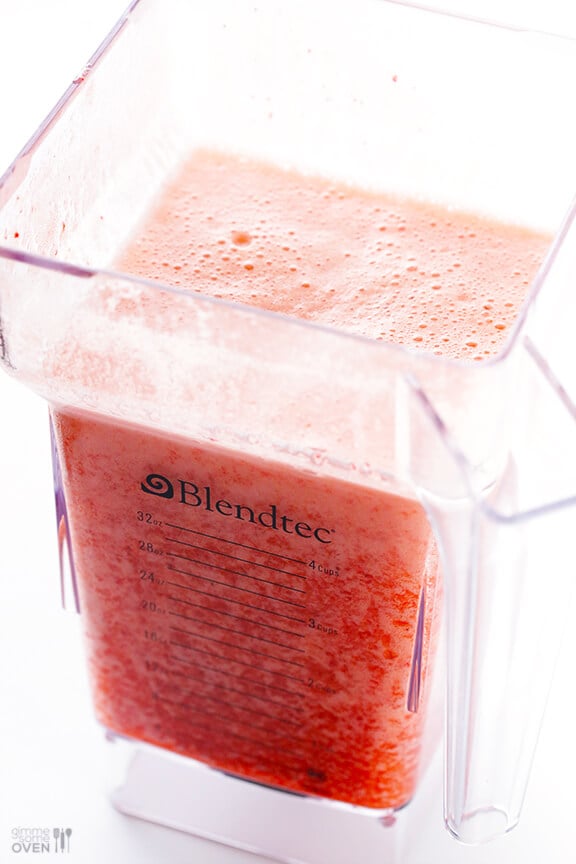 Then blend until smooth.  If you're using fresh berries, you'll probably have a nice thick foam that develops on top after this sits for a few minutes.  Feel free to skim it off if you don't want super foamy margaritas.
Then either pour them over ice to serve on the rocks.  Or add some ice to your blender and make frozen margaritas.  And then enjoy!
Cheers to 31!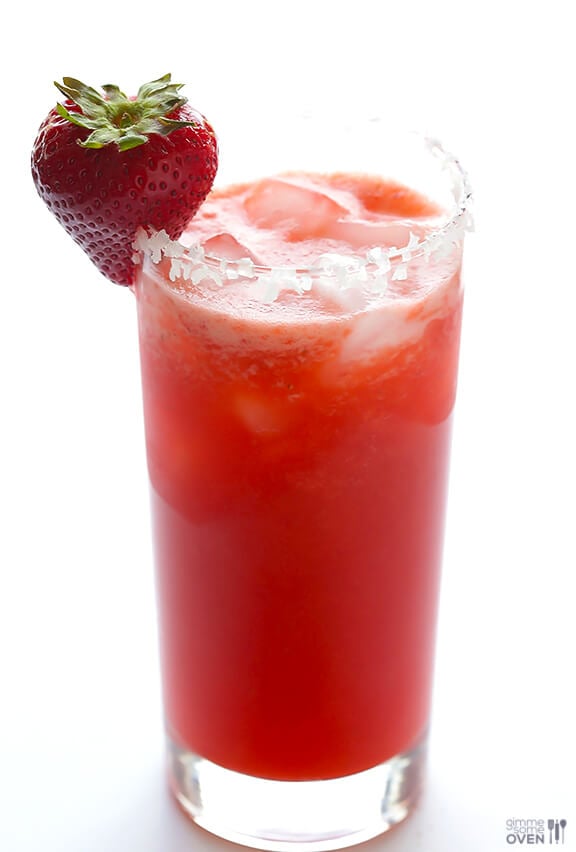 Fresh Strawberry Margarita
This fresh strawberry margarita recipe is simple to make, and perfectly sweet and delicious to enjoy.
Ingredients:
1 pound (16 ounces) fresh strawberries, hulled
1 cup silver tequila
2/3 cup freshly-squeezed lime juice
1/3-1/2 cup honey or agave, more/less to taste
1/4 cup Cointreau or Triple Sec (or any orange liqueur)
(for serving) ice, salt to rim the glasses, extra fresh strawberries and/or lime slices for garnish
Directions:
Add strawberries, tequila, lime juice, honey, and orange liqueur to a blender. Pulse until completely smooth. Let the mixture rest for about 3 minutes, then skim off the foam on top. Taste, and add extra tequila or sweetener if desired.
If you would like to serve these in salt-rimmed glasses, simply run a lime wedge around the top of each glass. Then dip the top of the glass upside-down in a bowl of coarse margarita salt. Garnish the glasses with fresh strawberries and/or lime slices if desired.
To Serve On The Rocks:
Fill up each glass about half full with ice, then pour the margaritas over the ice and serve immediately.
To Serve Frozen:
Add about 3-4 cups of ice to your blender with the strawberry margarita mixture, and pulse until smooth. Pour into glasses and serve immediately.
All images and text ©
If you make this recipe, be sure to snap a photo and hashtag it #gimmesomeoven. I'd love to see what you cook!