Garlic & Herb Tomatoes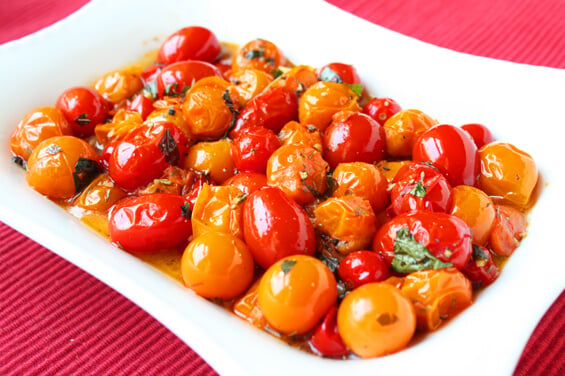 You say, "Tomato"?  I say, "Tomatoes."
Yes, 'tis the season – I have zillions ready for harvest in my garden!  Needless to say, there's been much creative tomato experimenting going on in the kitchen these past few weeks.  From whipping up various salsas, to tomato sauces, to soups, to kabobs, to roasting, drying, sauteing, grilling…you name it!  (Have been feeling a strange sense of deja-vu with the post-Thanksgiving turkey soup, turkey sandwiches, turkey casserole, turkey salad extravaganza…hmmm, wonder why…).
Anyway, this recipe is a classic from the woman who knows her classics – Ina Garten, the beloved "Barefoot Contessa".  She is a pro (literally) at weaving together simple ingredients, and in this case, a very simple method, to create a result that's surprisingly rich and satisfying.  And what's more, this recipe only takes 7 minutes to cook on the stove – marvelous!  So if you're looking for a simple, summer-y side to go with dinner tonight, go raid your garden (or your neighbor's, or the grocery store's, or mine!) and give this one a try.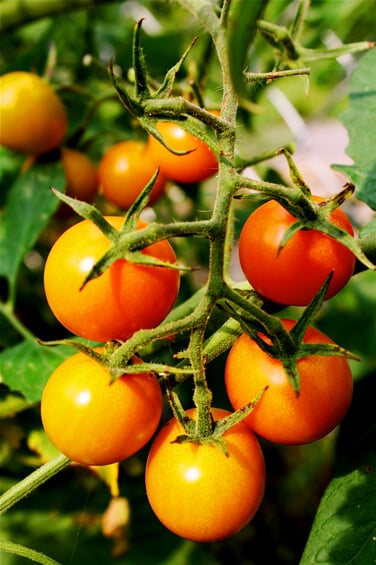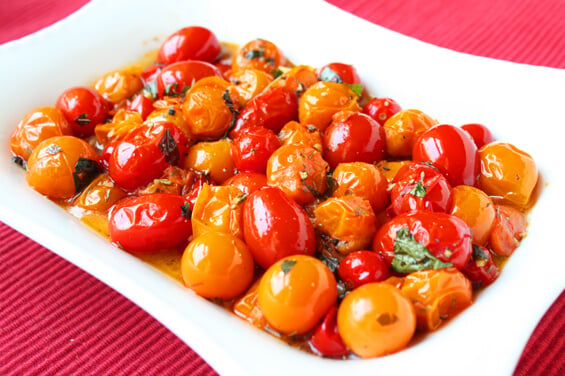 Garlic & Herb Tomatoes
These garlic & herb tomatoes are one of my favorite way to enjoy fresh summer tomatoes!
Ingredients:
2 tablespoons good olive oil
5 cloves minced garlic
2 pints cherry tomatoes or grape tomatoes
2 tablespoons chopped fresh basil
2 tablespoons chopped fresh flat-leaf parsley
2 teaspoons chopped fresh thyme leaves
1 teaspoon kosher salt
1/4 teaspoon freshly ground black pepper
Directions:
Heat the olive oil in a saute pan large enough to hold all the tomatoes in one layer. Add the garlic to the oil and cook over medium heat for 30 seconds. Add the tomatoes, basil, parsley, thyme, salt, and pepper. Reduce the heat to low and cook for 5 to 7 minutes, tossing occasionally, until the tomatoes begin to lose their firm round shape. Sprinkle with a little fresh chopped basil and parsley and serve hot or at room temperature.
Because sauteeing brings out the sweetness and intensifies the flavor in tomatoes, this method might also be a good solution to help boost flavor in otherwise bland winter tomatoes.  Or to give even more extra flavor, feel free to sprinkle some toasted pine nuts or a favorite cheese (i.e. feta, mozarella, etc.) on top of the tomatoes just before serving.
If you make this recipe, be sure to snap a photo and hashtag it #gimmesomeoven. I'd love to see what you cook!