Ginger Lime Pork Tenderloin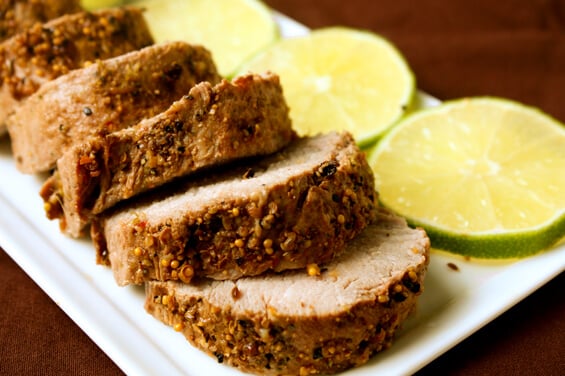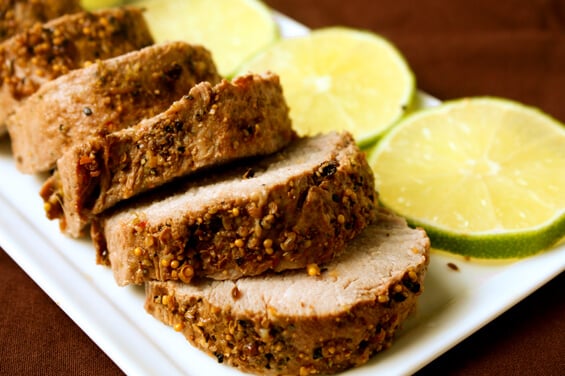 Pork tenderloin has long been one of my favorite easy go-to dinner meals.  It's convenient, affordable, and with the help of some simple seasonings and/or a marinade, can be incredibly flavorful and elegant!
The key to locking in all of those flavors and wonderful juices, however, is all in the searing. For years I used to just pop tenderloins straight into the oven, which generally left them slightly dry and lacking that golden, flavorful crust.  With searing, you retain the moisture and create the crust, and you get the added bonus of the tenderloin cooking more evenly.  (Also, if you have an oven-proof skillet, you can save a step and just transfer the skillet to the oven to roast the tenderloin, rather than using a baking dish!)
This specific recipe is one of my favorites.  I actually adapted it awhile back from a Rachael Ray recipe that was originally intended for flank steak.  But not surprisingly, it transferred well to pork!  The ginger+lime combo is good as always, but the steak seasoning is the surprise star ingredient.  So feel free to really be generous with it, as it adds a terrific burst of flavor!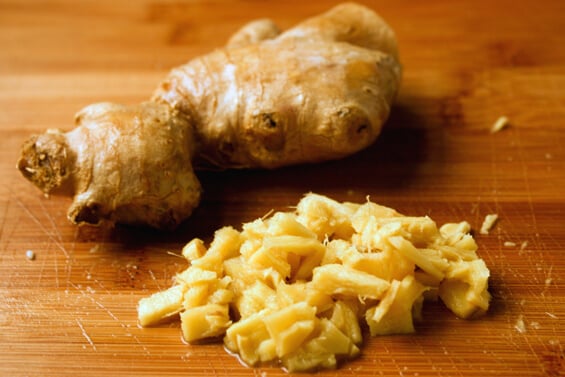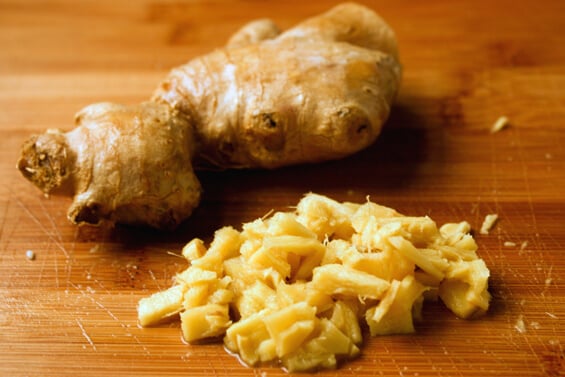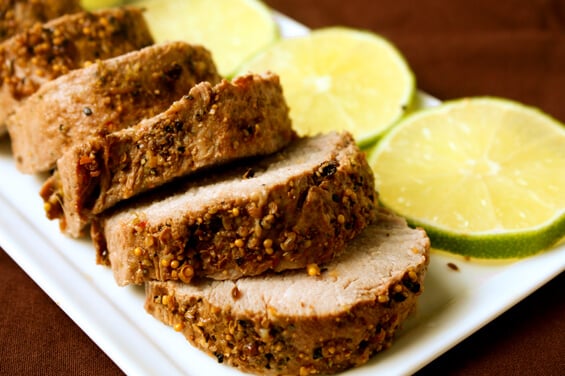 Ginger Lime Pork Tenderloin
This ginger lime pork tenderloin is so healthy and easy to make!
Ingredients:
2 Tbsp. fresh ginger, peeled and finely chopped or grated
2 Tbsp. soy sauce
1 lime, zested and juiced
2 Tbsp. olive oil, plus extra 1 Tbsp. for searing
2 Tbsp. grill seasoning
1 (about 1 lb.) pork tenderloin
Directions:
Preheat oven to 425 degrees. Trim pork tenderloin of any excess fat, and remove silver skin. (For a helpful video on how to remove silver skin, see here http://www.youtube.com/watch?v=LFVYcfyd_S8.)
Combine ginger, soy sauce, lime juice and zest, (2 Tbsp.) oil and grill seasoning in a large sealable plastic bag. Add pork tenderloin to marinade and coat evenly. Let stand 15-30 minutes (or more).
Heat 1 Tbsp. olive oil in a large skillet over medium-high heat. Remove tenderloin from the marinade, reserving the marinade. Generously season with extra grill seasoning if desired. Add to the skillet and cook, turning as needed, for 4 to 5 minutes (about 1 minute per side), until evenly browned. Transfer tenderloin to a greased baking dish, and brush some of the reserved marinade evenly over the tenderloin. Place the dish in the oven to roast for 12 to 15 minutes, until an instant-read thermometer inserted into the thickest part of the tenderloin reads 140 degrees. Remove dish from oven and transfer the tenderloin to a plate and cover loosely with aluminum foil to keep warm.
Cut the tenderloin into slices, and lay out on a plate to serve.
If you make this recipe, be sure to snap a photo and hashtag it #gimmesomeoven. I'd love to see what you cook!