Guinness Pulled Pork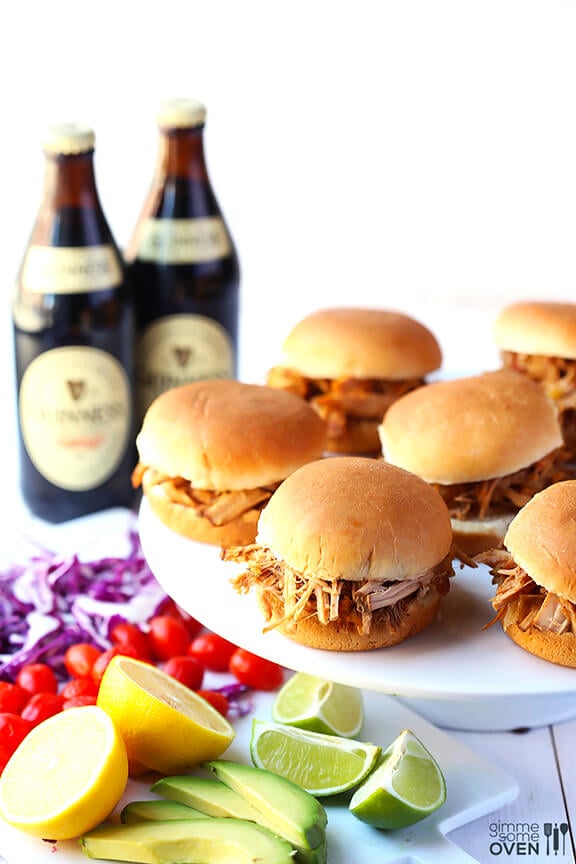 Friends, I'm pretty sure you're going to need to try this next recipe in our Guinness Week lineup — Guinness Pulled Pork!
I made a big batch of this yesterday to share with my good friends and neighbors, David and Suzannah, who just brought the sweetest little baby girl named Ava into the world.  I asked if they wanted tacos or sliders, and they requested the latter.  So I brought over this pulled pork and some salad for dinner, and we spent a wonderful evening catching up on all things life and parenthood and faith and more — made all the better by the fact that I got to spend nearly the entire time holding their tiny 12-day-old sleeping daughter in my arms.
Goodness.  It really doesn't get much better than that.  :)
It was such a joy to finally meet this sweet girl.  But perhaps even more, I loved getting to see my good friends for the first time as parents.  I think it will always be a wild and surreal and beautiful miracle to see friends I have known for years move into this new stage of life.  But with each new baby born, it amazes me how much it just fits.  I already have known for years that my friends are incredible people.  So it's only natural that they would become incredible parents!  It's just so cool to see this new side of their identity unfolding and growing, and it makes me all the more grateful to be a part of their community and lives.
For what it's worth, David and Suzannah had seconds and even thirds of these little pulled pork sliders.  So I think they come pretty highly recommended (yay)!   Whether you're staying in and making sliders, tacos or even a salad, or if you're taking a meal to some friends, this simple slow cooker pulled pork is a great meal for the sharing.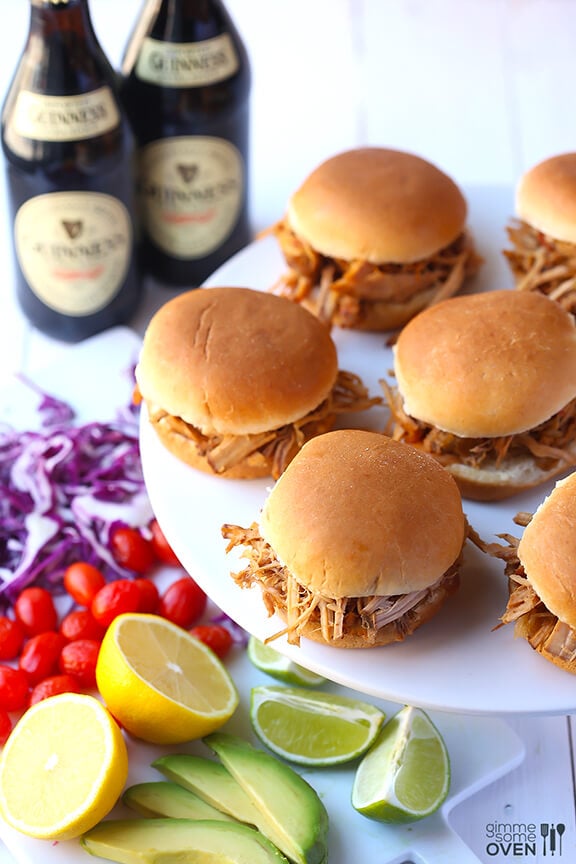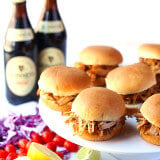 Guinness Pulled Pork
Let your slow cooker and a bottle of Guinness do the work to create the tastiest fall-apart-on-your-fork pulled pork ever. :)
Ingredients:
1 Tbsp. smoked paprika
2 tsp. salt
1 tsp. crushed red pepper
1/2 tsp. garlic powder
1/2 tsp. freshly-cracked black pepper
4 lb. boneless pork butt or shoulder or loin
1 large white onion, thinly sliced
1 (11.2) bottle Guinness extra-stout beer
Directions:
In a small bowl, whisk together paprika, salt, crushed red pepper, garlic powder, and black pepper until combined. Rub the mixture all over the surface of the pork until covered.
Spread out the sliced onions over the bottom of the slow cooker. Then place the pork on top. And then pour the beer on top.
Cover and cook on low for 10-12 hours, or until the pork literally falls apart on your pork. Serve on sliders, tacos, salads, or however you would like!
Store in an airtight container in the refrigerator for up to four days, or freeze.
All images and text ©
If you make this recipe, be sure to snap a photo and hashtag it #gimmesomeoven. I'd love to see what you cook!