Gnocchi with Brussels Sprouts, Chicken Sausage and Kale Pesto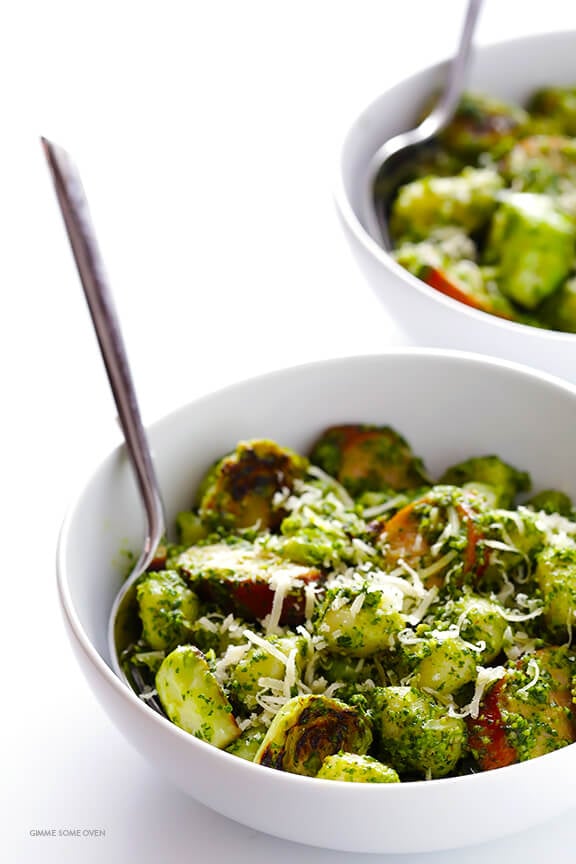 The longer I cook, the more I become convinced that some of the best meals out there are those impromptu dig,-into-the-far-reaches-of-the-pantry, scavenger-through-the-fridge, pull-out-a-little-of-this-and-a-little-of-that, and let's-see-what-we-can-cobble-together-for-dinner kind of dinners.
You know, the ones with a handful of random ingredients, a dash of hope, and zero recipe in sight.
My favorite kind of kitchen adventure.  :)
Occasionally they yield massive failures and turn into prime nights for take-out.  But more often than not, something a little magical seems to happen.  And the meals that I thought were going to be mere "meh" turn out to be freaking magnificent.  These green bowls were a delicious case in point.  So much so that I had to turn them into an actual recipe to share with you, because I'm pretty convinced you need them in your life too.
Meet my Gnocchi with Brussels Sprouts, Chicken Sausage, and (the most delicious) Kale Basil Pesto.
I had thought that we were long past fresh basil season.  But when I was passing by our neighborhood garden the other day, I caught sight of a few leafy plants and decided to carpe basil for one last round of pesto.  For something different, though, I added in a few big handfuls of fresh kale and some toasted walnuts, instead of pine nuts.
The result?!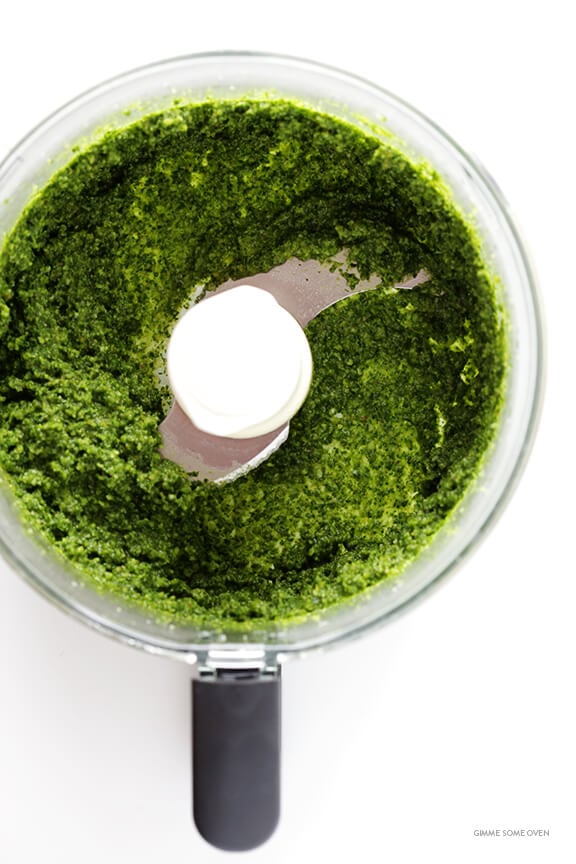 Let's just say that I'm pretty sure you could add this to any dish, and call it a winner.  Ridiculously good!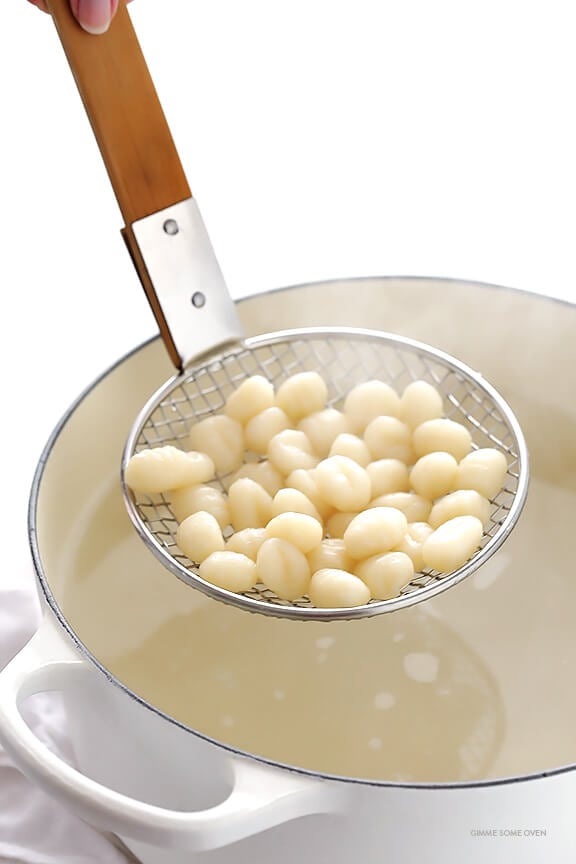 Also good?  These mini potato gnocchi, which I've been obsessed with this year.  Regular-sized gnocchi would probably be more appropriate for a dish like this.  But hey, I was cleaning out the pantry, and they're super cute.  And they tasted fab.
(Also, fun fact — I found out when I was visiting DeLallo last week that they're actually pronounced ny-ahhh-kee, not ny-oh-kee.  Did you know this?!)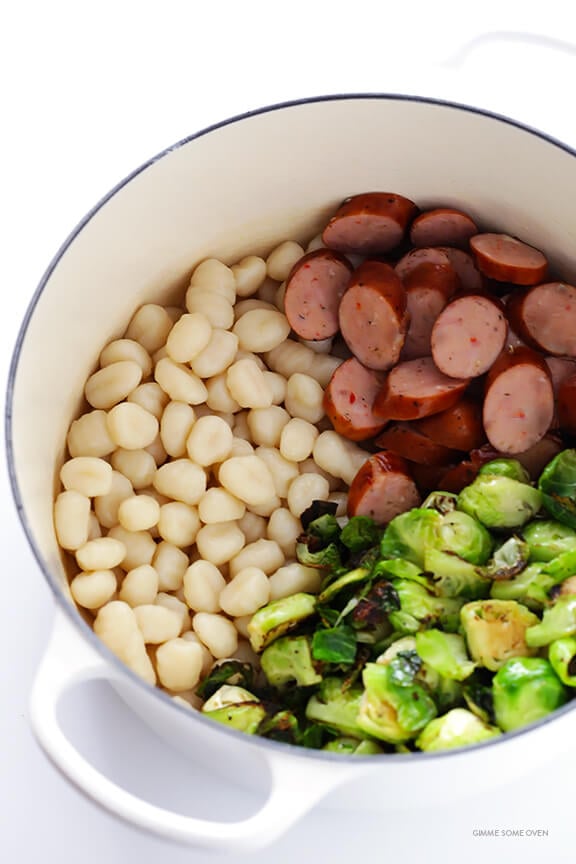 When paired with some tasty chicken sausage (you can use any kind) and some Brussels sprouts (which you can saute or roast) and that magical pesto…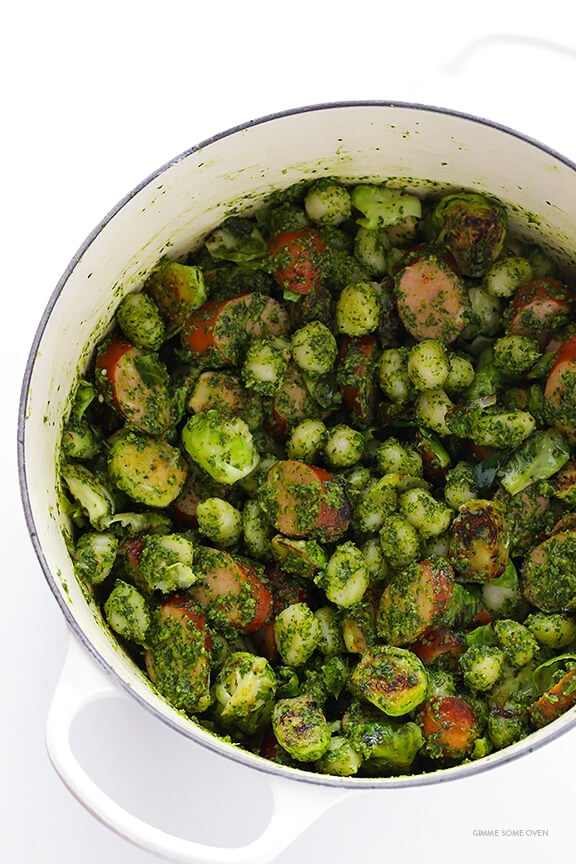 …this happens.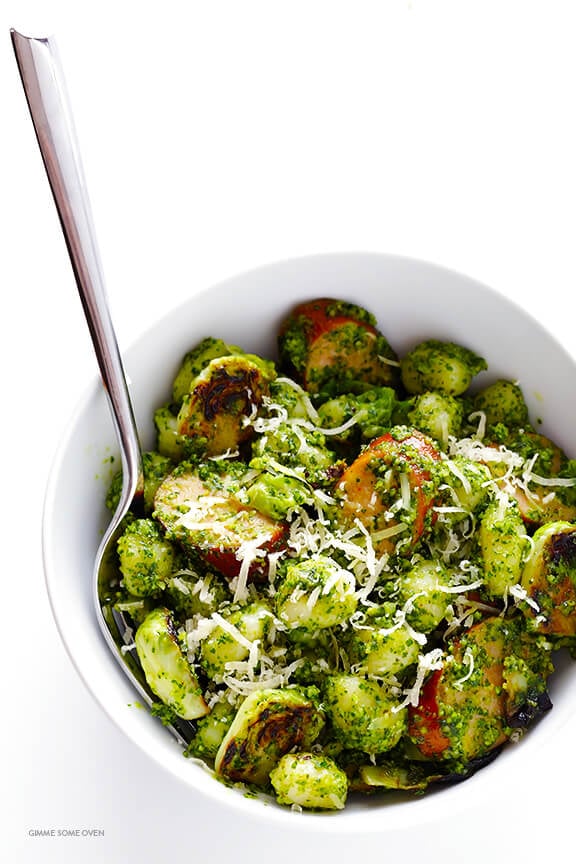 And then this happens.
And then I want to run to the store and re-buy all of the ingredients so that it can all happen again.  :)
Seriously, do yourself a favor and please make a batch of this.  It's simple to make, it's so comforting, it's so flavorful, and it's bound to become a new favorite for dinner.  (Also, bonus, if you make this using gluten-free gnocchi, it can be a great meal to serve for a weeknight dinner or party that's GF!)
Makes me want to clean out the pantry more often.  ;)
Enjoy!
How To Cut Brussels Sprouts | 1-Minute Video
Gnocchi with Brussels Sprouts, Chicken Sausage and Kale Pesto
This Gnocchi with Brussels Sprouts, Chicken Sausage and Kale Pesto recipe is quick and easy to make, so flavorful, and absolutely delicious!
Ingredients:
Gnocchi Ingredients:
Kale Basil Pesto Ingredients:
2 cups packed chopped kale leaves, stems removed
1 cup packed basil leaves
1/2 cup chopped walnuts, toasted
1/2 cup grated Parmesan cheese
1 teaspoon sea salt
4 cloves garlic
1/2 cup olive oil
Directions:
To Make The Gnocchi:
Prepare Kale Basil Pesto according to instructions below.
Cook the gnocchi in a large stockpot of salted boiling water according to package instructions.  Drain and set aside.
While the gnocchi is cooking, cook the chicken sausage in a saute pan according to package instructions.  Once it has finished cooking, transfer the sausage to a separate plate and slice it on the diagonal into bite-sized pieces.
In the same saute pan, heat olive oil over medium-high heat.  Add Brussels sprouts and saute for 5-6 minutes, stirring and flipping occasionally, until it is cooked through and begins to brown.  Remove from heat.
Combine gnocchi, Brussels sprouts and Kale Basil Pesto in the stock pot, and toss until combined.  Serve warm, garnished with extra Parmesan cheese if desired.
To Make The Kale Basil Pesto:
Add kale, basil, walnuts, Parmesan, salt and garlic to a food processor, and pulse until combined.  Drizzle in the olive oil, while still pulsing the food processor, until the pesto is smooth.  Serve.
All images and text ©
If you make this recipe, be sure to snap a photo and hashtag it #gimmesomeoven. I'd love to see what you cook!