Gnocchi With Shrimp, Asparagus & Pesto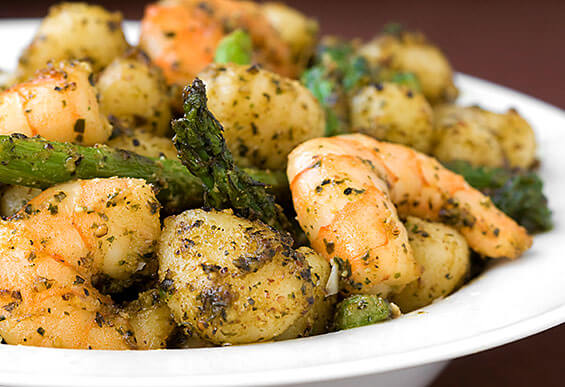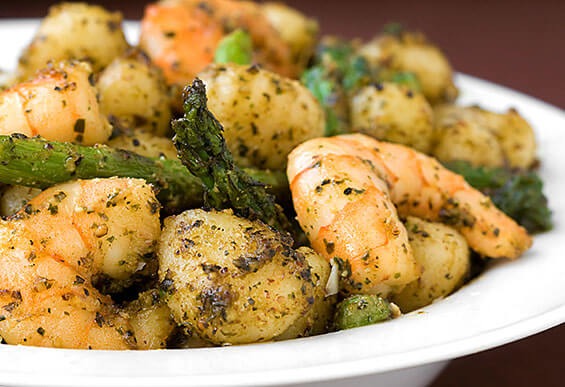 I'm all for 30-minute meals.  But I'm an even bigger fan of 15-minute meals!!  :)
So yes, allow me to introduce you to a new favorite main dish that came about today somewhat randomly.  I have been trying to clean out the freezer this week, and wanted to use up some shrimp and frozen "ice cubes" of pesto that were calling my name.  And since I'd also picked up some beautiful asparagus at the store this week, did a quick google search to see if any creative recipes came up.  I was expecting pastas, or a stir-fry, but to my surprise, this yummy recipe popped up for gnocchi — fun!!  Already had a package in the pantry, so decided to give it a try.
I admit — calling for just 4 main ingredients had me a little skeptical.  But holy cow, I was wrong.  This turned out fantastic!!!  The combination of the starchy gnocchi with the fresh asparagus and pesto was fantastic, and it was totally packed with flavor (I used homemade pesto, but if you buy storebought, get a good brand!).  But the best part was that it literally took less than 15 minutes to prepare.  Fannnnnntastic.
Already looking forward to the leftovers tomorrow…  :)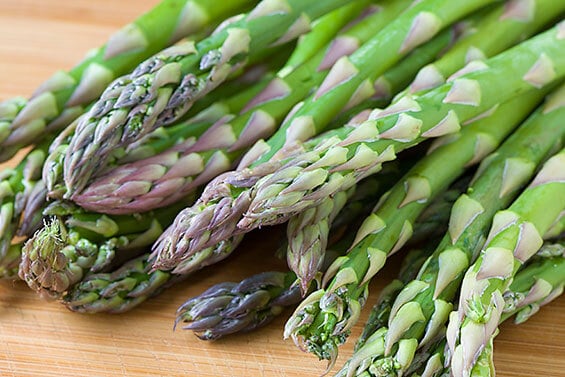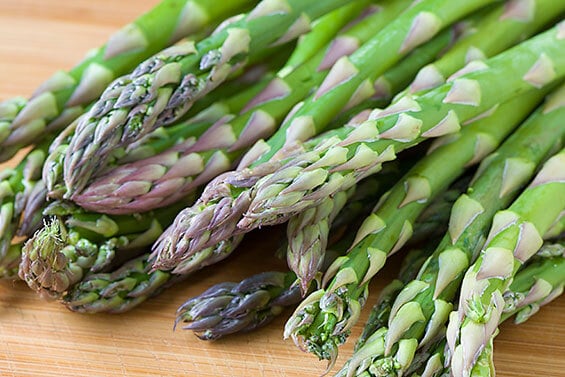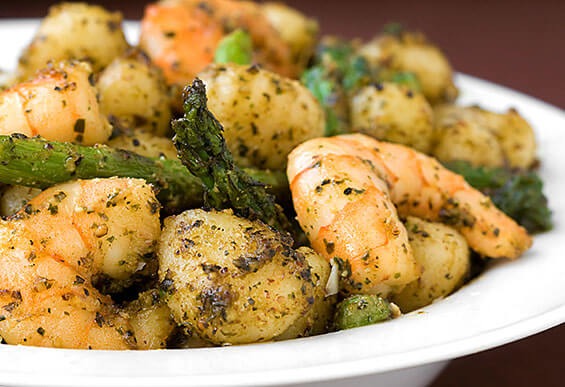 Gnocchi with Shrimp, Asparagus & Pesto
This incredibly delicious Gnocchi With Shrimp, Asparagus & Pesto recipe can be prepared in 15 minutes or less! Enjoy!
Ingredients:
2 Tbsp. olive oil
1 lb. asparagus, tough ends removed, and cut into 2″ pieces
1 lb. large shrimp, peeled and de-veined
1 (16 oz.) package vacuum-packed gnocchi
1/4 cup pesto, homemade or store-bought
salt and freshly ground black pepper
(optional garnishes: parmesan and toasted pine nuts)
Directions:
Heat olive oil in a skillet over medium heat. Add asparagus and saute for 3 minutes. Then add shrimp, season everything with salt and (lots of!) freshly ground black pepper, and continue sauteing until shrimp are cooked (pink and no longer translucent). Remove from heat.
Meanwhile, bring 2 quarts of generously-salted water to a boil in a large pot. Add gnocchi to pan; cook 3-4 minutes or until done (gnocchi will rise to surface). Remove gnocchi with a slotted spoon; place in a large bowl. Add asparagus, shrimp and pesto, and then stir until everything is evenly coated.
Add extra garnishes if you'd like. Serve immediately.
If you make this recipe, be sure to snap a photo and hashtag it #gimmesomeoven. I'd love to see what you cook!
Ali's Tip:
Instead of seasoning the shrimp with freshly ground black pepper, feel free to add in some blackening seasoning, smoked paprika, or other favorite seasonings!  I love spicy seafood or meat mixed with pesto!  :)
Also, I imagine that frozen asparagus and/or pre-cooked shrimp would work well with this too.