Grape, Avocado and Arugula Salad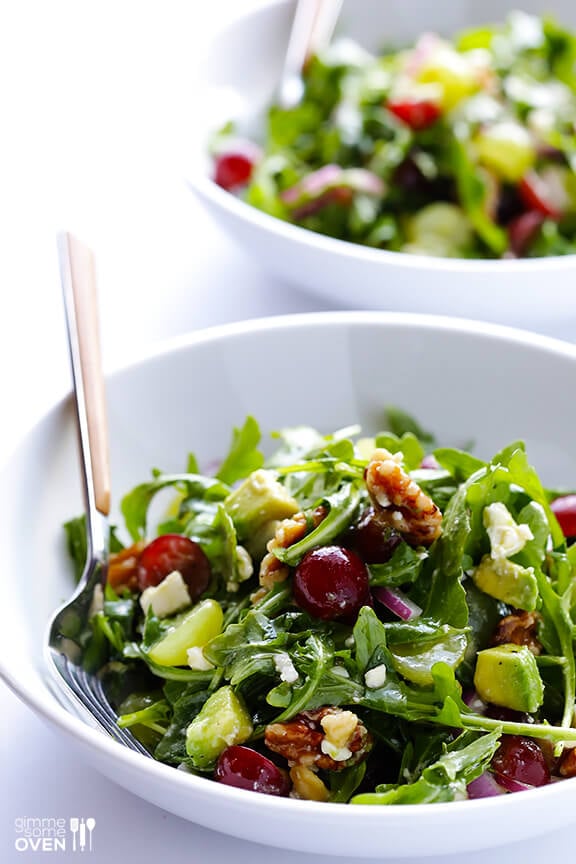 Somehow, I kind of forgot about grapes.
Like, I basically spaced off that they existed for about a year.  I just kind of forgot about them.  They never crossed my mind when planning ingredients for a big salad.  They never made it into my shopping bag.  I'm pretty sure they never made it into my mouth for nearly a year, save for (ahem) a few glasses of wine.
How did I forget about grapes?!?
Please tell me I'm not the only one who completely spaced off the existence of a delightful food for awhile.  (And even if not, you can just pretend so I don't feel crazy.)
Anyway, big dramatic grape story aside, you can probably guess that this wave of fruit amnesia finally lifted and this story had a happy ending when my eyes landed on a beautiful bunch of red seedless grapes at the store a few weeks ago.  And something clicked and I finally saw them.  And then immediately started craving their sweet, crisp, pop-able, grapey goodness.  And then this beautiful salad happened when I came home with — oh — about 5 pounds of grapes.  You know, to make up for lost time.  With me.  And the grapes.
And let me tell you, it was grape-a-licious.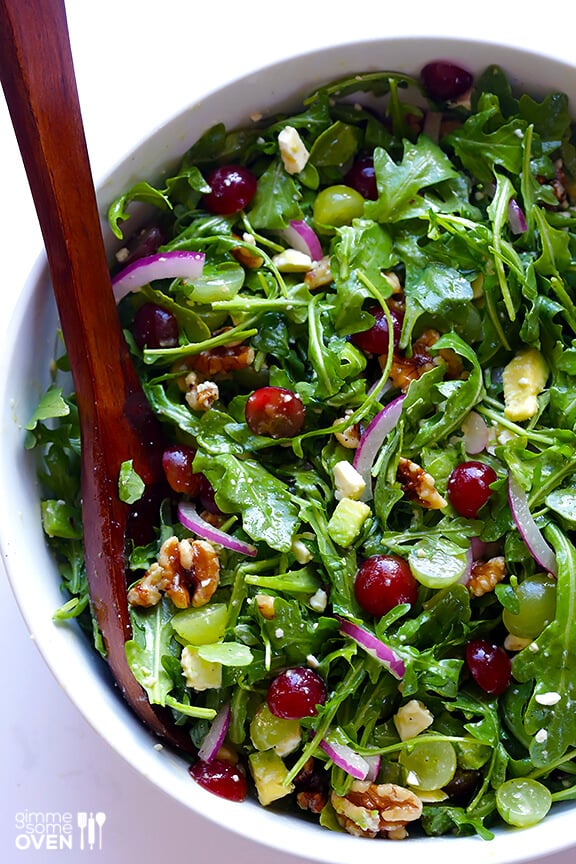 I feel like salad photos are always a bit like Where's Waldo puzzles for me.  I always want to play detective and see if I can spot the red and white hat ingredients before they're listed.  Can you see them all?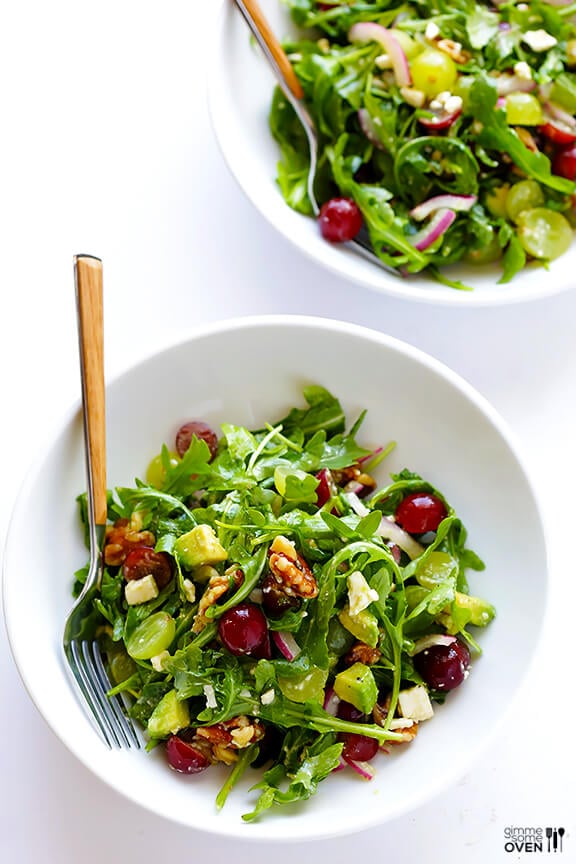 Well, let's just dive into it.  Because they make for a heck of a yummy combination when tossed together to make a salad.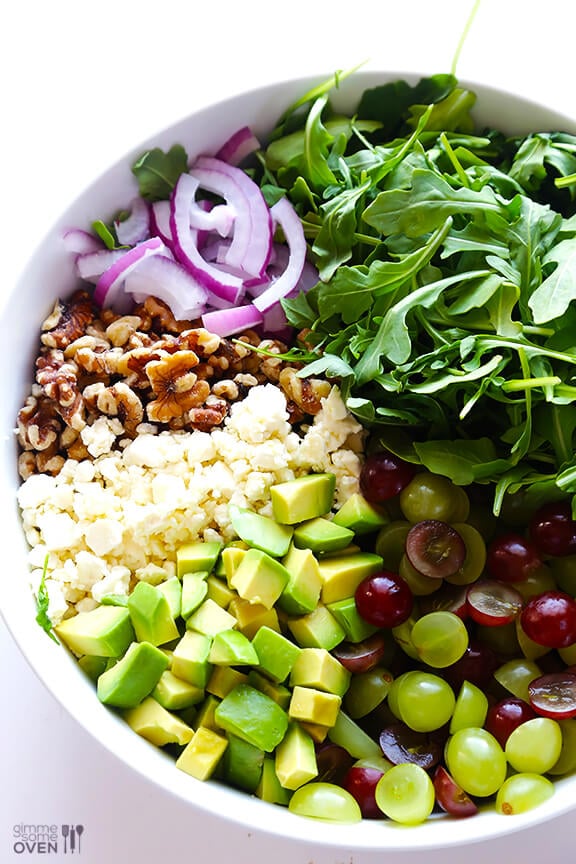 You'll need:
arugula (fresh, peppery, and still my all-time favorite salad green)
grapes galore (I went for multicolor using halved red and green seedless grapes)
avocado (because I can't seem to make a salad without it)
goat cheese (or any soft cheese)
toasted walnuts (or pecans, or whatever nut sounds good)
red onion (thinly sliced, and also quite pretty)
not pictured: white balsamic vinaigrette (made with my favorite white balsamic vinegar, but you could also use traditional vinegar)
If you want to add in some extra protein, I recommend adding in either:
grilled chicken
grilled shrimp
crispy tofu
If you want to make it vegan:
just nix the goat cheese, and add in a tablespoon or two of nutritional yeast or vegan cheese if you'd like
or just don't even worry about adding cheese (the salad stands well on its own without it)
If you want to make it gluten-free:
hakuna matata — it's already naturally gluten-free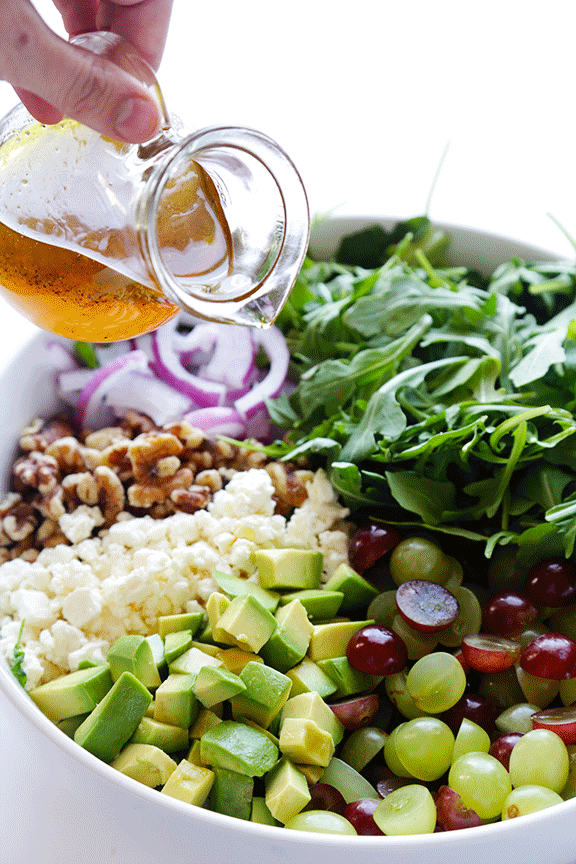 You'll need to:
Add all of your ingredients together in a big bowl, drizzle on your dressing, and toss everything until combined
(That's it!)
And then if you want to be like me, be sure to get a grape in every delicious bite to make up for lost time.
Seriously, this salad was wonderfully light and fresh and flavorful and I plan to make it again immediately when I get back from Europe, because it was that good.
Viva the grapes!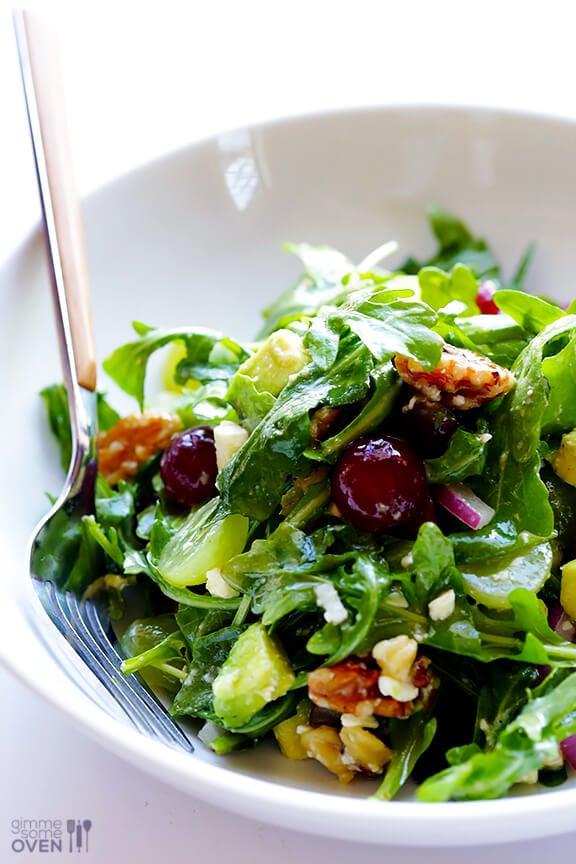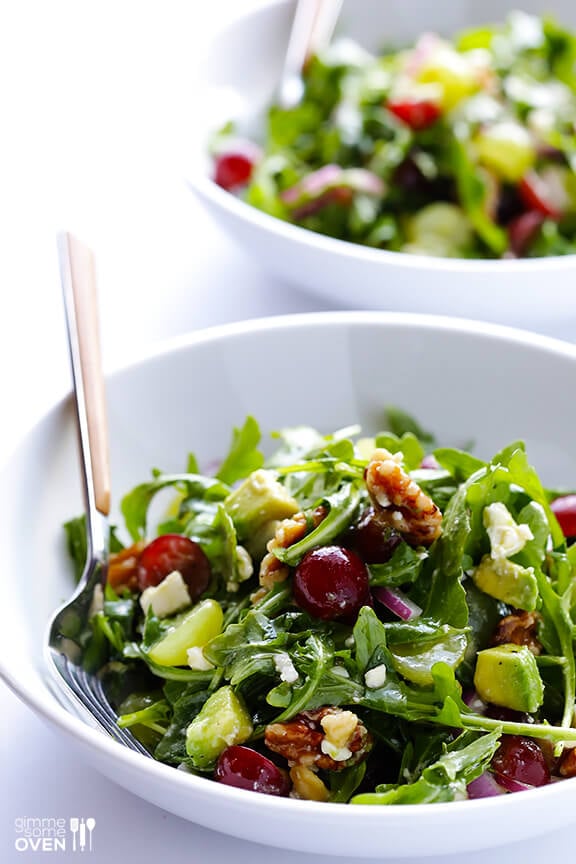 Grape, Avocado and Arugula Salad
This grape, avocado and arugula salad is fresh and light, and it makes for the perfect meal or side salad.
Ingredients:
Salad Ingredients:
6 cups fresh arugula, loosely packed
2 cups halved seedless grapes, red or green or a mix
1 avocado, peeled, pitted and diced
1/2 cup crumbled goat cheese
1/2 cup chopped toasted walnuts or pecans
half a small red onion, peeled and thinly sliced
balsamic vinaigrette (ingredients below)
White Balsamic Vinaigrette Ingredients:
1/3 cup extra virgin olive oil
3 Tablespoons white balsamic vinegar (or traditional balsamic vinegar)
2 Tablespoons honey or agave nectar, to taste
1/4 teaspoon sea salt
1/8 teaspoon freshly-cracked black pepper
Directions:
To Make The Salad:
Add salad ingredients to a bowl, and drizzle with vinaigrette. Toss to combine. Serve immediately.
To Make The Vinaigrette:
Whisk all ingredients together for 30 seconds until combined.
All images and text ©
If you make this recipe, be sure to snap a photo and hashtag it #gimmesomeoven. I'd love to see what you cook!