Greek Salad with Garlic-Lemon Vinaigrette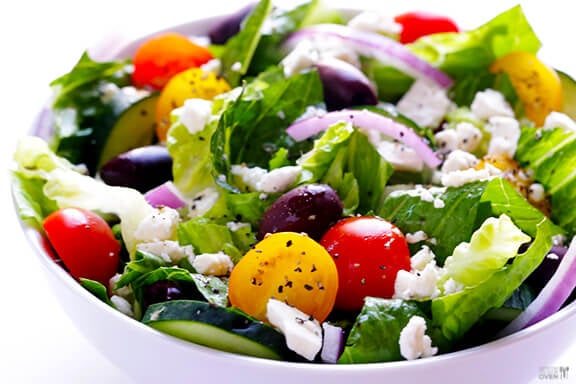 Summer may be over, but I am still in summer salad mode.  All I seem to want to eat lately are salads, salads, and more salads!  Most of our tasty summer fruits and veggies have already past their prime, but the final round of lettuce and tomatoes are still being harvested.  So this weekend, I used them to whip up one of my go-to recipes to put them to use — a classic Greek salad.
I've just been told by Google that there are apparently 11,700,000 results out there when you search for "greek salad recipe".  So it looks like I'm not the only one out there who loves this cucumber-kalamata-red-onion-tomato-feta-lemon-vinaigrette Greek goodness.  But hey, it's one of my favorite salad recipes, and I've never posted my version on the blog before.  So I'm officially making the count 11,700,001.  :)
The real reason I'm posting this salad today, though, is because it is part of a surprise virtual baby shower that a bunch of friends are throwing together for Liz from The Lemon Bowl!  It just so happens that Liz is getting ready to add another adorable baby boy to the world (her son Asher is already the cutest!!), so we decided to celebrate by sharing a bunch of our favorite lemon-themed recipes online until we can celebrate in person.
Surprise, Liz!!!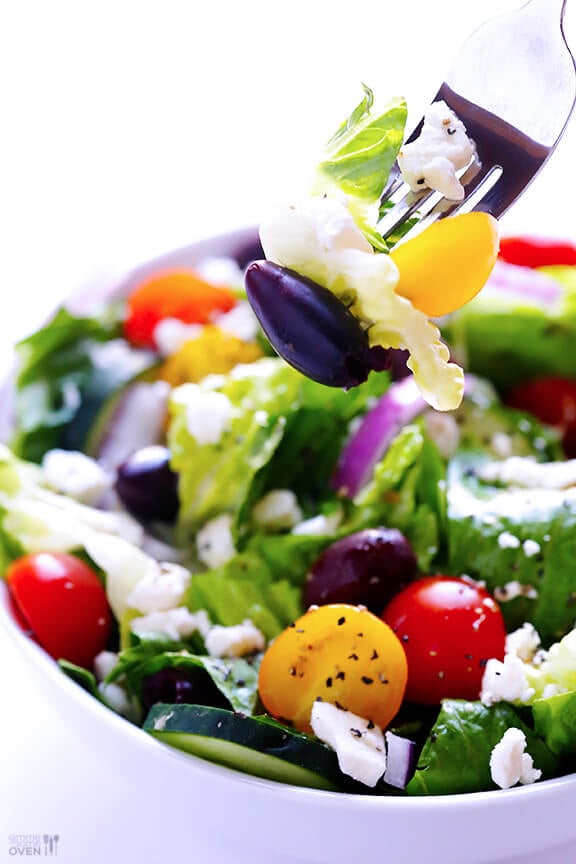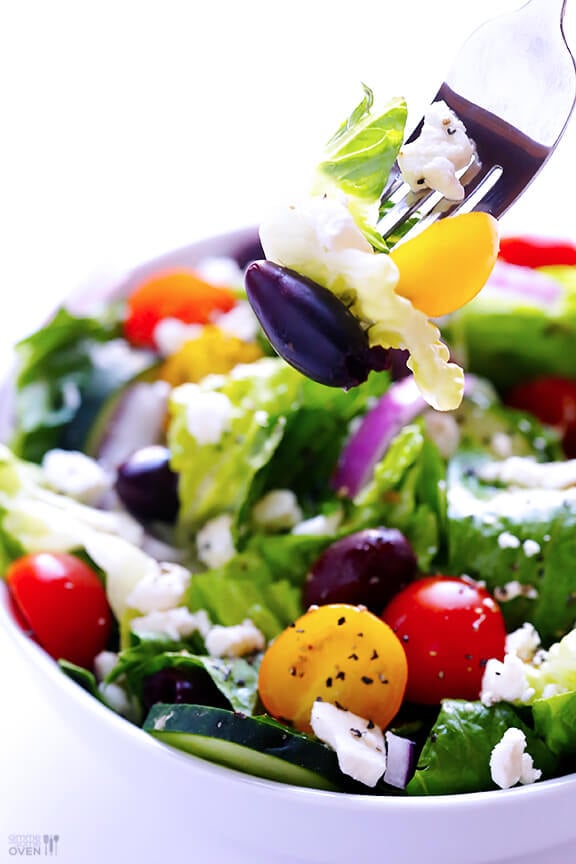 Ok, before we get to the recipe, a few words about Miss Lemon Bowl…
I think I first "met" Liz back in my early days of blogging when I discovered her and her blog via Twitter, and then started noticing comments from her at the bottom of my new posts.  Let me tell you — Liz is the comment queen!!!  She has been unbelievably gracious and faithful over the years to take time to visit her friends' blogs and keep up on what's new. And without fail, her trademark kind, encouraging, and usually hilarious comments have a way of completely making my morning.  I know that there have been a handful of times that I've nervously hit "publish" on a more vulnerable post or two, and Liz is always one of the first to say something encouraging and put my nerves at ease.
Even just this past weekend, I was telling my parents that I was going to be making this Greek salad recipe to celebrate my blogging friend, Liz.  And immediately, my mom pipes up, "Oh!  Is that Liz from The Lemon Bowl?  She seems so nice!"  Yes, it's true, Liz.  Our whole fam loves you.  :)
But as cool as she is on her blog, encouraging others with the amazing story of her weight loss and countless delicious healthy recipes, Liz is even cooler in person, if that's possible.  I had the total pleasure of getting to hang with her on two blogging trips this summer.  And I'm pretty sure we became instant friends.  ;)  She is, of course, hilarious and awesome to travel with.  But more than that, she just has a way of making everyone around her feel valued and welcome and loved, which is pretty darn cool.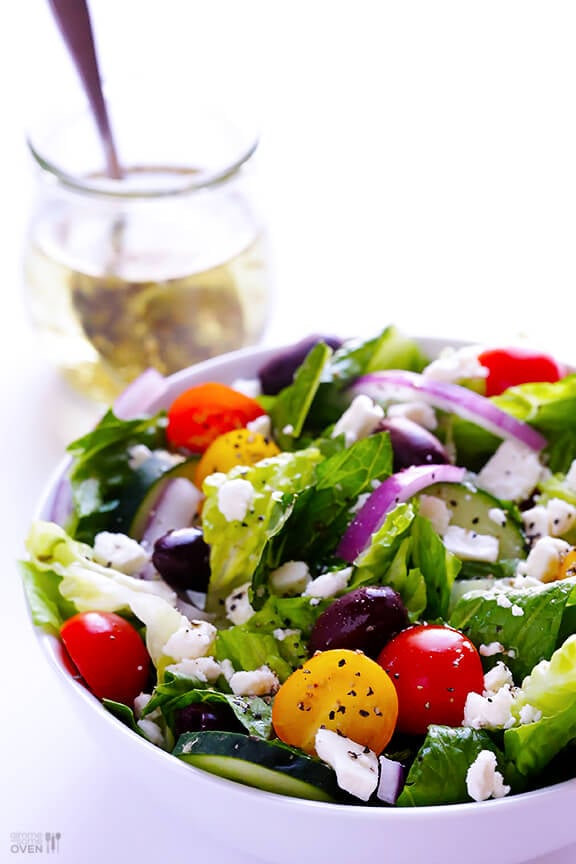 So today, a bunch of us are joining together to hopefully make her feel extra loved today with this little virtual baby shower!  I was in charge of "bringing" a salad.  So since Liz is always posting Greek recipes on her site, I instantly decided I needed to make a Greek salad, complimented by a tasty garlic-lemon vinaigrette.  It's fresh, healthy, lemon-y, easy, and is also a great salad to make and enjoy year-round.
Definitely a great recipe to celebrate a great blogger and her babe to be!
Mwah, Liz!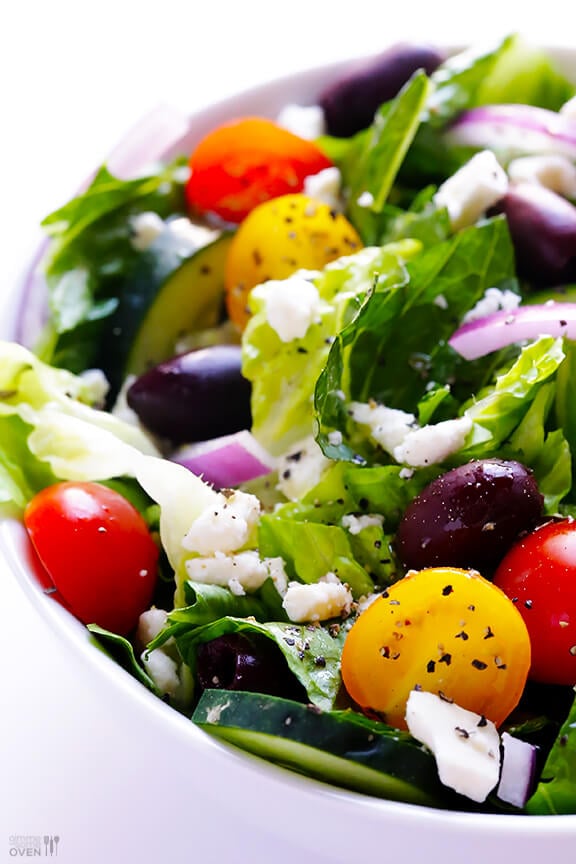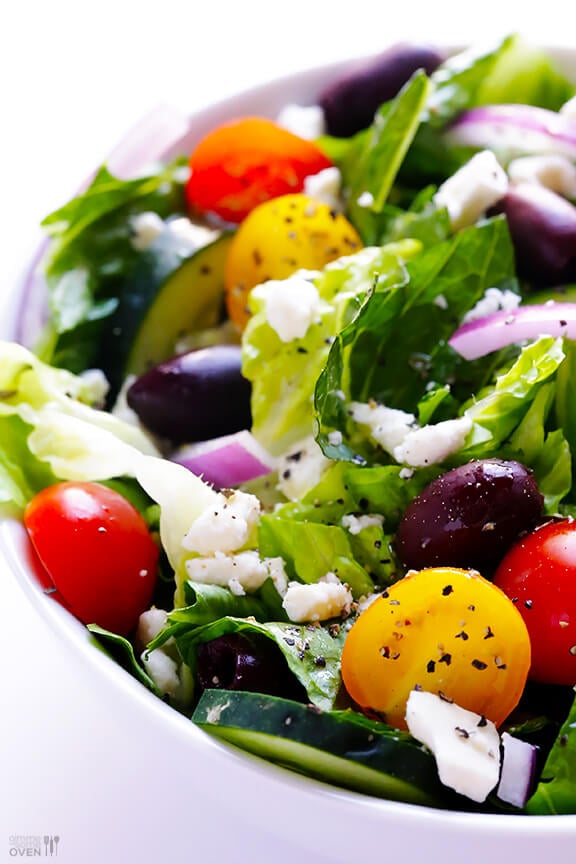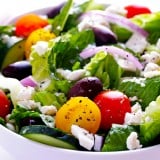 Greek Salad with Garlic-Lemon Vinaigrette
This Greek Salad is easy, healthy, flavorful, and quick to make! And the garlic lemon vinaigrette is always a favorite!
Ingredients:
Greek Salad Ingredients:
1 head Romaine lettuce, chopped
2 cups cherry or grape tomatoes, halved
1 cucumber, sliced into half coins
1/2 red onion, thinly sliced
2/3 cup Kalamata olives, pitted
2/3 cup crumbled feta cheese
garlic lemon vinaigrette (see below)
Garlic Lemon Vinaigrette Ingredients:
1/2 cup olive oil
3 Tbsp. freshly-squeezed lemon juice
3 Tbsp. red wine vinegar
2 garlic cloves, pressed (or finely minced)
1 tsp. dried oregano
1/2 tsp. sugar
1/4 tsp. salt
1/4 tsp. black pepper
Directions:
To Make The Greek Salad:
Toss all ingredients together with desired amount of dressing until evenly mixed.
To Make The Garlic Lemon Vinaigrette:
Whisk all ingredients together until blended. Season with additional salt and pepper if needed.
All images and text ©
If you make this recipe, be sure to snap a photo and hashtag it #gimmesomeoven. I'd love to see what you cook!