My All-Time Favorite Gumbo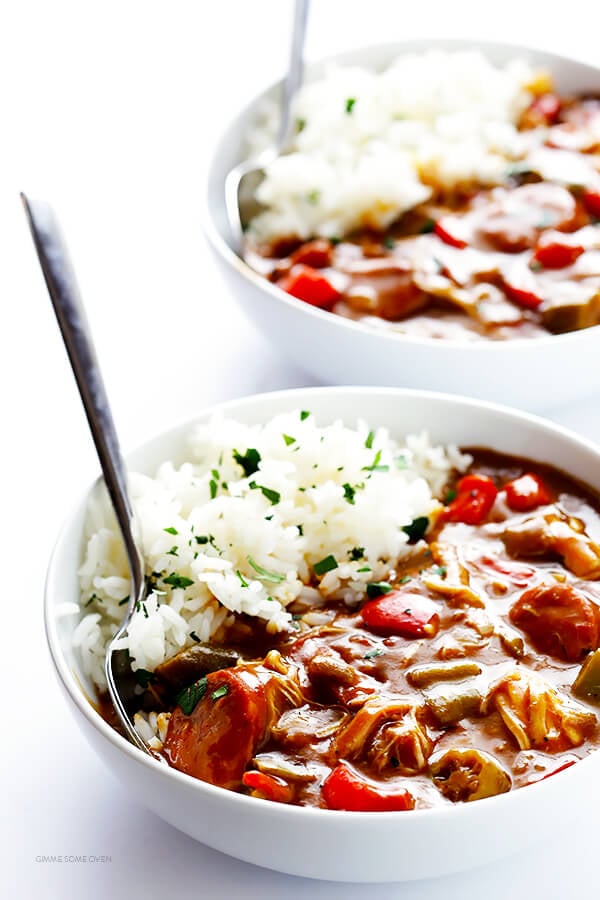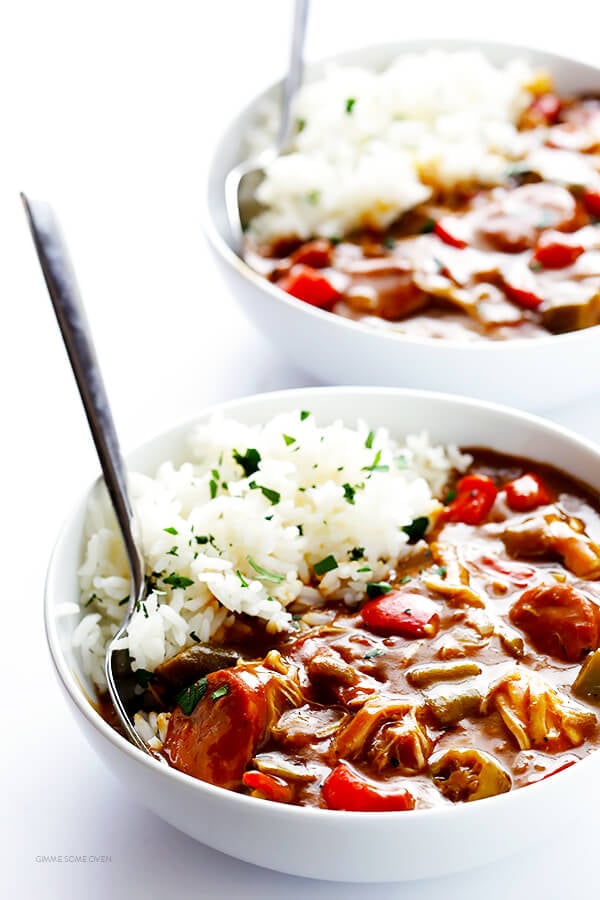 During the seven years that I worked my last job — spent mostly in a windowless, florescently-lit, cubicle of an office — I was always desperate to escape the building for lunch.
It wasn't that I didn't love my job.  (I did.)  It wasn't that I wanted to go home to eat.  (I lived too far away.)  It wasn't even that I just wanted to go out to eat.  (I usually brought my lunch at least half the time.)  It was simply that I had to escape that dark cave and soak up some sunlight for at least a few minutes each day, and eating out once or twice a week was an easy excuse to do so.
The only catch was that I was living on a modest non-prof salary at the time.  So I pretty quickly developed a list of all of the favorite meals I could order in the neighborhood for $5 or less.  My favorites at the time included a bowl of tortilla soup at Jose Pepper's, a salad from Hen House, rosemary flatbread from Spin Pizza, a roast beef sandwich and curly fries from Arby's, or a half salad or soup from Panera.  But the meal I craved more than anything else??  Gumbo from Jason's Deli.
I know, I know, it's probably not the most authentic place ever to eat a bowl of gumbo.  But for about seven years, Jason's Deli's $5 gumbo was the lunch I looked forward to escaping the office to order every week.  And it inspired a gumbo-obsession that has me ordering it pretty much every time I ever spot it on a menu, which has now happened dozens and dozens and dozens of times.
In a nutshell, I love eating gumbo.
But after a few attempts at making it over the years with sub-par results (which I must say are especially discouraging considering the time and cost it takes to make a batch of gumbo) I had basically given up trying to master it myself — until recently.  For some reason, I got inspired to try it again this past winter.  And with the help of my amazingly-patient cooking assistant, Rachel, we tested and tested and — I'm happy to say — I think we finally nailed it!
And I couldn't wait to share it with you.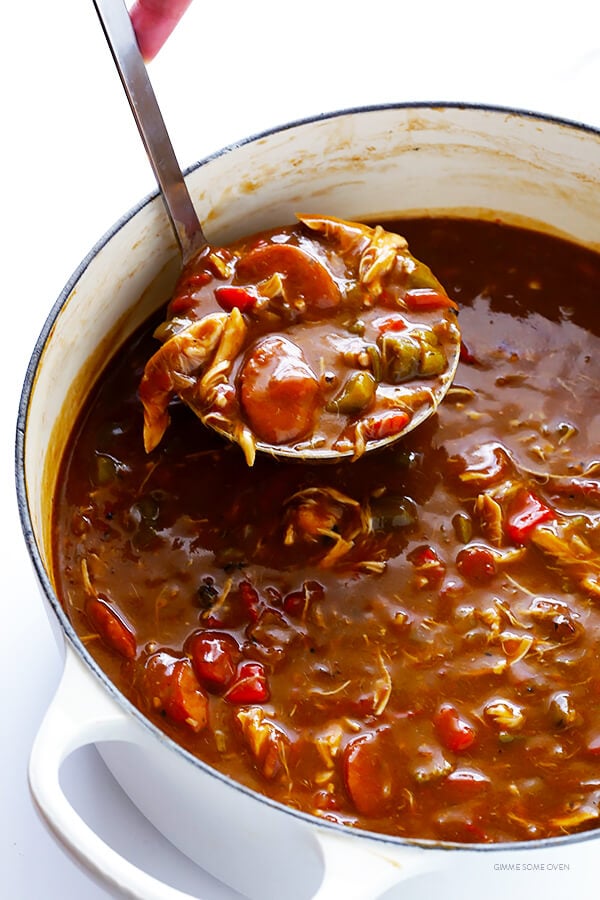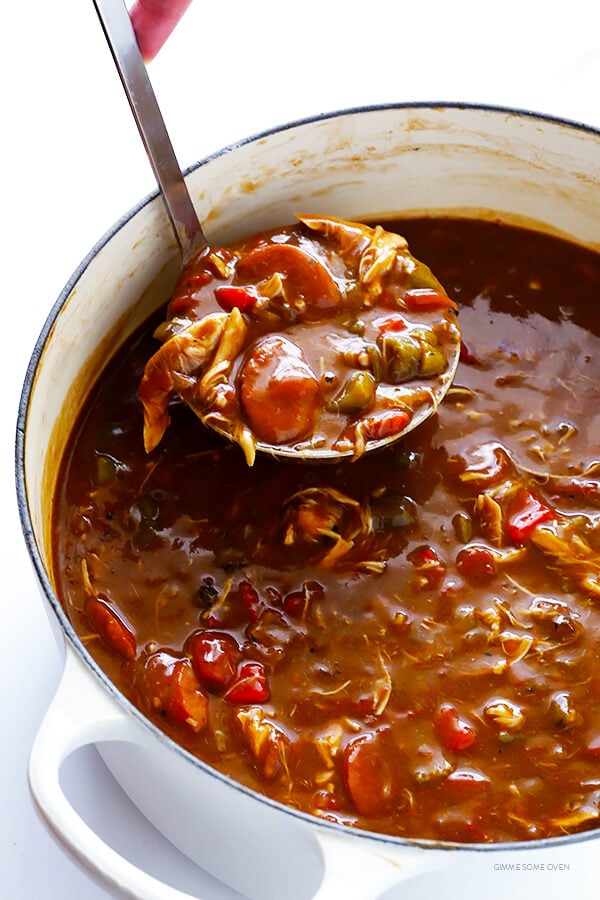 Of course, gumbo is one of those dishes where everyone likes theirs a different way.  Some like it super thick like a gravy, some like it thinner and soupy.  Some like theirs extra-spicy, some like it mild.  Some like it thickened with a roux, some like it thickened with okra, some are die-hard believers in filo powder (and some like a combination of all three).  Some like theirs overflowing with chicken and sausage and shrimp, some like it vegan all the way.
Personally, I like mine thick enough to coat a spoon with a nice kick of heat, and I'm a deep-dark roux and okra fan all the way.  Andouille sausage is always a "must" in my book, simply because it adds so much good flavor to the broth.  But if I have shrimp or chicken around, I like tossing those in too.
That said, however you like your gumbo, there are tips below for how to adjust the recipe to some of your preferences.  This is a roux-based gumbo, though, so it's going to require at least a good 15-20 minutes of constant whisking in front of the stove.  But don't worry — just set up some Netflix and grab a cold beer, and I promise it will be worth it.  :)
Rachel and I did want to take a minute to highlight a few tips that we learned:
Be sure to thoroughly prep your ingredients before you start cooking.  Usually I'm a big fan of multitasking while things cook — you know, chopping veggies while my pasta water comes to a boil, or making a frosting while the cake is in the oven — but that will backfire with this recipe, because making the roux really does require 100% of your attention.  And once you start stirring in ingredients after the roux is ready, there's still not much time to chop.  So do yourself a favor and prep and then cook.
Let your roux get nice and dark brown, but don't let it burn.  Your nose will tell you if the roux has burnt.  If it has, throw it out and start again and set your stove to a lower heat.  Otherwise, if it's not burning, keep whisking it constantly until it reaches a deep brown color (the color of milk chocolate), which will give it the nuttiest depth of flavor.
Use a heavy-bottomed pot if possible.  We tried a few batches in my Dutch oven, which was awesome.  And the another in my normal stainless-steel stockpot, and it was much more challenging not to burn the roux.  If you don't have a heavy-bottomed pot, you can still use it, but I recommend cooking the roux on medium-low (which will take longer) and just keeping an extra-close eye on it so that it doesn't burn.
Enjoy those leftovers.  In our opinion, this soup tasted even better the same day.  So be sure and save those leftovers!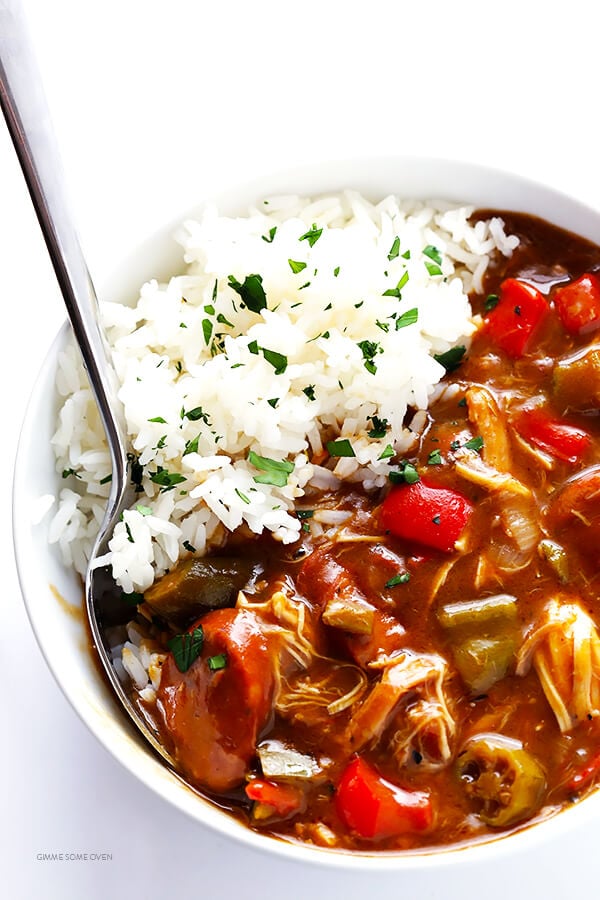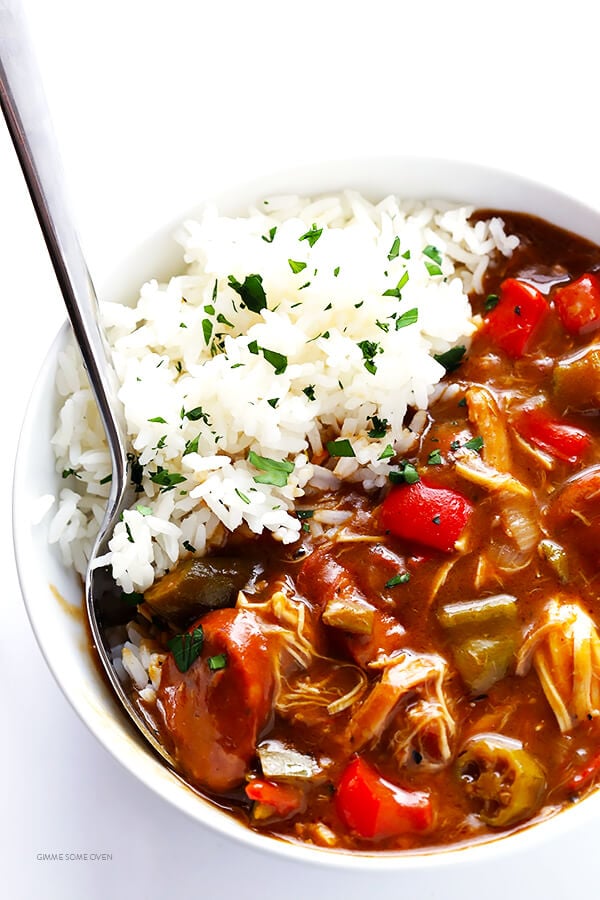 Alrighty, enough talk about this gumbo.  Let's get to the recipe!
My All-Time Favorite Gumbo
My all-time favorite gumbo recipe is FULL of rich flavors, made with andouille sausage and chicken, and irresistibly delicious!
Ingredients:
1 cup vegetable or canola oil
1 1/3 cups all-purpose flour
3 large bell peppers, cored and diced (I used one red, one yellow, one green)
2 large celery stalks, diced
1 small white onion, peeled and diced
2 cups fresh or frozen chopped okra
1 pound (16 ounces) andouille sausage, sliced
5 cloves garlic, minced
1 (14 ounce) can fire-roasted tomatoes
1 tablespoon Creole seasoning
2 teaspoons dried thyme
1-2 teaspoons cayenne, to taste
1-2 teaspoons salt, to taste
1-2 teaspoons freshly-cracked black pepper, to taste
6 cups chicken stock
2 cups shredded cooked chicken
3 bay leaves
optional for serving: white rice or quinoa, chopped fresh flat-leaf parsley, hot sauce
Directions:
Heat oil in a large thick-bottomed pot over medium-high heat.  (I used a Dutch oven.)  Whisk in flour until combined.  Continue to cook, stirring constantly, until the roux mixture reaches a dark brown color (similar to milk chocolate), about 18-20 minutes.  Be very careful not to let the roux burn!  (And if it does, throw it out and rinse out the pan, then start again and lower the temperature of your stove slightly.)
Once the roux reaches the dark brown color, stir in the bell peppers, celery, onion, celery, and okra until combined.  Continue to cook, stirring every 10-15 seconds, until the vegetables have softened a bit, about 8-10 minutes.
Stir in the andouille, tomatoes, Creole seasoning, thyme, cayenne, salt, and pepper until combined.  Cook for 3-4 minutes, stirring occasionally.
Gradually stir in the stock, chicken and bay leaves, and continue cooking until the soup reaches a simmer.  Reduce heat to medium-low, and let the gumbo simmer for at least 5-10 minutes minutes until the vegetables are completely tender.  Taste, and season with extra salt, pepper and/or cayenne if needed.
Serve warm with rice or quinoa, sprinkled with fresh parsley and/or hot sauce if desired.
All images and text ©
If you make this recipe, be sure to snap a photo and hashtag it #gimmesomeoven. I'd love to see what you cook!