Harry & David Blogger Event 2013
This post may contain affiliate links. Please read my disclosure policy.
A few weeks ago, I had the chance to travel to southern Oregon to visit the home of gift baskets, pears, and deliciousness galore — Harry & David.
15 amazing bloggers and I all flew out to Medford, the home of Harry & David, and the most charming town on fire with autumn colors. There, we spent a few days soaking up the H&D experience together, savoring epic meal after meal (sampling just a "few" juicy pears and Moose Munch throughout, of course), and enjoying it all in the company of good friends.
Here is a glimpse into our time together!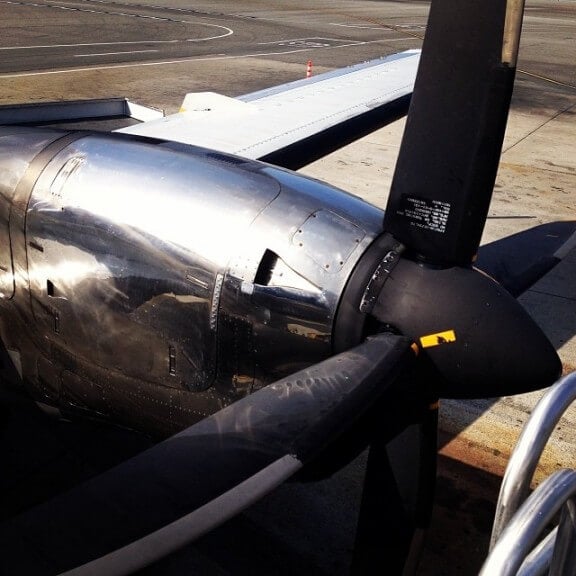 Ok, I don't usually begin trip roundups talking about my flights. But let it be noted that Shelly and I flew into Medford on this beauty — a teeny, tiny, and loud propeller plane. I think this was the first time in a decade that I had flown a non-jet-plane, and let's just say it made me all the more thankful for modern technology. But after shouting at each other the entire flight (because, of course, we had to catch up!!), we finally landed safely in Medford to begin our adventure.
Our home for the weekend was the Winchester Inn, a beautiful historic home nestled in the heart of Ashland. If you ever have the chance to visit the town, you must stay here. From the charming rooms (each with their own name!), with their super comfy beds (softest. sheets. ever.), to the beautiful grounds and landscaping, to their award-winning restaurant, we all loved cozying in to our home away from home for the weekend.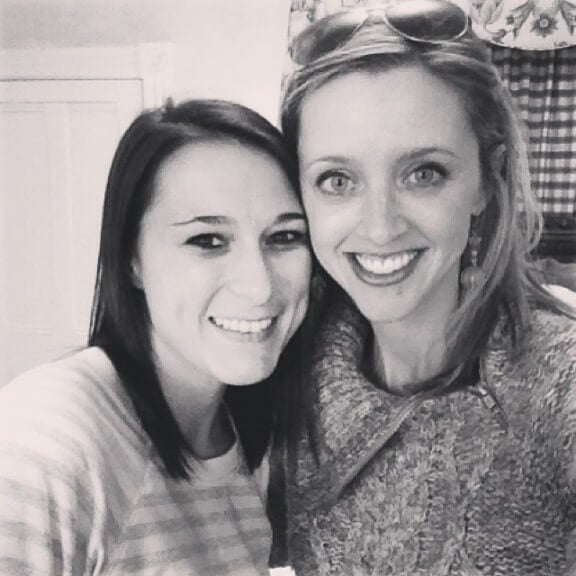 I was so excited when we arrived to be reunited with my good friend, Cassie! She and I used to be next door neighbors in Kansas City until she and her husband moved this past year to Jefferson City. Thankfully, though, we were assigned as "roomies", which gave us lots of time to catch up. Love this girl!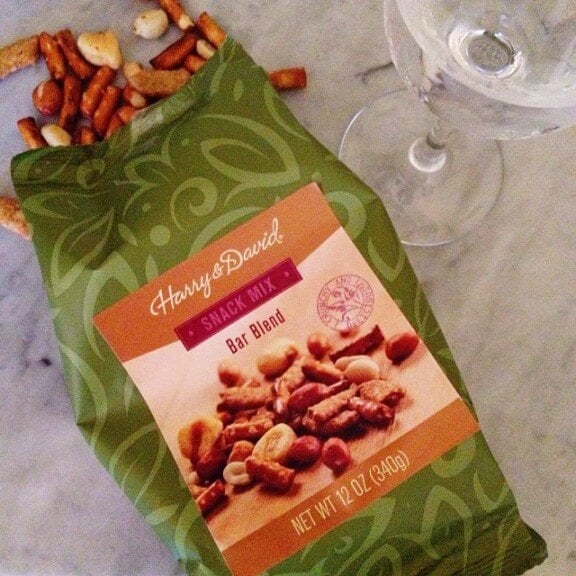 We also, of course, immediately dove into the goodies that Harry & David left in our hotel rooms. Amongst other things, this "bar blend" snack mix is ridiculously addictive and delicious. Anything in life with sesame sticks makes this food blogger a very happy camper.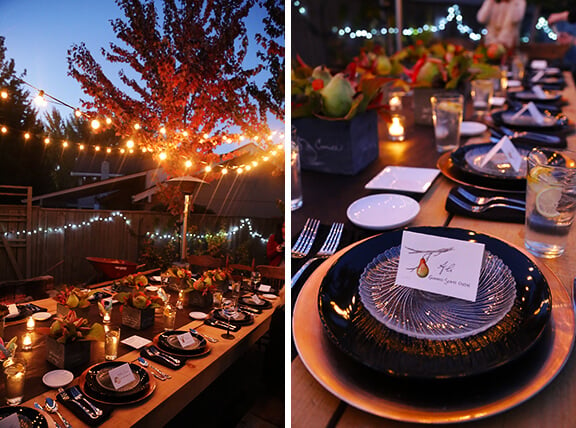 Our time together began at the lovely house of our local food blogging friend, Sandy of Reluctant Entertainer.
I have had the chance to spend time with Sandy on seven (seven!!!) blogging trips this past year, and absolutely adore her in every way. I feel like we are kindred spirits, especially when it comes to entertaining. Her philosophy is all about creating moments when people can relax and enjoy themselves and connect, rather than stressing over perfection. Her blog is filled with stories and tips about how to help these moments happen.
But that said, let me assure you, Sandy knows how to throw an incredible dinner party. :)
I was so excited to finally be able to experience her home, after years of talking and reading her blog. And it was even more magical in person.
We all walked in and were immediately mesmerized by her beautiful backyard. It made me think of a Gatsby-esque party — beautiful lights were strung everywhere, delicious food and wine was in abundance, and wonderful friends were finally gathered together to make it a party.
True to her promise to Amanda, Sandy treated us by making the same epic brie appetizer that she made at the Better Blog Retreat a few weeks prior. You can check out her recipe for it here. But let me just assure you it is one of the best appetizers on the planet. Please run, don't walk, to your nearest Harry & David store (or website) and order the ingredients to make it happen. Your friends will all grovel thank you.
After making introductions and meeting one another and enjoying an amazing spread of appetizers, we all sat down to enjoy a beautiful dinner. It was the first of many stunning meals to come, and we all savored every bite.
Allow me to introduce you to our crew! Starting at the left, we have Robyn, Amanda, Cassie, Helen Jane, Shelly, (me!), Paul, Judy, Lindsay, Angie, Melissa, Gina, and (our faithful group photographer) Sandy. Love. These. People.
The next morning we got an early start by heading out into the fields with Harry & David. As you can see, southern Oregon is breathtaking.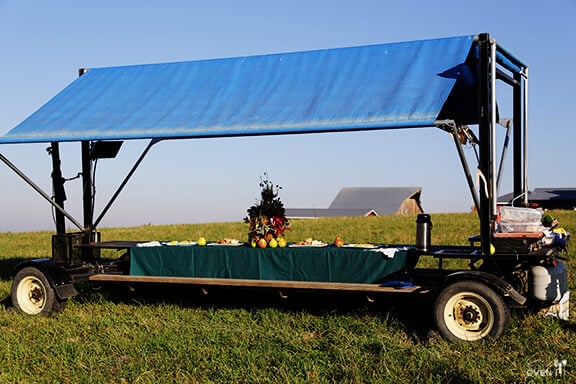 After an amazing breakfast at the Winchester Inn, we were treated to another delicious mid-morning snack from Harry & David out in the fields.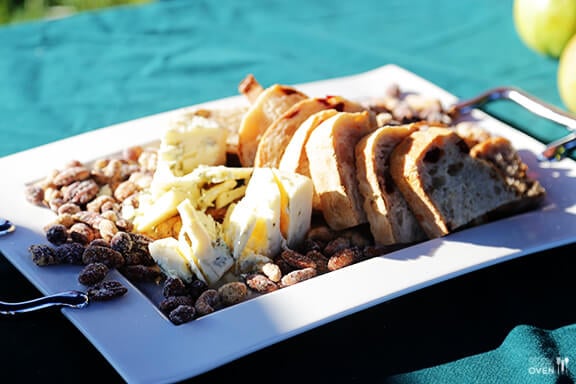 This was my first time tasting blue cheese from Rogue Creamery. I could have eaten this with the H&D sugared nuts for my meal the rest of the trip. SO GOOD.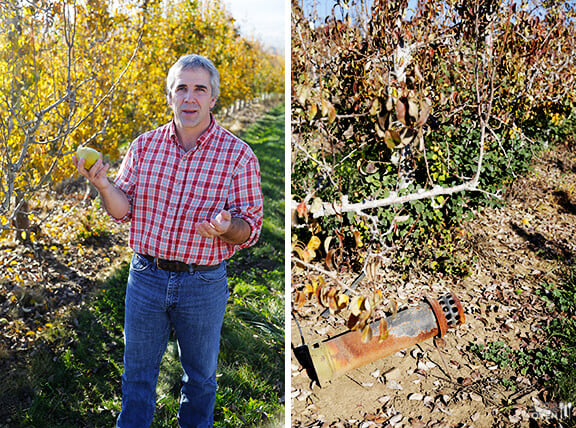 We were then given a great tour of the pear orchards by a Harry & David farmer named Matt. He taught us all about pear harvesting, which had just happened a month or so beforehand. And then told us all about the fascinating ways that they care for the orchards — especially when it comes to weather! Because the temperatures in the valley fluctuate so much, and because pears and peaches and other crops are so sensitive, they literally have installed these gas cannisters all throughout the field that they will light up (fire!) to warm the fields when it gets too chilly. The cannisters (pictured above, right) are placed all throughout the fields, and protect those precious pears from freezing. Absolutely amazing!!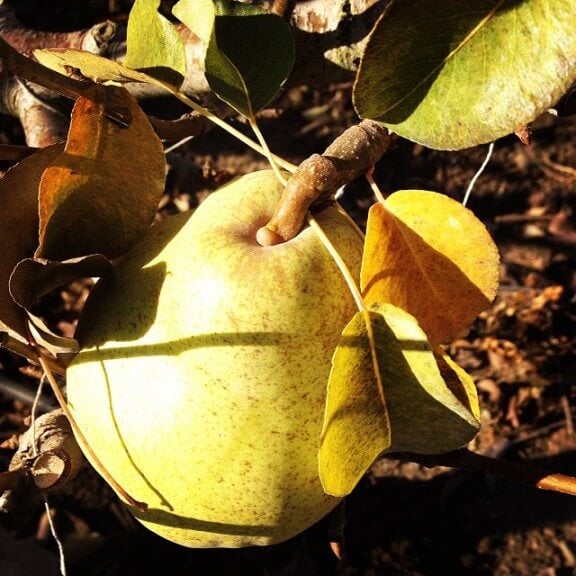 All of the pears had already been picked and sent into cold storage, but we spied a few remaining fruit on the branches. Yum!!
What do you think? Could we pass as pear farmers? ;)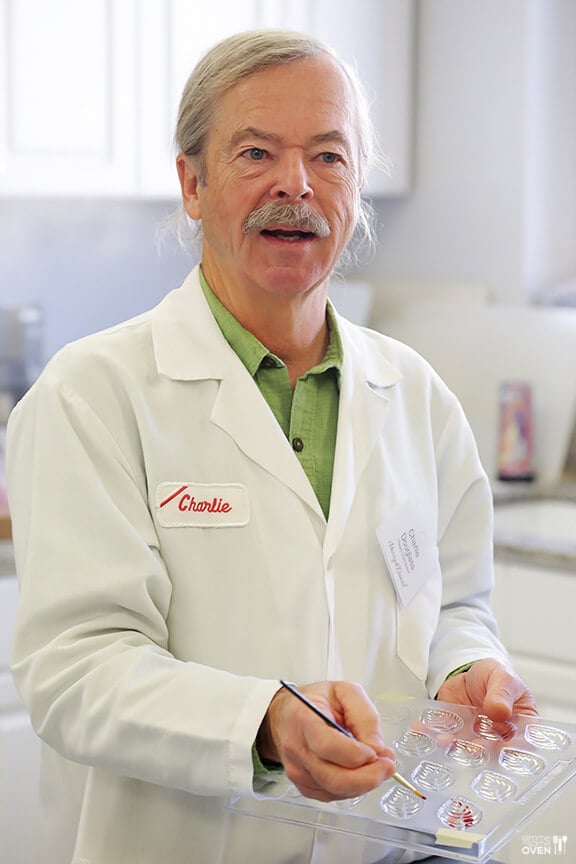 Afterwards, we drove to the nearby Harry & David headquarters in Medford, where we were greeted by the head chocolatier, Charlie.
Oh yes, the real life Charlie and the (Harry & David) Chocolate Factory.
Charlie has been a chocolatier for 33 years, and is the amazing creator behind so many of the delicious Harry & David treats that we all love. He graciously took time to spend the morning with us bloggers to teach us a little bit about making chocolate.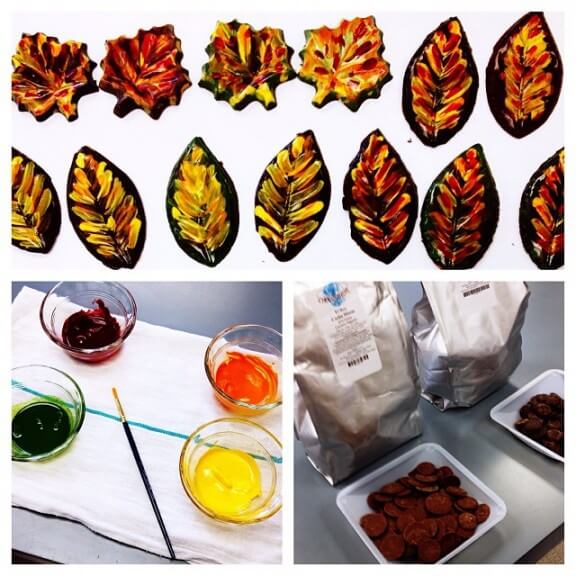 Our assignment for the morning was a creative one — to literally paint chocolate! Each of us were given molds and colored cocoa butter, and instructed to paint our "masterpieces". I wished that my sister the AP art teacher was along for this part of the trip. Painting has never been my strong suit, but when chocolate was involved, the challenge was definitely all the sweeter!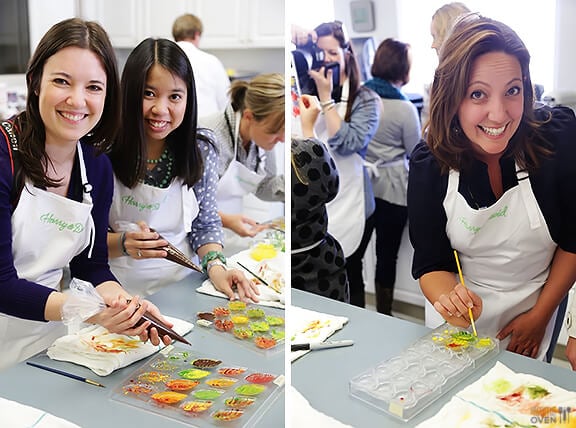 We all got to work painting beautiful autumn colors on our individual leaves.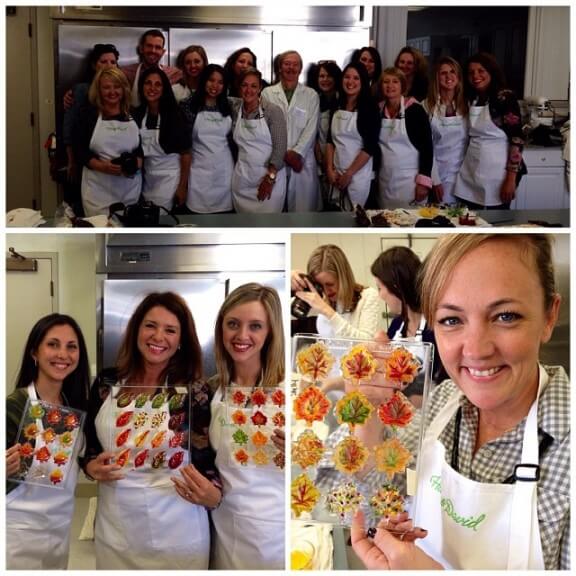 Flashbacks to 4th grade show and tell. Look at our pretty paintings!!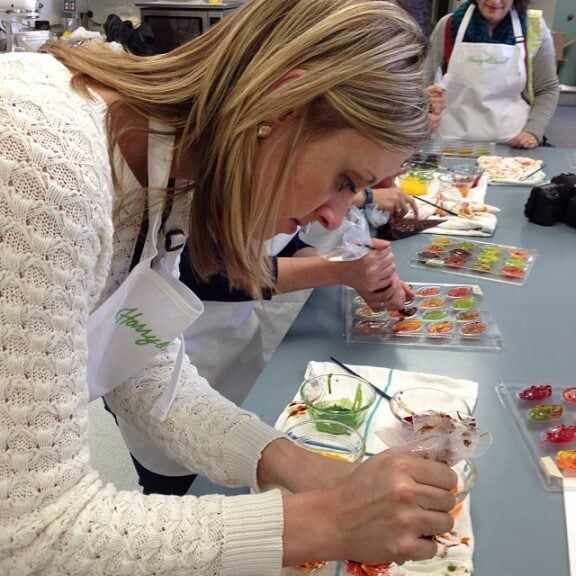 Once our molds were colored, we filled them with chocolate and tapped each mold so that they were even. Then Charlie took them all to be refrigerated so that the chocolate could harden.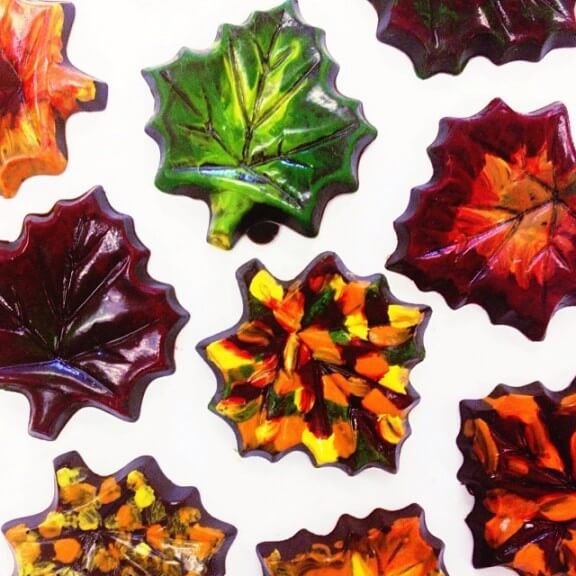 Then — voila — our chocolates were ready to go! Here are my little works of art.
I can't wait to host a chocolate painting party with friends. I think it will be so fun!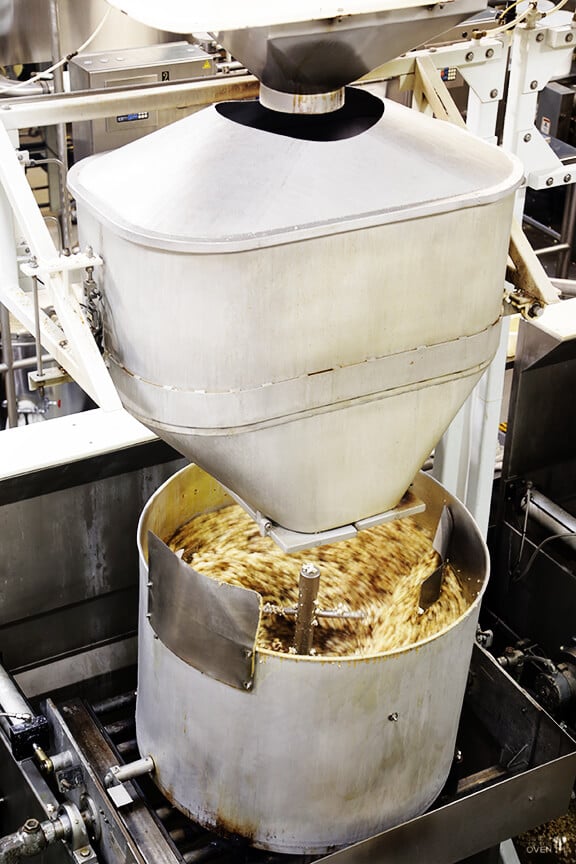 Afterwards, we took a brief tour of the headquarters, where everything from cakes, to chocolates, to the oh-so-famous Moose Munch were being baked to perfection. Look at all of that Moose Munch! I could dive in.
Afterwards, we headed to lunch at Deja Vu Bistro.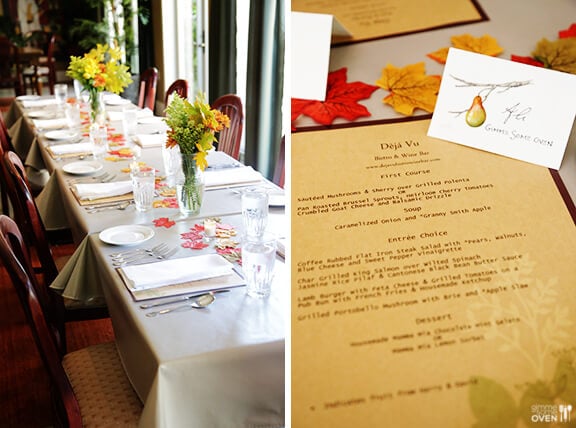 We walked in to see yet another gorgeous autumn table setting. So beautiful! If you're ever visiting this restaurant in Medford, order the pear onion soup and the steak salad. You won't regret it.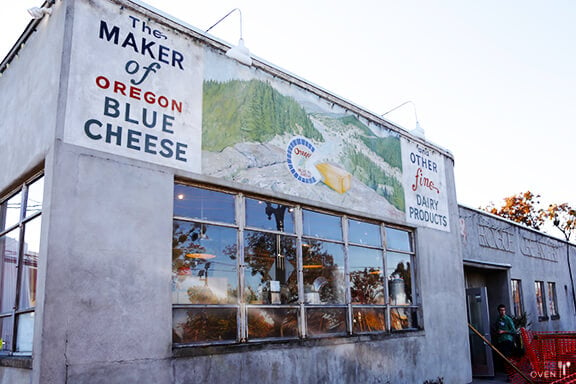 After lunch, we were stoked to get a "cheesy" tour of the famous Rogue Creamery.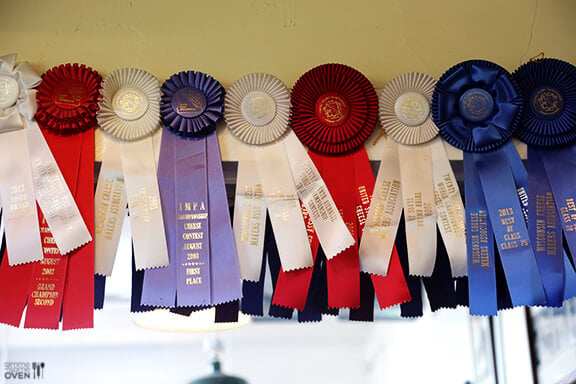 This place has won just a "few" awards for is awesomeness.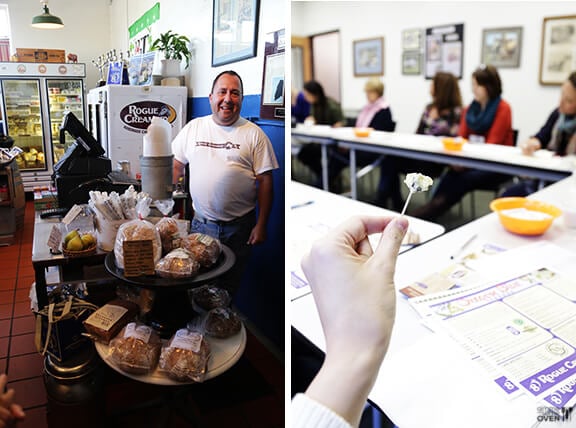 We were given an introduction and brief tour from some of the cheese makers there, who instantly earned our admiration and respect. In an industry when expansion has for years been equated with "success", Rogue Creamery has intentionally kept their award-winning operation small to be able to give careful priority to quality. They are as popular as ever, yet are committed to keeping their business small so that they can keep doing what they love to do — produce outstanding, melt-in-your-mouth, savor-every-bite delicious cheese. (Ok, and more, but let's be real — it's all about the cheese!)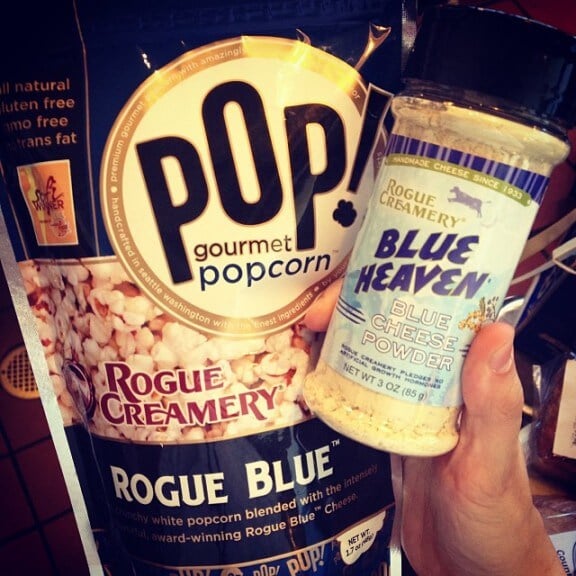 Michael and I happened to spy these brilliant products in their general store as well, which I immediately made room for in my over-stuffed suitcase! The name isn't kidding — heavenly!!
Afterwards, we had an amazing dinner at the Peerless Restaurant, and then had a fun girls night before falling asleep in our happy food comas.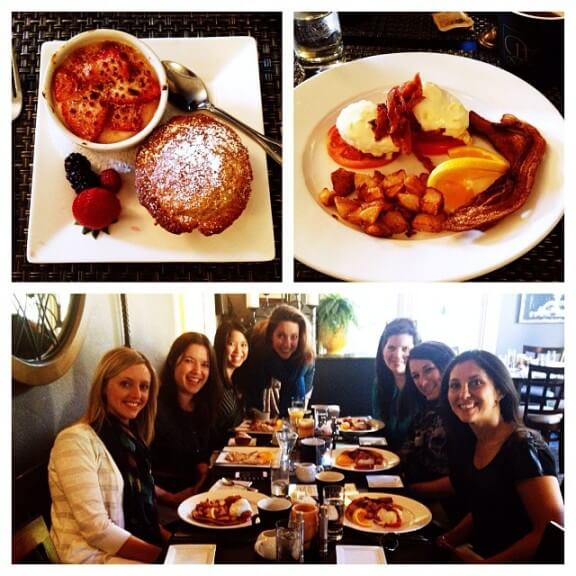 The next day, I'm pretty sure that everyone woke up extra early so that they could savor every single bite of breakfast at the Winchester Inn. I forgot to mention — breakfast here is epic.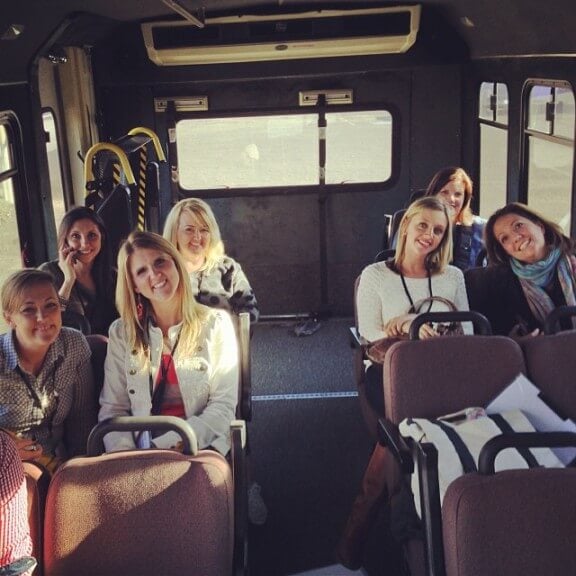 We then loaded up our favorite little blogger bus and headed back to Harry & David for our second day of deliciousness.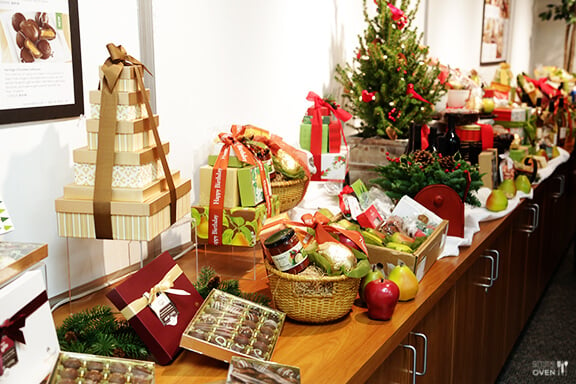 We arrived to a meeting room filled to the brim with baskets.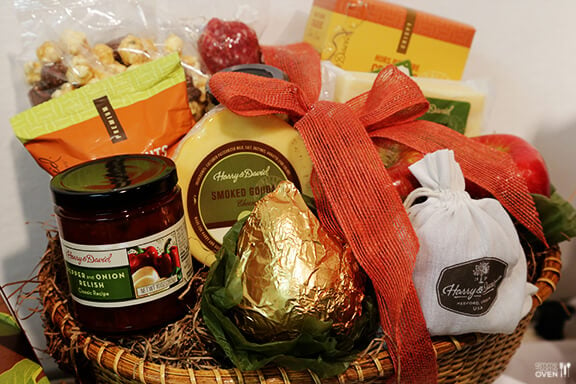 Baskets…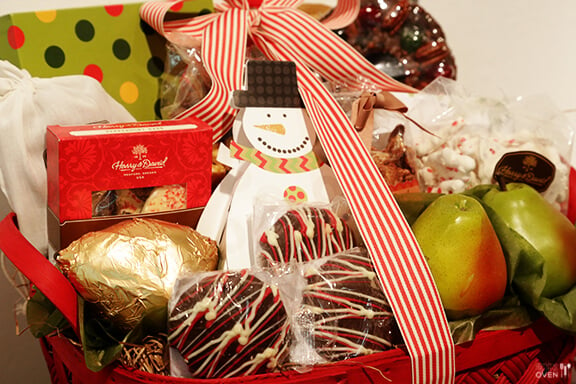 …baskets…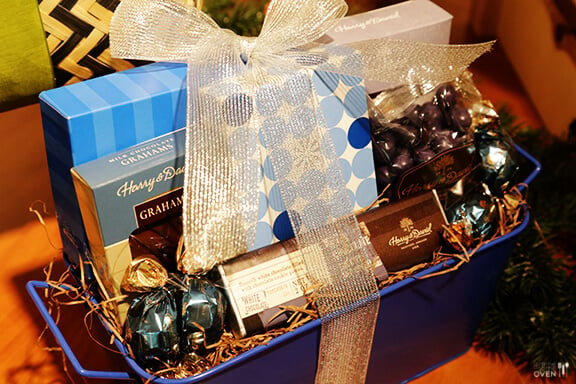 …baskets!!! Harry & David is known for their stunning gift baskets, but I had no idea they had such a vast selection! You name the occasion, the price, the selection, and I'm pretty positive they will carry it.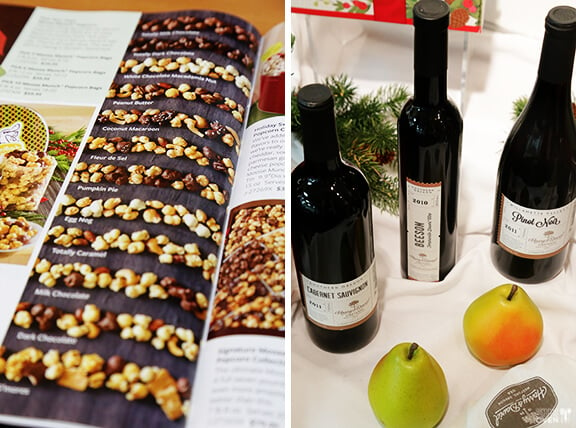 Their catalogue even has an entire page devoted to different kinds of Moose Munch!! And, Harry & David now produces their own signature line of wines. Which we sampled. And then asked to sample some more. :)  Seriously, if you love wine, be sure to check the option to add a bottle to a gift basket. I loved every single one. Even the Pinot Noir, which is not usually my fav, was exceptional!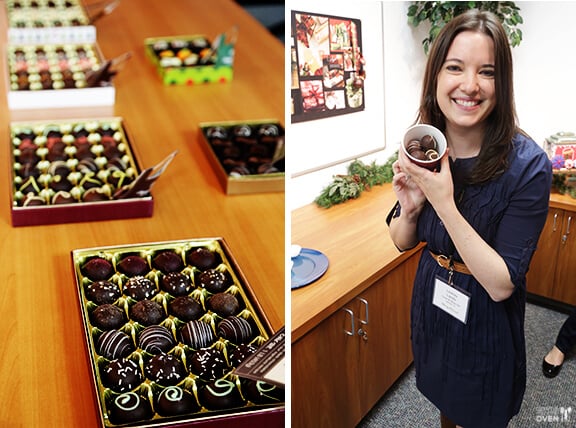 Our main assignment of the morning was to do some highly official chocolate tasting. I tell ya, this food blogging is a tough job. ;)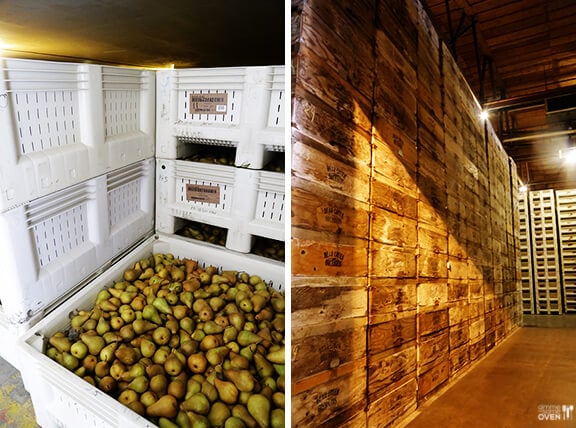 Afterwards, we had the chance to pop into cold storage to catch a glimpse of the pears that had been harvested from the orchards we visited. Let's just say that we made that part brief, because when they say "cold", it's COLD!!! Those pears love it, though. Makes them all the more juicy and ready to enjoy around the holidays!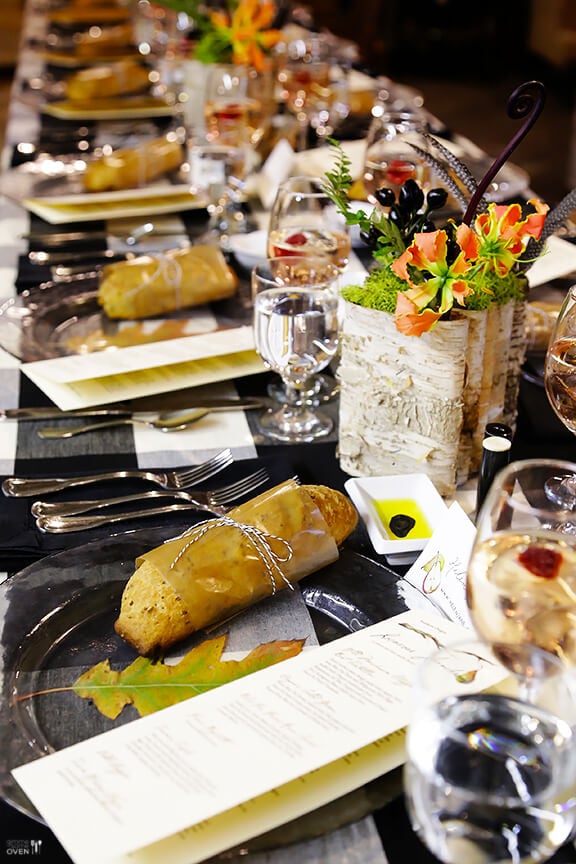 Afterwards, we were treated to another stunning lunch at Penny & Lulu. This place was a decorator's dream come true, with fresh flowers and rustic decor and everything charming and beautiful everywhere.
So accordingly, every course we enjoyed was beautifully "floral" as well, with fresh flowers woven into each dish. Such a treat.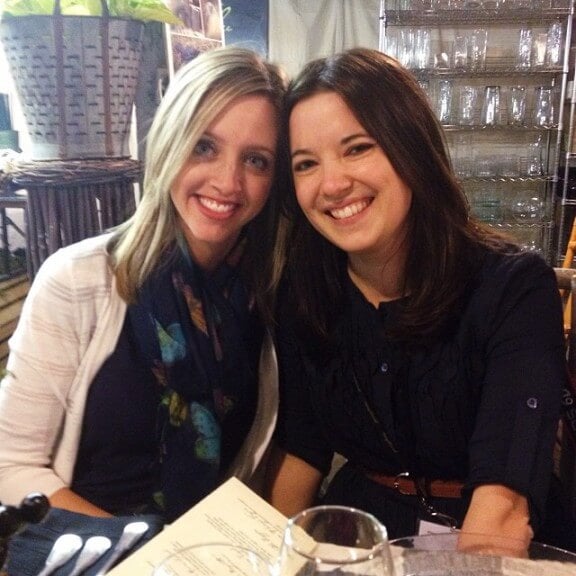 I have to say, though, the company was just as beautiful as the meals. Loved getting to spend so much time with such wonderful blogging friends!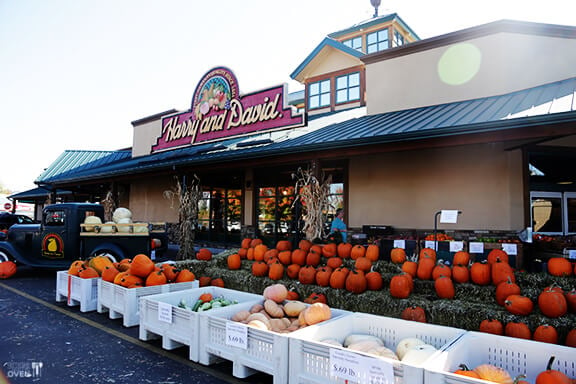 After lunch, we headed over to the Harry & David Country Village store to do a little shopping of our own. After sampling so many amazing H&D specialities over the past few days, we each had long lists prepared and were ready to SHOP!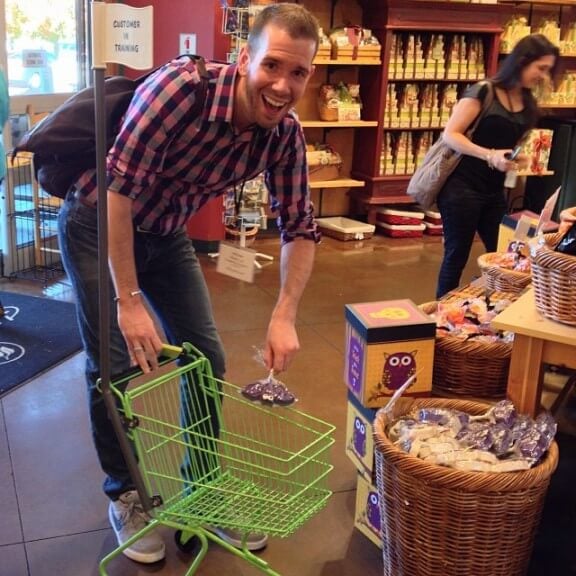 Michael even found the stylish neon green mini carts. Tres cute. ;)
Harry & David was kind enough to ship our goodies to us so that we didn't have to carry them on the plane. Mine arrived in the mail today, with the ingredients to make Sandy's famous brie. Can't wait!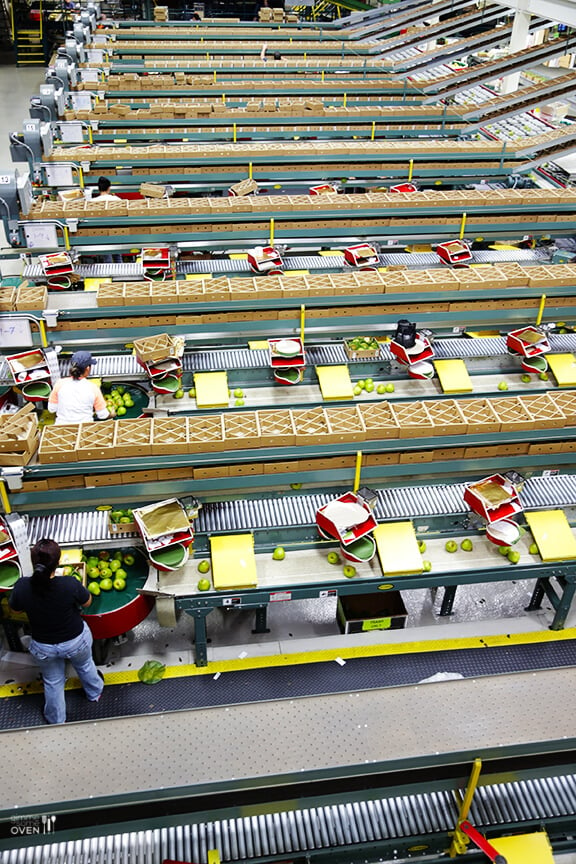 Our final adventure for the day was a tour of the Harry & David packing plant. This is where all of the amazing produce is sorted and packed…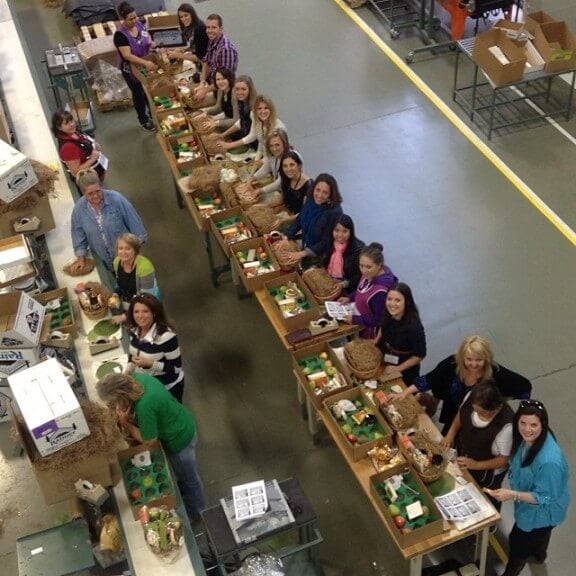 .
..as well as the famous baskets!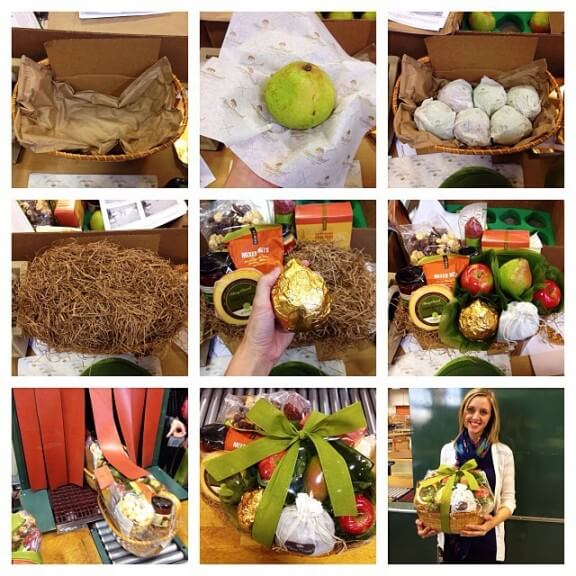 The kind packing pros from the facility helped each of us to pack our own baskets to send to someone special. Here is my masterpiece, complete with the pretty bows that we learned how to tie. I sent mine to my mama! Afterwards, we spent a lovely evening farewell dinner at 2Hawk Winery. We enjoyed a bit of wine tasting on their beautiful covered patio…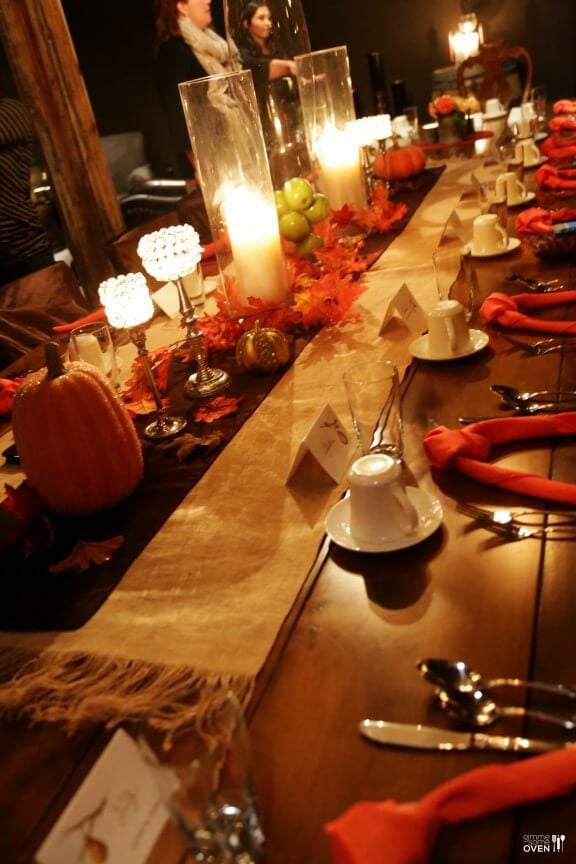 ..and then headed to our own private dining room down below for a lovely dinner. Definitely a wonderful end to a wonderful time together.
Huge thanks to Harry & David for hosting us making our time in Oregon so special! And big thanks as well to Sandy for helping bring together such an amazing group of bloggers. I am so grateful to call these talented folks friends, and to have had the chance to make my first Oregon memories with them.
Be sure to connect and learn more about Harry & David on their website, Facebook, Twitter, Instagram and Pinterest. And also check out their new blog!! Deliciousness abounds.
Disclaimer: Harry & David generously sponsored my trip to Oregon for this blogger event. All opinions are 100% my own as always. Thank you for tuning in, and for supporting the brands that I love and that help make this blog possible.