Heirloom Tomato Pasta
This Heirloom Tomato Pasta recipe celebrates the color and freshness of summer produce!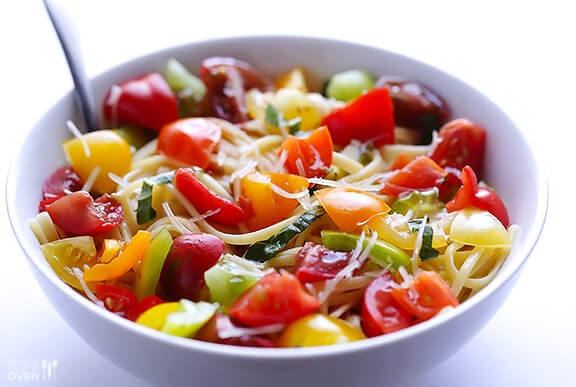 Do you ever have those moments when you are unexpectedly overwhelmed by the sheer beauty of food?
I have to admit — I spend many hours a day staring at food as I select it, cook it, photograph it, edit those photographs, and then write about it.  And more often than not, even the most beautifully styled food can start to seem a little routine or "normal".  But every now and then I am caught off guard by the absolute beauty of food, and when that happens, it literally takes my breath away.
I had one of those moments yesterday.
I was buzzing through the grocery store trying to conquer a list a mile long.  Then all of a sudden while walking out of the produce section, I saw a surprise rainbow out of the corner of my eye.  I happen to know this particular store backwards and forwards, so it's rare that something new shows up.  But sure enough, right in the middle of the bin of roma tomatoes sat this small little cardboard box filled with tiny heirloom tomatoes.
And they were breathtaking.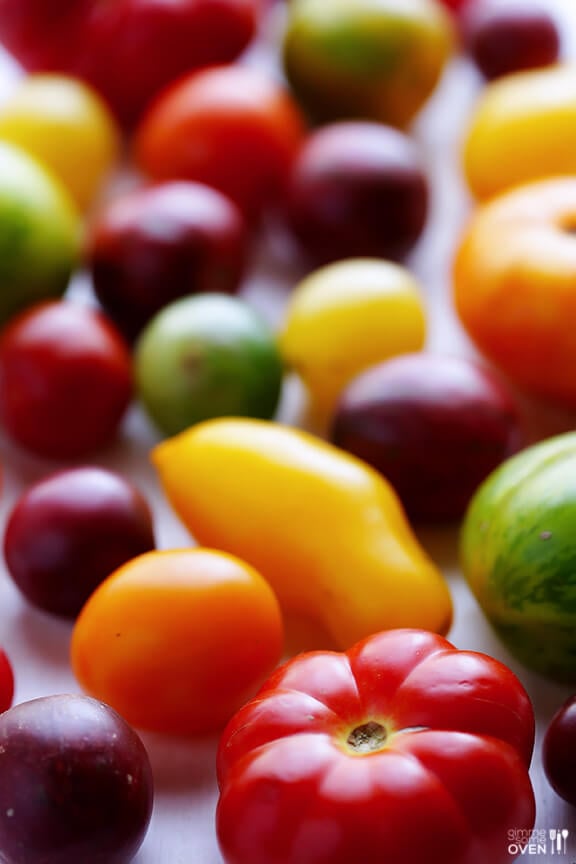 I parked my cart to take a closer look.  And for a few moments, all I literally could do was stop and stare at them.
I know it sounds crazy.
But as I picked up the little tomatoes one by one, I was just in awe.  Each little tomato was such a work of art.  From the vibrant colors with subtle shading and intricate little stripes and designs, to the perfectly molded curves and shapes, to the variety of sizes big and small, to smooth surfaces and textured bumps and stems and leaves, even to the unique little marks that we call "imperfections" — my mind couldn't even wrap itself around the creativity it took to design each tomato big and small.
And that's before you ever take a bite!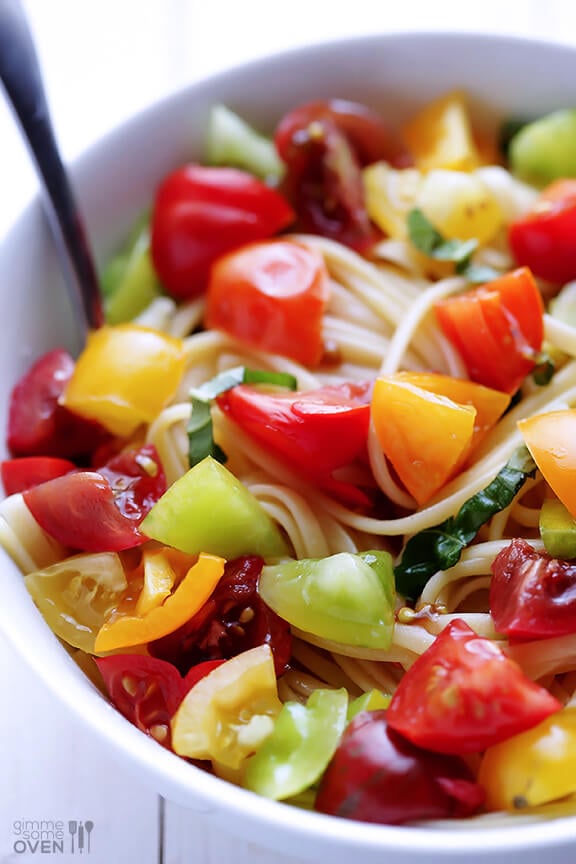 As one of my friends likes to say, it was one of those moments for me when I felt like God was "showing off".  :)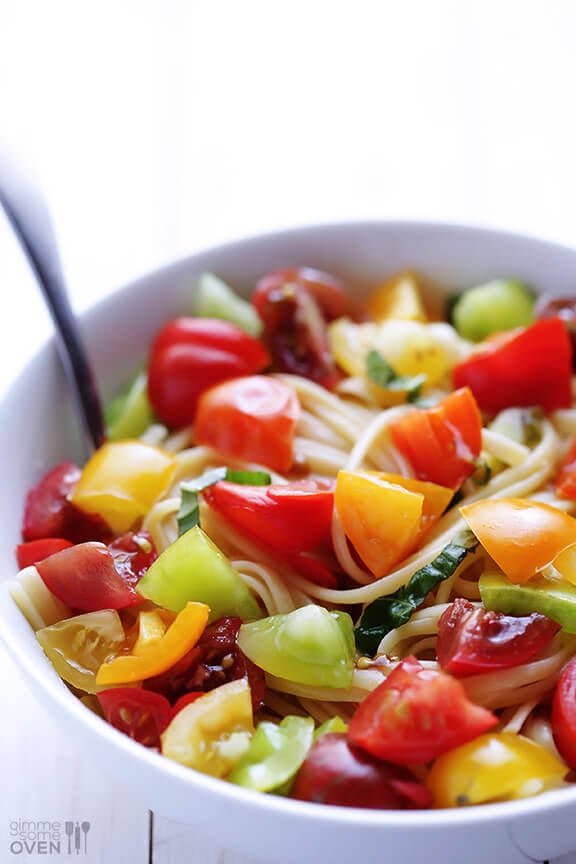 Seriously.
How lucky are we that the food designed to nourish us also happens to be so beautiful and creative?  To me, that speaks to a Creator who simply loves to create.  And I absolutely love that.  What a gift.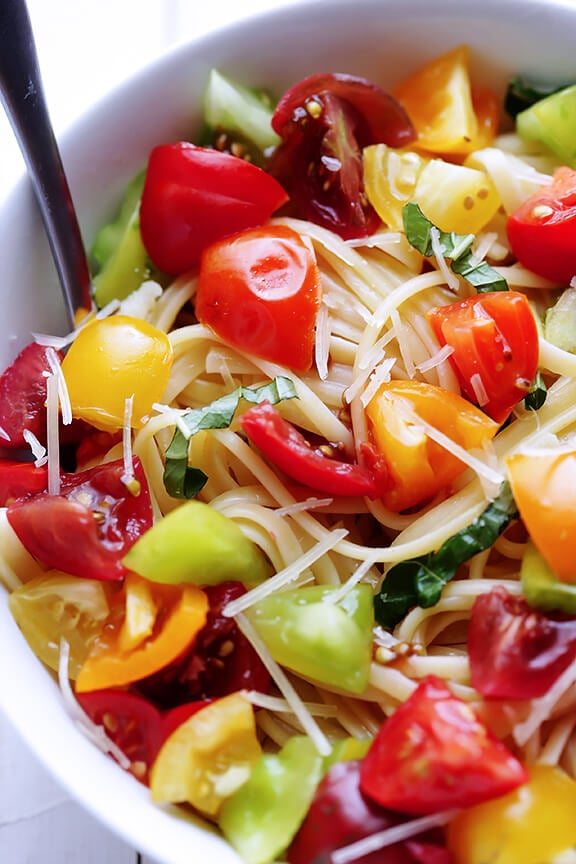 So anyway, after I finally emerged from my little "tomato trance", I immediately bagged up a big handful of tomatoes to bring home.  I literally had a jam-packed schedule for the day to accomplish, but I wanted more than anything to just make something pretty to celebrate the simple beauty of this surprise little discovery.
So on my little lunch break, I boiled up a pot of pasta and diced up some tomatoes and garlic and basil, and tossed them all together to make this Heirloom Tomato Pasta.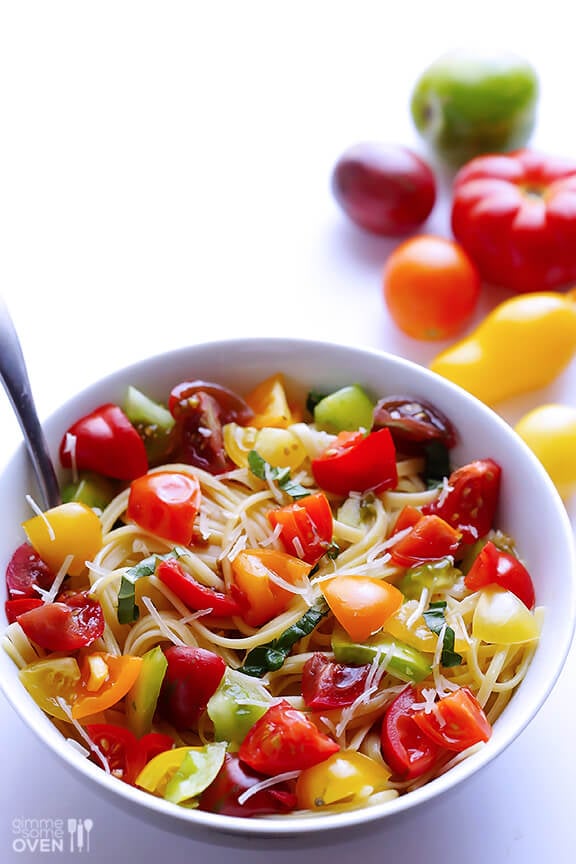 I hesitated to even post this one, since it's hardly a "recipe".  But I thought it could also be a reminder that some of the best meals don't require a recipe at all.  Most of the time, if you throw a few fresh and delicious ingredients together in a pasta, it turns out just as fresh and delicious as you'd hoped.
And this pasta was no exception.
It was simple.  It was flavorful.  And it was its own little work of art.  :)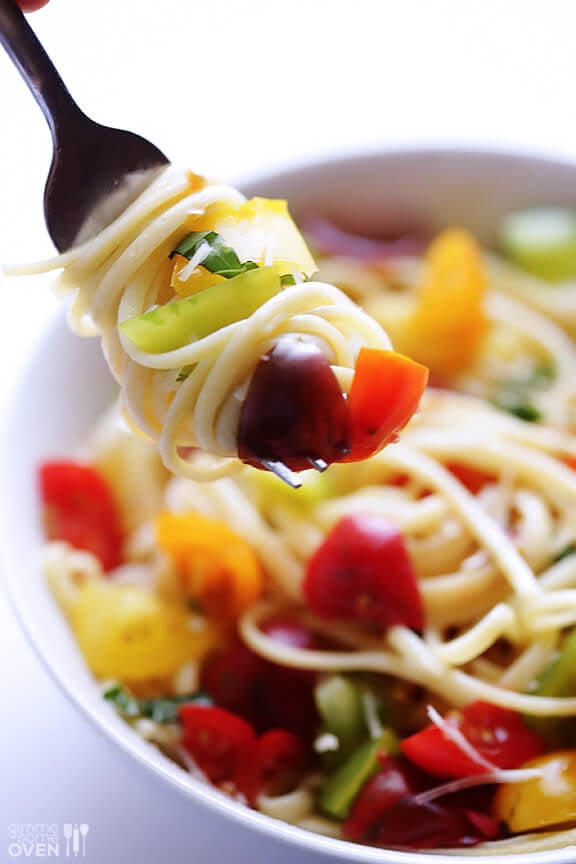 So I know that we're all for taking a moment to really stop and savor the food that you're tasting.  But if you have the chance, I'd encourage you to stop and see — really see — the food that you're tasting as well.  From the prettiest of tomatoes, to even the simplest grain of rice, the artistry of the food we eat in a given day is mindbogging-ly awesome.
And lest I ever forget, it is such a gift.  :)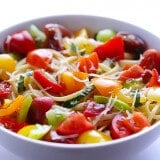 Heirloom Tomato Pasta
This heirloom tomato pasta recipe is as fresh and colorful as it is delicious!
Ingredients:
1 lb. dried pasta (I used linguine)
3 Tbsp. olive oil
4 cloves garlic, minced
1/2 cup roughly chopped fresh basil
2 lb. fresh heirloom tomatoes (or any fresh tomatoes), diced
1/2 cup grated Parmesan cheese
Directions:
Cook pasta in generously-salted boiling water until al dente according to package instructions, then drain.
While pasta is cooking, heat olive oil in a saute pan over medium-high heat. Add garlic and saute for 1-2 minutes, stirring occasionally, until fragrant. Stir in 1/4 cup of the fresh basil, and remove from heat.
Toss the garlic mixture and tomatoes with the (drained) pasta until combined. Serve topped with the remaining basil and lots of Parmesan.
All images and text ©
If you make this recipe, be sure to snap a photo and hashtag it #gimmesomeoven. I'd love to see what you cook!