Homemade Naan + Indian Veggie Wrap
This post is brought to you by Morningstar Farms.
One of the first questions I'm usually asked when people find out that I'm a food blogger — well, after they sheepishly (yet still always) ask how I earn a living blogging — is what kind of diet I follow.  You know, the "so what are you?" question that's so common nowadays.
Vegan?  Vegetarian?  Pescetarian?  Gluten-free?  Paleo?  Raw?  Sugar-free?  Whole 30?  (Fill in the blank!)
It seems like most people assume that food bloggers are more apt to fall into a specific category.  And while I've certainly spent weeks or years dabbling in each of these diets, I still keep coming back to the same conclusion:
I enjoy eating a little bit of everything!  And accordingly, I enjoy food blogging about a little bit of everything!
However, over the years I have been tweaking the balance with the "everything" in my diet, experimenting with more of this, more moderation with that.  And amongst other changes, I have increasingly found myself choosing to eat meat a little less, and opting for more plant-based meals a little more.
Now before anyone jumps to conclusions, let me be clear — I have zero intentions of ever going full-on vegetarian or vegan.  I love my bacon and a nice peppercorn steak a little too much.  (And don't even get me started on cheese…)  :)  However, that said, I am fully aware of the many merits of choosing to enjoy more plant-based meals in life from a nutrition standpoint (especially as someone with high cholesterol genes in the family), to a financial standpoint (let's face it, steak's not cheap!), to an environmental and sustainability standpoint (especially on a global level), and beyond.  And frankly, some of my favorite meals that I make are meatless!
So for anyone else out there who's in the same boat and is looking to incorporate more plant-based options into your diet, I have a super-easy Indian Veggie Wrap recipe to share with you today, that's made with my sister's favorite (and impressively easy!) recipe for delicious homemade naan.  And I also wanted to throw out an invite to join me in a fun little challenge: taking a #VegAllegiance.
Homemade Naan Recipe | 1-Minute Video
Love me a good play on words.  (Hello, who named her blog Gimme Some Oven?!)
So what is this #VegAllegiance?
Well, it's a new little movement started by Morningstar Farms (maker of some of my favorite veggie burgers) where they are challenging people to make a personal pledge to eat more veggies and less meat.  Simple.  And you get to be the one to define what "more" and "less" look like for you.
I already eat plant-based meals about half of the time, especially at home.  So for me, I'm using this "pledge" to challenge myself to be better about eating more plant-based meals each week when I'm dining out.  And also work on coming up with some quick and easy, go-to, plant-based recipes that I can whip up when entertaining friends in.  Nothing huge or dramatic.  Just one or two more plant-based meals a week.
Which — if you're new to trying more plant-based recipes — adding one or two plant-based meals to your diet each week is exactly where I'd encourage you to begin.  Don't aim for anything too dramatic.  Just try weaving in an extra simple plant-based meal each week.  I already have lots of vegetarian and vegan recipes on the blog that you can try (that you might not even realize are already plant-based!).  But today, I thought I'd share with you a new quick and easy recipe that I'm slightly obsessed with lately, made all the more amazing with some delicious homemade naan.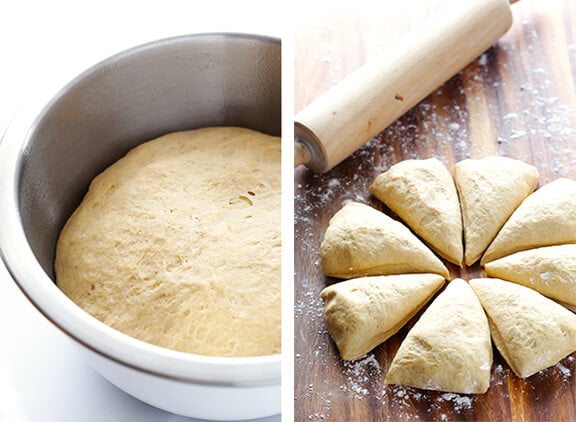 I owe the credit for this naan recipe to my sister.  She and her husband cook a ton of Indian food, and when she was in town a few years ago, she mentioned that she had a killer easy naan recipe that I needed to try.  I was a little doubtful about the "easy" part (and very afraid of working with yeast at the time), but volunteered to watch and be a happy taste-tester.
Sure enough, she was right.  It was surprisingly easy, came together with very little prep time, and it was SUPER good.  Like, the as-good-as-the-restaurant (or dare I say better?) kind of good.  So of course, I had to share it with you.  I have tweaked the original recipe a bit to sub in some white whole wheat flour, plus I sweeten it with honey instead of sugar, and I cook mine in a cast-iron pan on the stove instead of on a fancy grill.  But trust me, it's just as good.  (And even slightly better for you!)
To make the naan, whip up a batch of simple yeast dough that is moistened with yogurt, and let it rise for an hour.  Once the dough is ready, separate it into about 8 equal pieces.
Then roll each piece out until it's nice and thin.  (The thinner it is, the more it will bubble up!)  Brush each side of the dough with some garlic butter.  Then pop it on a hot cast-iron skillet and let it cook on each side for about 1 minute.  The dough will bubble up while it cooks, which is how you get those tasty dark splotches.  Brush the dough with a little more butter if you'd like…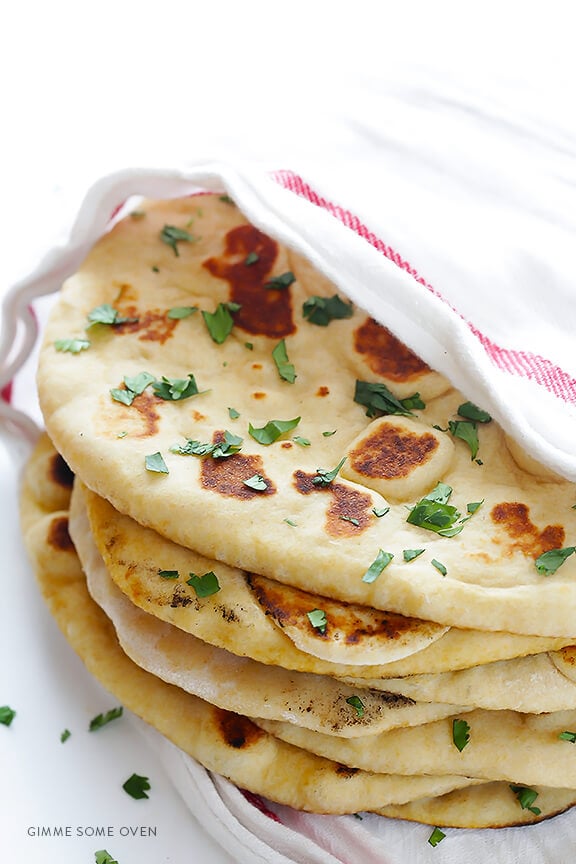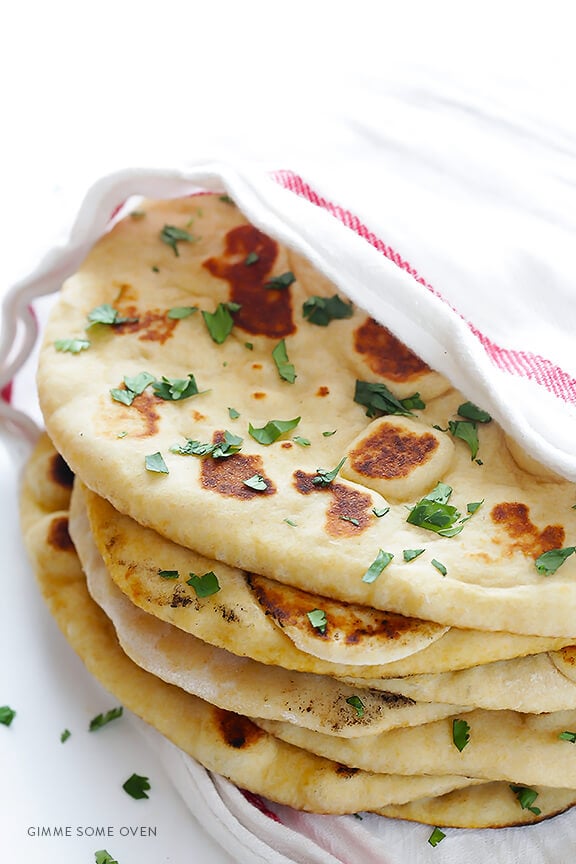 Then serve it warm, sprinkled with some fresh cilantro if you'd like.
And get ready, because you may never go back to buying store-bought naan again.  The bread is soft and chewy, made with healthier ingredients, and good grief it is good.  And one of my favorite new ways to enjoy it?
This Spicy Indian Veggie Veggie Wrap.
I've been obsessed lately with Morningstar Farm's Spicy Indian Veggie Burgers, and have been keeping them in my freezer for quick lunches on workdays.  (And coincidentally, I actually served up a bunch of them last night for my vegetarian friends who came to our #NeighborNight burger night.  They were a big hit!)
Anyway, last weekend I noticed this recipe on Morningstar's website for turning the burger into a veggie wrap with naan and mangoes and a simple lime-curry slaw, so I gave it a go with my homemade naan.  And it was crazy good.  It was super filling, the perfect mix of sweet and savory, full of Indian flavors I love, and the best part?  Didn't even miss the meat one bit.  So good.  And so easy.
Anyway, stay tuned because I'm going to come up with some more (intentionally) meatless meals to share with you this Spring.  And seriously — check out the #VegAllegiance hashtag on social media and consider joining along.  I think it'll be "veggie" fun.  ;)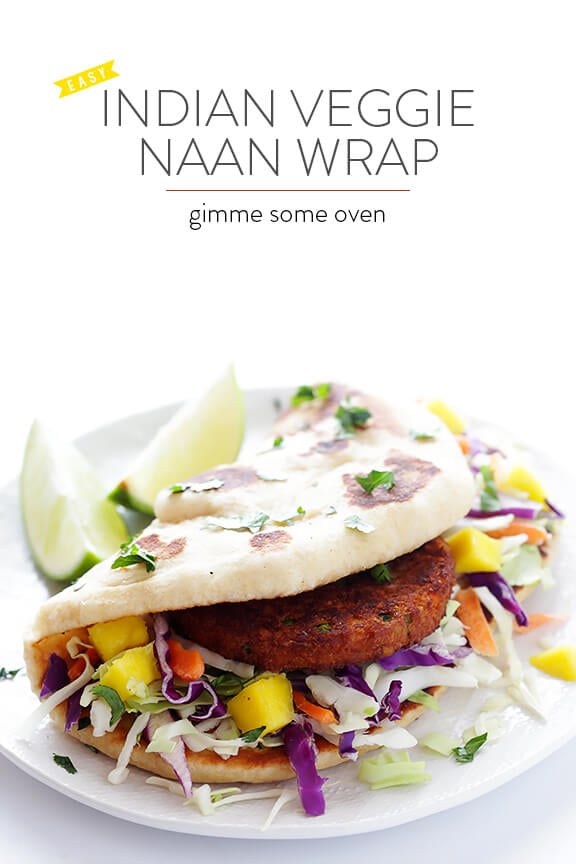 Homemade Naan
Learn how to make homemade naan with this delicious and simple naan recipe. My version is made with half whole wheat flour and naturally sweetened with honey, then brushed with a delicious garlic butter for an extra delicious twist.
Ingredients:
1 cup warm water
2 tablespoons honey
1 (.25 ounce) package active dry yeast (about 2 1/4 teaspoons)
3 1/2 cups all-purpose flour (or 2 cups white whole wheat flour + 1 1/2 cups all-purpose flour)
1/4 cup plain yogurt
2 teaspoons salt
1/2 teaspoon baking powder
1 egg
1/4 cup (4 tablespoons) butter
3 cloves garlic, minced
(optional topping: chopped fresh cilantro)
Directions:
Stir together warm water and honey until the honey has dissolved.
Add the water mixture to the bowl of a stand mixer with the dough attachment, and sprinkle the yeast on top of the water.  Give the yeast a quick stir to mix it in with the water.  Then let it sit for 5-10 minute until the yeast is foamy.
Turn the mixer onto low speed, and add gradually flour, yogurt, salt, baking powder, and egg.  Increase speed to medium-low, and continue mixing the dough for 2-3 minutes, or until the dough is smooth.  (The dough will still be slightly sticky, but should form into a ball that pulls away from the sides of the mixing bowl.)
Remove dough from the mixing bowl, and use your hands to shape it into a ball.  Grease the mixing bowl (or a separate bowl) with olive oil or cooking spray, then place the dough ball back in the bowl and cover it with a damp towel.  Place in a warm location (I set mine by the sunny window) and let it rise for 1 hour until the dough has nearly doubled in size.
Meanwhile, heat the butter in a small saute pan over medium heat until melted.  Add garlic and cook for 1-2 minutes until fragrant.  Then remove butter from heat, strain out and discard the garlic, leaving the infused melted butter behind.  Set aside.
Once the dough is ready, transfer it to a floured work surface.  Then cut the dough into 8 separate pieces. Roll each into a ball with your hands, then place on the floured surface and use a rolling pin to roll out the dough into a large circle (or oval, or whatever shape it takes) until the dough is a little less than 1/4-inch thick.  Brush dough lightly with the garlic-infused butter on both sides.
Heat a large cast-iron skillet or heavy saute pan over medium-high heat.  Add a piece of the rolled-out dough to the pan and cook for 1 minute, or until the dough begins to bubble and the bottom turns lightly golden.  Flip the dough and cook on the second side for 30-60 seconds, or until the bottom is golden.  Then transfer the naan to a separate plate, and cover with a towel.  Repeat with remaining dough until all of the naan pieces are cooked.
Keep the naan covered with the towel until ready to serve, so that it doesn't dry out.  Serve sprinkled with fresh cilantro, if desired.
If you make this recipe, be sure to snap a photo and hashtag it #gimmesomeoven. I'd love to see what you cook!
This is a sponsored post in partnership with Morningstar Farms.  I'm a big fan of the #VegAllegiance program that they have started, and felt like this is something I would love to share on the blog, but all opinions are my own as always.  Thanks for supporting the brands that help make this site possible.  :)