Falafel
Learn how to make falafel with this easy classic falafel recipe.  It's full of great flavor, and perfect for falafel sandwiches, salads, appetizers and more.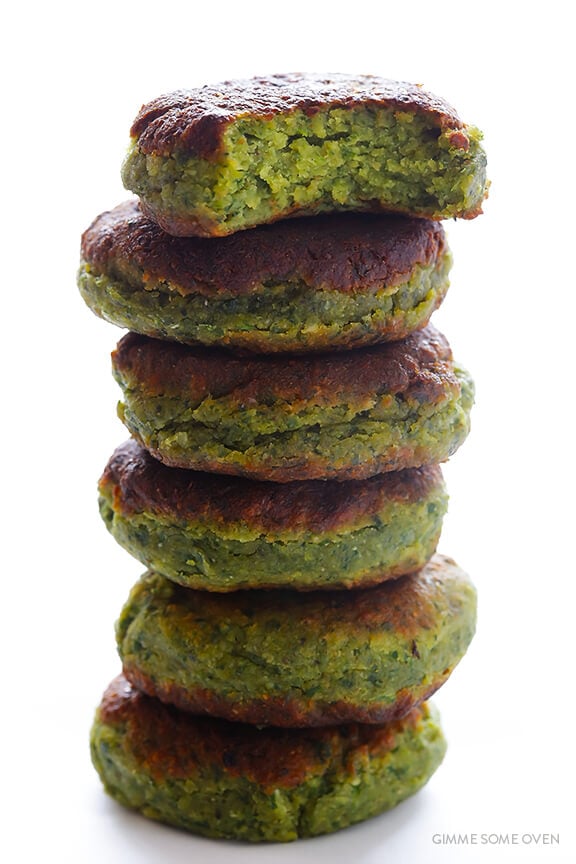 Guess who happened to be visiting Kansas City this weekend on National Siblings Day?
This beautiful sister of mine, that's who!
Yep, as is her tradition each year during spring break, she flew from Chicago down to Wichita to spend a few days with our 'rents, followed by a few sister days together here with me in Kansas City.   And I must say, we had a very KC-y weekend together.  We (of course) went next door for some pour-over first thing in the morning, met up with some friends at our new neighborhood pizza place that I wanted her to try, took Henry for a long walk along the Missouri River, stopped by a local film festival, happy hour-ed at my favorite spot with bottomless chips and salsa and margs, and spent a lazy Saturday morning at my favorite local art museum checking out a new exhibit on Spanish chef Ferran Adria (the perfect exhibit for an art teacher and food blogger, we decided).  Oh, and then we reverted to 10-year-old selves and totally spent an evening playing with each other's hair while watching old episodes of Chopped.
Ah…sisters.  :)
Still, one of our favorite things to do together is cook.  So for lunch one day, we decided to crack open a few cans of chickpeas and make a big batch of falafel together.  And oh my goodness, guys, this falafel recipe easily rivaled all of my other favorite Kansas City meals that we had all weekend.  I had forgotten how easy it is to make falafel homemade!  We kicked up the flavor in ours with tons of fresh herbs, garlic, cumin and lemon juice, and then served them up in some easy pita falafel sandwiches (followed by leftovers in a falafel salad), and agreed this will be our go-to falafel recipe for years to come.
Let's make some!
The BEST Falafel Recipe | 1-Minute Video
What Is Falafel?
So what exactly is this delicious food that people around the world love so much?  (And Rachel's sister is convinced that Ross was selling in Friends?)  In a nutshell — or more accurately, a chickpea shell 😉– falafel is traditionally a fried (or baked) patty made from pureed chickpeas, herbs and seasonings.  It can be served plain, in pita sandwiches, in salads, or any number of dishes.  And while it originated in the Middle East, it is now a popular street food all over the world.  And…it is delicious.
Falafel Ingredients:
There are endless variations you can make with your falafel ingredients.  But for my classic recipe, you will need:
Chickpeas: I use canned chickpeas to save a step, rinsed and drained.
Fresh herbs: I love my falafel with lots and lots of fresh cilantro and parsley!  It freshens them up, and also gives them that lovely green hue.
Garlic: The more, the merrier, in my opinion.
Onion: White, red or yellow will work.
Flour: I use white whole wheat, but feel free to use your preferred kind of flour.
Oil: Any mild high-heat oil will work here, such as grapeseed, avocado or vegetable oil.
Baking Powder: To help give these a little extra volume.
Seasonings: Equal parts sea salt, black pepper and cumin.
Lemon Juice: To brighten the flavor up a bit.
How To Make Falafel:
Trust me, it's surprisingly easy to make falafel!  Just follow these steps:
Purée your ingredients. You can either do this in a food processor (my recommendation), blender, or stand mixer.  Pulse until smooth.
Chill. Then transfer the mixture to a bowl, cover with plastic wrap (so that the plastic is directly touching the mixture, to avoid having it dry out), and refrigerate for a few hours until chilled.
Form into patties.  Use a cookie scoop or a spoon to scoop out 2 tablespoons of the mixture, and then use your hands to shape it into a ball.  Lay it on a parchment-covered sheet, then gently flatten the ball slightly with your hand so that it is a little under 1/2-inch thick.  Repeat with the remaining dough mixture.
Pan-fry the falafel.  Traditionally, falafel is deep-fried.  But to cut down on oil, I like to just pan fry the falafel in a cast-iron pan for about 2-3 minutes per side until browned.  Transfer to a plate lined with paper-towels to soak up any extra oil.
Serve! Then…enjoy!!
How To Serve Falafel:
There are countless delicious ways to serve falafel!  Some classics include:
Falafel sandwiches: Typically made with pita, lettuce, tomatoes, veggies and some sort of creamy sauce (tzatziki, baba ganoush or hummus)
Falafel salads: Any sort of Mediterranean salad pairs beautifully with falafel
Falafel bowls: Any bowls made with a base of salad, rice or orzo, veggies, you name it.
Dippers: My favorite use for falafel…served as a simple appetizer dipper along with your favorite sauce!  I'm especially partial to this hummus and tzatziki sauce.
Falafel FAQ:
Can you freeze falafel? I recommend freezing the patties before baking.  Then when you're ready to enjoy them, let them thaw in the refrigerator for 24 hours, then pan-fry immediately before serving.
Can you use gluten-free flour for falafel: I have made these with Bob's Gluten-Free 1:1 Baking Powder, and they turned out great.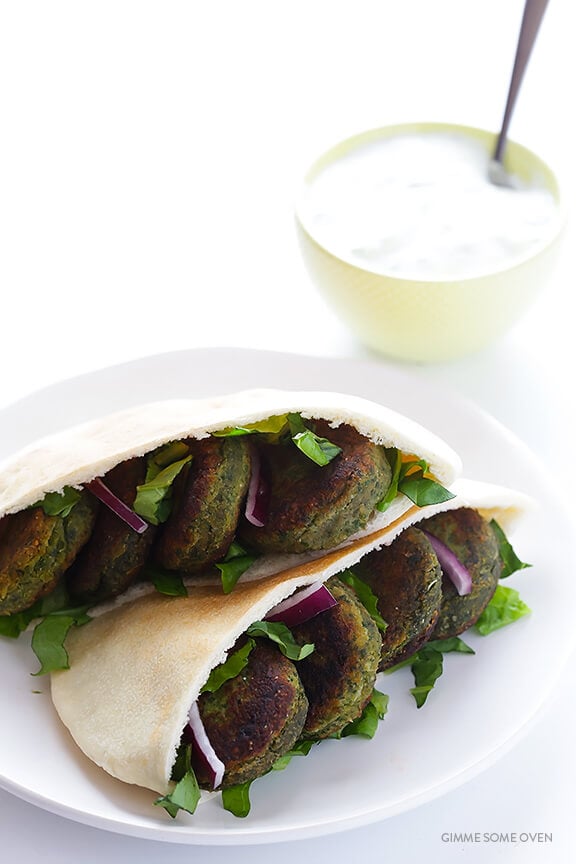 Enjoy, everyone!
Falafel
This falafel recipe is easy to make, pan-fried on the stovetop instead of in the deep-fryer, and totally delicious!
Ingredients:
6 cloves garlic, peeled
1 (15-ounce) can chickpeas (a.k.a. garbanzo beans), rinsed and drained
1 1/2 cups fresh parsley leaves, tightly-packed
1 cup fresh cilantro leaves, tightly-packed
1/2 cup diced white or red onion
1/3 cup white whole wheat flour (or all-purpose flour)
1 tablespoon fresh lemon juice
1 1/2 teaspoons baking powder
1 1/2 teaspoons salt
1 1/2 teaspoons ground cumin
1/2 teaspoon black pepper
4-5 tablespoons grapeseed oil (or another high-heat oil, such as canola or vegetable)
for serving: pita bread, chopped Romaine lettuce, thinly-sliced red onions, diced tomatoes, tzatziki sauce and/or hummus
Directions:
Add garlic, chickpeas, cilantro, parsley, onion, flour, lemon juice, baking powder, salt, cumin and black pepper to a food processor.  Pulse until smooth and evenly mixed, stopping partway through to scrape down the sides of the bowl if needed.  Transfer mixture to a bowl and cover with plastic wrap, so that the plastic is directly touching the top of the mixture (so that no air can enter.  Refrigerate for 1-2 hours or until chilled.  (If the mixture feels too gooey still after it has been chilled, and is difficult to form into disks, stir in a few more tablespoons of flour.)
Lay a large sheet of parchment paper out on a work surface.  Remove the bowl with the chilled falafel mixture.  Then measure out 2 tablespoons of the mixture, and roll the mixture into a ball with your hands.  Place the ball on the parchment paper, and gently flatten the ball slightly with your hand so that it is a little under 1/2-inch thick.  Repeat with the remaining mixture until all of the falafel disks are prepared.
Heat oil in a large cast-iron or heavy-bottomed skillet over medium-high heat until it is shimmering.  (If you add a drop of water to the oil, it should sizzle.)  Carefully transfer 4 or 5 falafel disks to the hot oil and fry for 2-3 minutes per side, or until both sides of the disk are browned.  Transfer to a paper-towel lined plate.  Then repeat with the remaining falafel disks, adding extra oil to the pan if need be.
When all of the falafels are cooked, remove the pan from the heat.  Then serve the falafel warm however you'd like.  (You can eat the falafels plain, served with hummus or tzatziki, in a salad, in a gyro, or in a simple pita sandwich as pictured above.  To make the pita sandwich, fill half a pita with chopped lettuce, red onions, diced tomatoes, a few falafel, and then top with tzatziki sauce or hummus.)
Note: This recipe requires 10 minutes prep time, plus 1-2 hours time to chill the falafel before cooking.
All images and text ©
If you make this recipe, be sure to snap a photo and hashtag it #gimmesomeoven. I'd love to see what you cook!