Taco Seasoning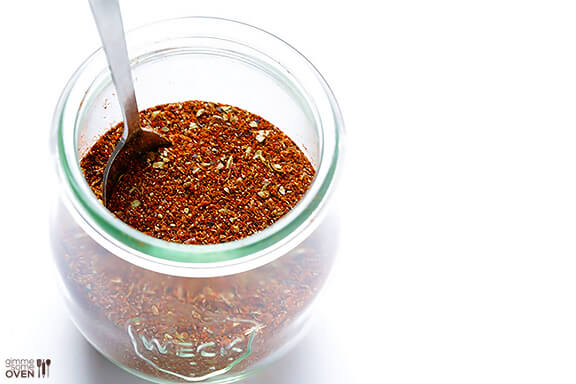 Ok ok, I know that I've been a little taco-obsessed last week.  But I can't help myself.  Scratch that, I don't want to help myself.
I LOVE TACOS!!!
And I especially love good homemade taco recipes, especially when they're made with my favorite homemade taco seasoning recipe.  So last week when I was making my Skinny Slow Cooker Taco Soup recipe, I decided to whip up a fresh batch and snap a few photos to share with you.
But why make taco seasoning mix homemade?  Well, first of all I'm pretty bad at keeping seasoning mixes on hand, so I often end up improvising them anyway so as not to overflow my spice cabinet.  But lots of store-bought taco seasoning mixes are full of preservatives, artificial colors, flour (making them not gluten-free), and may be more or less spicy than you'd like.  So to avoid all of those things and customize your perfect flavor combos, I highly recommend making homemade taco seasoning!  It's easy, cheap, and perfect for helping feed your taco obsession love.  And it's also perfect for gifting to your taco-loving friends.
So open your spice cabinet and make a batch with me!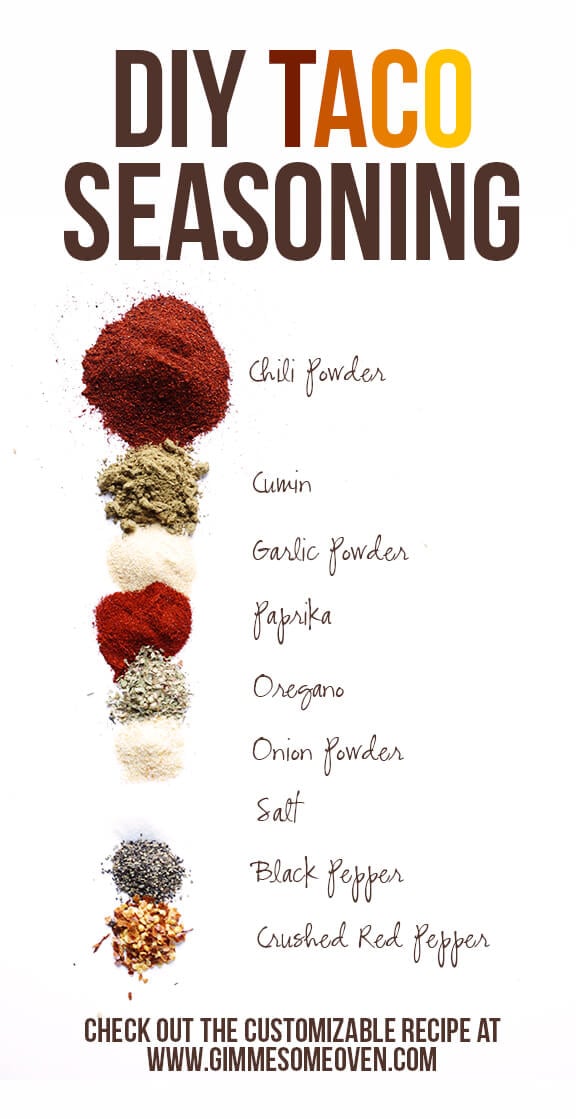 As I said, I'm a big fan of customizing your taco seasoning mix to your preferences.  So if any of these ingredients don't float your boat (or if you're missing one), hakuna matata.  Just make a small batch and see what you think, and then adjust any of the spices to taste for your next batch.  The ingredients you'll need are listed above: chili powder, cumin, garlic powder, paprika, oregano, onion powder, salt, black pepper and crushed red pepper.
All you literally need to do is stir or whisk them all together, and then use the mix or store it in an airtight container.  I like storing mine in these cute Weck tulip jars, but any airtight container will work.  Feel free to also:
adjust the size of the batch – I tend to make smaller batches, but you can double or triple or quadruple the recipe to make even more.
adjust the level of "heat" (spicy-ness) – Keep in mind that the same spices can vary with their level of "heat" with different brands or different levels of freshness.  So I recommend taste-testing as you go, and adding more/less spice according to taste — especially with the chili powder and crushed red pepper.
adjust the level of salt – I actually usually add more salt to a recipe to go with this taco seasoning mix, just as I would with other seasoning blends.  But if you would like even less salt in this recipe, feel free to reduce or omit it all together.  (But for the record, I would generally add a little more salt if using this mix to season proteins, vegetables, soups, etc.)
substitute different chili powders – If you like different chili powders, my personal favorite combo is doing 1/3 standard chili powder, 1/3 chipotle chili powder, and 1/3 ancho chili powder.  It makes for a nice smoky chili mix!  But using all standard chili powders works to and is…well…the standard.  :)
add flour – Many store-bought taco seasoning mixes come with flour mixed in for thickening.  If you would like your taco seasoning mix to include flour, I recommend 1 tsp. per recipe.  (But I usually prefer to add flour with a roux, if I'm using it to thicken a recipe.)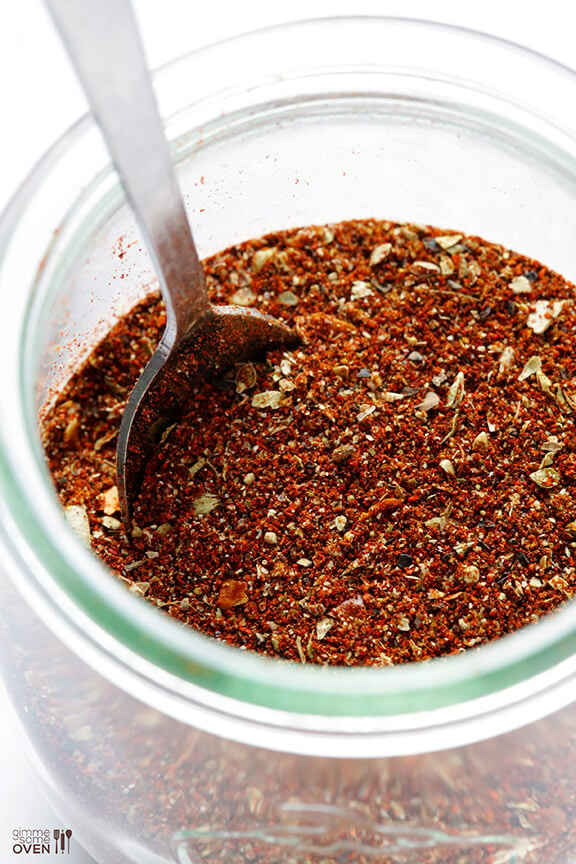 Bottom line — just make some.  :)
It's great in soups, mixed into dips, sprinkled on meat or veggies, mixed into sauces, and of course — on tacos.  Enjoy!
Homemade Taco Seasoning
This homemade taco seasoning recipe can be made in minutes. And it's also preservative-free, gluten-free and easily customizable. So much better than storebought taco seasoning mix!
Ingredients:
1 tablespoon chili powder*
1 teaspoon ground cumin
1 teaspoon garlic powder
1 teaspoon paprika
1/2 teaspoon oregano
1/2 teaspoon onion powder
1/4 teaspoon salt
1/4 teaspoon black pepper
1/4 teaspoon crushed red pepper flakes
Directions:
Whisk all ingredients together in a small bowl (or shake together in a jar) until combined.
Store in an airtight container (this is the jar I used) for up to 6 months.
In general, I recommend using 2-3 tablespoons of seasoning per pound of meat.
*This refers to standard chili powder (labeled as such) sold in the United States, not cayenne powder.
All images and text ©
If you make this recipe, be sure to snap a photo and hashtag it #gimmesomeoven. I'd love to see what you cook!
This post contains affiliate links.