Hummus-Crusted Chicken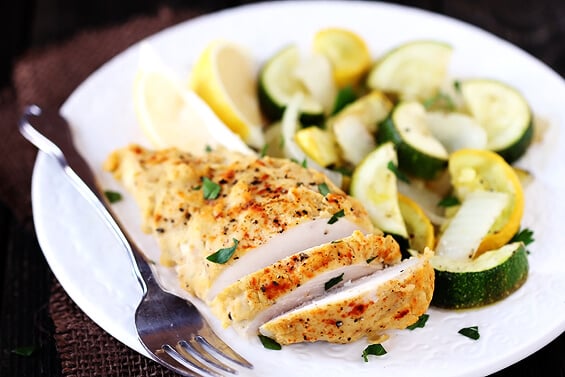 This past week while standing around on a photo shoot, my coworkers and I noticed that our conversations somehow kept circling back to food (as often seems to happen!).  I was getting ready to go grocery shopping that night, so asked if anyone had any blog-worthy chicken recipes to recommend.  My friend, Jen, immediately lit up and told us about this hummus-crusted chicken recipe she had recently tried and loved.
Um, "hummus-crusted"???  Sign me up!
Somehow the idea of using hummus as a sauce in baking had never occurred to me.  But as soon as she mentioned it, the recipe moved to the top of my list.  So this weekend, I picked up some chicken and my favorite hummus (thought about going homemade, but I was in the mood for quick and easy).  And then in order to make it a one-pot meal, I also picked up a bunch of veggies to bake up alongside the chicken.  And then in less than 10 minutes of prep time, roughly chopped the veggies and added them and the chicken breasts to a big baking dish, slathered the chicken with hummus and some lemon juices, sprinkled on a little sumac (or you can use smoked paprika), and popped it in the oven.  About a half hour later, I learned what "hummus-crusted" is all about.
Pure deliciousness, people.
I took the dish to a friend's house for dinner on Saturday night, and we couldn't stop talking about how amazingly flavorful and yummy this dish was!  The hummus was the total rockstar of the dish — it indeed developed a light crust on the chicken, and then some of the extra oozed onto the veggies to give them a little extra sauce to go with the light lemony flavor.  You could easily add some extra herbs, or balsamic, or even a little white wine to go with this.  And of course, you could customize it by using your favorite flavors of hummus.  But honestly, I loved the simple version with classic chickpea hummus.  And holy moly — you can't beat a one-pot meal with less than 10 minutes of prep time!
Highly recommend that you give this one a try.  Thanks, Jen!!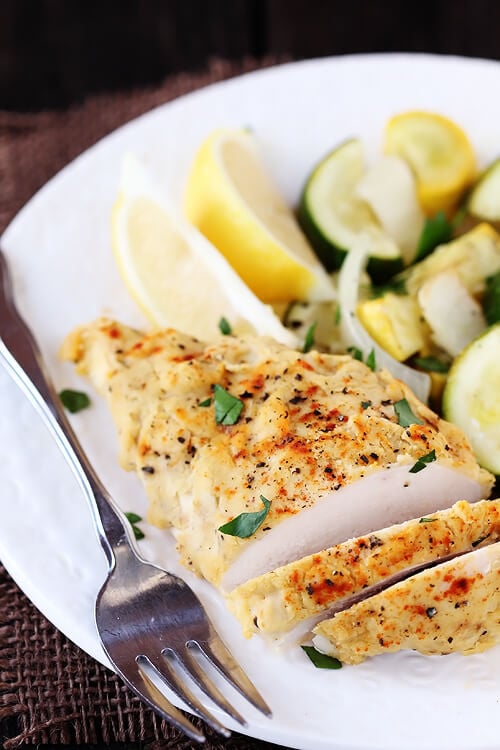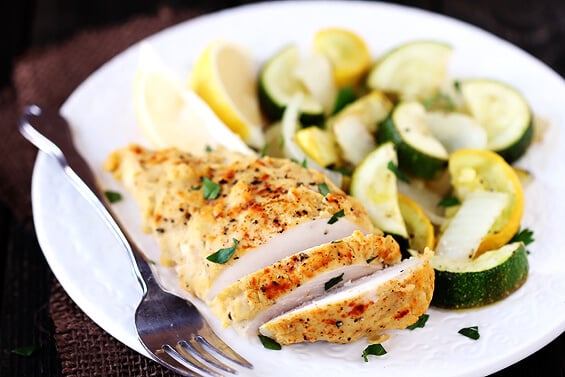 Hummus-Crusted Chicken
Hummus serves as the perfect sauce in this easy baked chicken dish!
Ingredients:
4 boneless, skinless chicken breasts
salt and pepper
1 zucchini, chopped
1 yellow squash, chopped
1 medium onion, chopped
1 cup hummus, homemade or storebought
1 Tbsp. olive oil
2 lemons
1 tsp. smoked paprika or sumac
Directions:
Preheat oven to 450 degrees. Prepare one large baking dish or two smaller baking dishes with cooking spray.
Pat the chicken dry. Season the chicken breasts with generous pinches of salt and pepper. In a large bowl, toss the zucchini, squash and onion with olive oil until evenly coated. Season with salt and pepper.
If using one baking dish, place all of the vegetables on the bottom of the dish in an even layer. Lay the four chicken breasts evenly on top, then cover each chicken breast with the hummus so that the entire breast is covered. Squeeze the juice of one lemon over the chicken and vegetables. Then sprinkle the pan with smoked paprika or sumac. Thinly slice the remaining lemon, and place the slices in between the chicken and vegetables if desired.
**If using two pans, use one for the chicken and one for the vegetables.**
Bake for about 25-30 minutes, until the chicken is cooked through and the vegetables are tender. Serve immediately.
All images and text ©
If you make this recipe, be sure to snap a photo and hashtag it #gimmesomeoven. I'd love to see what you cook!