Classic Hummus
This classic hummus recipe is quick and easy to make, smooth and creamy, perfect for dipping or spreading, and it tastes SO fresh and flavorful!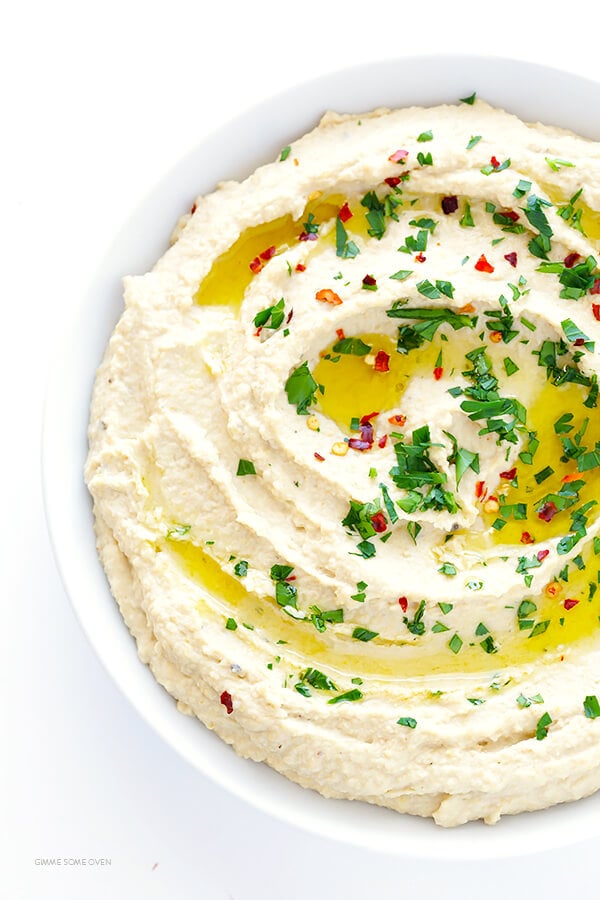 Last week, my friends and I took a little weekday road trip out into the Kansas countryside to bid good-bye to a place that has served us well — my friend, Amanda's, farmhouse.
About five years ago, Amanda made the brave move away from the city and out to this adorable little bungalow out in the middle of the Kansas plains outside of Lawrence.  And there, she created the loveliest little home where she could leave behind the hustle and bustle of her job, soak up the quiet, and enjoy the most magnificent sunrises and views a girl could hope for.  And there, she also regularly welcomed all of us "city girls" out to pitch tents in her backyard for our annual book club campouts, and to grill pizzas or eat brunch out on her spacious back patio, or — as I loved to do — to take a moment to just take a deep breath and look up at the bright stars.

MY LATEST VIDEOS
This house was a special one, and will always be home to some very special memories.
But as seasons in life change, so sometimes do homes.  And all of our friends were happy to hear the bittersweet news that Amanda recently decided to leave behind this home and come back to join us in Kansas City.  We're all beyond excited to have her back near us, where we can all easily stop by to say hi or impulsively plan a happy hour together within the hour.  But we also know that she will miss this sweet house, just as we will.
So before we got too busy planning a we're-so-excited-to-have-you-back-in-KC celebration, we all decided that a little farewell-to-the-farmous party was a must.  :)  So last Wednesday night, we all piled in our cars and roadtripped it to the countryside after work, and cozied in amongst the moving boxes with some popcorn, wine and beer to give a last toast to this sweet space.  And, you know, to add at least a wee bit of protein to our evening together, I brought along my favorite homemade hummus to share.
It's always a winner.
Classic Hummus Recipe | 1-Minute Video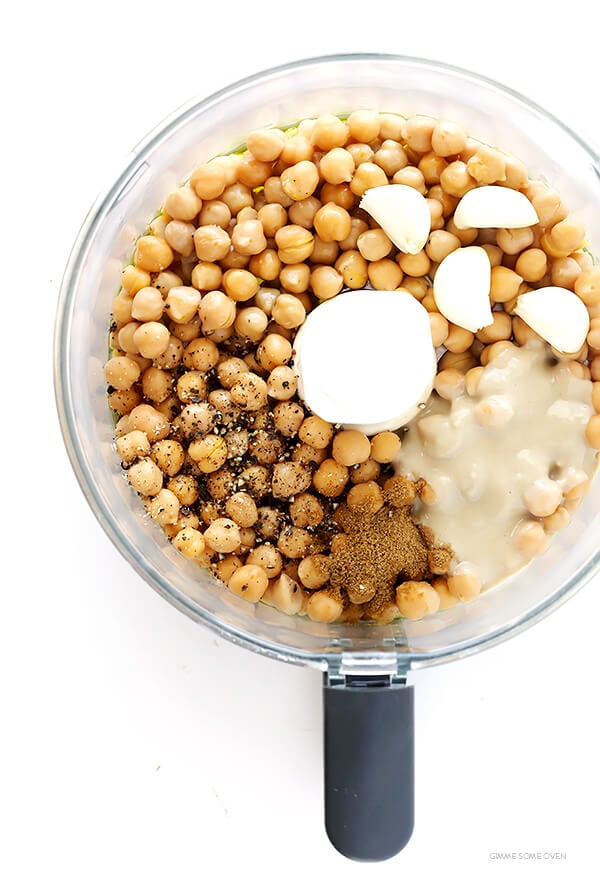 Believe it or not, I actually first shared this recipe on the blog way back in 2010, back when this blog was a very young pup.  The pictures I took back then were not especially appetizing, so I decided to re-shoot this puppy before packing it in my car to go to Lawrence.   The recipe is still the same one I've used for years — classic ingredients, super quick and easy to make, and always (always!) ridiculously delicious.
And if you ask me, it always tastes noticeably fresher than anything you can buy at the store.
And did I mention it's super quick and easy to make?!  I'm not kidding.  Simply throw everything in a food processor or blender and pulse until smooth…

…and voila, hummus is served!
Well, with one tiny caveat.  If you want a thinner/smoother hummus, you can add a little extra water until it reaches your desired consistency.  But other than that, just puree and serve, and a delicious bowl of hummus will be yours to enjoy.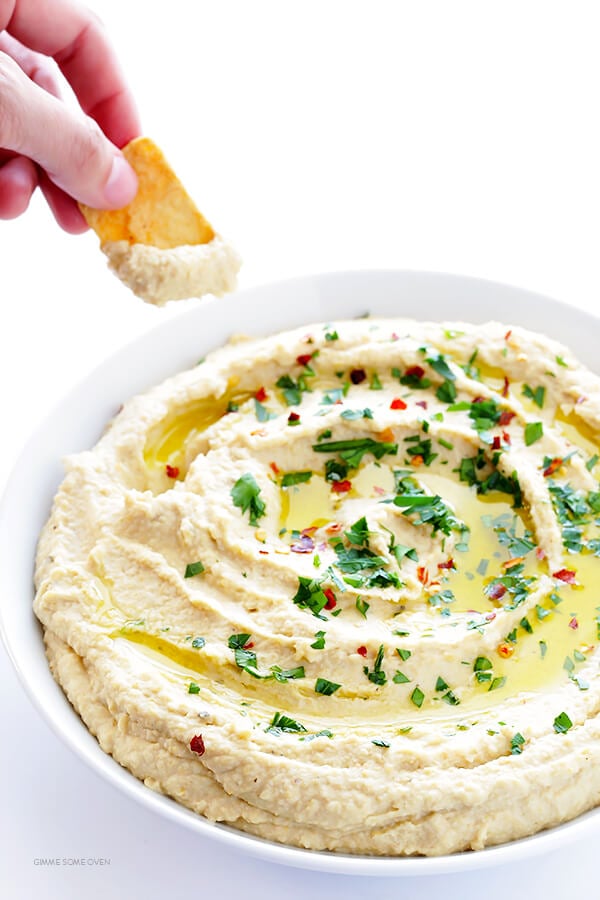 I made a double batch here, as I pretty much always do while I'm at it, and then used the leftovers to make some of my favorite Hummus Crusted Chicken later.  But if you're making this for a party, I'm gonna just go ahead and recommend that you make a double batch, because I'm pretty positive the whole thing will disappear.  ;)
Bottom line — I've tried tons of hummus recipes in my day, and this one is (and will forever be) my all-time favorite.  So bookmark it, make it, and share it with those you love.  And hopefully you'll all make even more good memories together as you enjoy it.  :)
Classic Hummus
This classic hummus recipe is quick and easy to make, it's naturally gluten-free and vegan, and it tastes SO fresh and delicious!
Ingredients:
1 (15 oz.) can chickpeas (garbanzo beans), rinsed and drained
2 cloves garlic, peeled and smashed
3 tablespoons tahini
1-2 tablespoons lemon juice
2 tablespoons extra virgin olive oil
1/2 teaspoon ground cumin
pinch of salt and freshly-cracked black pepper (to taste)
1/4 cup water, or more if needed
optional topping ideas: extra drizzle of olive oil, chopped fresh parsley, crushed red pepper flakes, smoked paprika, toasted pine nuts, chopped roasted red peppers, basil pesto
Directions:
Add first seven ingredients (chickpeas thru salt/pepper) to a food processor, and blend until smooth. Add in the water and continue blending until the hummus reaches your desired consistency, adding additional water if needed.

Garnish with optional toppings and serve immediately, or refrigerate in a sealed container for up to 3 days.

*Note that I made a double batch of this recipe for the photos, updated in February 2016.

All images and text ©

If you make this recipe, be sure to snap a photo and hashtag it #gimmesomeoven. I'd love to see what you cook!