Pumpkin Cookies with Cream Cheese Frosting
Fall is in the air!!  I know that I've been desperately clinging to the last bits of summer these past few weeks, but I've finally turned the corner.  And am now endlessly delighting in all of the beauty and change that is autumn.  For so many reasons (although I need to catch some zzzz's, so those will be forthcoming), this season just deeply warms my heart.
So to celebrate, thought it would be fun to kick off the season with an "Ode to Pumpkin Week" – hooray!!  Yes, besides being a lovely fall decoration and monopolizer of gardens, this gourd-like fruit (true!) makes frequent appearances in my kitchen each fall.  Love it!  And while I've long been a fan of classic pumpkin pie, I'm convinced that it has stolen the pumpkin-spotlight for far too long.  So this week, will be highlighting a few of my other favorite recipes.
To begin, I recommend to you one of my favorite cookies.  I think I can safely say that, of any recipe I've ever made, these hands-down win the prize for "most quickly gobbled up at a party".  It's true — people go nuts over these cookies!  The delicious pumpkin and spices balance each other out well.  And the fun cake-like texture (which reminds me more of muffin tops than cookies) provide a different twist.  But the best part is undoubtedly the cream cheese icing on top.  :)  I know it makes everything better, but it makes these little guys divine.
So go pick up a can of Libby's (this is one canned food not to go generic on), and enjoy, enjoy, enjoy!  :)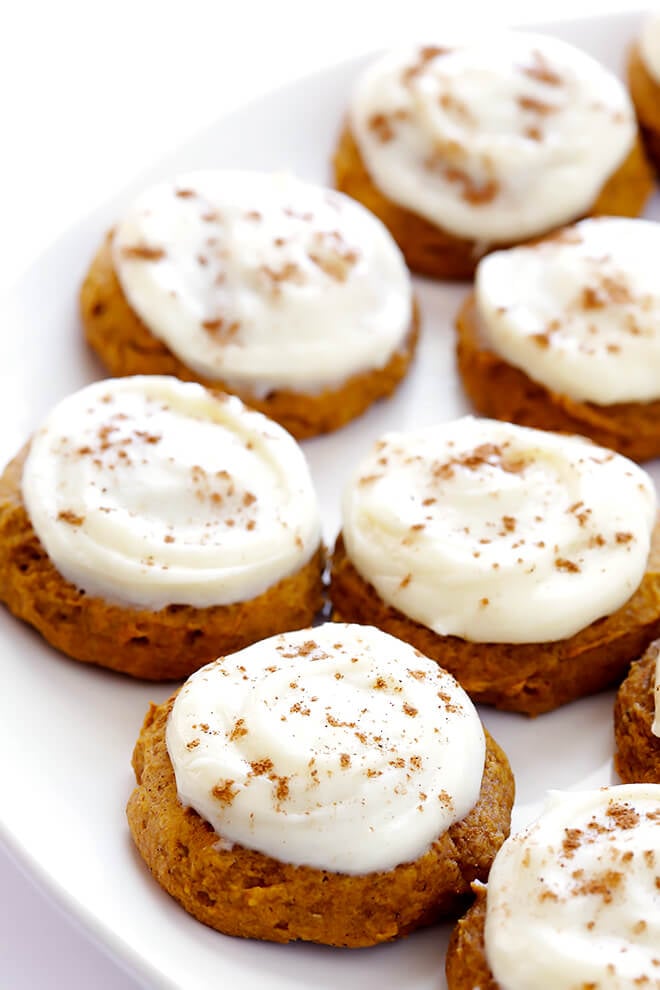 Pumpkin Cookies with Cream Cheese Frosting
This pumpkin cookies recipe is my absolute FAVORITE. Soft spiced pumpkin cookies topped with a heavenly cream cheese frosting — what's not to love? :)
Ingredients:
Pumpkin Cookies Ingredients:
2 1/2 cups all-purpose flour
1 teaspoon baking powder
1 teaspoon baking soda
2 teaspoons ground cinnamon
1/2 teaspoon ground nutmeg
1/2 teaspoon ground cloves (**feel free to substitute 1 tablespoon pumpkin pie spice instead of the cinnamon, nutmeg and cloves**)
1/2 teaspoon salt
1/2 cup (1 stick) butter, softened
1 cup granulated sugar
1/2 cup brown sugar
1 1/4 cups canned pumpkin puree
1 egg
Cream Cheese Frosting Ingredients:
8 ounces (1 brick) low-fat cream cheese, room temperature
3 tablespoons butter, room temperature
1 teaspoon vanilla extract
2 cups powdered sugar
Directions:
To Make Pumpkin Cookies:
Preheat oven to 350°F.  Line a baking sheet with parchment paper.
In a large mixing bowl, whisk together flour, baking powder, baking soda, cinnamon, nutmeg, ground cloves, and salt until combined.  Set aside.
In the bowl of a stand mixer, cream together the butter, granulated sugar, and brown sugar on medium-high speed for 1 minute until light and fluffy.  Add in the pumpkin, egg, and vanilla to butter mixture, and beat on medium-speed until just combined.  Fold in the dry ingredients until just combined.
Drop on cookie sheet by heaping tablespoonfuls, then use your fingers or a spoon to flatten then slightly.  (These cookies tend to poof up slightly rather than flatten during baking, so shape them beforehand however you'd like.  They won't rise much.)
Bake for 15 to 20 minutes, or until the cookies are cooked through and bounce back slightly if you touch them.  Transfer cookies to a wire rack to cool until they reach room temperature.  Then frost or drizzle with cream cheese frosting.  Refrigerate in a sealed container for up to 3 days.
To Make Cream Cheese Frosting:
With an electric mixer, beat cream cheese, butter and vanilla together on medium-high speed until smooth.  Gradually add in the powdered sugar until it is all combined and the frosting is smooth.  If it is too thick, add in a tablespoon or two of milk (or water) until it reaches your desired consistency.  If it is too thin, add in more powdered sugar until it reaches your desired consistency.
Adapted from All Recipes.  Updated in September 2016.
All images and text ©
If you make this recipe, be sure to snap a photo and hashtag it #gimmesomeoven. I'd love to see what you cook!