institute of culinary education: day two
This post may contain affiliate links. Please read my disclosure policy.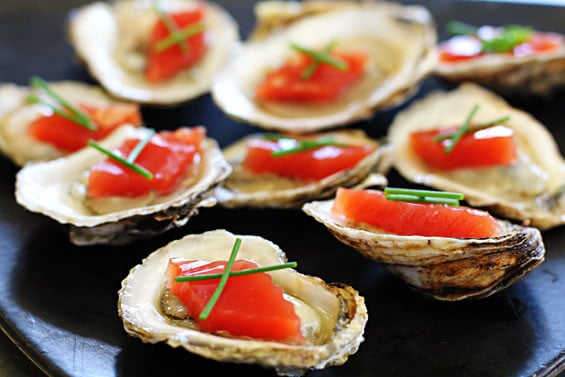 Oooooh la la!
That's right! Today I wrapped up my week of culinary adventures with a final day of "hors d'oeurves boot camp" at the ICE (Institute of Culinary Education) in New York City.
And talk about a grand finale!! Today we made all sorts of delicious, sophisticated little hors d'oeurves — once more, using a number of ingredients and techniques that were new to me. Apparently with cooking, there's always something more to learn. I love it!
Here are the highlights…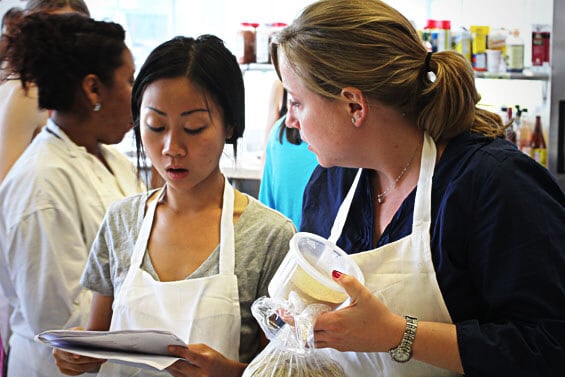 We began our morning at 9am, gathering around the table once more for a review of the day's recipes. Today, those included:
Oysters with Blood Orange Aspic (which I learned is basically…fresh fruit Jello!)
Risotto Croquettes with Fontina
Beef Sate with Peanut Dipping Sauce
Spicy Shrimp Fritters
Smoked Salmon Crepes with Cream Cheese
Beef Empanadas
Buckwheat Blini with American Caviar
Duxelles and Foie Gras Palmiers
I was excited to see that we were going to be working again with a number of ingredients that were new to me. (Or at least — this was the first time that I had actually cooked with them!)  Some of those today included oysters, gelatin sheets (not granulated gelatin – our chef pointed out these would be perfect to use for "windows" in gingerbread houses!), shrimp paste, American caviar, and yes…foie gras (goose liver).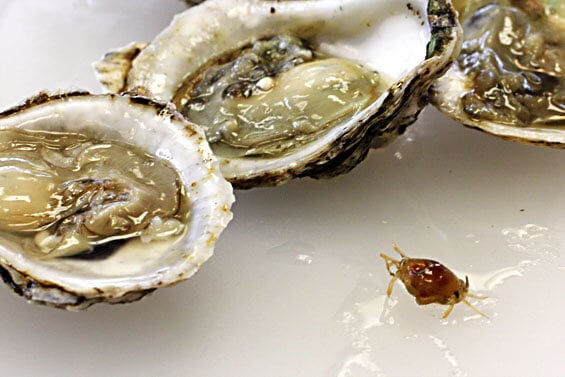 Being from the Midwest, it's pretty rare that we have fresh raw oysters available. So it was fun getting a tutorial today on how in the world they're scrubbed (and scrubbed, and scrubbed), opened, and prepared. Quite the process!
We even found a little (live!) surprise in one of them today. Eeks!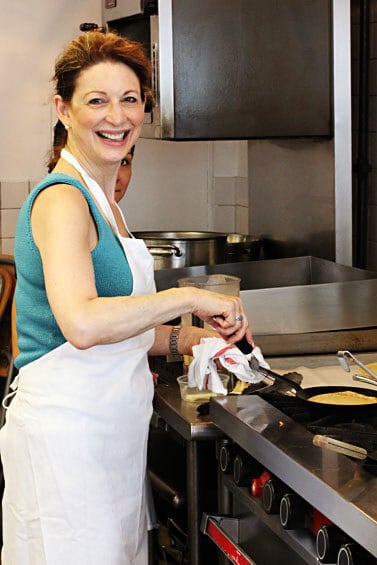 Our specific group was in charge of the smoked salmon crepes, shrimp fritters, and risotto croquettes. So we spent quite a while over the stove making crepe…after crepe…after crepe…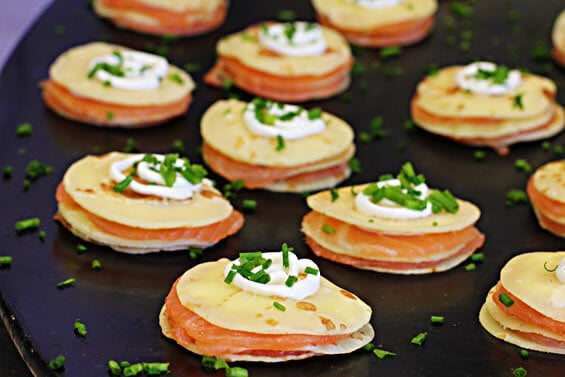 …which we eventually shaped into small circles with cookie cutters, along with the smoked salmon, and turned into these adorable little crepe sandwiches!
I had the oh-so-"tough" job of cutting the smoked salmon into circles, and then eating the scraps. :)  Mmmm…YUM.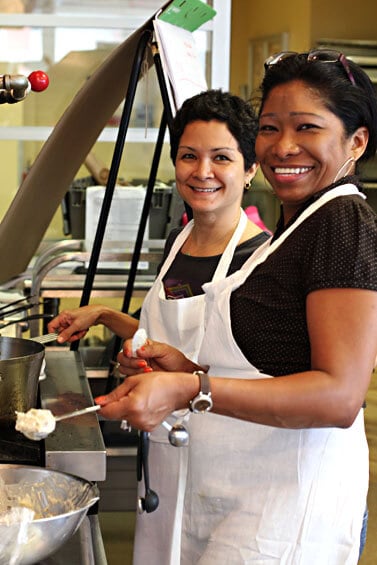 We also got to spend quite a bit of time at the end of class with the fryer, finishing up the salmon fritters, which turned out to be remarkably flavorful and delicious.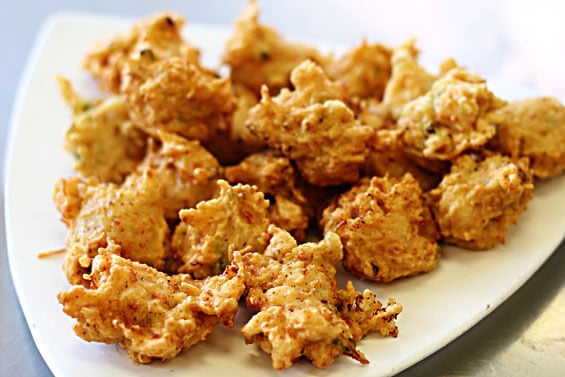 And then we also fried up my favorite recipe of the day. Oh yes.
Do you remember how excited I was on Friday about being introduced to those "Sicilian rice balls" on the Greenwich Food Tour?? Well, I came to find out that our "risotto croquettes with Fontina" were the same thing!!!!
I think everyone in the group thought I'd had a little too much morning coffee, but I was SO stoked to learn how to make them!!! What a perfect coincidence. Granted, ours had melted Fontina on the inside, while I believe the others had smoked mozzarella, but they were just as delightful. And quite easy to make too! (Don't worry — I have a hunch a recipe for these will be popping up here very soon.)  :-)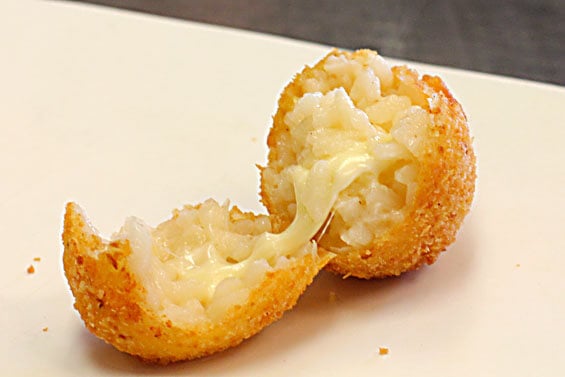 That's right. Oooey, goooey deliciousness. I may have had two. Or three. :)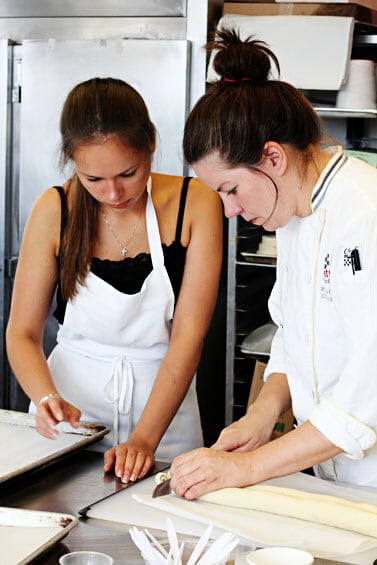 The class also had a fun time working with the puff pastry dough (who wouldn't?), while making our palmiers. I had remembered discussing foie gras in high school French class, but admit I'd never had the chance (or really sought out the chance) to try it. Quite nice, but I may try making this recipe soon with just the mushrooms, or maybe some pancetta or something. We'll see…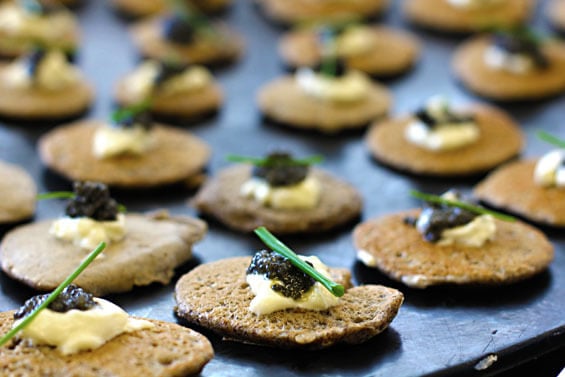 Everyone else's dishes also turned out quite lovely (you can see we put our bundle of chives to good use today!)…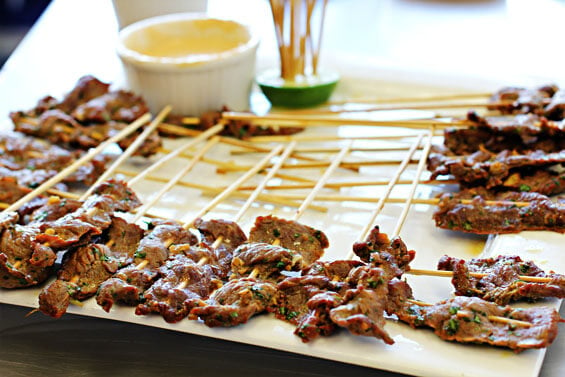 …and of course, scrumptuous. I couldn't believe how tender the meat was on the beef satay — going to have to try this soon!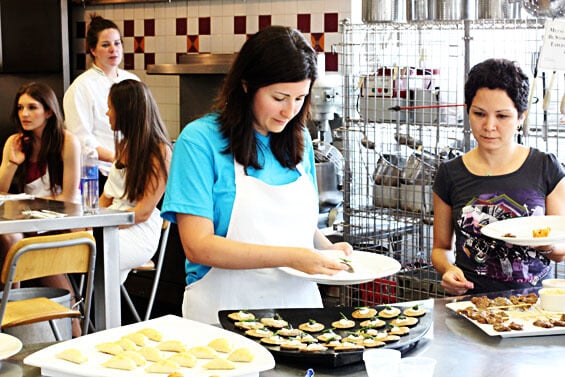 Even though I'm pretty sure everyone had already had a full meal's worth of "sampling" before lunch, we all filled our plates and glasses of wine and had a leisurely, delightful meal together.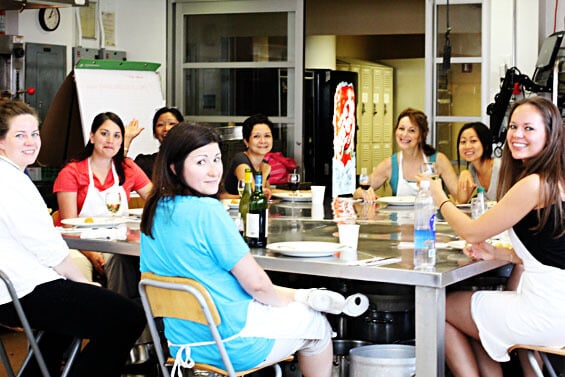 Look at all of these beautiful girls — such a great group!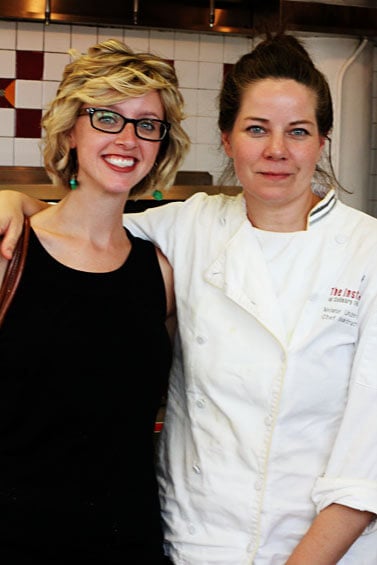 Huge thanks as well to our great teacher – Chef Melanie. She had the perfect gift for making class fun and enjoyable, but challenging us and teaching all sorts of great lessons in the process. Definitely a great two days, and the perfect way to end my little culinary adventure!
So a huge thanks to the ICE, the CIA, and Food Tours of NY for such a great week! And especially — many thanks to all of you for indulging me and following along. :-)  Look forward to posting new recipes soon sharing more specifics of what I've learned!
Now back to my home sweet home in KC… Ciau!