Japchae (Korean Noodle Stir-Fry)
This quick and easy Japchae (Korean Noodle Stir-Fry) recipe takes less than 30 minutes to make, it's easy to customize with whatever veggies and protein you have on hand (or make vegan, if you want to go with tofu or veggies-only), and it's totally delicious.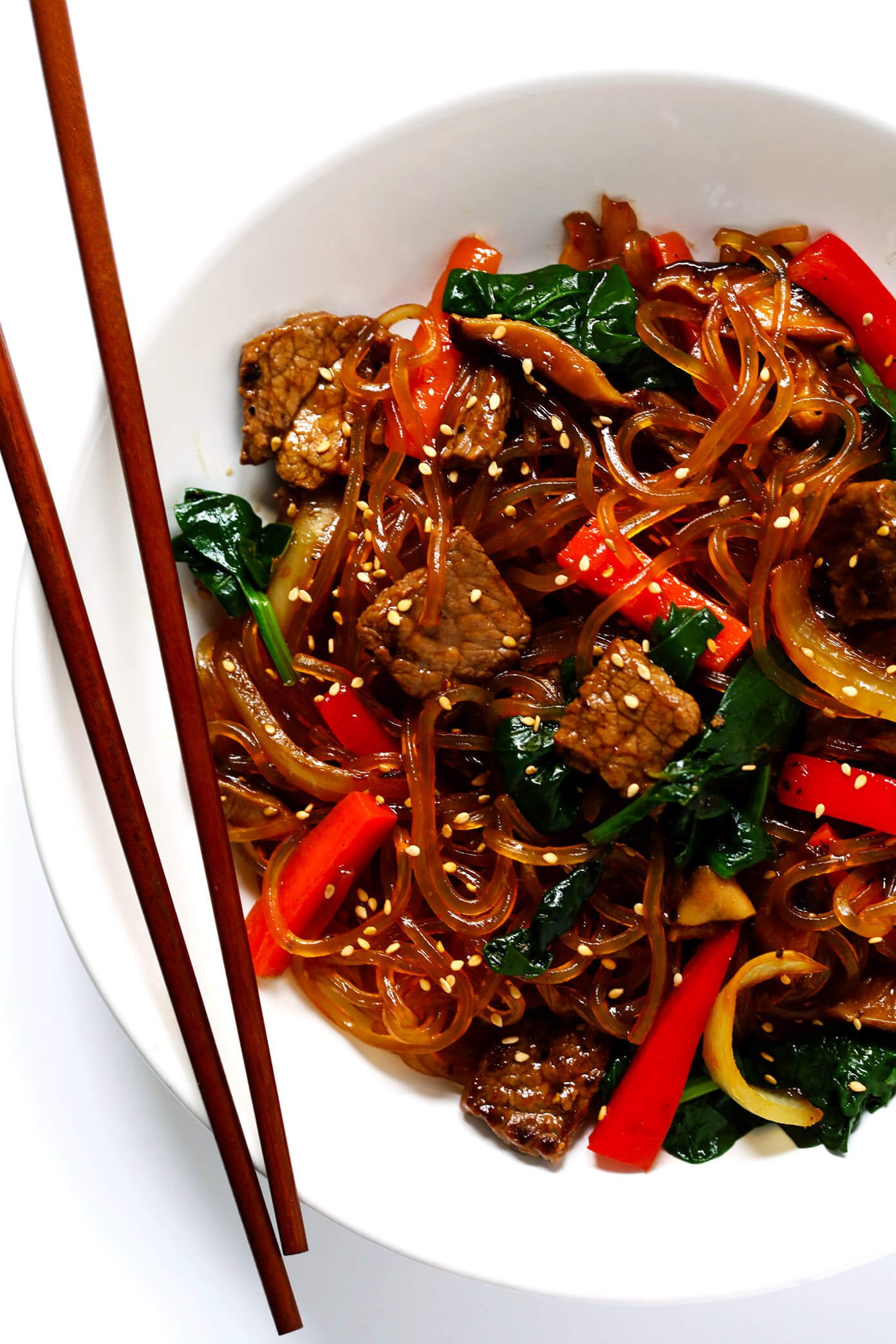 This past weekend, we welcomed our second set of visitors to our new apartment here in Barcelona — our good friends, Nathan and Kerry, who flew all the way here from South Korea!
Yep, while the rest of the world was flooding their country for the Olympics, they made the 20-hour trip our way for a long weekend in the Spanish sunshine.  And oh my goodness, it was so good to have them here.  By contrast to most of our friends and family who are coming to visit us, both of these two had actually already visited Barcelona once before.  So instead of trying to cram in all of the touristy sites, we spent most of our time hopping from tapas bar to tapas bar, adventuring all around the city on foot, introducing them to the joys of vermut, and catching up together on lots of life together along the way.  Oh — and after a memorable adventure with Kerry to the Korean baths back in Seoul two years ago, we thought it only appropriate that she get to experience the baths here in Barcelona too.  So we spent a dreamy morning visiting this place.  The BEST.
Anyway, these two are our only other friends from Kansas City who are doing the expat thing right now.  So it felt extra special to have them be some of the first to visit our new home.  And of course, just having them here and being able to relate in conversations about the random joys, struggles, questions and stories of expat living was a total gift.  Love them lots.  And we already miss them lots.
So of course, what's this food blogger to do when feeling all the feels after hugging these two good-bye and sending them back to Korea?  Stir-fry a batch of Korean noodles for dinner in their honor.  Naturally.  ;)
Japchae Recipe | 1-Minute Video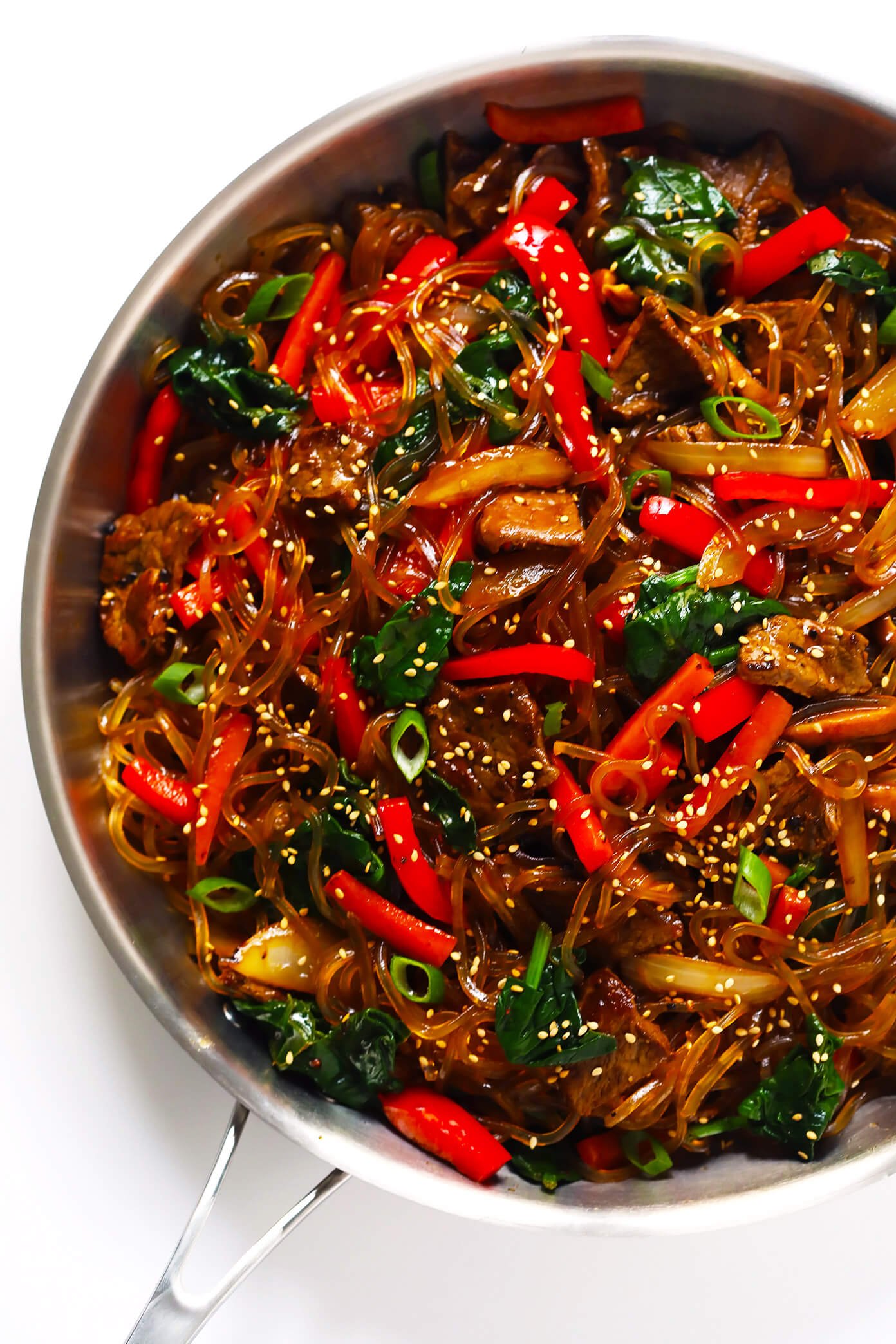 A good stir-fry has long been one of my go-tos when I'm craving some feel-good comfort food.  And, since this pasta-loving husband came into my life, I usually now incorporate some kind of noodles into the picture too.  Which requires zero arm-twisting on my part.  ;)
But instead of resorting to our usual stash of rice noodles in the pantry (although those would work in this dish too!), I went for the bag of dangmyeon (affiliate link).  Also known as sweet potato start noodles or glass noodles.  Also known as the starring ingredient in japchae, a popular sweet and savory stir-fry dish in Korea.
If you've never cooked with them before, get ready to meet your new favorite noodle, because they are so simple to work with, so tasty, and so fun!!!  As you can see, they look similar to regular ol' rice noodles when they are dry and uncooked.  But the second you pop them into a pot of boiling water, they turn transparent and "disappear" instantly.  Then after they have cooked for about 5 or 6 minutes, just drain your pot, and — poof — there's a whole batch of noodles in the bottom!
For this dish, I recommend cooking the noodles according to package instructions.  Then immediately draining and rinsing them with cold water until they are completely chilled, so that they don't continue to cook and all mushy.  To prevent sticking, I also recommend drizzling them with a bit of sesame oil, and then tossing them with your hands until the noodles are evenly coated.  Then your glass noodles will be all ready to go!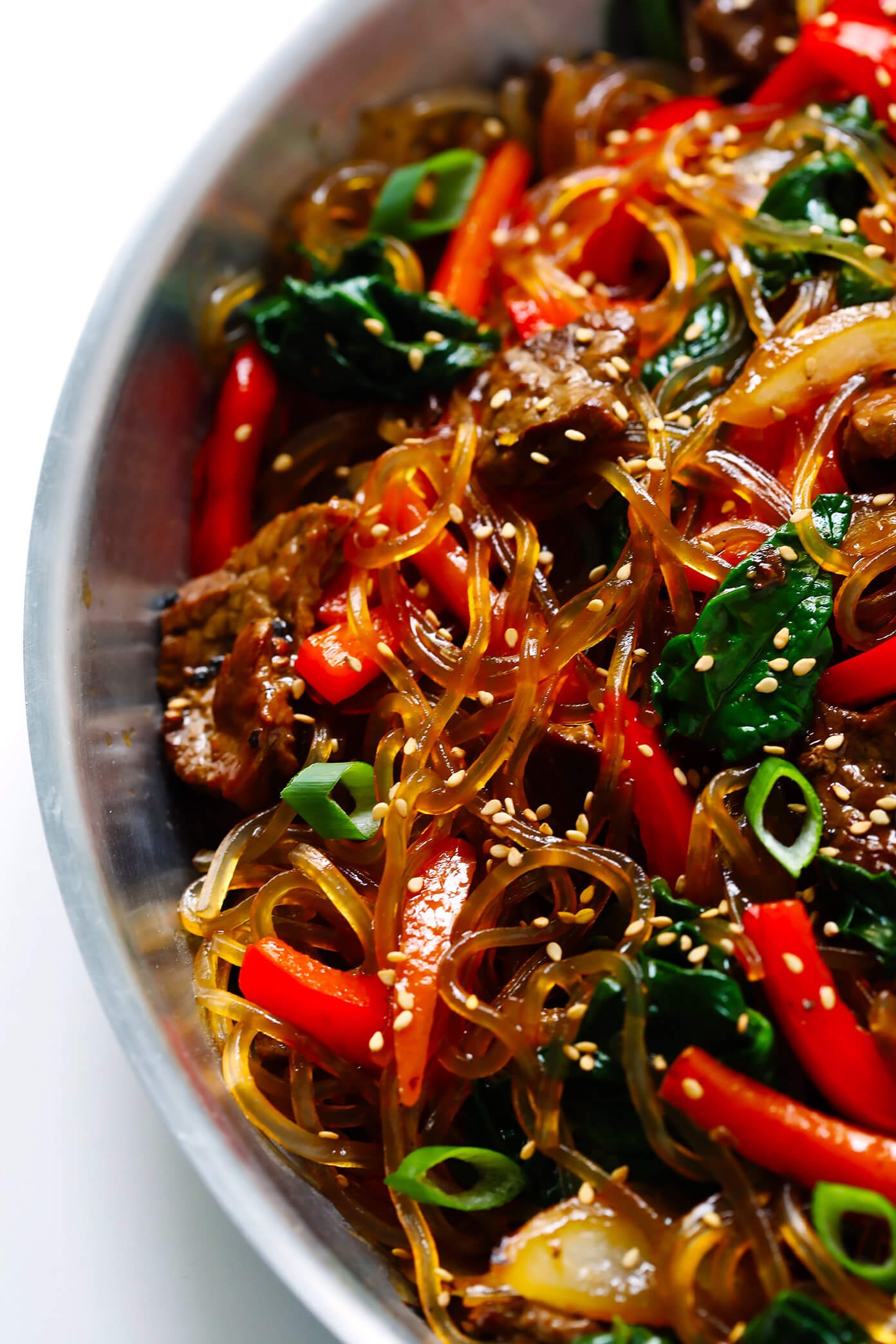 Then while your noodles are cooking, sauté a bunch of steak (or you can opt for chicken, pork, shrimp, or tofu — or just go veggies-only) and veggies (I went with the traditional red peppers, carrots, onions, mushrooms and garlic), plus a healthy dose of fresh spinach added in at the very end (yum).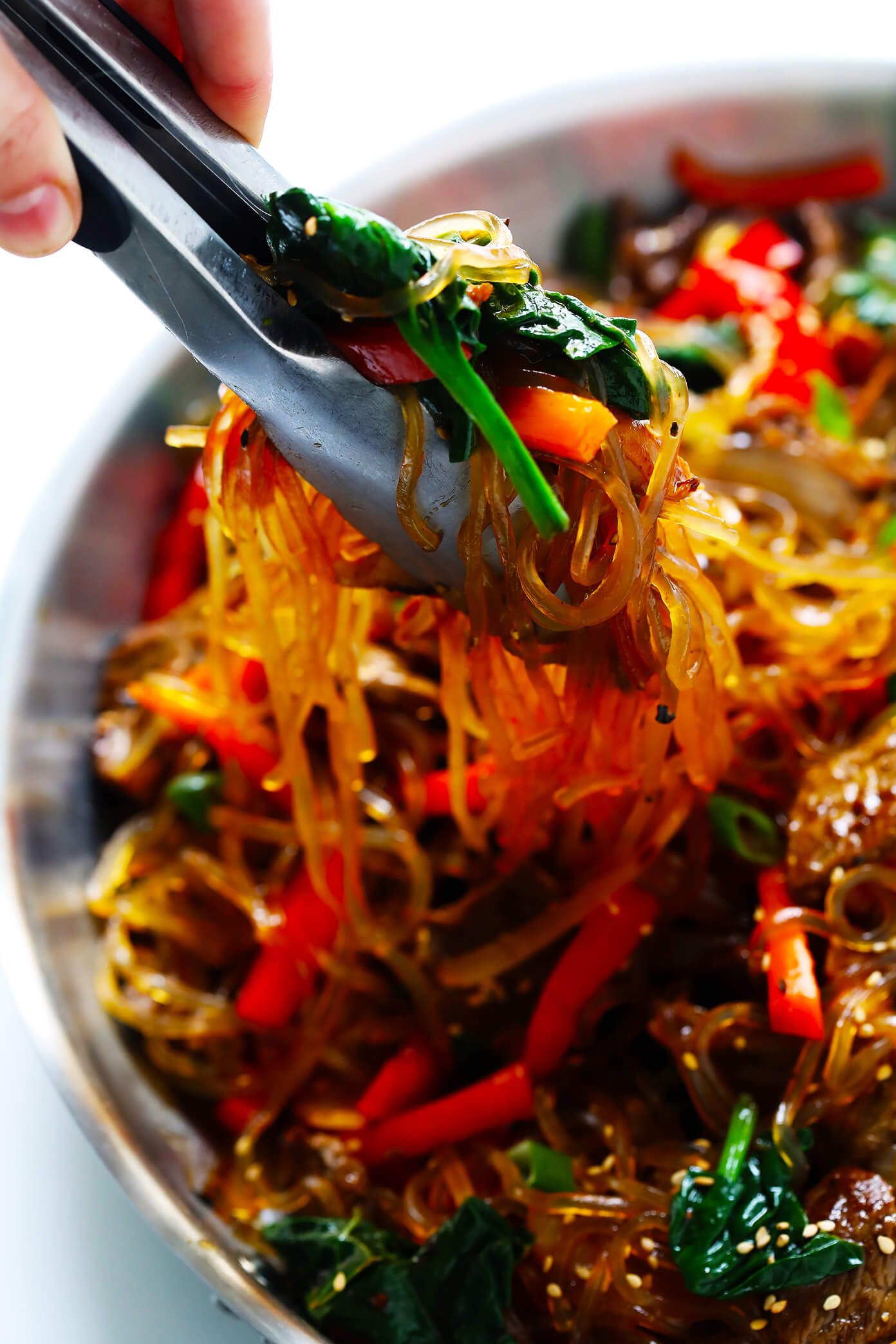 Then once everything is ready to go, toss your noodles, steak and veggies together with a simple soy-maple-sesame sauce…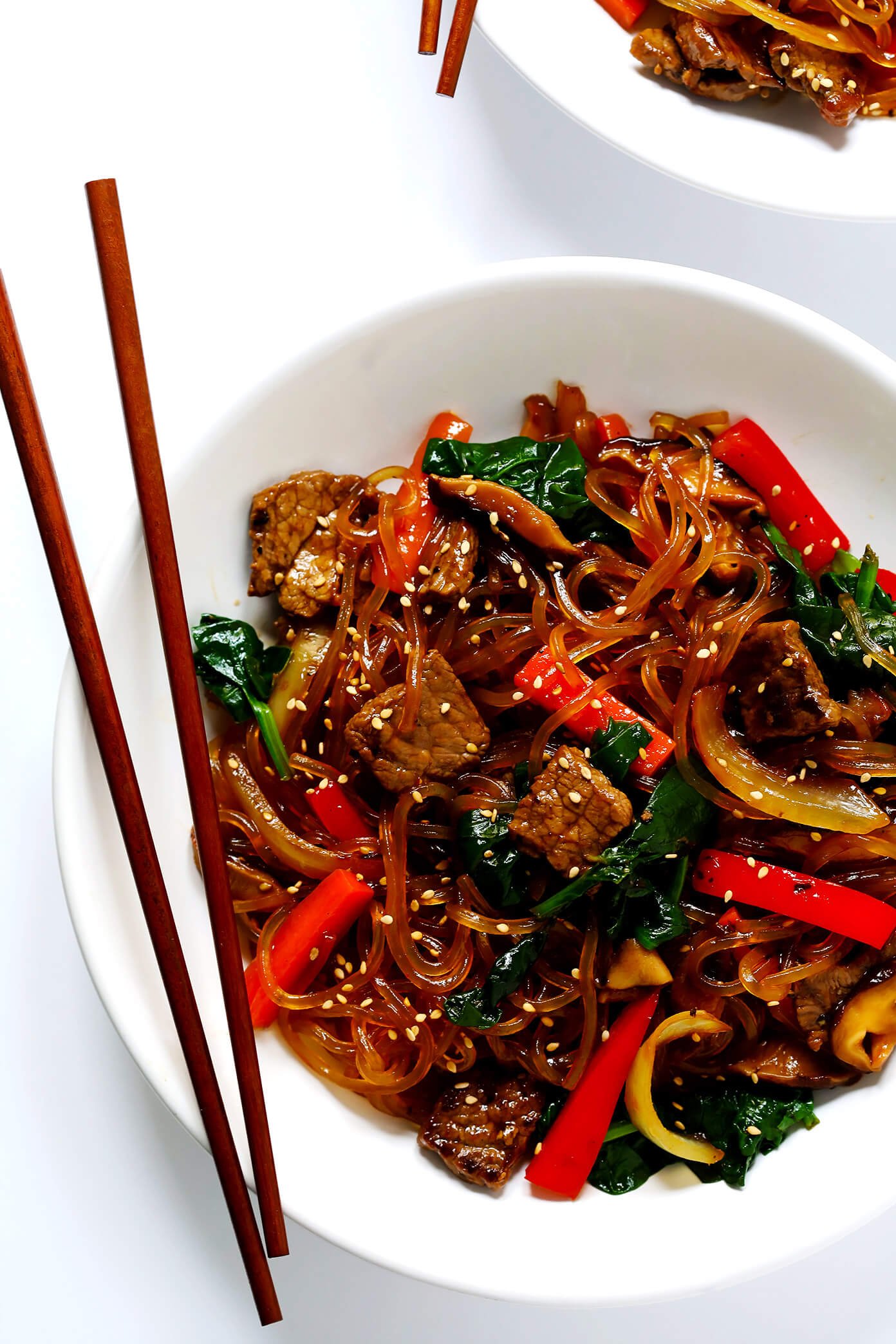 …sprinkle on lots and lots of toasted sesame seeds and green onions (I insist).
Then…SERVE!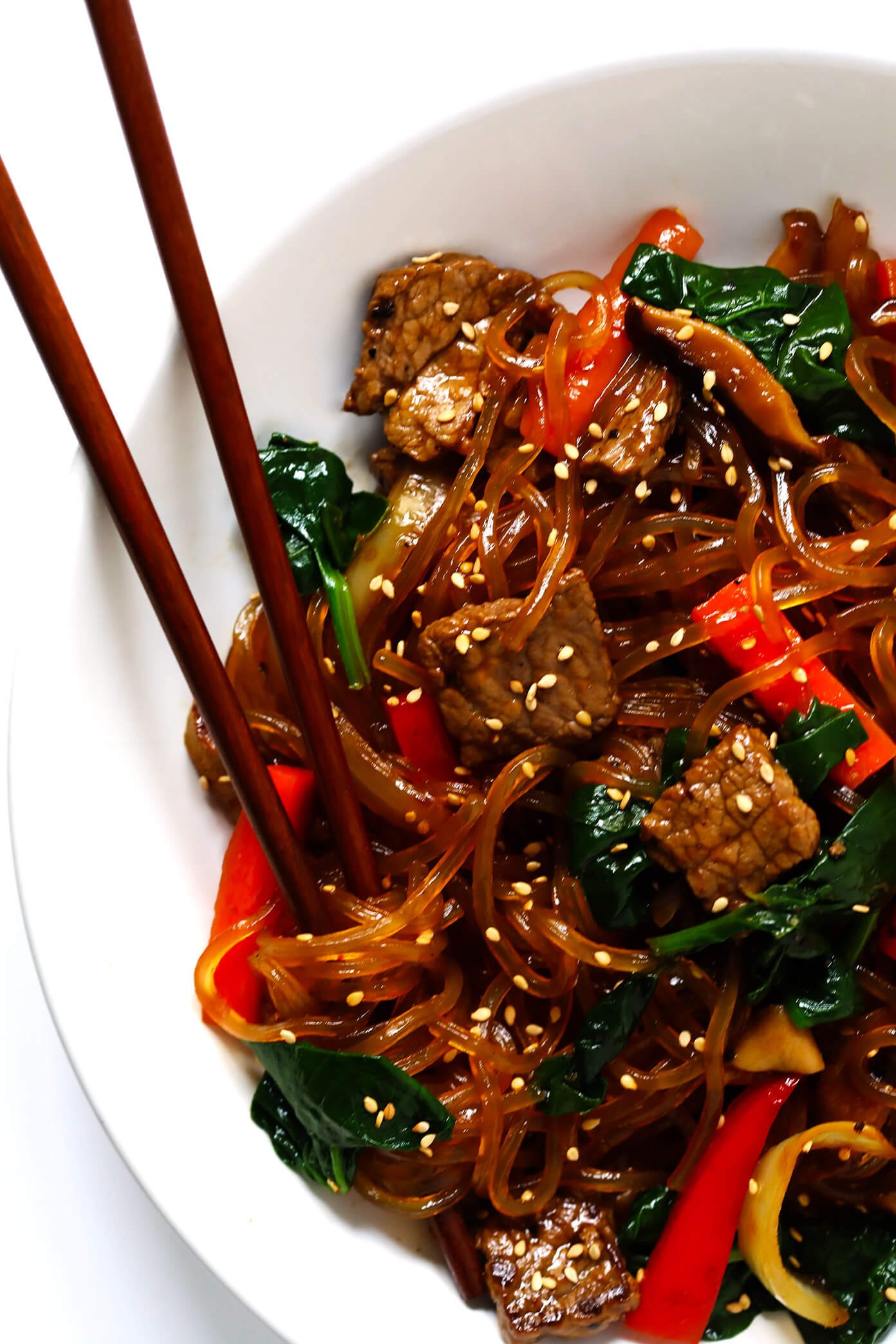 See?  So simple.  And trust me…so good.
Feel free to tinker around with the soy sauce and sesame oil proportions, if you would like more of either.  And as you can see, I sweetened my sauce with some maple syrup.  But you can also always add in traditional sugar or brown sugar, if you prefer.  But otherwise, I think that this base recipe should serve you well.
Enjoy, everyone!
Japchae (Quick Korean Noodle Stir-Fry)
This quick and easy Japchae (Korean Noodle Stir-Fry) recipe takes less than 30 minutes to make, it's easy to customize with whatever veggies and protein you have on hand (or it can be vegan if you go with tofu or veggies-only), and it's totally delicious.
Ingredients:
Stir-Fry Ingredients:
8 ounces dangmyeon (sweet potato starch noodles)*
2 tablespoons olive oil (or any mild-flavored oil), divided
half a medium white onion, thinly sliced
6 shiitake mushrooms, thinly sliced
1 red bell pepper, cored and thinly sliced
1 large carrot, peeled and thinly sliced
3 garlic cloves, minced
3 handfuls fresh baby spinach
toppings: toasted sesame seeds, thinly-sliced green onions
Sauce Ingredients:
4 tablespoons low-sodium soy sauce (or more, to taste)
2 tablespoons maple syrup
1 tablespoon toasted sesame oil
Steak Ingredients:
1 pound sirloin or flank steak, thinly-sliced against the grain into bite-sized pieces
1 tablespoon soy sauce
Kosher salt and freshly-cracked black pepper
Directions:
To Make The Noodles: Cook the sweet potato starch noodles in a large pot of boiling water according to package directions, until they are al dente.  (Be careful not to overcook, or they will become mushy in the stir-fry.)  Transfer noodles to a strainer, and rinse with cold water until they are completely chilled.  Strain out any extra water, then drizzle a bit of sesame oil on the noodles and toss with your fingers until they are evenly coated.  This will help them not to stick together.  Set aside.
To Make The Sauce: Whisk all ingredients together until combined.
To Prep The Steak: Toss the steak, soy sauce, and a generous pinch each of salt and pepper together in a large bowl until combined.  Let marinate for 5 minutes.
To Make The Stir-Fry: Heat 1 tablespoon oil in a large sauté pan or wok over high heat.  Add the steak and sauté for 4-5 minutes, stirring occasionally, until cooked through.  Transfer steak to a separate clean plate, and set aside.
Reduce the sauté pan heat to medium-high.  Add the remaining 1 tablespoon oil and the onion, and toss to combine.  Sauté for 3 minutes, stirring occasionally.  Then stir in the mushrooms, bell pepper, carrot and garlic cloves, and season with a few pinches of salt and pepper.  Continue sautéing for 4-5 more minutes, stirring occasionally, until the veggies are tender and cooked, but are still slightly crispy.
Stir in the spinach, and cook for 2-3 more minutes, using tongs to toss the veggie mixture frequently, until the spinach has wilted.
Remove pan from heat.  Add the cooked noodles, steak and sauce to the veggie mixture, and toss to combine.  Taste, and season with extra soy sauce, sesame oil, salt and/or pepper if needed.
Serve warm, garnished with lots of toasted sesame seeds and green onions.
*If you cannot find sweet potato noodles, feel free to just use rice noodles (or whatever your preferred noodle may be).
**If making this recipe gluten-free, sub in tamari in place of soy sauce, and ensure that your sweet potato starch noodles are certified gluten-free.
All images and text ©
If you make this recipe, be sure to snap a photo and hashtag it #gimmesomeoven. I'd love to see what you cook!