Kitchen Remodel Furniture: Nebraska Furniture Mart & Broyhill
This post may contain affiliate links. Please read my disclosure policy.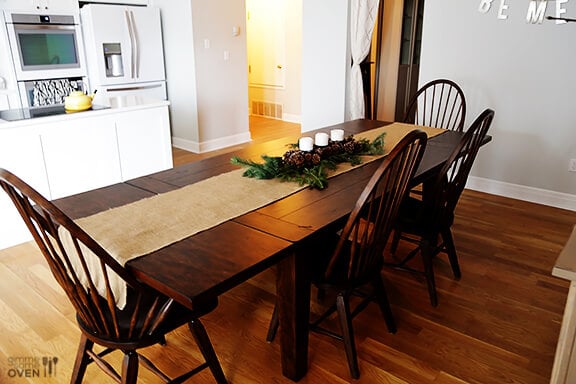 We've made it to the end! Today's post marks the last in the story of my new white kitchen remodel, and I love that the grand finale literally hits "close to home" featuring one of my favorite Midwestern companies — Nebraska Furniture Mart.
Anyone living in the Midwest is undoubtedly familiar with this megastore that is pretty much everyone's one-stop-shop for furniture, electronics, appliances, flooring, and about a zillion other things. Their store in Kansas City is absolutely enormous, so much so that it is simply known here as "Nebraska" since it's — well — about the size of Nebraska. But it is really well designed and welcoming, and the second you walk in the door there are always plenty of salespeople on hand to help you find exactly what you're looking for.
So when I found out that NFM was going to be handling the delivery and installation of my beautiful new Whirlpool appliances, I was thrilled to have an extra excuse to pop out there to meet with one of their helpful staff to take a peek at them. But of course, while I was there, I couldn't help but swing by the dining section. And as tends to happen, there was a piece of furniture there just calling my name — this beautiful dining set from Broyhill.
My old dining table and chairs were near and dear to my heart, having hosted many a great dinner party and late night conversation with friends. But they were somewhat dwarfed in my big new open loft, so I had been hoping to find a huge new table to be able to seat all of the friends who would hopefully be coming over for lots of dinner parties with my new kitchen. And this table fit the bill. It's gorgeous, can comfortably seat 14 (see below), and it's actually really reasonably priced.
So I mentioned my find to Nebraska Furniture Mart, and they and Broyhill graciously agreed to come on as a sponsor for this final part of my kitchen remodel. And I couldn't be more excited and grateful — so much so that we've already had two big dinner parties since the table has been here to celebrate! Oh yeah, this table is going to be put to goooood use with this cook!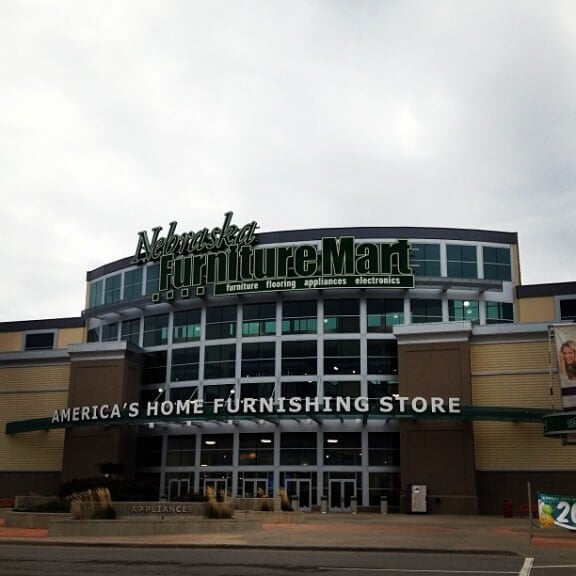 Ok, first of all, a little bit about Nebraska Furniture Mart.
For those of you from around the country or the world who have never heard of the store before, get ready because they are amazing, expanding (coming to Texas soon!), and they also have a megastore online. So everyone can experience the quaint little place we like to call "Nebraska".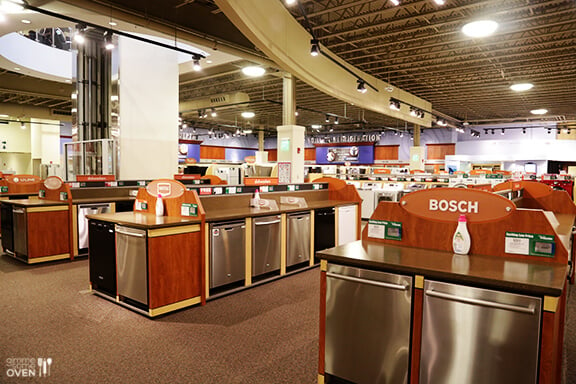 The experience in store, though, is like none other I've been to. (Ok, picture the feel of IKEA, but with a zillion gorgeous pieces of furniture, appliances, electronics, flooring, mattresses, home decor, and more.)  It is epic.
There are two enormous floors to explore, literally overflowing with amazing products, and a well-trained and friendly staff to help you find your way around. I usually prefer to just wander around browsing on my own, but the second I'm ready to learn more about a product or make a purchase, their folks are always amazing and can have you checked out and ready to go stat.
Once you do make a purchase, they are great at making speedy deliveries. (It's impossible to drive anywhere in Kansas City without passing by one of the trademark green and white NFM trucks.)  But I really love their special pickup area too, which is how I bought my bar stools (see below). You literally just drive up and tell the attendant your order number, and then they direct you into a specific loading dock where nice strong guys come and load your purchase into your car…alongside at least 50 other cars doing the exact same thing. Amazing.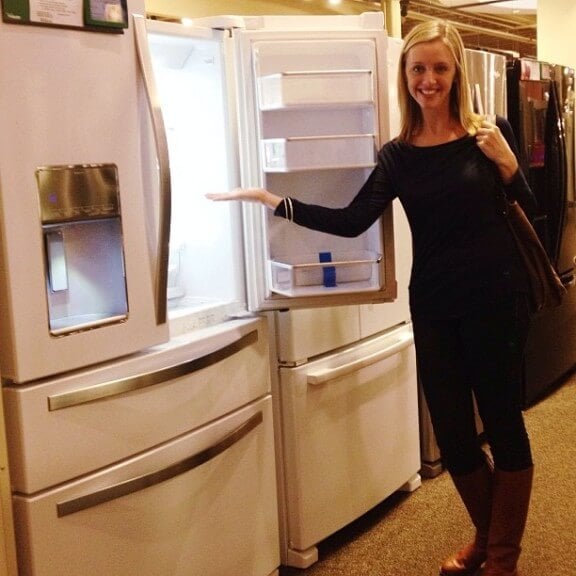 Anyway, when I found out that NFM was going to be sourcing my new Whirlpool White Ice appliances, I immediately had to hop in my car and go for a visit to see them in person. I met with the kindest associate who gave me the full hands-on tour of each appliance, and shared in my total giddyness about the collection. She was so knowledgeable, and amazing!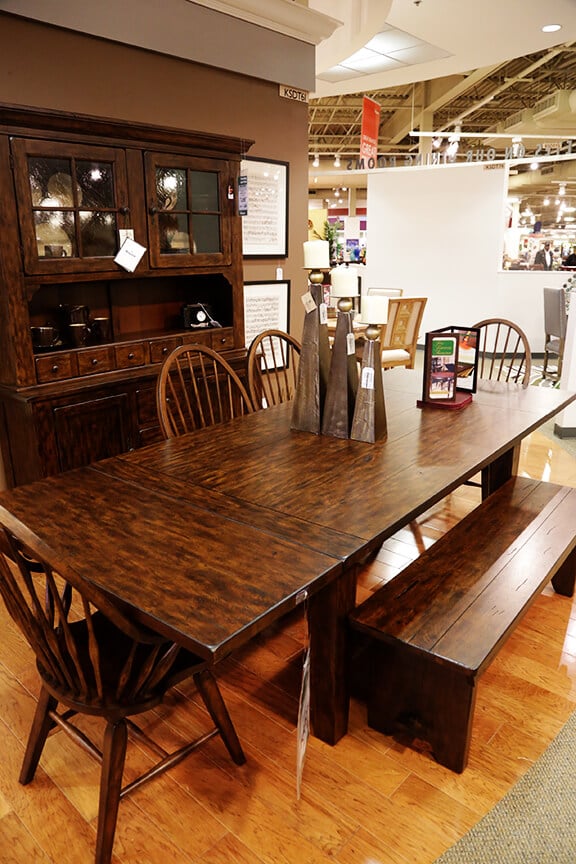 As I said above, though, I couldn't resist making a little detour through the rest of the store on my way out. (You know, for exercise.)  ;)
I had been dreaming about finding a big new dining table for my new kitchen, and sure enough, I found one tucked away near the back that was just calling my name. Allow me to introduce you to the Attic Heirlooms Rectangular Table from Broyhill. It looked beautiful sitting there at Nebraska Furniture Mart…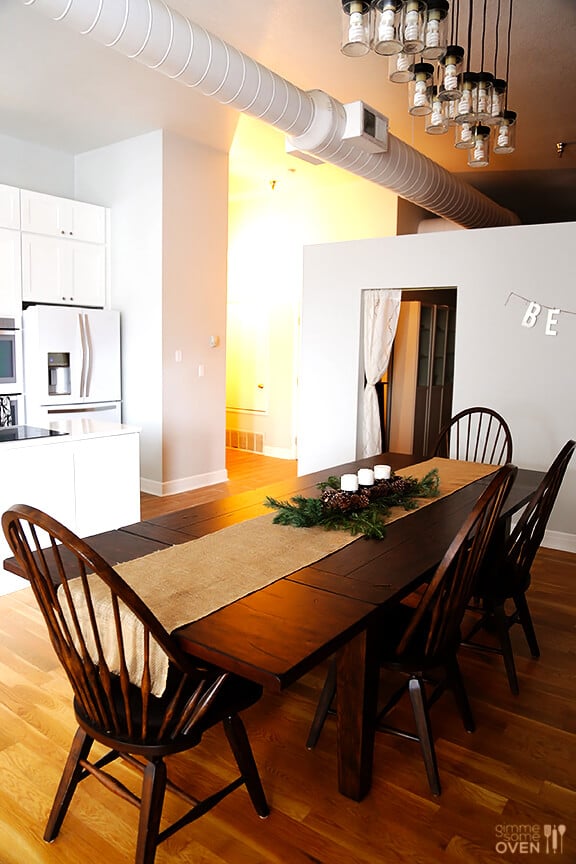 …but I have to say that I think it looks even better in my new loft. ;)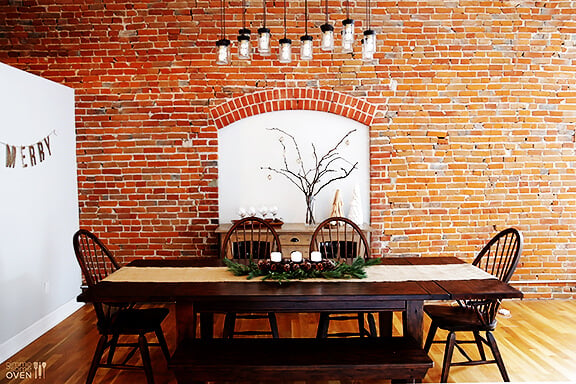 Isn't it gorgeous?!?!?
As you can see, I have a ton of exposed brick in my new loft, so I was really wanting a nice darker wood table to contrast with all of that red and the light flooring. And sure enough, this table fit the bill.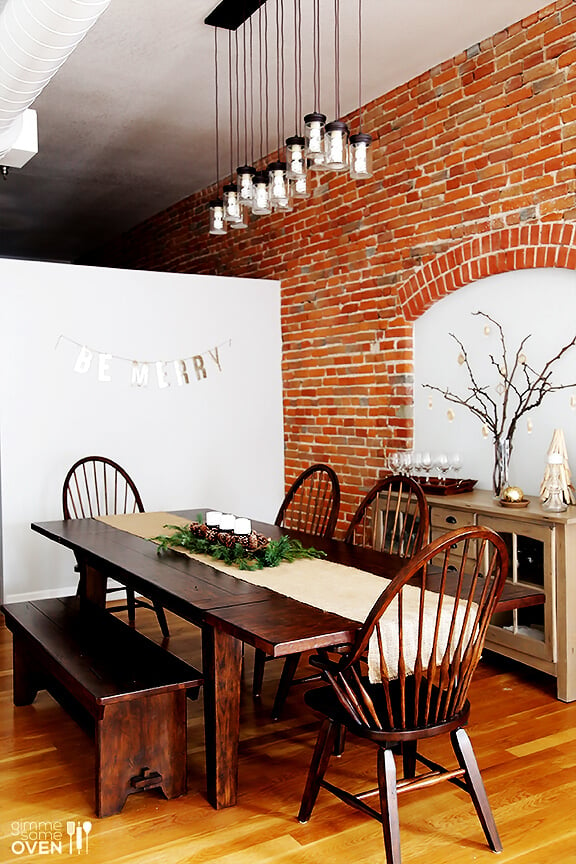 And it is huge!!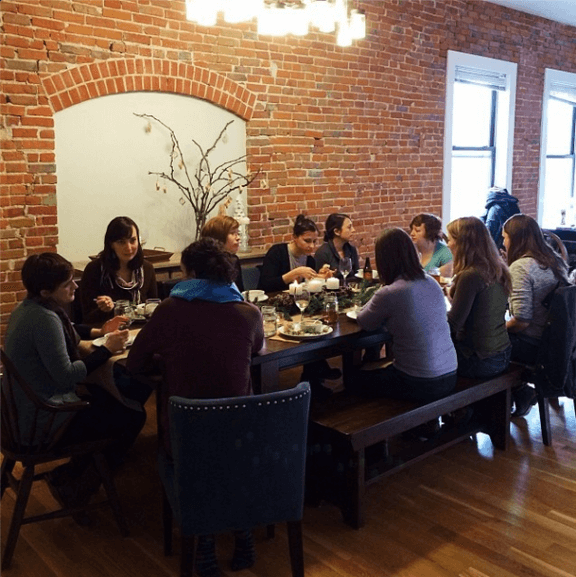 Last weekend, I had my inaugural meal for the table with all of my good friends from book club, and we ended up fitting 14 people around it without being squished. (More girls showed up after this photo — we fit two on each end.)
This is literally my dream come true.
I absolutely love having people over and enjoying a meal around the table. In fact, that was literally why this blog began — I was always having people over for dinner, and they would end up asking for all of the recipes, so I initially started blogging solely to have a single place where I could point friends for recipes!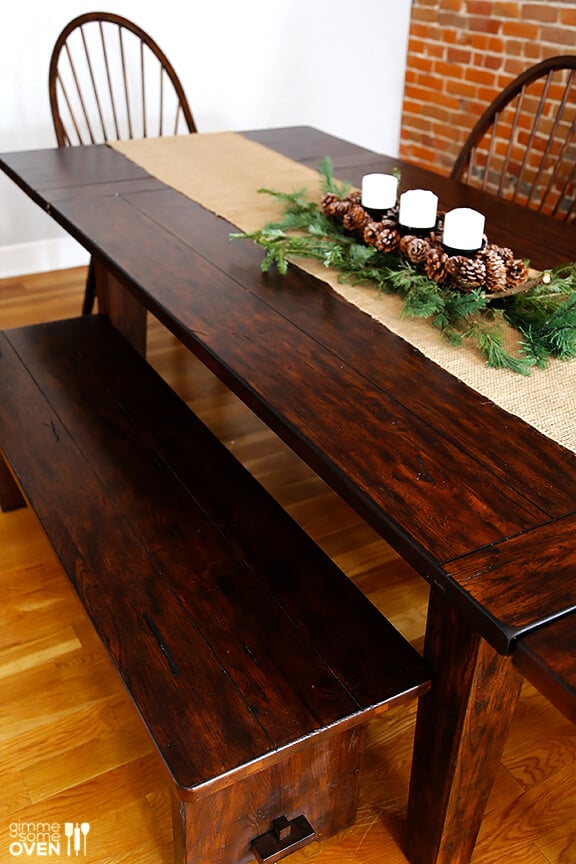 As you can see, though, the table can also easily fit a smaller crowd. And the leaves on the ends both come off too if you want to size it down. But I absolutely love having the huge table in here day in and day out. I may or may not even sit at the end when I'm working on my computer during the day, and pretend like it's my own little boardroom. ;)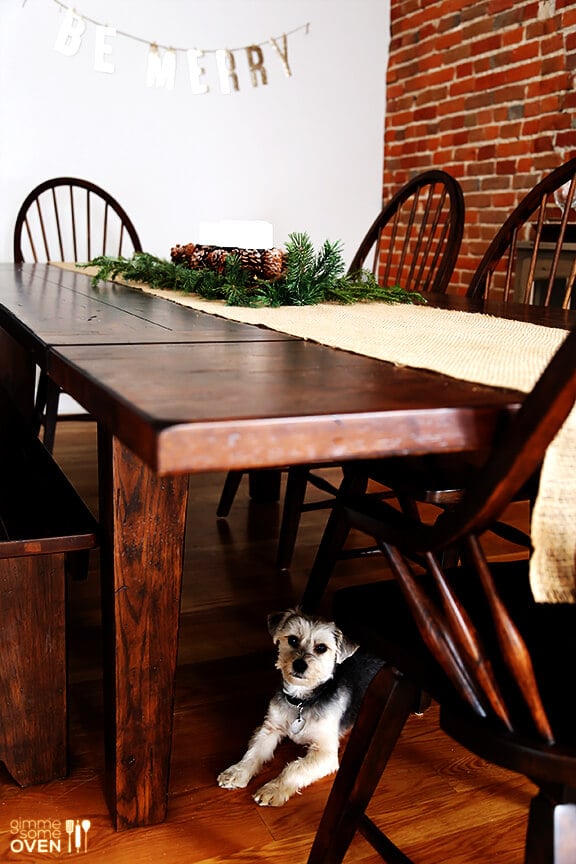 Someone else has found his favorite spot to hang out as well. Perfect for crumb catching and napping.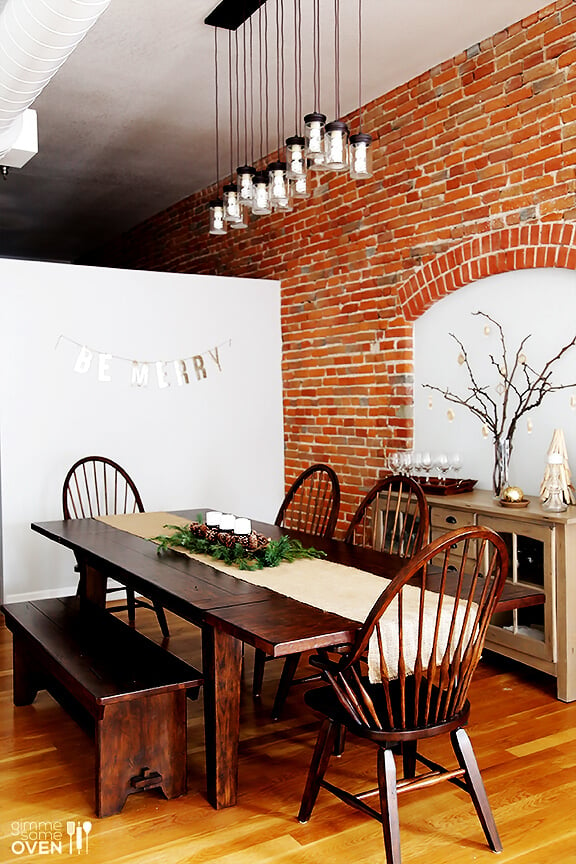 Overall, I just adore the table and chairs and the bench. Oh — the bench!
This was my first time having a bench at the table, and I was a little curious whether or not I'd actually like it. I mean, the look of it is awesome.
But it has turned out to be a great part of the set. It can easily seat three (bonus). And while it definitely takes a little extra coordination to get in or out during a meal, it has turned out to be very functional. And it is also an additional place for people to perch while they're talking to cooks in the kitchen.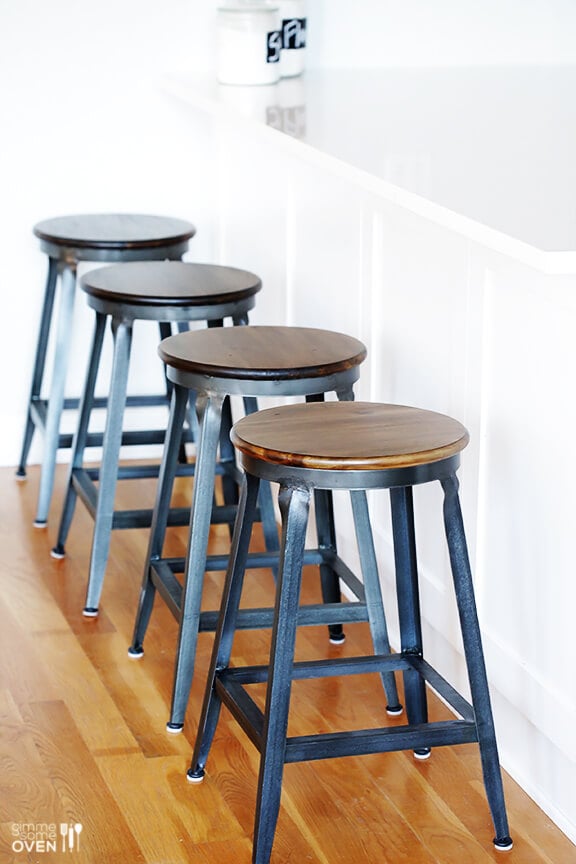 And speaking of that, allow me to show you my other seating in the kitchen, also from Nebraska Furniture Mart. I actually found these adorable barstools just a few weeks ago, right when the kitchen remodel was wrapping up.
I had literally looked at probably 10 other stores online for barstools, and was totally not finding what I was looking for. I wanted something industrial, sturdy, and made with metal and/or wood, but I did not want to pay $150 per stool. And I also was not a fan of the screwtop seats, which seem to be the trend for lots of industrial bar stools right now. I was about to give up. But then on another trip to NFM to pick up something else, I decided to take a pass through their bar table section, and sure enough these adorable stools were there and in stock!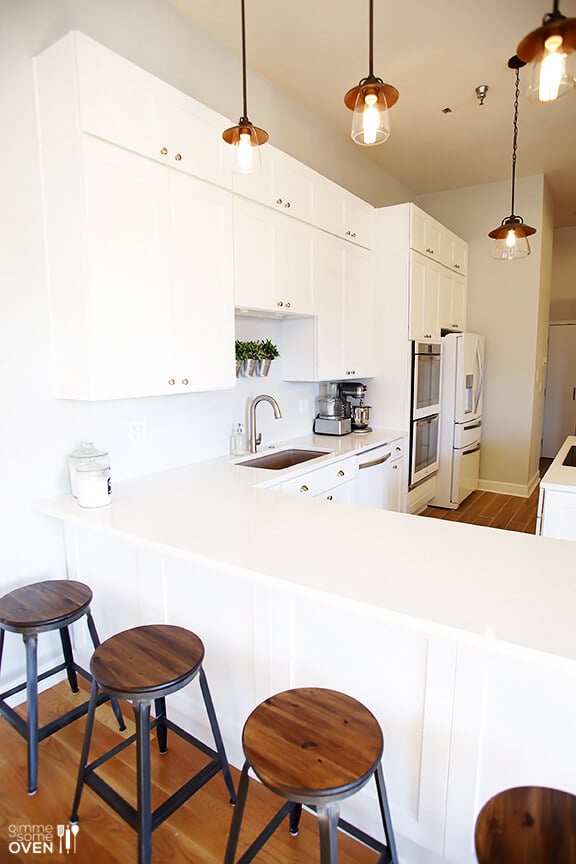 As you can see, they are made of metal and wood, they are not screwtop, and they are absolutely adorable. I love them!!
They are also really sturdy, pretty lightweight, and I think I paid about $70 each. So much less expensive than many others out there, and they are exactly what I was wanting. Win-win!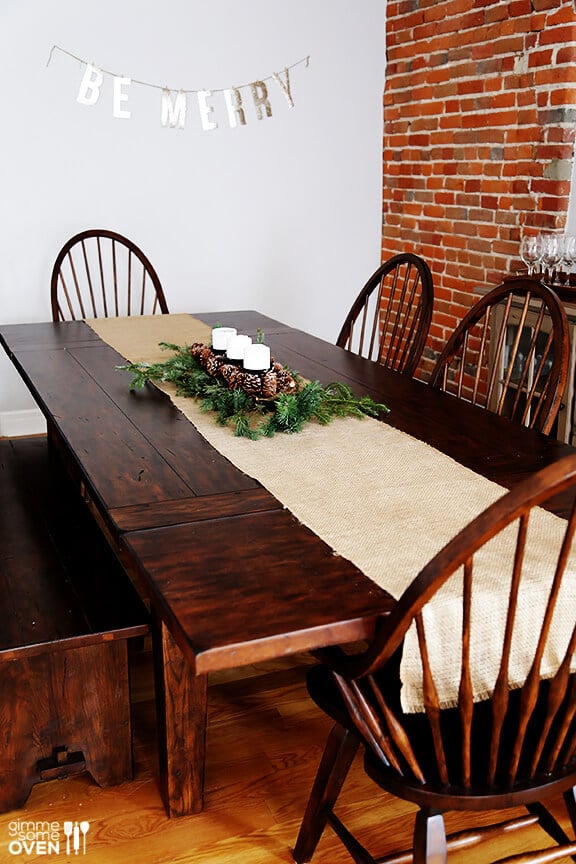 I've already had a bunch of emails from folks wanting to know where they can order these. So if you're interested in either the dining set or stools, they can be ordered online and delivered or picked up from a local NFM store. Just give them a ring or visit their website, and I'm sure they'd be happy to help. You can also connect with them on their:
Website, Facebook, Twitter, YouTube & Pinterest
And you can also check out Broyhill and more of their beautiful furniture on their:
Website, Facebook, YouTube & Pinterest
Stay tuned on our Style page for more features to come in upcoming seasons for tablescapes and entertaining ideas! This table is too fun not to decorate. And huge thanks again to Nebraska Furniture Mart and Broyhill for making it all possible. I love imagining all of the memories that will be made over the years around this table, and am grateful to have it as part of my new kitchen.
And finally, many thanks to all of YOU for your support and encouragement with this kitchen remodel! I promise that we will be back to all sorts of delicious recipe posts next week, but I really appreciate you letting me take the week to share with you about this new kitchen. It is definitely the biggest home improvement project I have ever taken on, but also by far the best. I hope some of this info along the way has been helpful to you, especially if you are considering a new kitchen remodel or update sometime in the future. Feel free as always to email me with any specific questions, but otherwise, thanks a bunch! I'm off to go cook some food now in this beautiful kitchen to post next week. :)
Disclaimer: The dining set was generously sponsored for my kitchen remodel by Broyhill and Nebraska Furniture Mart. I was not paid to endorse them, and all opinions are 100% my own as always. Thank you for supporting the brands that have made this kitchen remodel possible!