Kitchen Remodel : Part 2
This post may contain affiliate links. Please read my disclosure policy.
"This is the kitchen remodel that never ends…yes it goes on and on my friends…."
Ok, it has been far too long since I have posted an update on my new kitchen remodel after my introductory post. But partly that's because things have been moving far slower than expected. I know, I know, that's probably more of the "norm" in home remodeling projects. But I am getting so impatient excited for the kitchen to be finished, so I'm crossing my fingers for no more delays!
But still.
The kitchen is really close to being finished. The tiling, appliances, cabinetry, and lighting are all in, and they look even better than I imagined!!! I was seriously giddy with each installation. (Yes, the contractors even commented that I was the most enthusiastic client they had ever worked with.)  ;)
We are now just waiting for the countertops to be installed, which somehow got postponed yet another week. When they arrive, we will be able to install the sink, cooktop, and turn on a few of the appliances that are somehow dependent on those others with piping or breakers and such. And then you'd better believe I am going to be cooking up a storm and inviting everyone I know to come over. Because this kitchen and I are ready to party!!!
Alright, until then, here are a few photos of the progress we have made so far. Stay tuned on my Instagram account to follow more day-to-day updates, and I promise to post all about it with our big reveal week as soon as it's ready.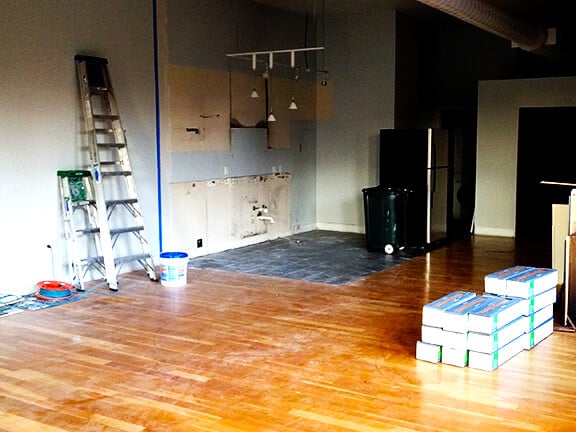 For those of you who tuned in last month for the Kitchen Remodel: Part 1 post, this is where we left off. After having completely gutted the previous kitchen, we were left with this.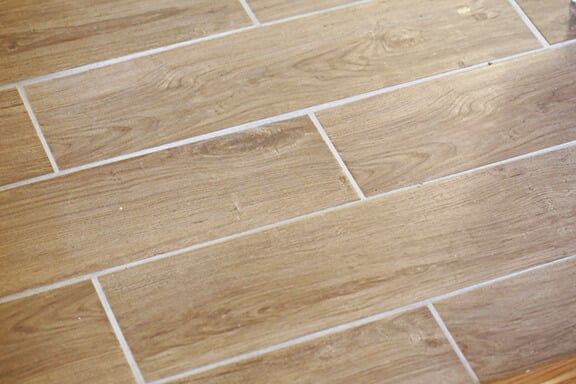 Our first order of business was new flooring!
The previous flooring, as you can sort of see, was this awful black industrial tile. It showed every speck of dirt and was not cute. Plus, our plans were to bump out the kitchen footprint a few feet. So, not-so-sadly, the black tile had to go.
And in its place is this beautiful new tile from Lowe's! More to come about this during reveal week, but I absolutely love this tile. It is beautiful, it is super-solid, and best of all — it hardly shows when it gets a little dirty. And since I spend every single day cooking up a storm in the kitchen, this is a very good thing.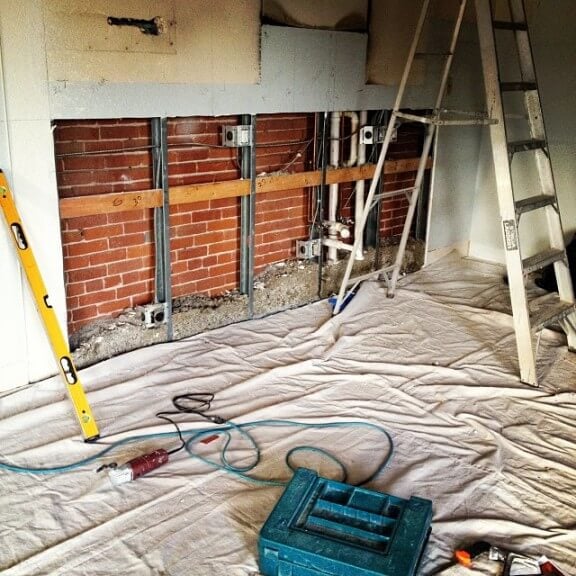 Next on the agenda is cabinets. But those got delayed a few extra days when we found out that we were going to have to redo some more wiring and plumbing. Yeesh.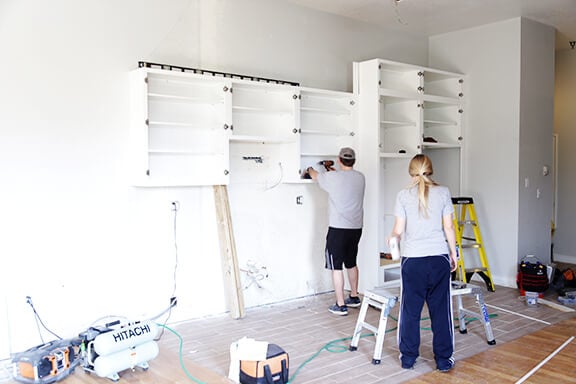 Once all of the wires and pipes were in the right spot, we were super excited to have our cabinets from Cabinet Giant arrive!
As I mentioned before, I've had a few friends use this cabinetry company before, and they raved about the quality of the cabinets and the reasonable prices. But the thing they talked about most was how user-friendly they are to assemble!
Still, I know nada about hanging cabinets. So we were grateful to have Nathan there to tackle the project. To anyone in Kansas City who is thinking about installing cabinets, I cannot recommend hiring this guy enough. He and his super handy wife (who turned out to be friends of friends — fun!) assembled and installed the entire kitchen of cabinets in just one day. And he did a fantastic job customizing them for our appliances along the way.
Look at them go!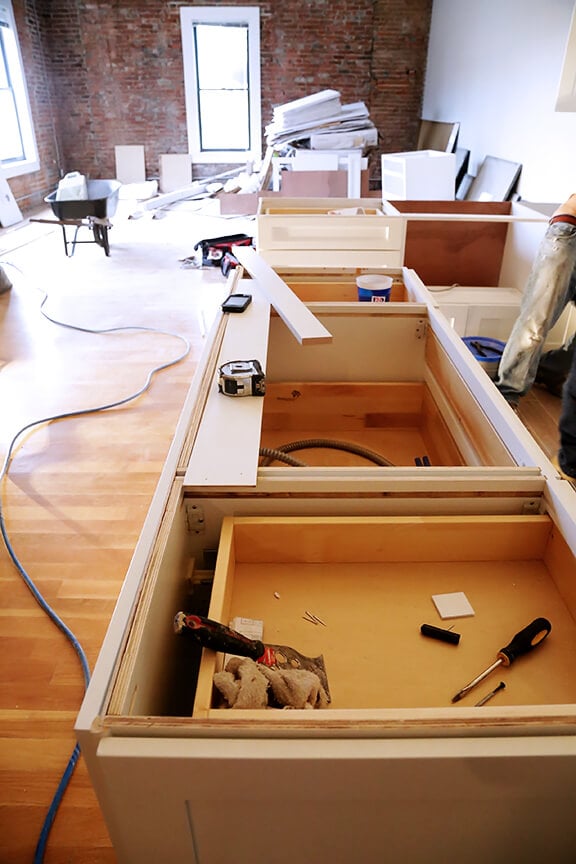 And you see that mountain of boxes growing in the background? Yeah, at the end of that week, the mountain was nearly double that size. So. Many. Boxes.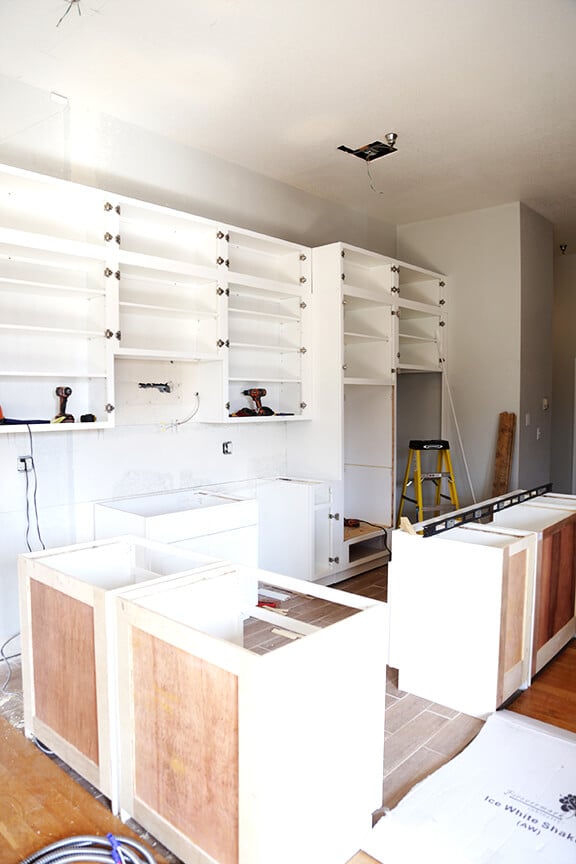 Once the cabinets were ready to go…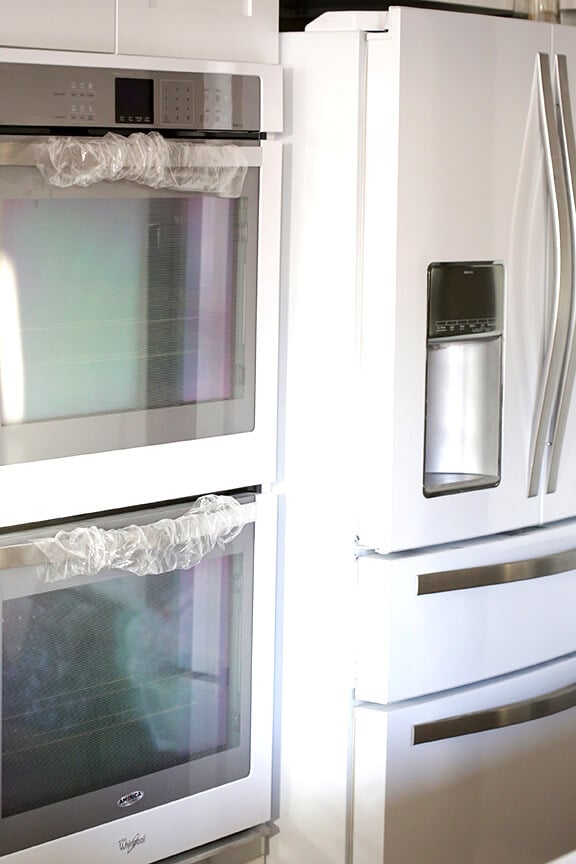 …we were ready for the long-awaited (and much-anticipated!) arrival of my new appliances from Whirlpool!!!
Oh my goodness. After stalking this beautiful White Ice collection online, and then ooohing and ahhhing in person over them at Nebraska Furniture Mart, I was absolutely giddy to finally see them in the kitchen.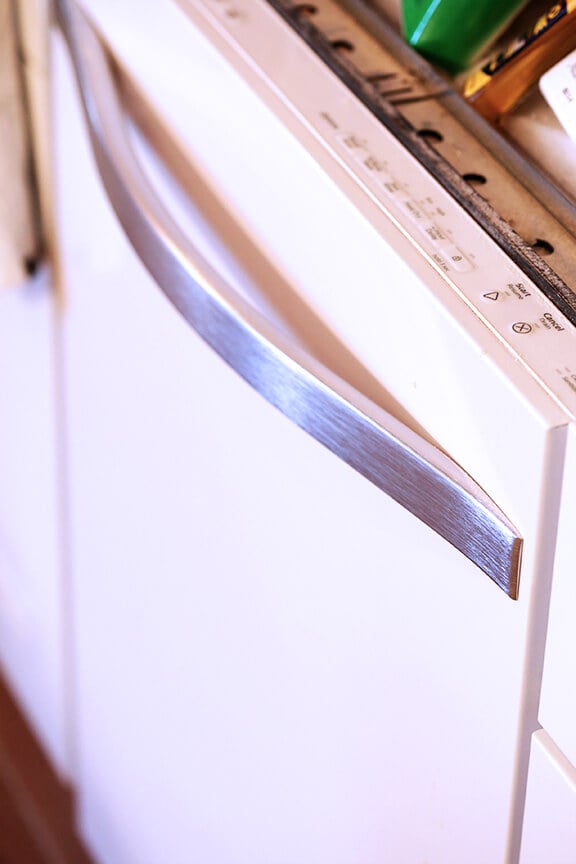 And oh people. Get ready for oodles of pictures and stories during reveal week, because I am madly in love with these appliances. And just in case anyone has ever wondered if it's a good idea to do a white-on-white kitchen, let me assure you, this White Ice line has made the kitchen look outstanding. Check them out soon!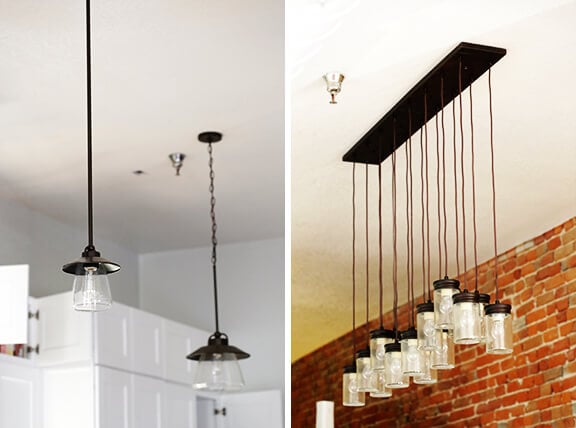 After the appliances were arrived and installed, it was time to finally let there be light.
Once the original kitchen was torn out, we actually had zero light for about 1000 square feet of loft space. So I was extra ready to finally get these lights from Lowe's installed!
I have to admit I was actually a little nervous about this part. I have realized throughout this whole process that designing is much harder than I anticipated, and what looks good on paper doesn't always translate in person. But I was thrilled that my idea to mix and match different sets of my favorite lights from Lowe's actually turned out even better in person than expected!
I can't wait to share with you more details during reveal week. But let me just assure you that there is now a lot of voltage happening in this loft, which makes me very happy. A well-lit room is my happy place. :)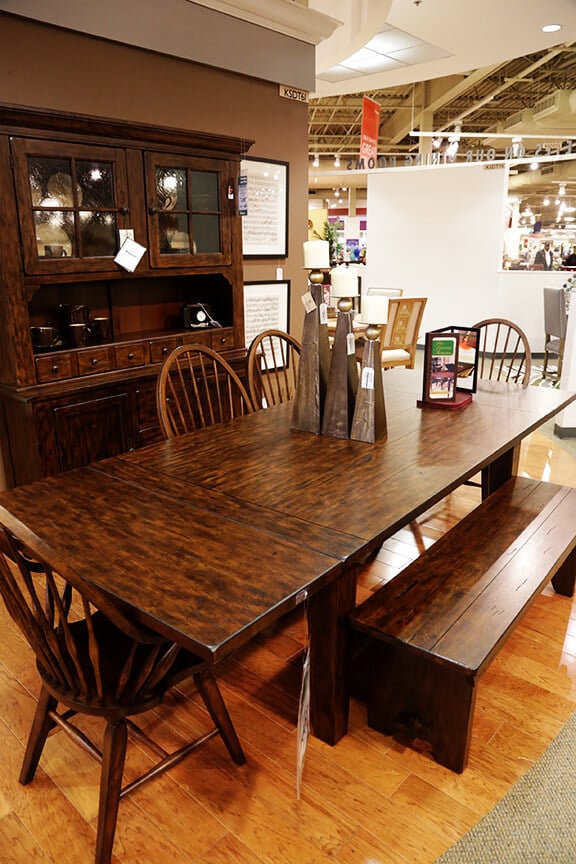 Finally, one other new development has turned up in this kitchen remodel that I am super excited about!
When I was scoping out the appliances at Nebraska Furniture Mart (the mega store in town that also installed the appliances), I happen to browse over to the dining table section looking for a big new table for my place because my old one is too small. And I found one!!!!
This beauty from Broyhill is even more stunning in person, with a beautiful wood finish and a nice sturdy design to support lots and lots of food. But more than that, it will also support seating for 10!!! I'm already planning my first dinner party… :)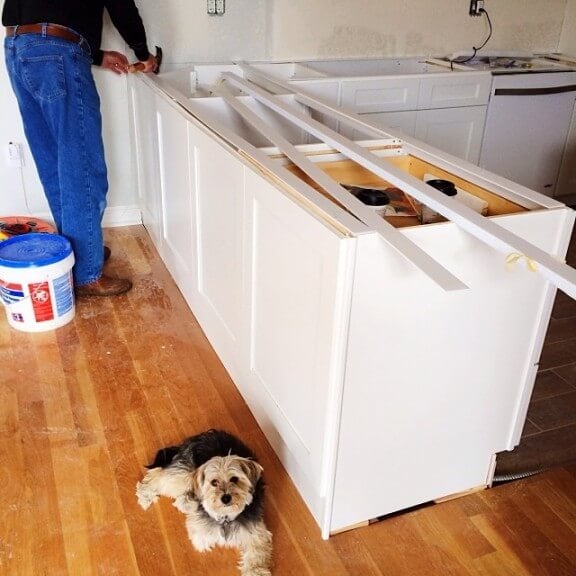 So now, we are back to waiting for the countertops to arrive. Henry supervised the measurements, so I think we're all ready to go!
Just crossing my fingers that they will arrive pronto so that I can get back to cooking. Being a food blogger in a loft without countertops has proven a little harder than expected, but I know it will just be a matter of time before this kitchen will really feel like home.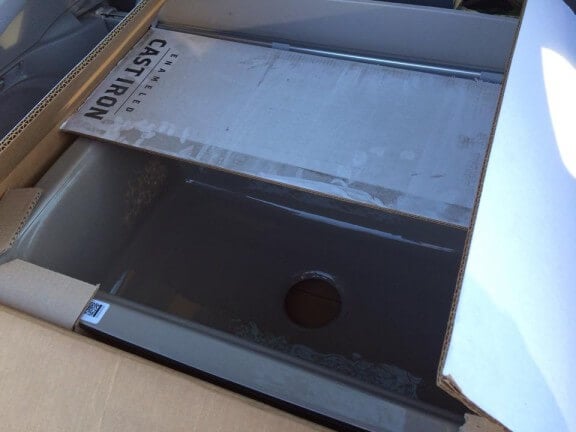 And then as soon as those are in, we can unpack this gorgeous cast iron sink from Kohler, and the touchless faucet. It's staying tucked away in its box right now, though, because this baby is heavy! It's going to be awesome.
Thanks for following along, and be sure to check out the brands who are being such generous (and patient!) sponsors with this project. I am beyond grateful for each of them!!!
Gimme Some AMAZING Kitchen Remodel Sponsors!
Whirlpool
Website, Facebook, Twitter, YouTube & Pinterest
Cabinet Giant
Website, Facebook, Twitter,YouTube & Pinterest
Lowe's
Website, Facebook, Twitter, YouTube & Pinterest
Kohler
Website, Facebook, Twitter, YouTube & Pinterest
Nebraska Furniture Mart
Website, Facebook, Twitter, YouTube & Pinterest
Disclaimer: Products for this kitchen remodel are being SO generously sponsored by Whirlpool, Cabinet Giant, Lowe's, Kohler and Nebraska Furniture Mart. All opinions will be my own as always, but I am thrilled to be working with them and grateful to share about it with you.