Lemon Parmesan Kale Salad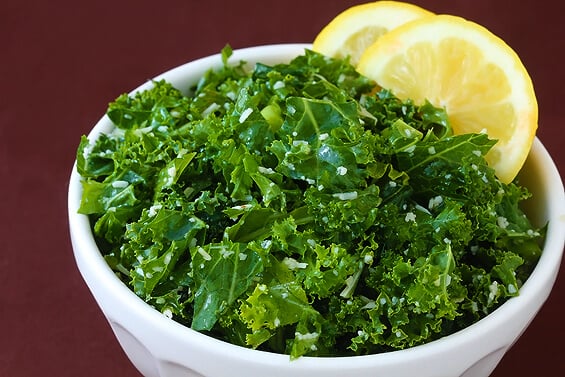 Kansas City has a zillion amazing restaurants.  But one of my newest favorite is a healthy fast-food alternative restaurant called "Unforked".  It is brilliant.
The owners/creators are actually the force behind Sheridan's, one of my favorite local custard chains.  (And they happen to attend the church where I work — fun!)  But instead of your typical super-processed, deep-fried, zillion-calorie fast food restaurants, this place overflows with creative, fresh, and healthy options.  I can't get enough of it — everything I have tried is amazing.  (Side note — I deeply hope this is what the majority of fast-food restaurants might look like in a decade!)
One of my new favorites there is their "Hale The Kale" salad.  It is made simply from fresh kale, Parmesan, bread crumbs, and a lemony olive oil dressing.  And it is utterly delicious! I had to admit that I had my doubts about so much fresh kale (I usually prefer adding my kale to pizzas, soups, or making kale chips).  But when the other ingredients were added, it tasted wonderfully fresh, light and flavorful!
So while we're still in the midst of kale season, I decided to try it at home.  Decided to nix the breadcrumbs and add in some thyme, and loved it.  Hope you do too!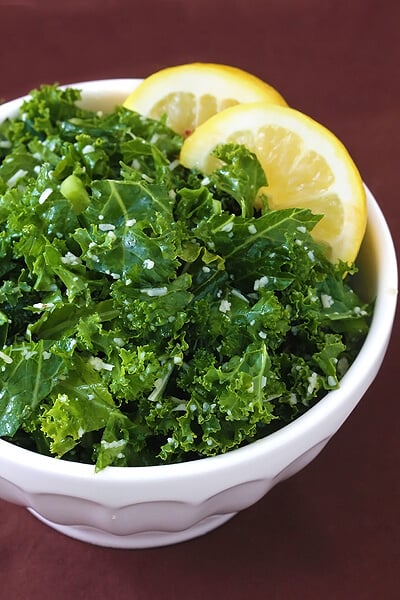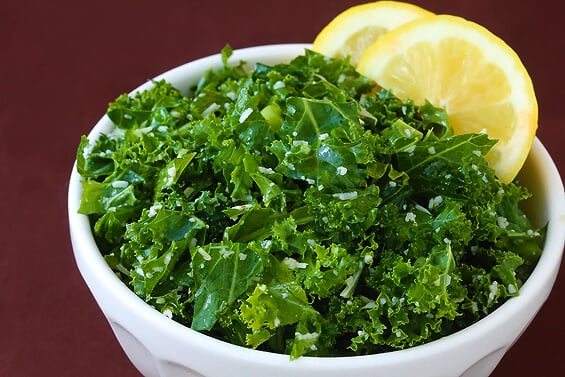 Lemon Parmesan Kale Salad
You will love this fresh, tangy Lemon Parmesan Kale salad recipe! It's beautiful, flavorful and full of great vitamins!
Ingredients:
3 cups chopped fresh kale
1 Tbsp. olive oil
1 Tbsp. lemon juice
1/2 tsp. dried thyme
pinch of salt and freshly-ground black pepper
1/4 cup freshly-grated Parmesan
1/4 cup toasted bread crumbs (optional)
Directions:
In a large bowl, whisk together olive oil, lemon juice, thyme, salt and pepper.  Add kale and Parmesan (and bread crumbs, if using), and toss until the kale is evenly coated.  Massage the dressing into the kale with your fingers for an extra minute or two until the kale is soft and dark green.  Serve immediately.
Inspired by Unforked.
All images and text ©
If you make this recipe, be sure to snap a photo and hashtag it #gimmesomeoven. I'd love to see what you cook!
Ali's Tip:
This would also be great with some chopped/sliced fresh fruit added in, such as peaches, plums, apples, or blackberries.  It would also be delicious with some toasted pecans, almonds or walnuts added in.
Source:
Inspired by Unforked.