My Advice For Single People
This post may contain affiliate links. Please read my disclosure policy.

Annnnd, we're back. After six months of radio silence on the topic of singleness, I'm feeling like writing about it again. Partly because I've been getting all inspired and fired up and rah-rah-fist-pump-ish lately about some things I want to share with you. But also partly because I really want to hear more of what you think on the topic of singleness. Because I've said it before and I'll say it again — your feedback continues to be my favorite part of this series. Really.
I'm still not sure how literally tens of thousands of people continue to stumble upon this series on singleness, but man, I'm honored that you have. I've been so impressed by the emails and comments that continue to pour in daily. I wish I had more time to respond, but I read every one, and I'm so grateful for your encouragement and honest thoughts and the kick-ass stories you share. And I must say, it's always refreshing to know that there are people like you out there pioneering this brave new world modern of singleness in such creative and confident and empowering ways. So yeah, just wanted to say thanks for that. And by all means, keep at it!
Alright, back to the topic at hand. Being single. Since I happen to still be single, I thought it would be fun to write today about one of the most amusing requests that I have been receiving at least once or twice a month lately from readers — for "advice" on being single. It always feels like an enormous open-ended question, but I'll admit, it always makes me very happy because I not-so-secretly happen to love giving advice.  (When asked, of course.)  I have so many things I could say!
But lately, there has been one particular soapbox piece of advice I've found myself coming back to again and again: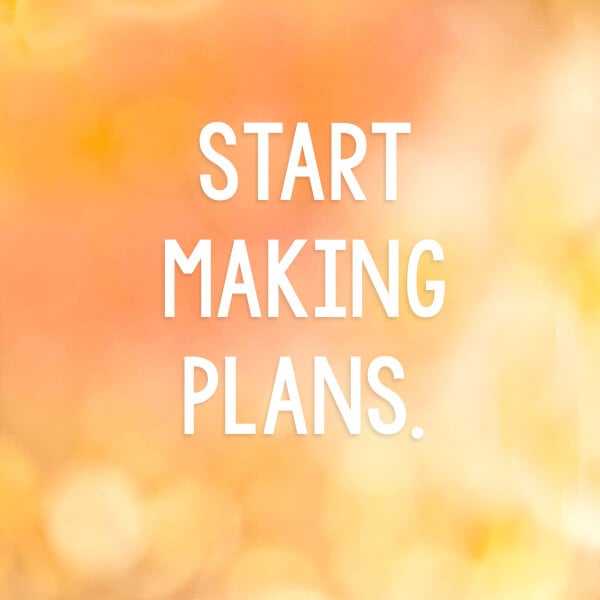 That's it – MAKE PLANS.
Big plans. Small plans. Fun plans. Scary plans. Practical plans. Crazy plans.
Just get busy making good ones.
And lots of them.
I don't know about you, but I am ready to retire that overly-mentioned (and mis-attributed) quote about how "life is what happens to you when you're busy making other plans". Sure, I get the point. But when it comes to the single life, I wholeheartedly disagree, and think the opposite is true. You've got to get busy making plans!!  Because if you wait to do so, you're going to miss out on some seriously cool "life" happening. Which would be a major loss — both for you, and for world who needs you to live your one wild and precious life to the fullest.
I say this of course, as with many things on the topic of singleness, from experience.
The Non-Making Of Plans
You see, I've always been someone who loves making plans. I geek out on brainstorming everything from my daily schedule, to goals galore, to epic vacations, to new business ideas, to how I am going to eat As Much Chips And Salsa As Possible while living in Austin next month. (Bring it on!)  I love having conversations and reading books and listening to podcasts about making plans. I love shopping for new planners to make plans. I love taking regular retreats and spontaneously flying off to conferences that are all about making plans. Granted, I'm always not the best at following through on all of these grand ideas, but oh man, I'm a pro at coming up with 'em.
HOWEVER.
Singleness has this infuriating way of sometimes making me forget important parts of who I am. And for too many years in my twenties, I'll be the first to confess that the planner in me took a backseat, and I somehow let myself slip into this posture of waiting for exciting things to happen in my life rather than actually getting busy making them happen myself. Don't get me wrong — it wasn't anything hugely dramatic, and on the surface, my life was still exciting and full and moving "forward". It was more a subconscious shift inside of me to kind of put some dreams on hold and play it safe.
I'm not entirely sure why. Part of that may have been due to spending years in a Christian culture around singleness that romanticized and focused too much on the topic of waiting, often subtly turning proactivity into the enemy of contentedness. (Another blog post for another time.)  Part of that may have been my belief for many years that marriage was juuuust around the corner waiting for me, which for some reason I assumed might throw a kink into any big or long-term plans I had in the works. Part of it may have been, quite frankly, that I just didn't see many single people around me making big and exciting plans and chasing after them. Part of it may have just been my fear of failure, or going at it alone. But let's be real, part of it was sometimes me getting all huffy/sad/mad/annoyed/impatient about the fact that my "plan" to take over the world do cool stuff with a stellar guy by my side just wasn't happening.
Anyone relate?
Don't get me wrong, it wasn't really anything dramatic or a conscious choice. I've always lived a full life that I enjoyed and believed I could do what I put my mind to. No, it was more a subtle shift over the early years of my twenties, slowly but surely putting a few dreams on hold and playing it safe. I think it can be an easy place for single people to fall into if we're not careful. And I actually do mean easy.
It's easy to get all whiny and come up with 1000 reasons why being single is unfair. It's easy to justify staying in a job you hate, just because you don't have a second income to fall back upon if you take that big leap. It's easy to procrastinate that dream backpacking trip around New Zealand because you don't have "anyone to go with". It's easy to give up on buying a house in that neighborhood you love, just because you might have to save and work harder for it on just one income. It's easy to point the finger at why certain things might seem (keyword: seem) easier for friends who are paired up. It's easy to play it safe, put things off, make excuses, feel bitter, get depressed, give up. Believe me, I've been there.
But oh, friends. If you happen to be someone who finds yourself stuck in that loop lately, I wish that I could take you out for a drink and give you a big hug, because I know it can be rough. But you know what I also know? "Easy" is for the birds. If you want to live an exciting story of a life that's filled with awesome characters, cool adventures, obstacles overcome, meaningful work, and cool endings all over the place, you've got to do reject "easy" and do the hard (and way more exciting) work of getting the ball rolling.
You've got to make plans.
The MAKING Of Plans
Make plans for how you want to live out today. Make plans for tomorrow.  Make plans for this month.  Make plans for this year. Better yet, start dreaming up plans for the next few decades.
Make plans about the sort of work you want to do, and the professional legacy you want to leave in this world. Make plans for where you want to live, what sort of house and city feels like "home", and what it'll take to get there. Make plans for where you want to go — everywhere from which restaurant you want to eat at this weekend, to what bucket list countries you want to visit in the next 5, 15, 50 years — and recruit people to come with or go solo. Make plans for how you want to grow, what things you want to study, what skills you want to conquer. Make plans for how you want to give, and serve others, and make this world a better place. Make plans for your body, how you hope to care for it, how to be healthy both physically and mentally. Make plans about the kind of community and relationships you want to surround yourself with, and then seek out those people and love them, and invest in them, and be vulnerable with them, and live life closely with them.
Make plans that feel totally do-able. Make plans that feel wild and crazy and risky. Make plans that you can do on your own. Make plans that require the help of others. Make plans that you'll be proud to look back on later. Make plans that make your heart beat fast.
I could go on, but you get the picture. Just make plans.
Why It's Crucial
Making plans gives you something to look forward to.  I know it sounds obvious, but lemme tell you, I have talked to too many single people who say that their futures feel like a huge, looming question mark. Guys! Too many question marks about your future can make life feel scary and paralyzing and no fun. You've gotta have cool plans in the works to look forward to! And those plans have got to be able to happen while — or even better, because — you're still single. They can't just be the "back-up plans". Figure out what will make your life feel full and meaningful and exciting and good, and then take steps to make that a reality. Even better, pull some of your closest friends and family into that conversation so that they can get excited about your future with you, and also help cheer for you on the days when it feels hard.
This is totally cheesy, but I feel like I learned a lot about this back in my early days as a piano teacher. After sitting in lesson after lesson, it didn't take long to figure out that students were 500% more likely to practice and work hard during the week if they were playing music that they loved. If they hated the music or felt forced to practice it, they got stuck and started to dread the piano. On the flip side, when we played the songs on the radio that they loved, they would be totally motivated and actually look forward to practicing and mastering that Coldplay lick and coming to lesson to show it to me. And then that momentum would carry them on to the next song, and the next…
You get the parallel. I think the same goes for the single life. Figure out the cool stuff that makes you excited to wake up in the morning, and I promise you'll be that much more inspired to make it happen, single and all.
Making plans forces you to think through your future, and with that, confront fears about your future.   Alright. Let's be real, I know that it's easy to get all "rah-rah" and excited about the future in theory. But the reality is that most people probably don't spend time making plans for the future because that requires thinking about the future. And there are some very real anxieties that can rear their heads when we actually try and visualize living life solo for the long term. I'll offer myself as an example. It can feel like a punch in the gut to imagine turning 40 and being single, without a husband to have shared life together in our thirties, and facing the incredibly real possibility of not having kids of my own. It can feel disappointing to think about turning 60, and not having someone by my side to raise a glass to retirement and start moving into the next phase of life together. It can be depressing to think about turning 80 and not having someone by my side who unconditionally loves me, even when our looks and memories and health have long since faded.
It's easier just not to think about that, and the thousand of other little ways that it would be hard to face the next 5, 15 or 50 years alone. I totally know that I could do it and make the best of it, but that doesn't change the fact that it still feels hard and frustrating and even a little scary at times.
But you know what? There's something about even just writing that last paragraph that somehow makes it all seem a little less scary. Because that's the thing about fear — it thrives in secrecy, in the darkness, in avoidance. But if you bring those fears out into the light of day, it instantly zaps them of some of their power. And even better, the more you share those fears with good friends, family members, therapists, the more you begin to have power over them.
And in this case, instead of worrying about the "what if's" in turning 40, I can start thinking about how that is the year I'd like to take a trip down the South American coast like in The Motorcycle Diaries. Or how when I turn 70, I want to parachute out of a plane like my grandfather. Or how this Valentine's Day, I'm going to eat Mexican food for breakfast, lunch, and dinner with friends, and end the day with my favorite mango-jalapeno margaritas in Austin. Fear? Be gone.
Making plans is a win-win. It really is, because here's the options:
You stay single? Great, you've got cool stuff in the works. You meet someone? Great, you'll reassess together and figure out how to make things work.
Seriously, I have heard too many people assume over the years that getting married is going to completely uproot big plans that they've made. You know what? It might. But more likely, it probably will not. You want to build that house? Do it, chances are good that he might move in with you. You want to go to med school or start a time-intensive new career? You can do it, you and your spouse will just have to work together to make the time crunch work for that season of life. You want to travel internationally each year? Make that bucket list, because if your spouse can't always make it, you can go solo or bring friends! You want to start eating vegan, or get a dog, or get out of debt, or move cities, or go on tour with your band? Do it! Don't wait!
Because lest any single people ever forget, when you meet someone great, you'll both want to figure out a game plan that makes one another happy. So drop the "what ifs" and just go for it!
Making plans is HOT. Ahem. I'm all for tall, dark and handsome. But guys who are living out thoughtful lives, pursuing meaningful work, cultivating great community with friends and family, taking risks, pushing themselves to grow, and setting cool goals for the future?
H-o-t.
(And girls, don't you ever let someone tell you that ambition's not attractive in you too!)
Finally, if you make cool plans, it'll inspire other people to make cool plans. And the world will have single people to thank for making this world a much cooler place.
So get busy!
Don't "wait around" for your life to start. Make plans. And make them happen.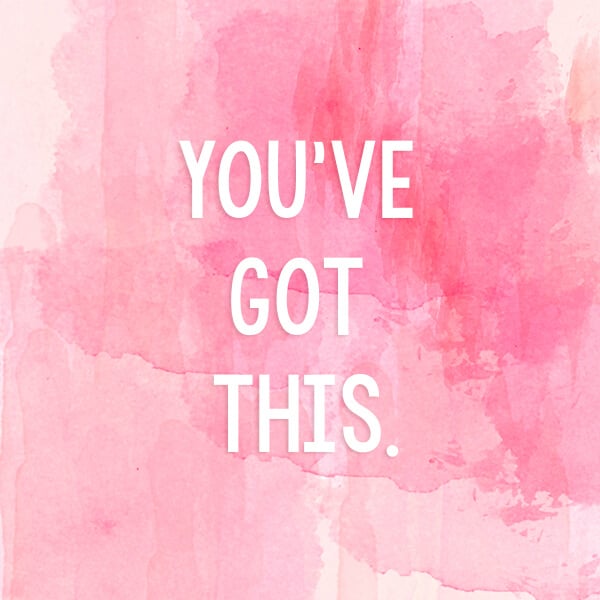 For more on the topic of being single, check out these posts: