Europe!
This post may contain affiliate links. Please read my disclosure policy.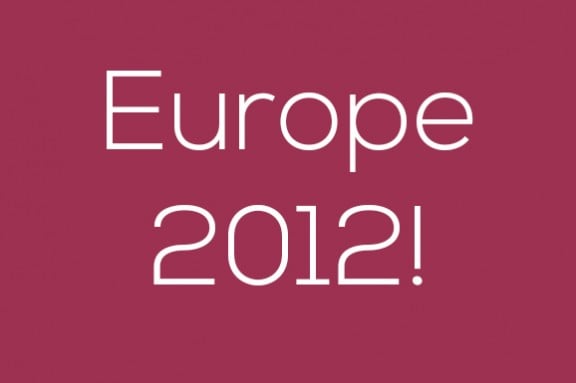 Hey friends! As I just posted on Gimme Some Oven, I arrived in Europe today!!! I am going to be spending the next 3.5 weeks here traveling around Spain, France, Italy and England, and would love for you to join along as I photo journal the trip.
Now that I have Wifi, I'm going to try to post a little summary from each day (or most days), and also give you my next day's itinerary in case you have any tips or recommendations for things to see. So in the words of the lovely Maria Von Trapp, "let's start at the very beginning": TODAY. Well, I'm not quite sure what that word means after jumping 7 time zones and staying awake for 48 straight hours. But even with lots of unexpected changes in my travel schedule, I made it to Barcelona and am now officially on board the Costa Pacifica. Ready to get rolling sailing!
Here's my summary of the first day!
The last time I traveled Europe, I hauled along a huge suitcase and it was a ridiculous pain (literally at times). So this trip I decided to travel "light". Although packing for warm temps, cool temps, and a formal wedding in one bag proved to be a little more challenging than I expected! Holy cow!
After my initial flight out of KC was delayed not one, not two, but THREE times, I thankfully made it to JFK in time to run and grab my flight to Amsterdam. Whew. Then off to sail over the ocean blue!
I have never been able to sleep on planes, so was grateful that there were some good films on this flight. Watched "The Holiday" (because I'm headed to England over Christmas – whoo!), and then Beasts of the Southern Wild (which Sarah reviewed last week on Gimme Some Film).
My first time in the Amsterdam airport. Could easily be mistaken for a flower market.
Not kidding.
If only I didn't have a brown thumb…
Finally we took off to Barcelona, where I had a Dutch "second breakfast" (don't forget it's Hobbit Week at Gimme Some!). These little guys might rival Biscoff in the airplane sweets category. Crazy good!
Once I arrived in Barcelona, there were two options to make it to the port — a $50 taxi ride, or hopscotch 4 different busses and trains to get across town for $10. So I decided to practice my Spanish and make the latter happen. Made it!
But then once we arrived, everyone was surprised to find the usually bustling lobby empty! It turns out that our ship encountered terrible weather in France and was delayed 12+ hours making it back to Barcelona. Oy.
But Costa was awesome and gave us complimentary food and espresso while we waited. (Which made me happy! Forgot that Europe = prosciutto in abundance. YESSS.)
Some people went back into town for an hour or two. But I decided to stay and have a relaxing afternoon reading The Hobbit out on the dock with the Mediterranean in the background. Not too shabby. :)
By evening, some more ships started to roll in.
The cruise ships were especially beautifully lit!
Finally, at about 8pm, our ship arrived! It was as though everyone turned into kids watching for Santa — so excited! :)
Finally made it on board!!!
Since the ship was already half full of passengers continuing on a longer cruise, the party was full in swing when we arrived. Music EVERYWHERE!
But I was admittedly pooped. So decided to nestle into my new room once I got on board around 10pm…
…and finally catch some zzz's in my beautiful huge bed. Tomorrow we are at sea all day, so look forward to exploring more of the boat!
Buenos Noches from Bar"th"elona!
Disclaimer: A special thanks to Costa Cruises for sponsoring my time on the Costa Pacifica. All opinions in these reviews, as always, are my own!