February Dare: A Note A Day
This post may contain affiliate links. Please read my disclosure policy.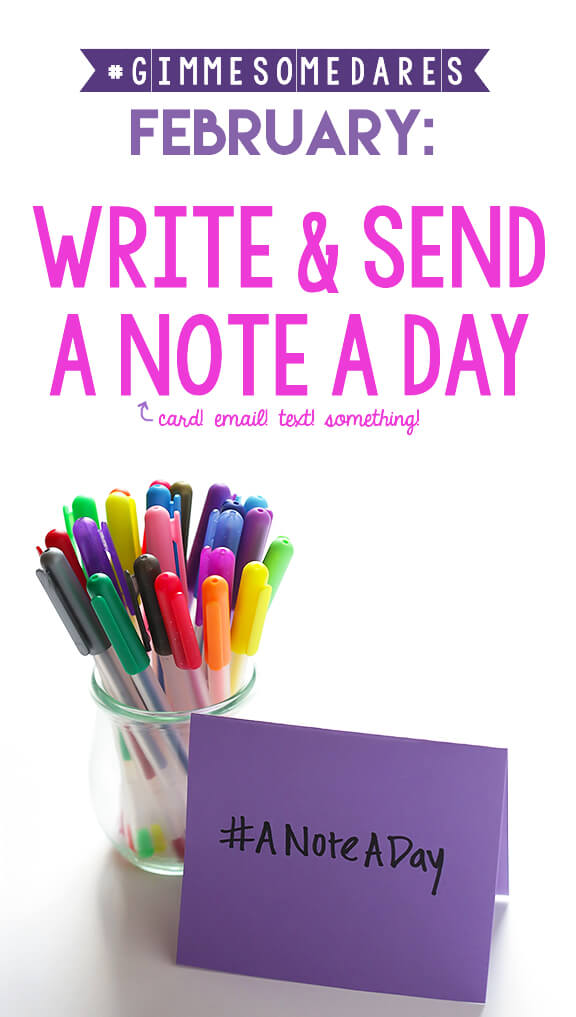 Happy February, friends!
A new month means that it's time for a new dare here on Gimme Some Oven. In January, a bunch of you joined in with our dare to Move In The Mornings, getting out of bed and trying to get our heart rates up even for at least a few minutes each morning. Since February tends to be all about l-o-v-e, I thought it would be fun to dare you to spread the love in an old-fashioned, yet still important and meaningful way: by writing a note a day to give to different people in your life.
A Note A Day
Here's the thing, this doesn't have to mean a 3-page handwritten letter each day to your oldest and dearest friends. (Well, it can if you want it to!)  By a note a day, I'm talking anything from:
a card (homemade or store-bought)
an email
a text
a tweet
an Instagram photo/message
a Facebook post/message
a note scribbled on the bathroom mirror
a post-it left on someone's desk
you name it
It can be 2 sentences long. It can be 2 pages long. The idea is simply to tell a different person each day why you think they're awesome…in writing.
Why?
Well, there are a million reasons why. But mainly, you need to tell the people in your life what they mean to you, and they need to hear it.
You may think that a friend or coworker or spouse or child or relative or barista or mail carrier or mechanic of yours is the best. And they may even know that you think that. But here's the thing about humans — we have a terrible way of being our own worst critics, and on the tough days, we quickly lose sight of how great we really are. That's when it's important to have people in our life who know us to come alongside and remind us of who we are. And a great way to tell someone — so that they will listen and hear every word — is in writing.
You know what's also one of the best things about writing someone a note? The person you care about gets to keep it.  And hold onto it. And maybe even refer back to it on the days that they need a little reminding.
Of course, the other great thing about note-writing is that it's equally — sometimes even more — meaningful to the person writing the note. I'm totally that girl who gets all choked up trying to scribble out a few sentences on a birthday card, just because it often is such a real reminder about how much I care for the people in my life. And how thankful, and inspired, and loved they make me feel. And even though I'm not the best with words (and often end up saying the same ol' stuff everyone else says), it feels really important just to try and tell someone what they mean to me. And I know that they get it. :)
A Few Quick Tips:
So what do you think? Want to join in?? It's a short month with 28 days, so I think you totally should. I mean, just think — if 100 of us joined in together to do this, there would be 2800 people's days who would be made a little bit brighter around the world this month. And — ahem — not just on Valentine's Day. ;)
Here are a few quick tips if you'd like to join in:
Gather some cards/stamps in advance: I learned this from scrapbooking; you're much more likely to write a note each day if you already have some of the supplies ready to go. So go browse the aisles at Hallmark, or fold up some cardstock into notecards, or lay out the block of post-it notes so that you can be ready when you find a moment to write.
Start making a list of people you'd like to write to: I found this to be extra-motivating in following through. Make a list of some people you'd like to write to, and then you can start thinking in advance about what you'd like to say to them. Or don't — you can also be 100% spontaneous. ;)
Get specific: If you ask me, the more specific the better when it comes to writing notes and giving encouragement in general. Instead of telling a girlfriend you appreciate her, specifically tell her much you appreciated it when she called to check in after that doctor's appointment. Or instead of telling someone you love how funny he is, tell him that you still grin every time you use your garbage disposal after his epic joke.
Make lists: Or, if you're short on time or don't feel comfortable writing sentences, make some lists! Ex. 3 Reasons I'm Glad You're My Barista: 1) You make a killer cup of iced coffee  2) You remembered to ask me how my trip was last week 3) You unabashedly play Taylor Swift over the sound system at the coffee shop (and snuck in some good dancing moves too behind the bar yesterday — I saw you!)
Don't be a perfectionist: If you miss a day of this, hakuna matata, hop back on. If you don't have the time to write a longer note, seriously, take 1 minute and just send someone a few sentences over text. If you end up not being able to come up with "the right thing" to say, don't worry. People want to know that you care about them, not that you are the next Hemingway.
Write to ANYONE! This doesn't have to be a month where you pour out your heart to all of your closest friends and relatives (although it can be if you'd like). Take a minute and tell the receptionist at your office why she's fantastic at her job and has great taste in shoes. Tell your waiter how much you appreciated his patience as he refilled your water-with-lemon 5 times. Tell your neighbor how you think she's doing a really great job raising her kids. The randomer the mix, the more great people you'll also realize you have in your life.
So start writing!
And stay tuned, because I have a few DIY posts and note-writing-tips coming up this month from some pros I admire.
Also, if you want to help spread the word about our mission to flood the world with "love" notes all month, share this post with your friends or on social media with the hashtags #gimmesomedares and #anoteaday.
Ready, set, write!