Ali's Guide To Santorini (and Folegandros)
This post may contain affiliate links. Please read my disclosure policy.
All of our best travel tips for where to eat, stay and visit in Santorini and Folegandros, Greece.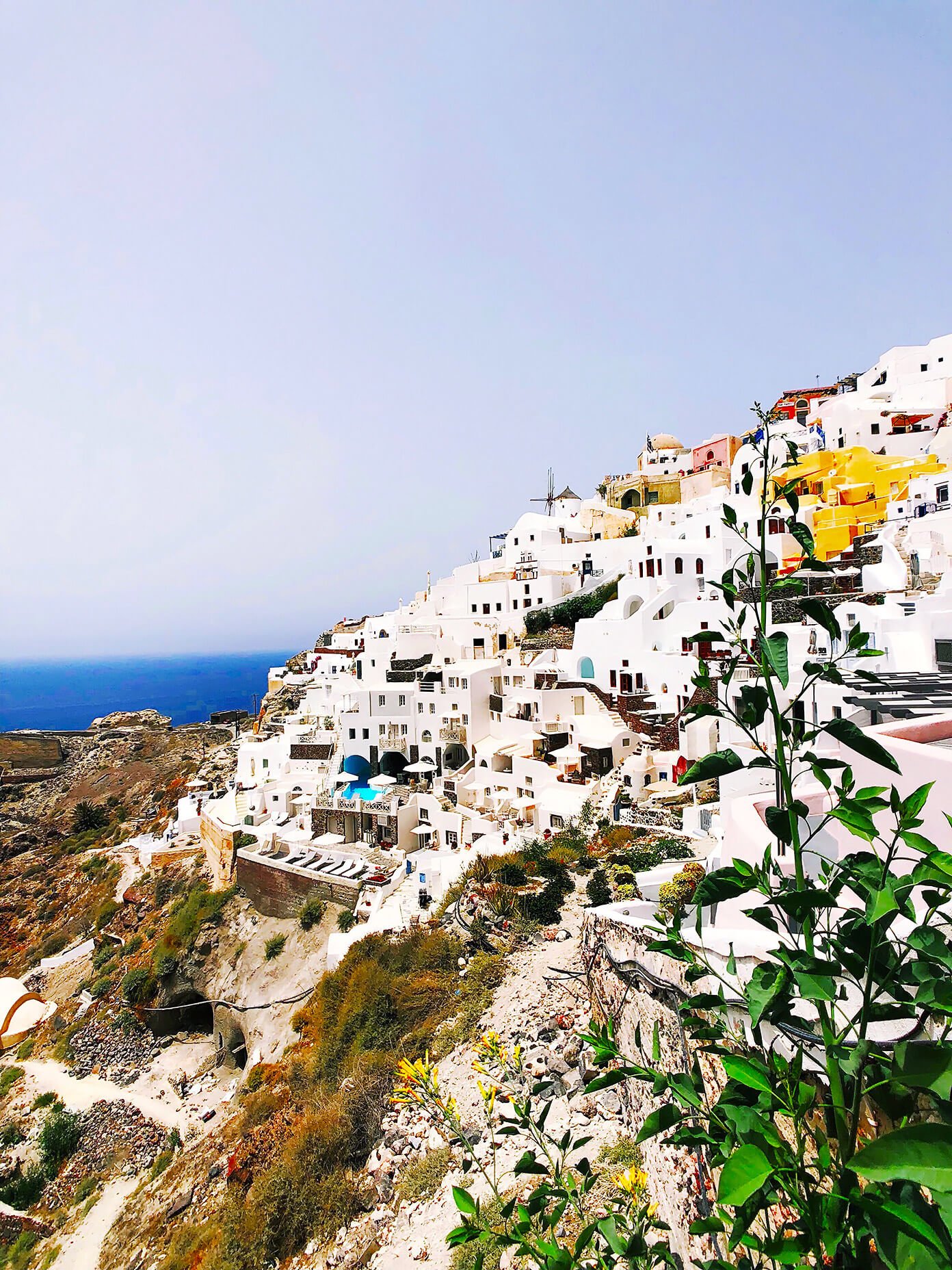 For our very first year as European expats, Barclay and I decided to make the most of our time here and go big by planning one another epic bucket list trips to celebrate our birthdays.
Barc's instant choice for his 40th birthday trip was Rome, where we flew this past March while his brother was here visiting, and celebrated by seeing all the sights and eating all the carbs. And it was amazing. We squeezed a ton into our five days there, and loved every minute of it. But by the time my 35th birthday rolled around in May, especially after a busy spring hosting 50+ days of visitors at our flat here in Barcelona, I was definitely craving more of the relaxing vacation vibe than the go-go-go trip kinda vibe. So once our schedule opened up at the end of the month, we decided to take entire week off and flew to the country at the very top of my bucket list…
…Greece. ♡ ♡ ♡
For the past decade or so, this magical country has been chillin' at the top of my bucket list and Pinterest boards. So to finally have the chance to go there felt like a total dream come true! We decided to save Athens for another time, especially since we had just been to Rome, and focus our time on some gorgeous Greek islands instead. And when Barc asked about my hopes and dreams for the trip, my priorities were pretty simple:
Soak up beautiful views
Read lots of books
Eat as many Greek salads as possible
I'm happy to report…major wins on all accounts. Oh my goodness, the country was even more breathtaking and beautiful and serene than we had even imagined. The food was outstanding. We had dozens of reading dates all week long. And by the end of the trip, we both agreed that we were heading home feeling legit rested and restored and all the "re-'s"…which is the mark of a good vacation, right?!
Truly, Greece took such great care of us, and we loved every minute of our time there. And of course, we also gathered up lots of good travel tips and recommendations to pass along to any of you who might be planning a trip there yourselves. So as promised, here's our big trip roundup, including a few zillion photos (all taken with my iPhone and this lens, affiliate link), plus all of our recommendations for where to stay, eat and visit in Santorini and Folegandros, Greece.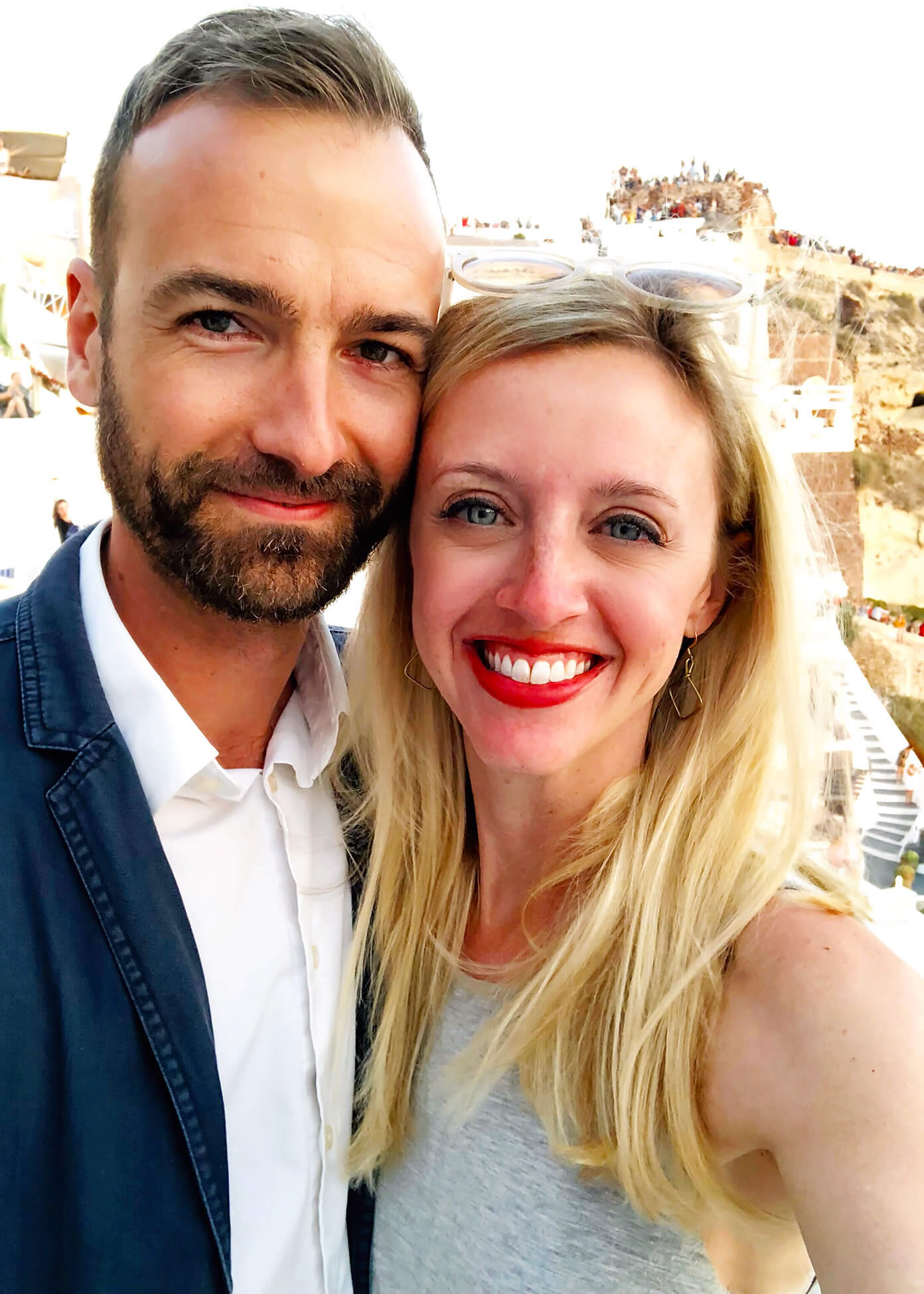 Where We Stayed In Santorini:
We spent our first three nights of the trip in Santorini, staying at the Oía Mare Villas Hotel on the north end of the island in Oía. And wow, we cannot say enough good things about this hotel. It was definitely a bit of a birthday splurge, helped along by booking in advance, plus some travel points we had saved up. But it was worth it and had everything I could have imagined in a quintessential Santorini hotel — charming little villas sprinkled all over the hill, breathtaking views of the bay, an enormous (included) breakfast buffet each morning full of every Greek dish you could imagine, and an incredibly kind and welcoming staff. Plus our room itself was all kinds of adorable and included its own little private patio, where we spent hours upon hours reading in the sunshine with our glasses of coffee and white wine. Dreamy.
That said, the moment we arrived, we realized that the biggest perk of the hotel was absolutely its location. We'd had so many friends tell us that Santorini had become ultra-crowded and noisy and touristy in the past few decades. So when we arrived there at the beginning of peak season (end of May), we were prepared for anything. But as it turned out, our hotel was located on the loveliest little cove in Oía that was wonderfully tranquil…and quiet. Even better, it also happened to be the cove where locals and tourists gather each evening to come watch the sunset. But instead of having to snag a spot on the cliff and wait it out with everyone else in the hot sunshine for hours, we were able to just walk outside with a glass of wine and watch the sunset from our balcony.
Which, by the way, was easily one of my favorite travel experiences ever. ♡
Every single night, the cove magically begins to fill with hundreds of people — perched at the top of cliffs, having a glass of wine on balconies, watching from the streets below — all there to watch the sun go down together. Then once it actually sets, there's a huge cheer that goes up around the cove, and everyone raises a glass together to the day. It's just so fun and delightful and magical, and a total must for anyone visiting Santorini. And for anyone staying at this hotel, it's also extra relaxing and convenient.
Our only regret was that we had booked an extra day or two there — loved this place so much!
Where We Stayed In Folegandros:
For the second half of our trip, we decided to go a bit off the beaten path and visit Folegandros, a lesser-known island just an hour's ferry ride away. There, we stayed at the Anemi Hotel, which we also loved. But it was definitely apples and oranges to our stay in Santorini.
First off, we figured out pretty quickly that Folegandros' tourism season doesn't really kick off until June. So even at the end of May, the island (and our hotel) was nearly deserted…which was perfect for the two of us looking to kick back and relax! But maybe not the thing if you're looking for a place with lots to do. It was also knock-your-socks-off-windy every single day. Like, so much so that reading by the side of the pool was a bit of a challenge, and my hair was resigned to a permanent top-knot for the entire trip, ha. (We were told, by the way, that September is the ideal time to be there, and not nearly as windy.)
Second, we didn't realize that the hotel was not actually in Chora, the main town in Folegandros where most of the restaurants and shops are located. With just one taxi operating on the entire island, the only way to really get to Chora was to take a little 10-minute bus there, which was no big deal and ran from a nearby stop multiple times a day. It just took a little extra planning.
That said, though, we had an amazing time staying at Anemi. The grounds themselves were absolutely picture-perfect, and also housed a surprise vineyard and basketball court and area for yoga, all of which we enjoyed. And an extravagant breakfast was also included each morning, in which guests could order as many items on their 3-page breakfast menu as they desired, including the cutest little French press coffees. We also got to know the staff pretty well in our four days there, and were so thankful for their warm welcome.
Also, a quick note about ferries getting to Folegandros! There are a variety of ferries you can take to get there, either from Athens (5-7 hours), or from Santorini (1-2.5 hours). Fast ferries will get you there from Santorini in about an hour, (€45), but there's also a slower one (2-3h) that's around €8, which is available only on selected days.
Alright, here are some pics of both hotels below!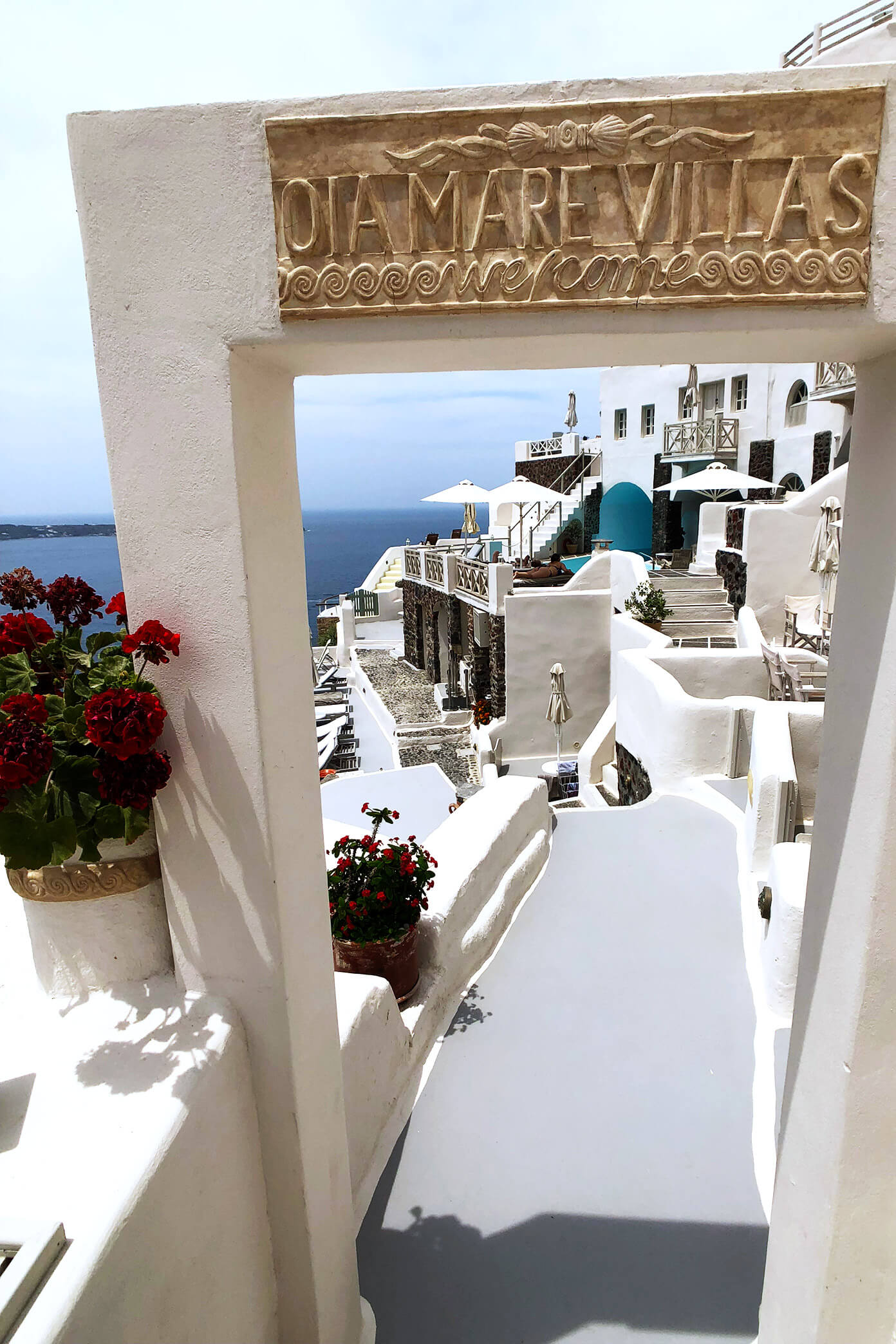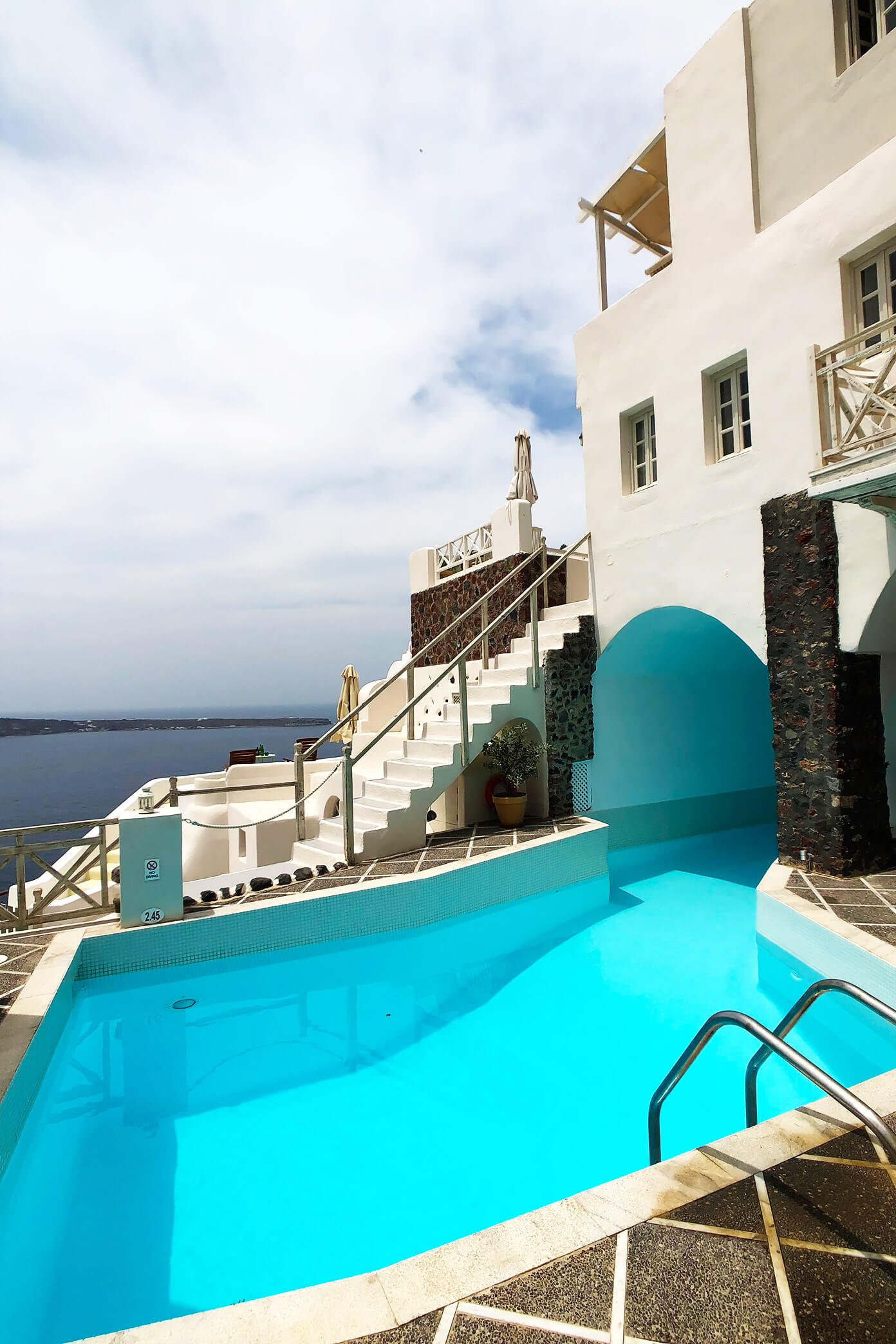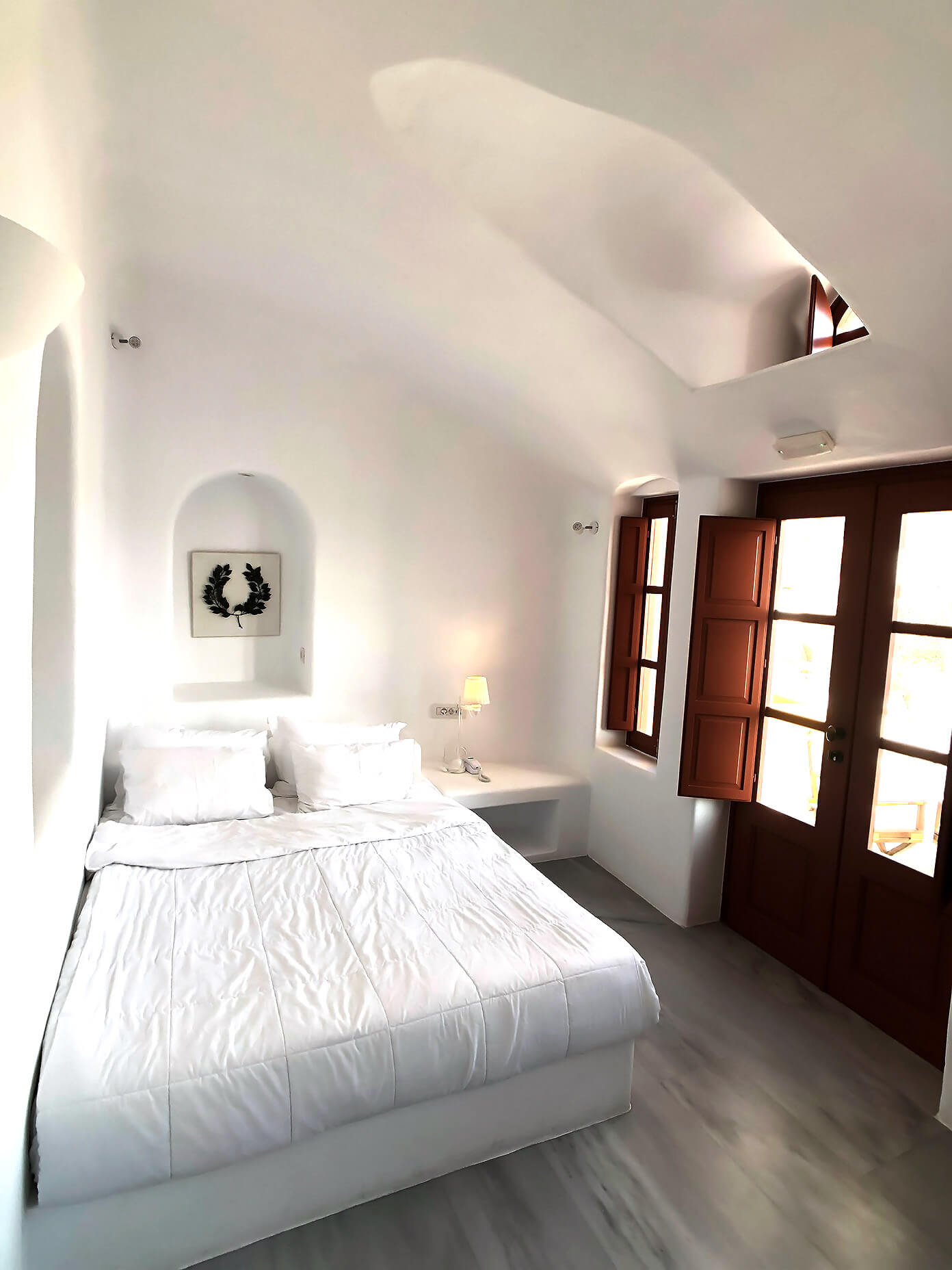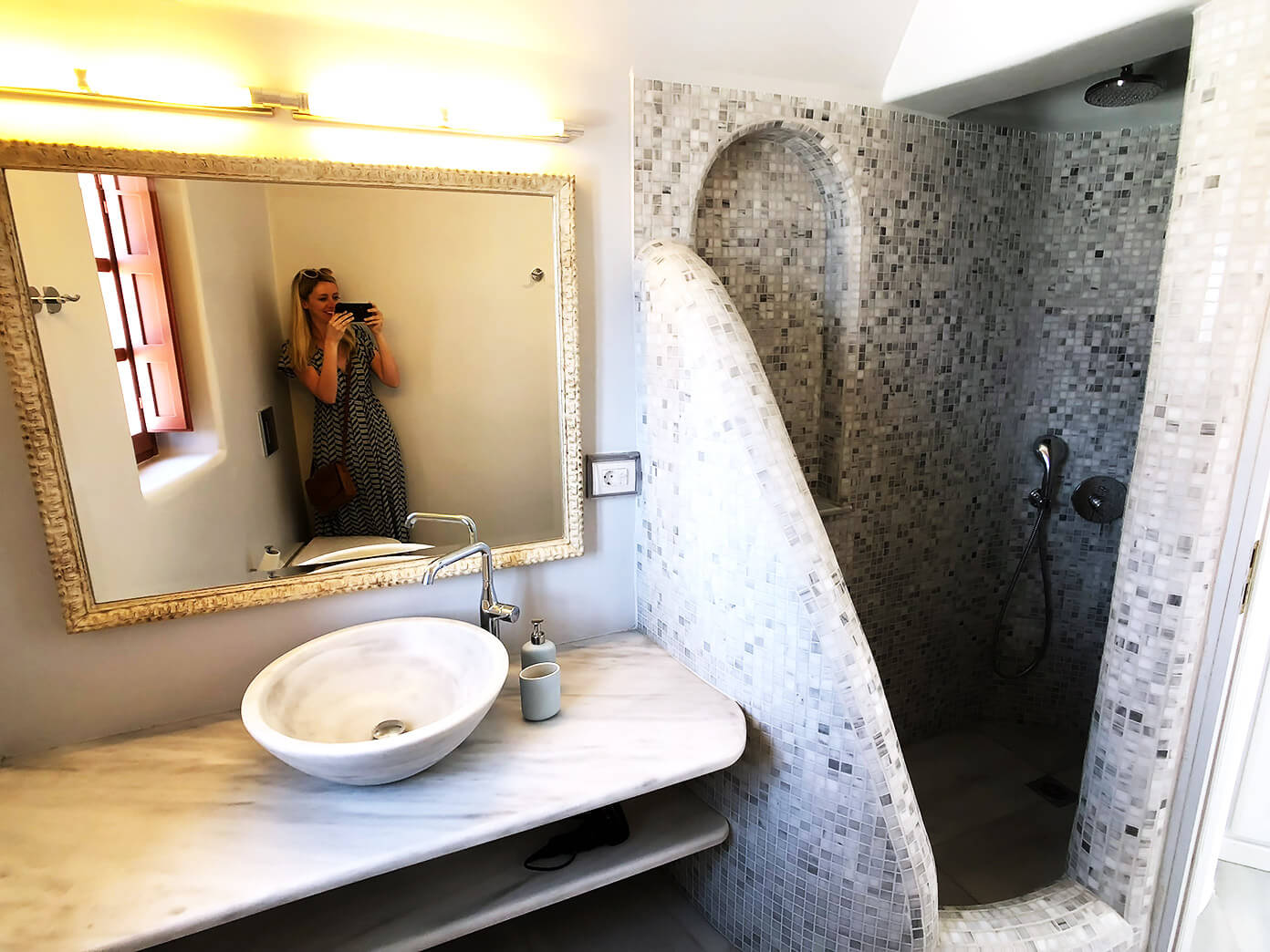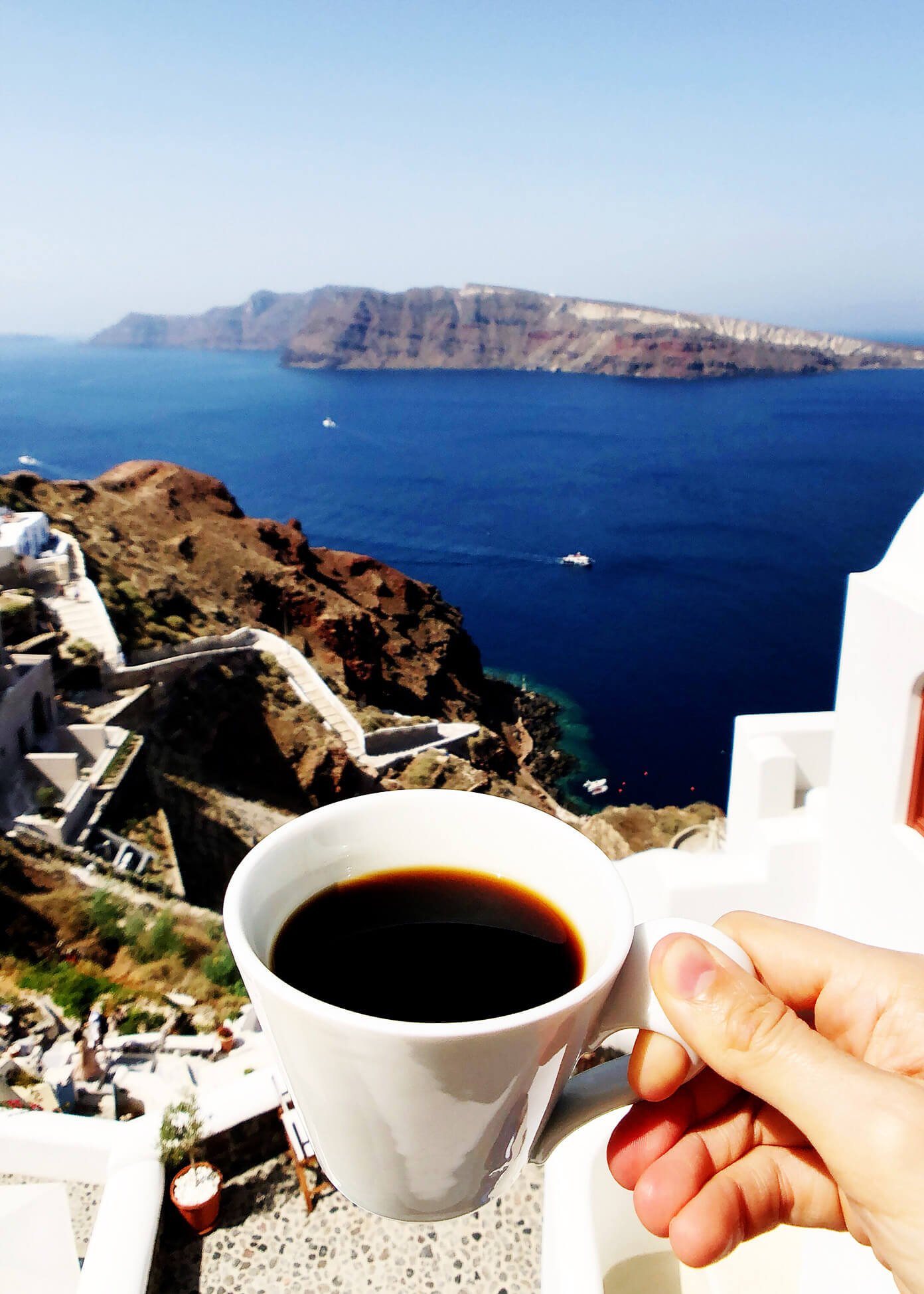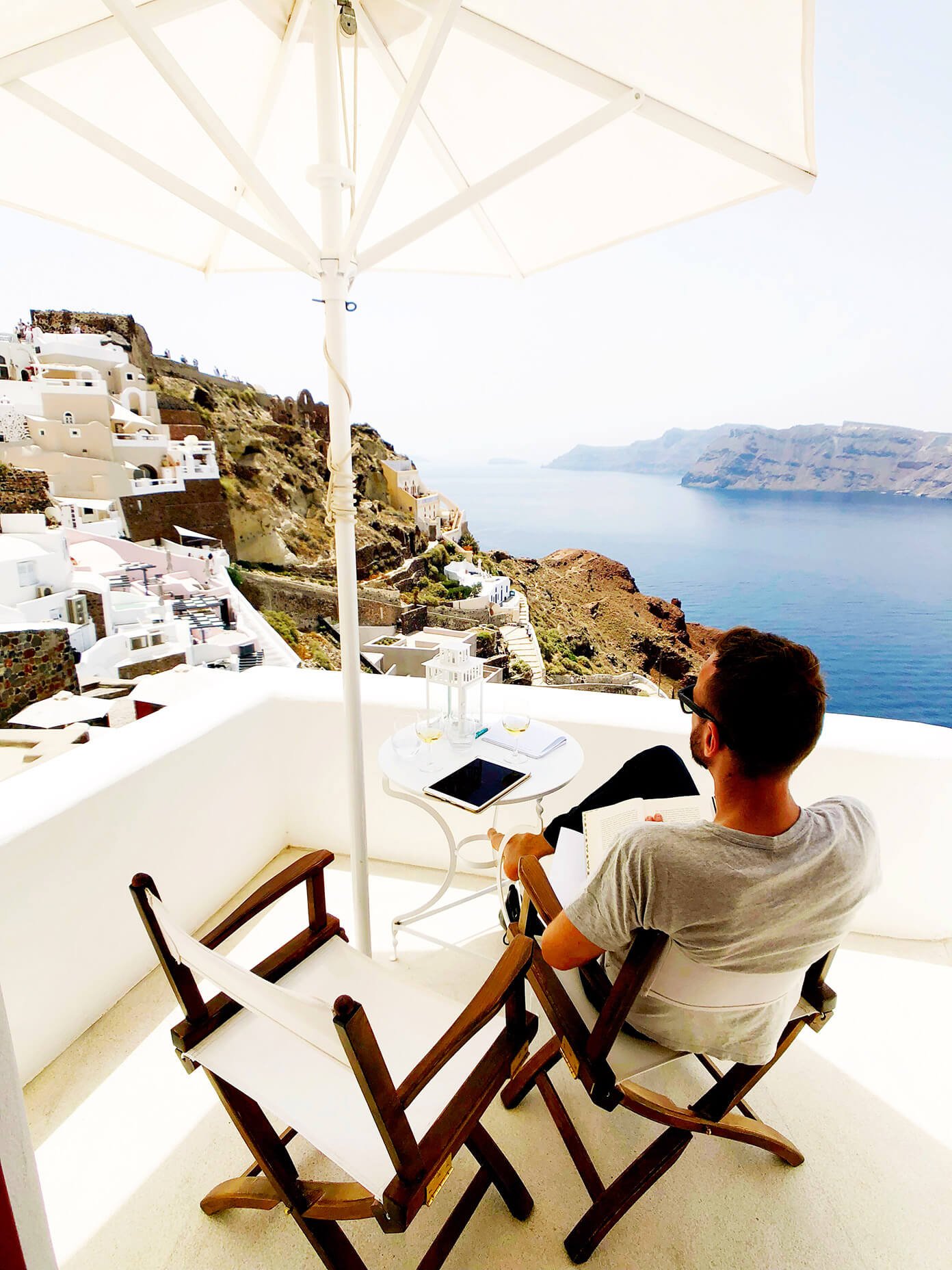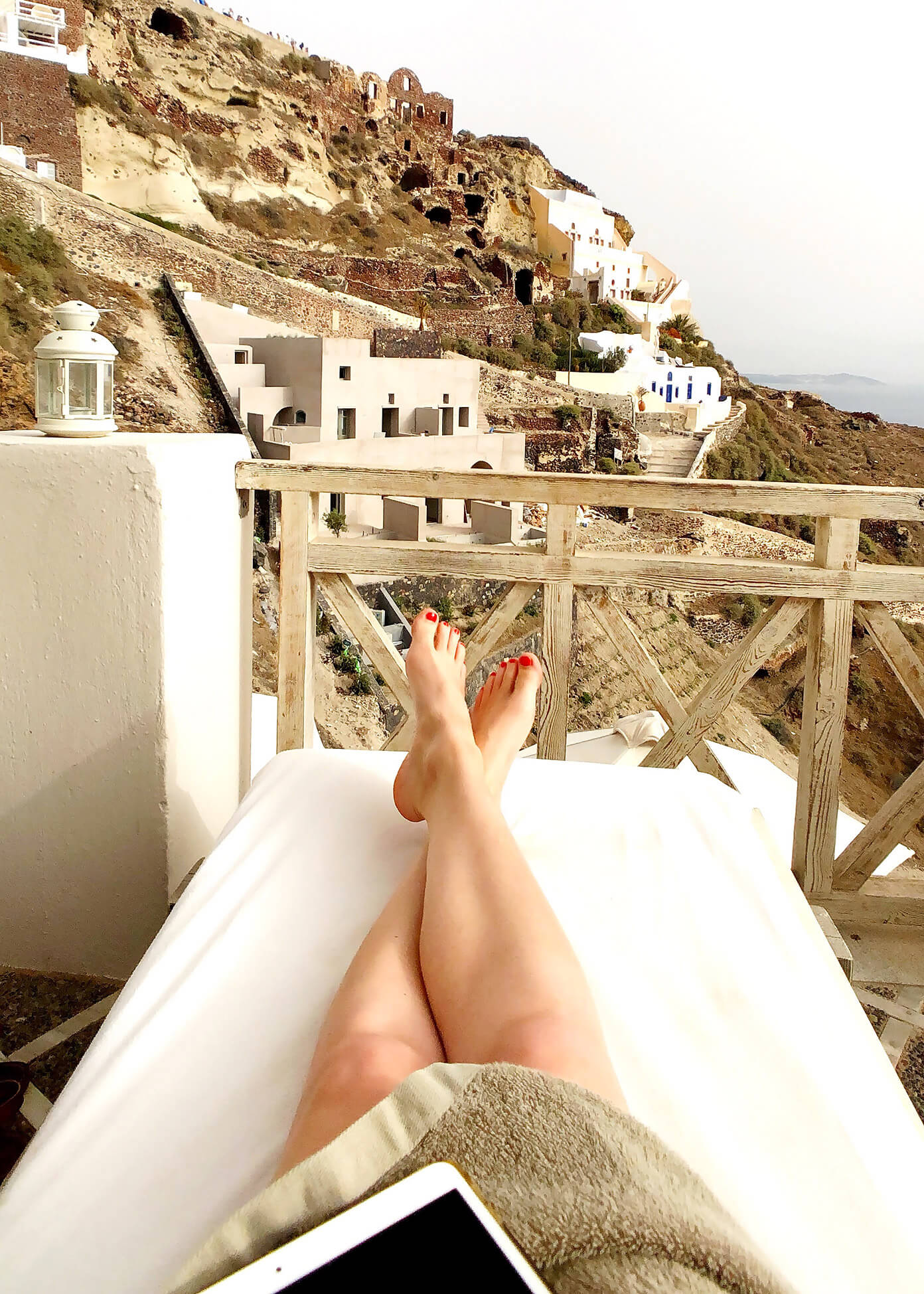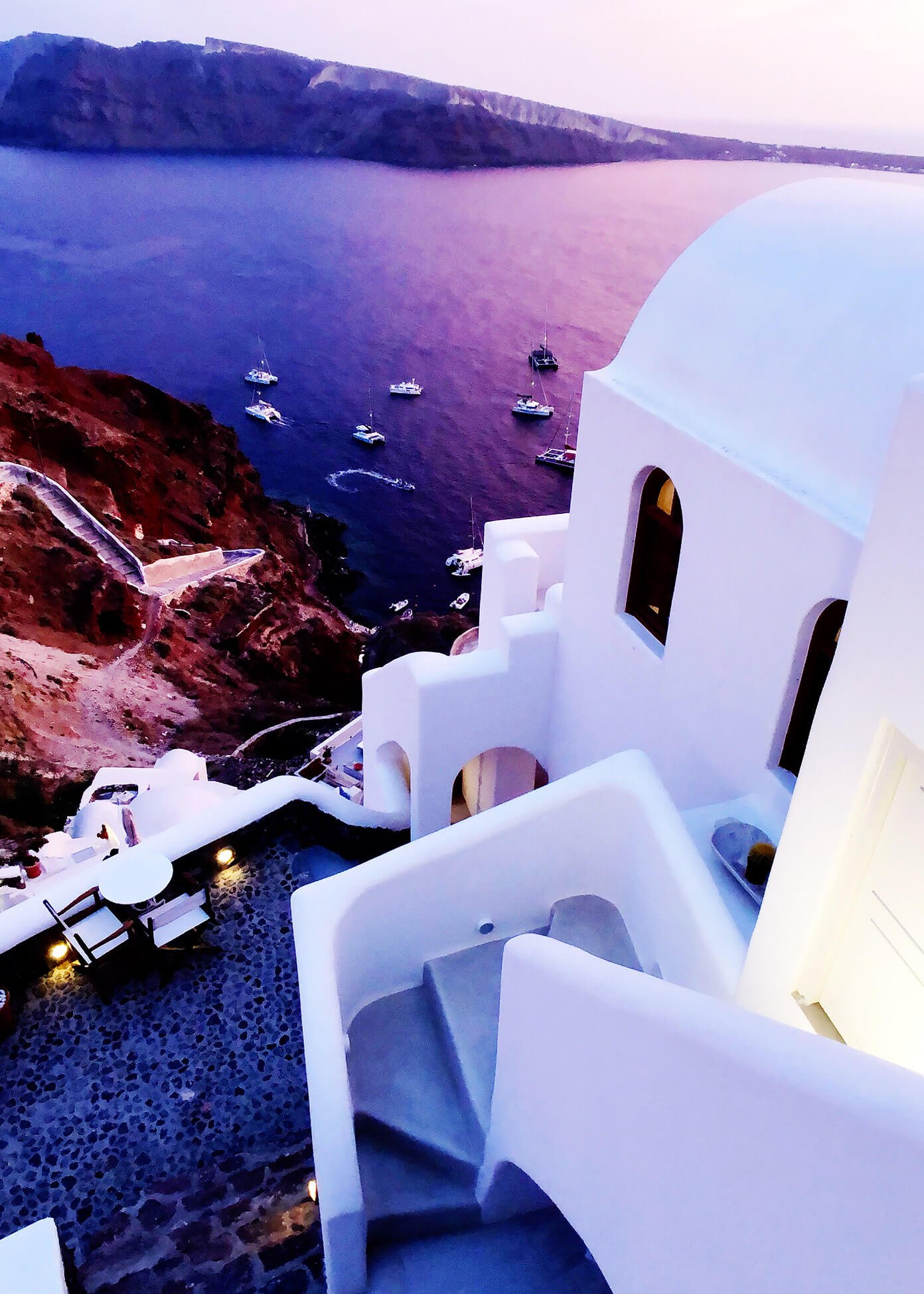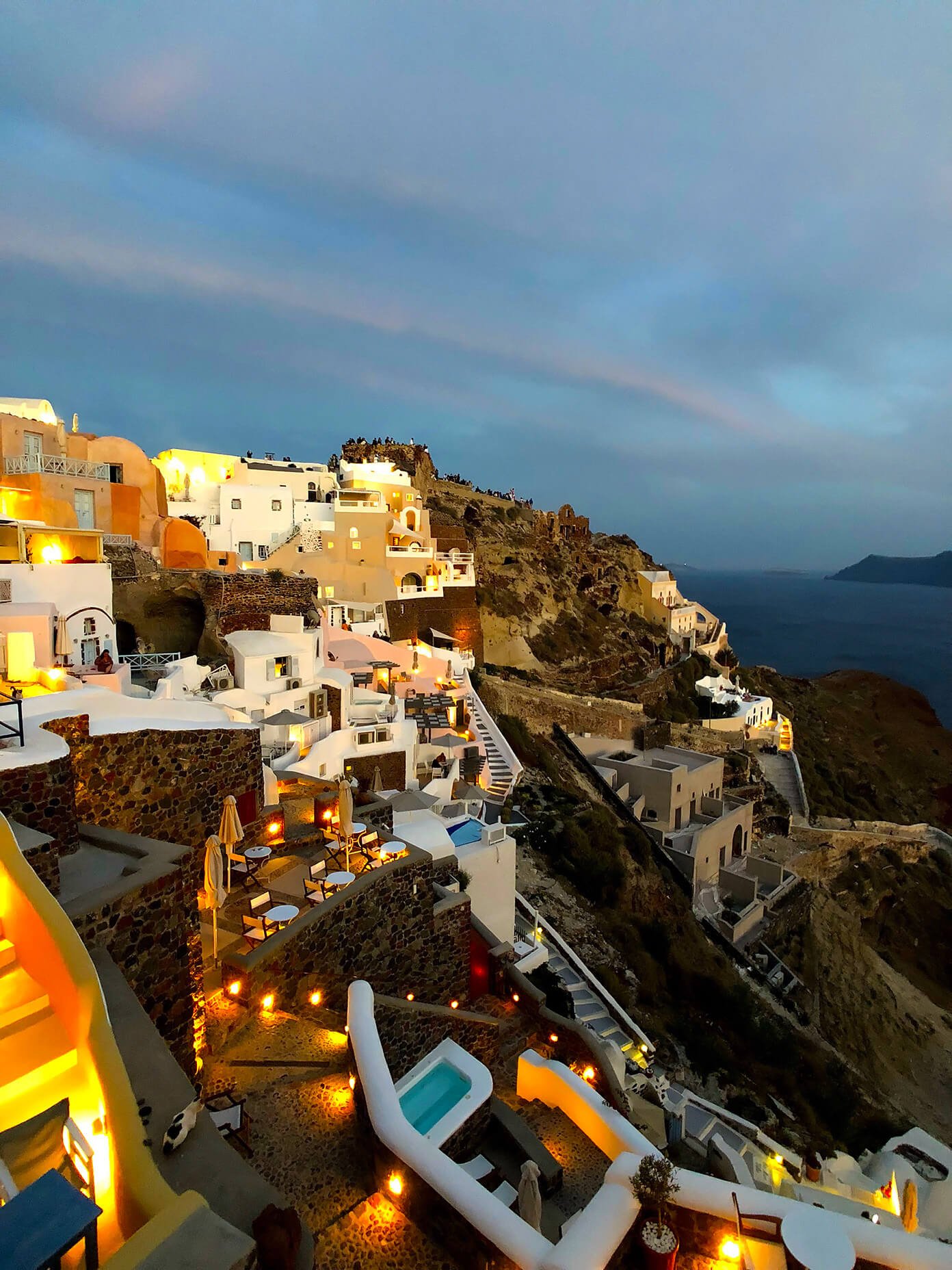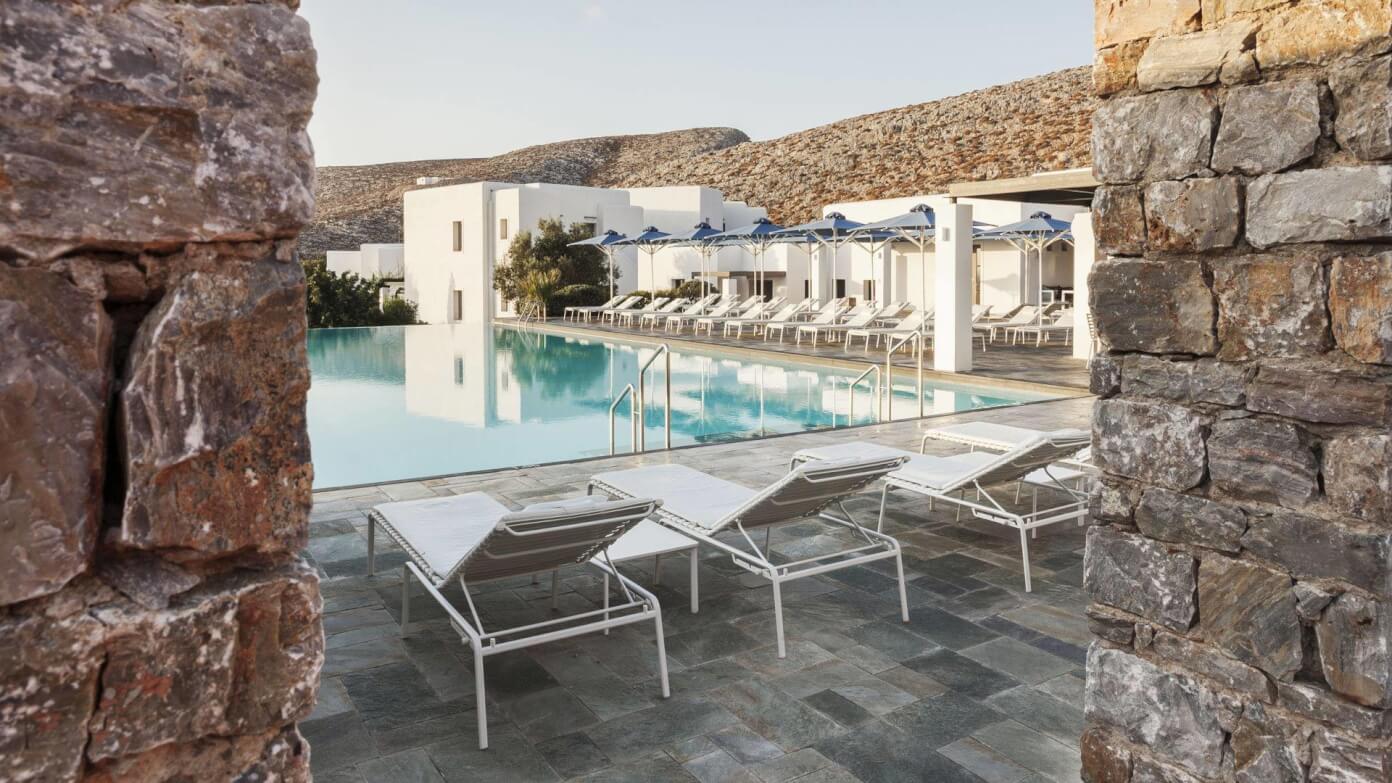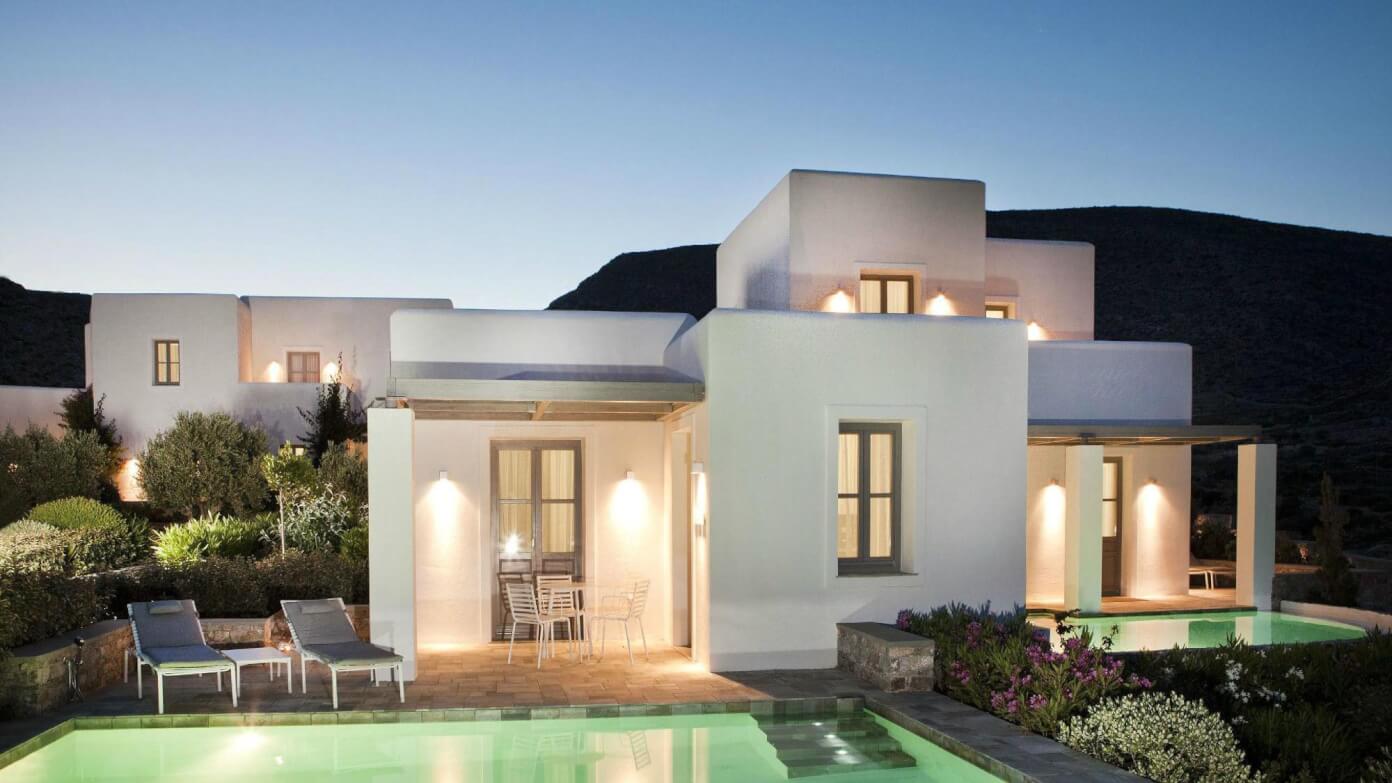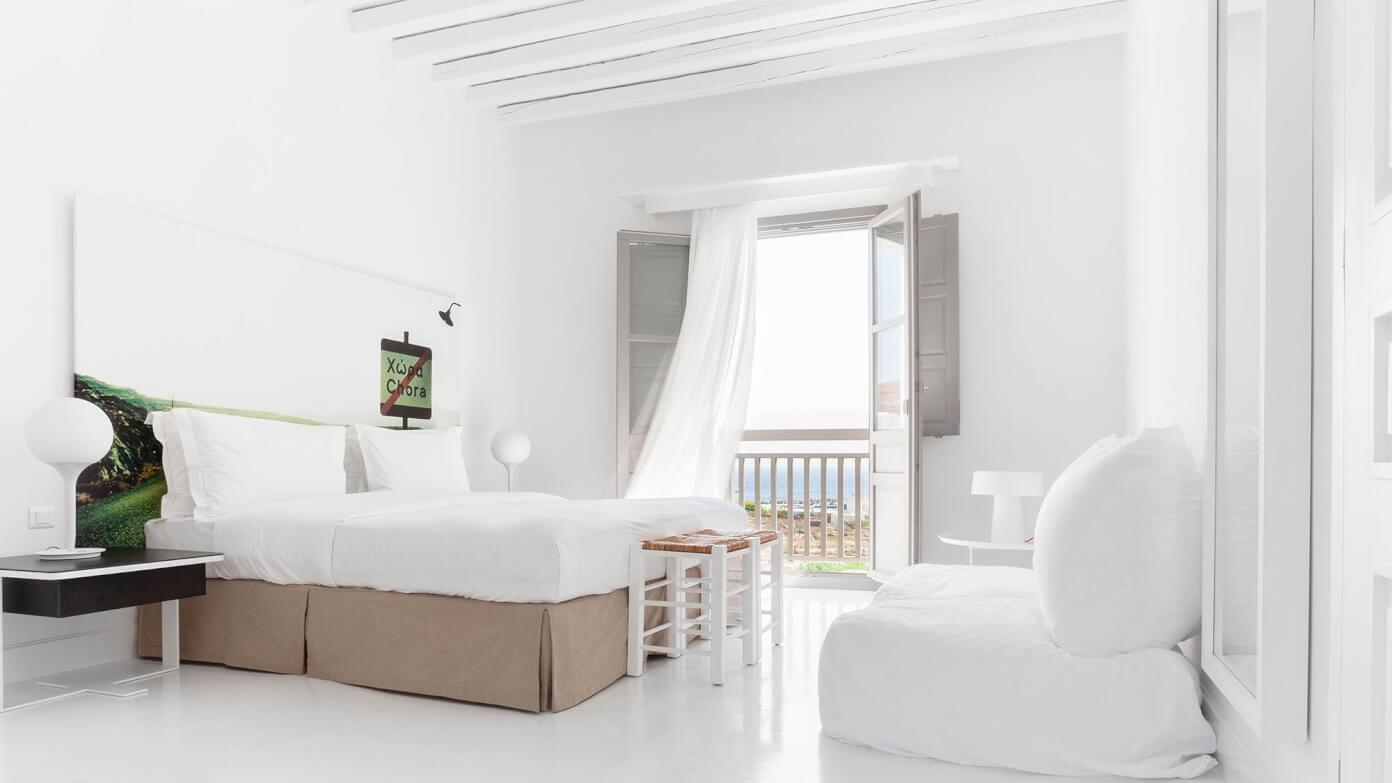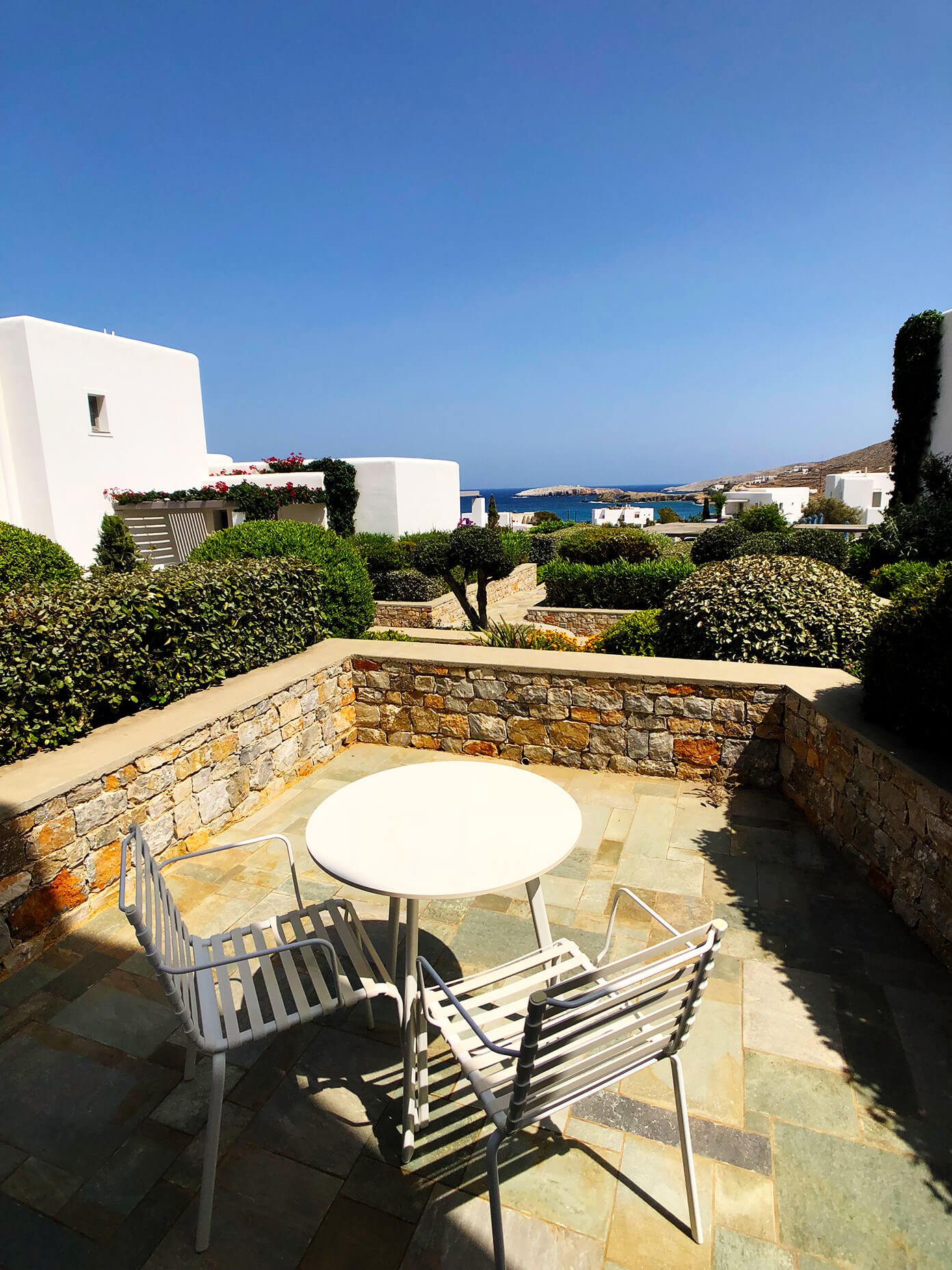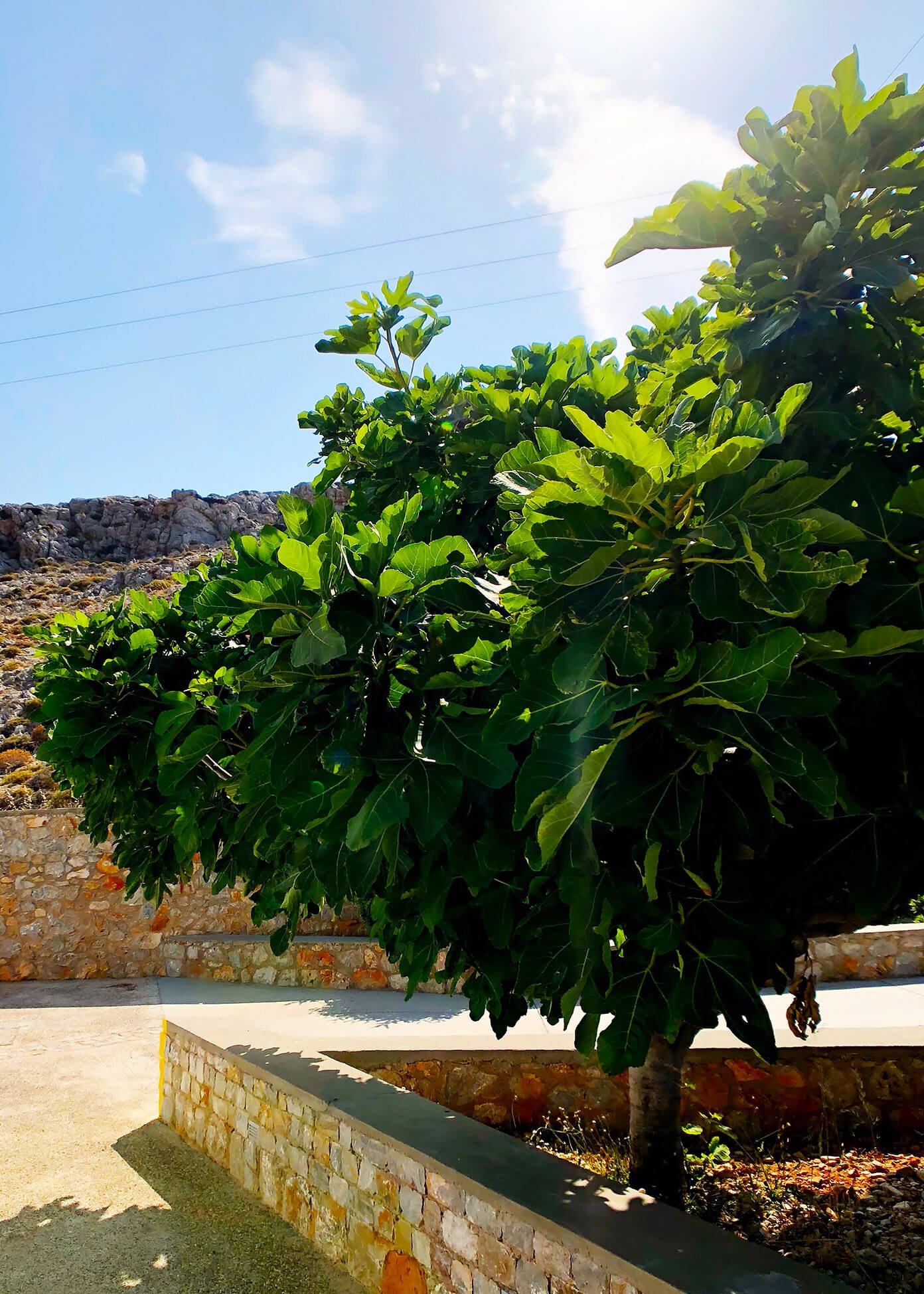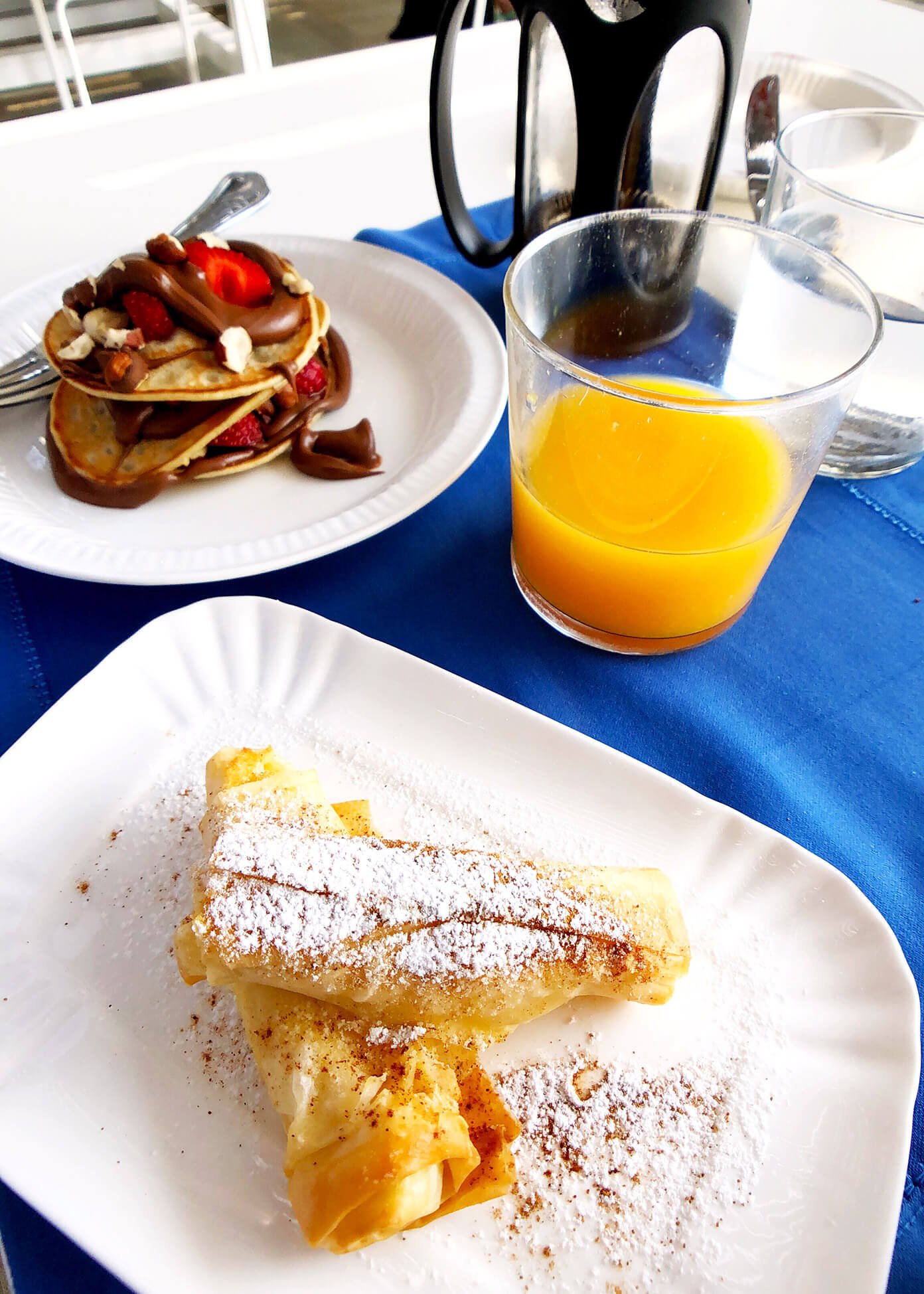 Where We Ate In Santorini:
Oh my goodness, this place is a food lover's absolute dream come true. We ate breakfasts each morning at our hotel, and then ventured out each day into Oía for lunch and dinner (plus an occasional gelato or baklava), and literally just skimmed the list of recommendations we had been given. There is no shortage of amazing places to eat in Santorini!
As you may have seen on Instagram, we indeed went big with our Greek-salad-a-thon and ordered them almost everywhere we went. All of which were fantastic. Multiple locals we talked to also told us that the best restaurants in Oía are inland (without ocean views), which proved great advice with Candouni and Karma and PitoGyros. I'd say the only meal that was a bit "meh" was our lunch in Fira, but that was mostly just due to the fact that the crowds there that day were crazy, and we were itching to get back to the tranquility of Oía.
If you happen to be near Oía, by the way, be sure to swing by Atlantis Bookstore (see below) and pick up their Guide to Santorini. It's full of fantastic local restaurant and travel recs and only costs €5.00.
Candouni: We came here for dinner one evening with two new friends we met at our hotel (hi, Ethan and Brittany!) and had such a great night. The food was fantastic, the vibe there was lively and fun, and the staff totally made us feel like we were part of the fam. We didn't make it in time to snag reservations outside, but the patio also looked gorgeous!
We ordered the grilled mushrooms, grilled tiger shrimp, spicy cheese dip, Candouni salad (mixed greens, radish vinaigrette, kealotiri cheese), and white wine. We also hung out and had our first mastika — a Greek digestif — with the staff after dinner.
Karma: This was probably our favorite dinner in Santorini. Every single dish we ordered was incredible — especially the fish and homemade baklava — and the vibe out on the patio was so lovely and chill. I'd highly recommend stopping by.
We ordered the "gorgeous Greek salad", tsipoura (fresh gilthead sea bream grilled with a caper vinaigrette and radish salad), gemista (stuffed tomatoes and peppers stuffed with rice and herbs accompanied by roasted potatoes and a slice of feta), fava with caramelized onions, honey baklava with masitha ice cream, and house rosé.
PitoGyros: An absolute must in Oía. You can either order food here to go or wait in line to eat in the cute little patio across the street (<– which we did, worth it). It's super casual, super straight-ahead Greek food, and crazy delicious. Especially those salads and gyros.
We ordered a chicken gyro, Greek salad, politiki salad, spicy cheese dip and house wine.
Roka: This cozy little place is tucked away off the beaten path in Oía, and was also completely charming and delicious.
We ordered the Roka salad (arugula, smoked Manouri cheese, figs, walnuts, petimezi vinaigrette), smoked trout (with potato salad, aromatic herbs in basil pesto and capers), "Skioufikta" (Greek handmade pasta with cherry tomatoes, garlic, spring onions, basil and xinomizithra), sea bass (with vegetables and red pepper sauce) and baklava with ice cream
Sunset Taverna: I'd say that a meal here (or anywhere down in Ammoudi Bay) is another must for anyone visiting Oía. Located right on the water, the views down there are absolutely gorgeous. And everything we ordered — especially their signature sun-dried octopus — was so tasty! Heads up, though, it's a bit of a trek down there. And back up. ;)
We ordered the sun-dried octopus, Greek salad, spicy cheese dip, olives, and white wine
Lolita's Gelato: The place to go for gelato in Oía! We loved it.
We ordered various flavors, but the blueberry something and pistachio were our faves.
(In Fira) Argo: We stopped by here for lunch on our one (very brief) afternoon in Fira, and it was pretty good. But whew, the crowds bustling around the restaurant that day were intense.
We ordered the starter sampler (fried tomatoes, eggplant rolls, fava, tzatziki, beetroot tzatziki) and the Santorini salad (greens, sun-dried tomatoes, pine nuts, tomatoes)
Other places on our list for next time: Ammoudi Fish Tavern, Catch Bar, Fino Cocktail Bar, Laokasti, Lauda, Meletini
Where We Ate In Folegandros:
Restaurant options in Folegandros were definitely much more limited than in Santorini, and we had a few overly-touristy "misses". But let's be real, even a "meh" meal in Greece is better than just about any Greek food I've tried elsewhere. So, grain of salt. :)  That said, here are the places we really enjoyed! Also, as I mentioned above, the enormous breakfasts each day at our hotel were incredible.
Chic Taverne: We sat up on the patio at this cute little family-run tavern and had a great evening. Their soup of the day was also incredible!
We ordered the zucchini soup, Greek salad and red wine.
Dal Capo del Porto: If you happen to be looking for a dinner within walking distance to Ameni Hotel, we had dinner here our first night and it was pretty good! Nothing fancy, but solid Greek food. Also, if you sit outside, get ready to have some visitors. The local cats were verrrry interested in the tuna we ordered.
We ordered the grilled tuna, spicy cheese dip, olives and capers, eggplant dip purée with peppers and white wine.
Melissa: We had a lovely lunch here one day on the patio, and really loved our vegetarian meal.
We ordered the Greek salad, vegetable souvlaki, and sautéed mushrooms.
Souvlaki Club: This was probably our favorite meal in Folegandros. Our server was hilarious and awesome, the patio was just lovely over lunch, and they served us some of the best pita of my life. We stayed there and read books for a few hours afterwards and loved the vibe.
We ordered the Greek salad, chicken gyro, veggie (mushroom) gyro and white wine.
Stavento Ice Cream: Our server at Souvlaki Club told us that this was the place to go for good gelato in Folegandros. It's run by a kind Italian man who spends his summers on the island, and serves some memorable gelato.
We ordered the cherry and pistachio gelato cones, with a pat of panna on top.
Beez: We happened upon this cute little cocktail bar on our last night in Folegandros and really enjoyed it! They have an impressively stocked bar full of all sorts of specialty liqueurs, and the owner loves to craft original cocktails for each guest.
We ordered a mezcal and whiskey cocktail to share.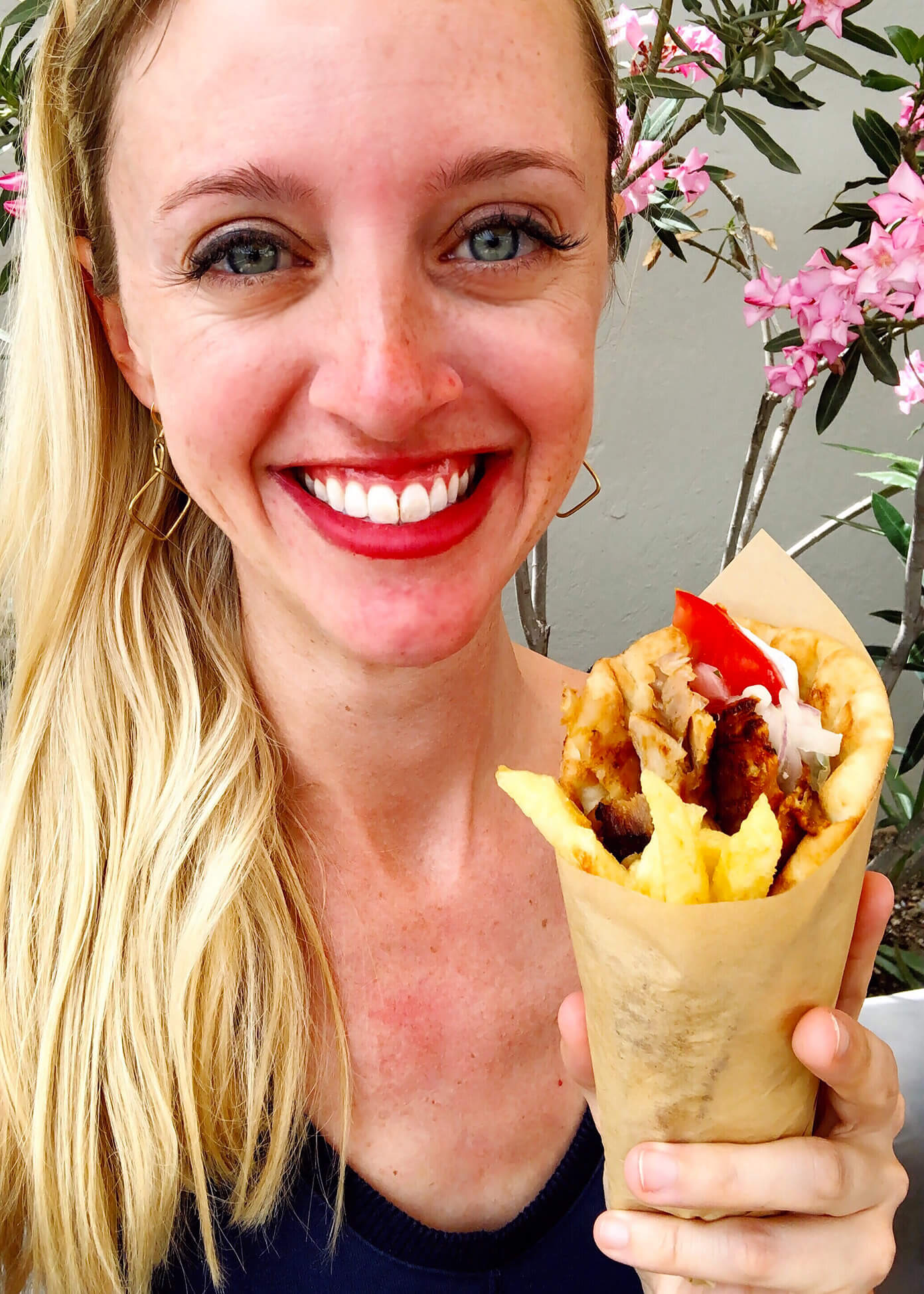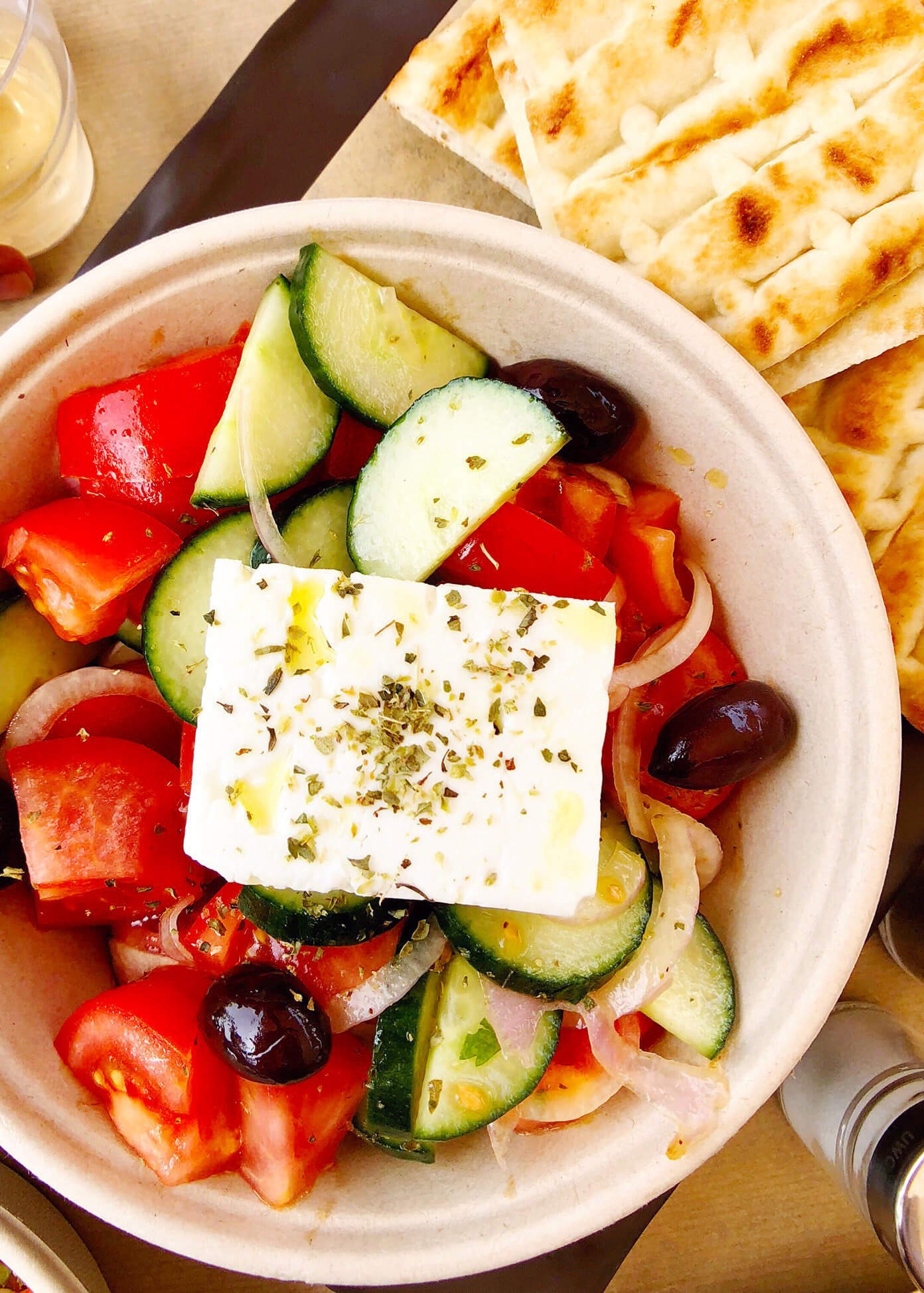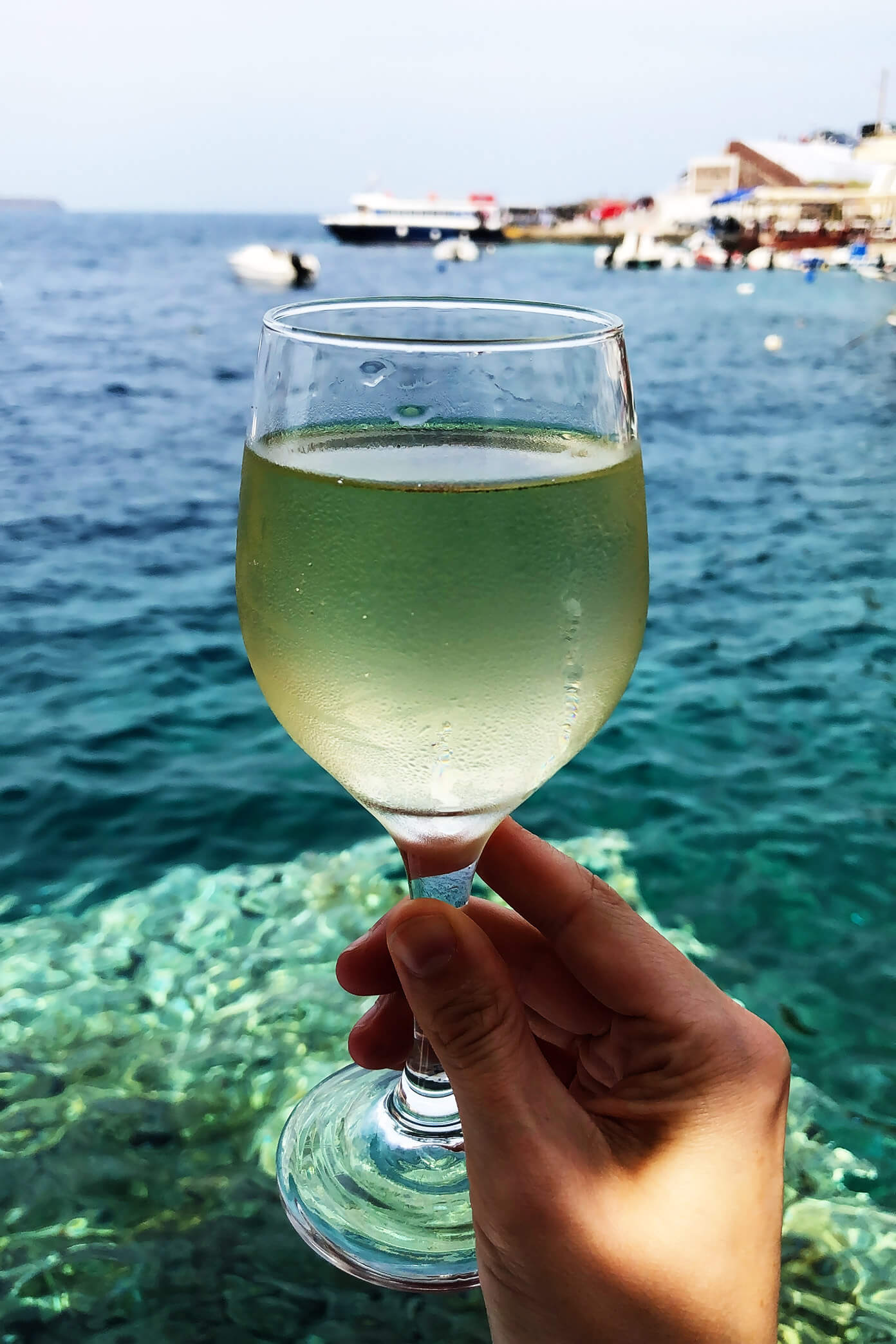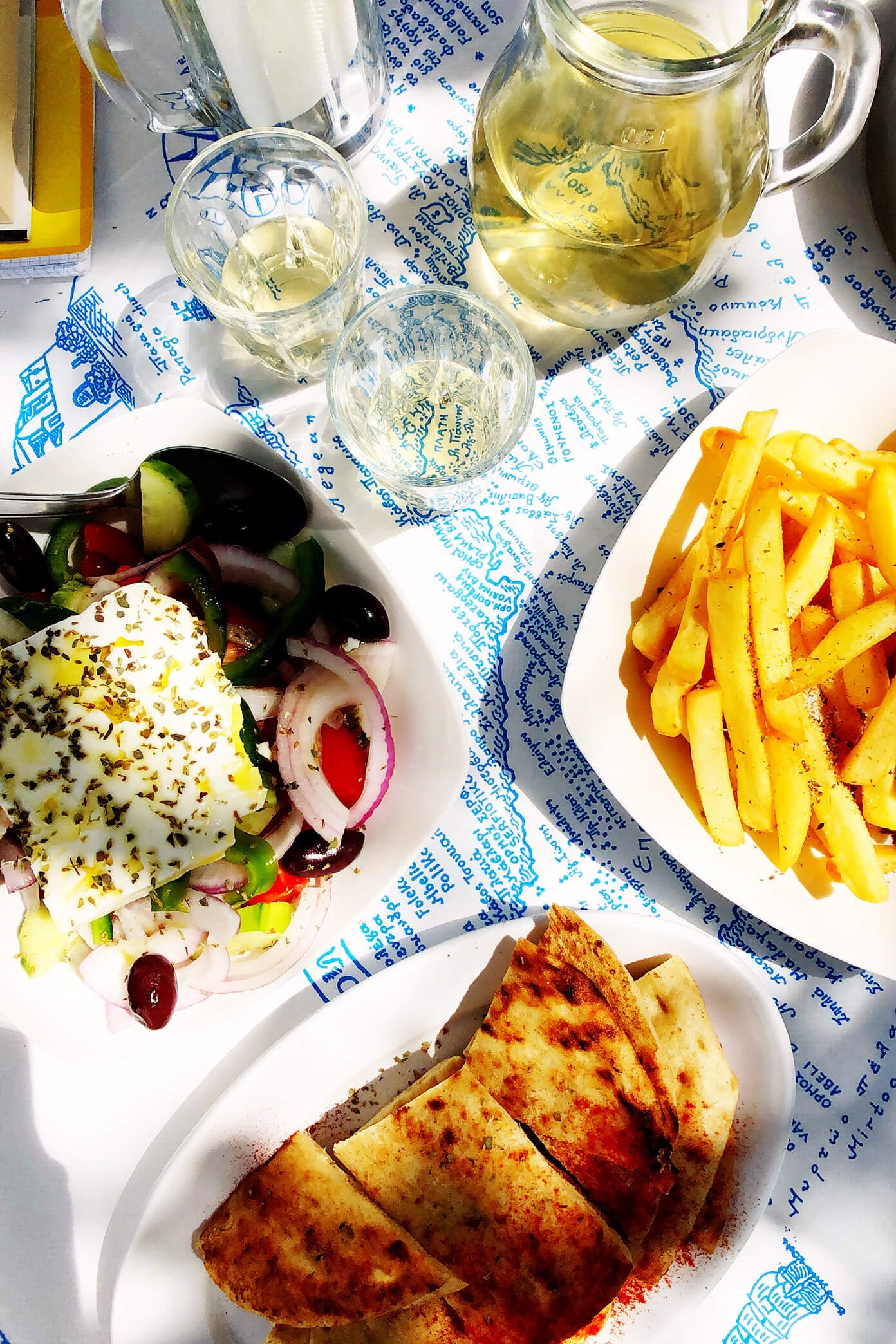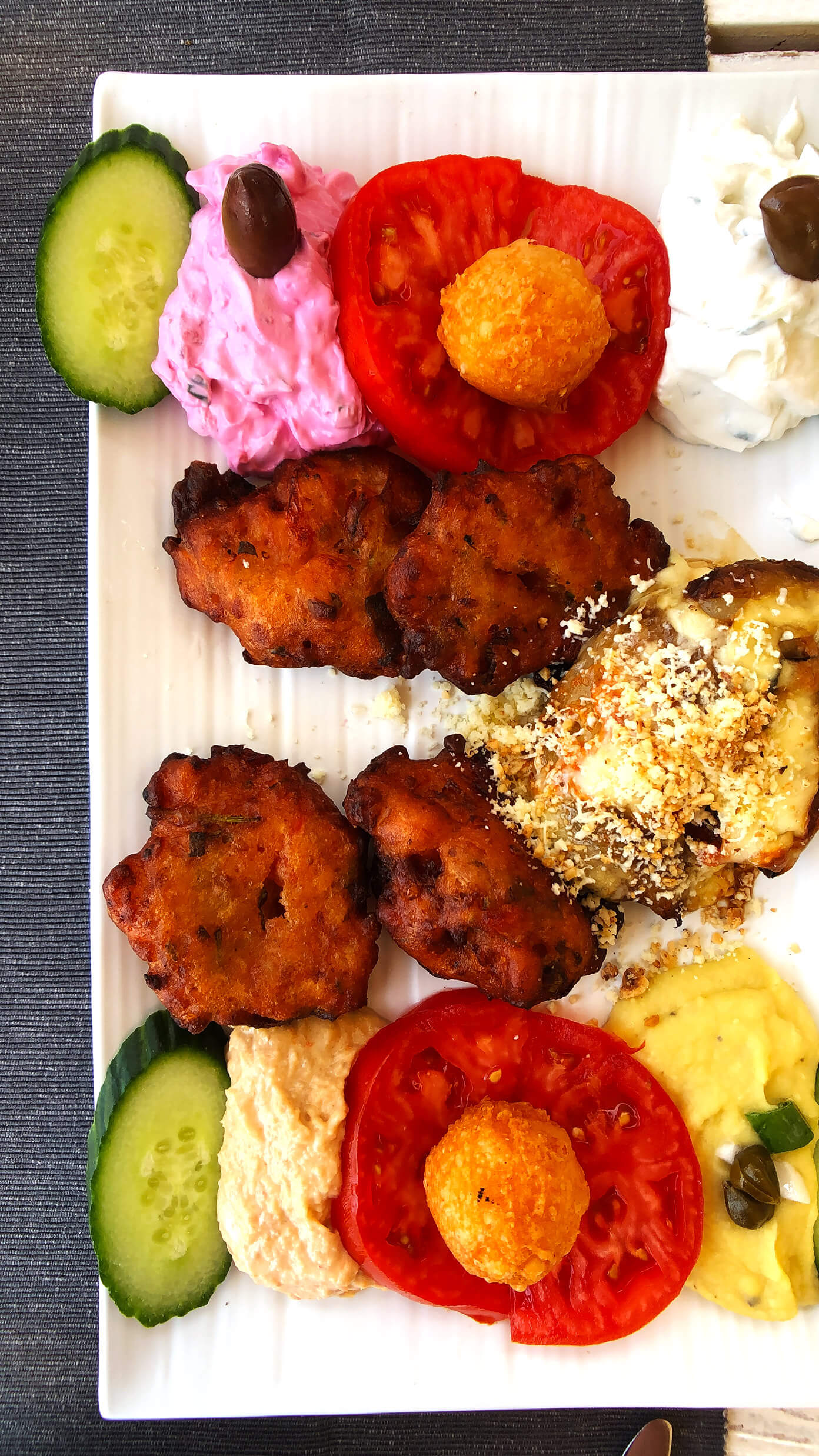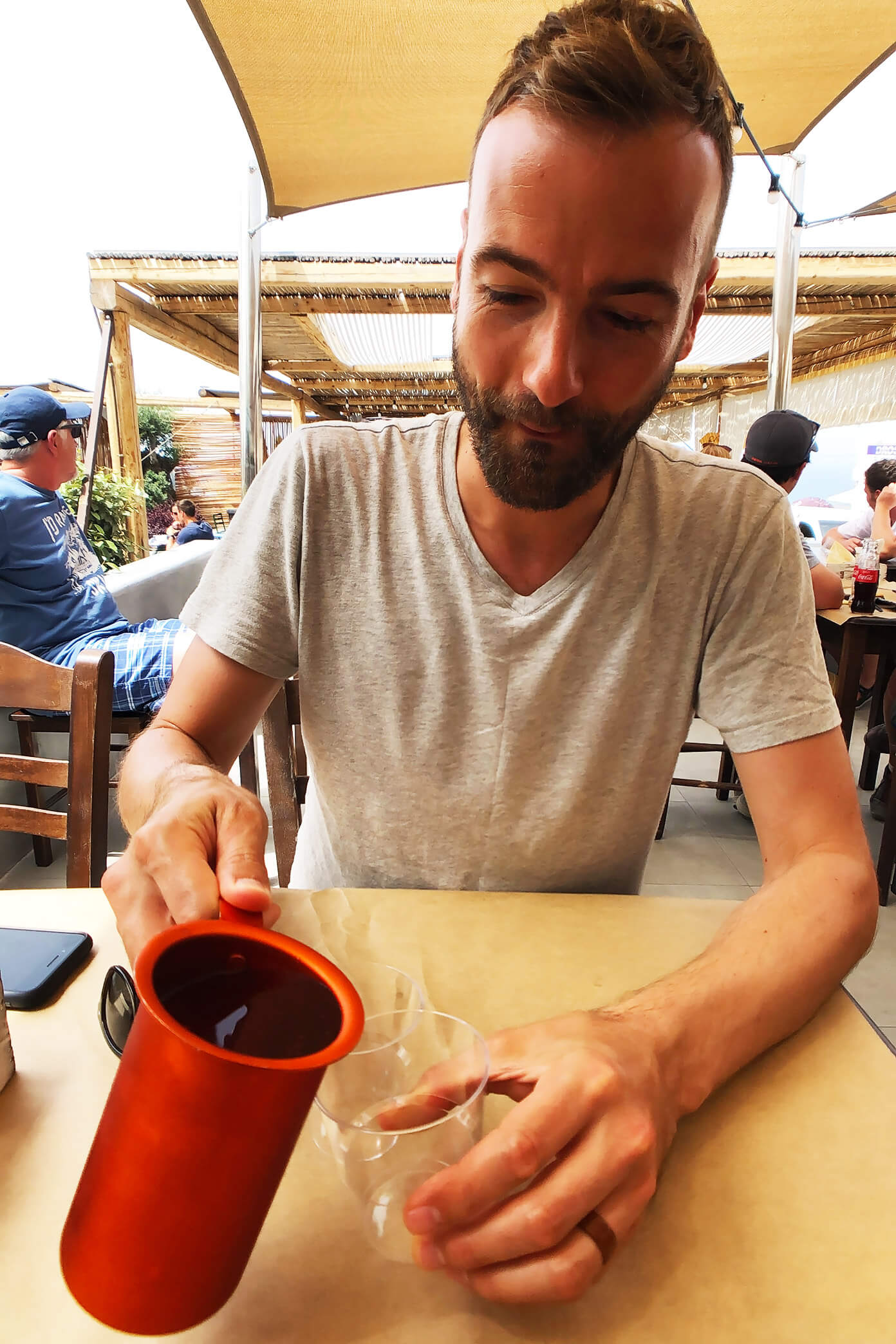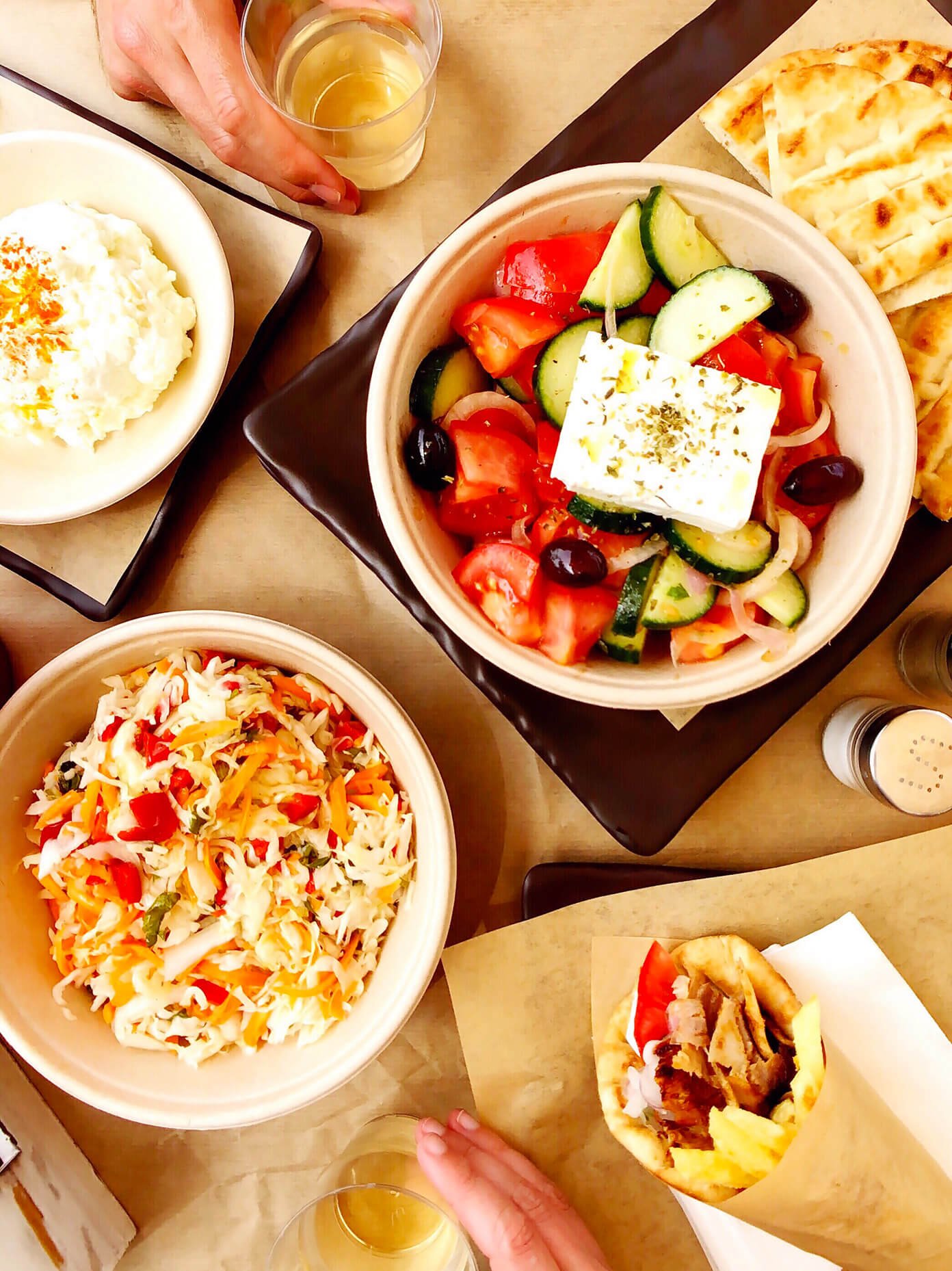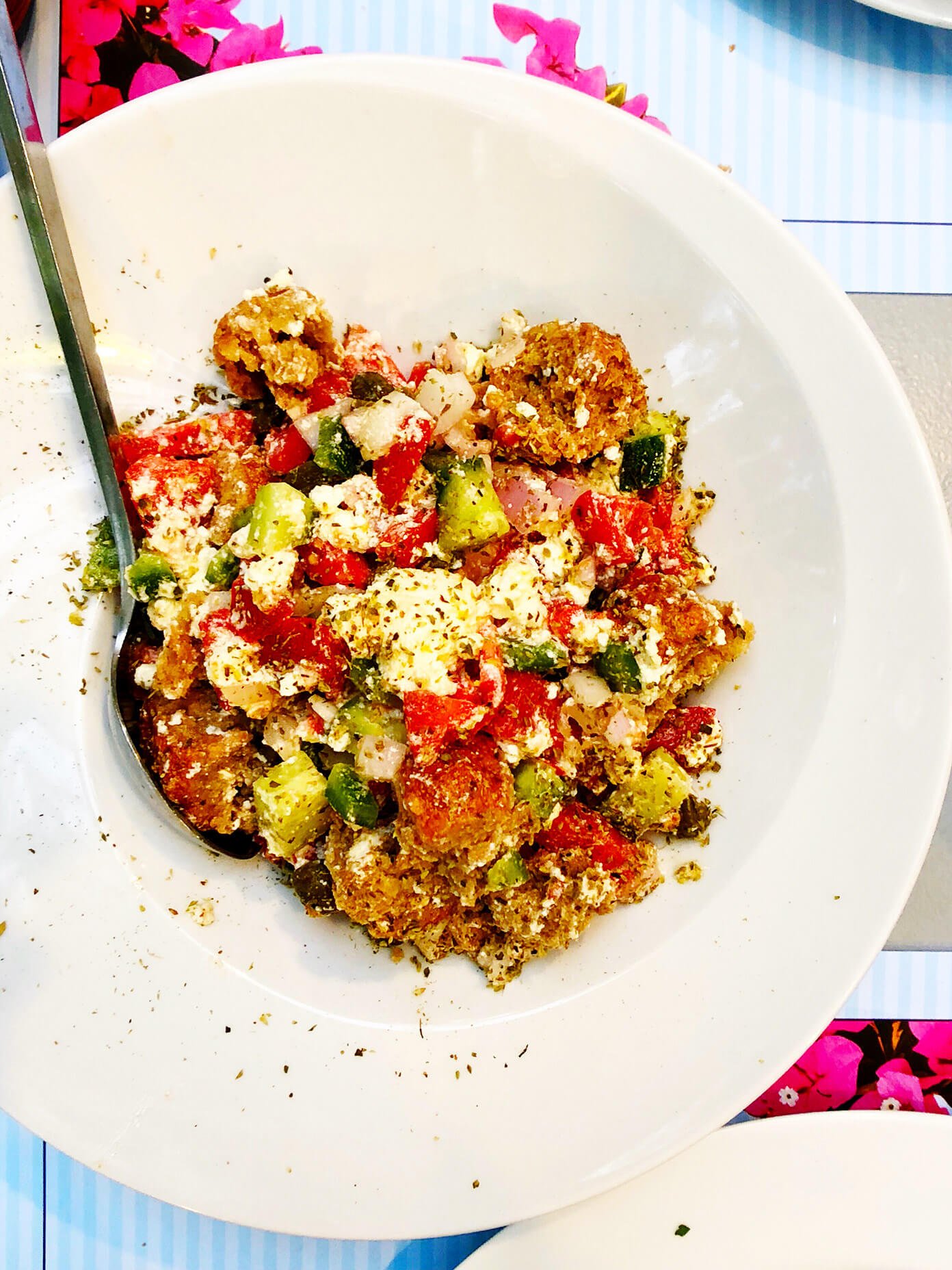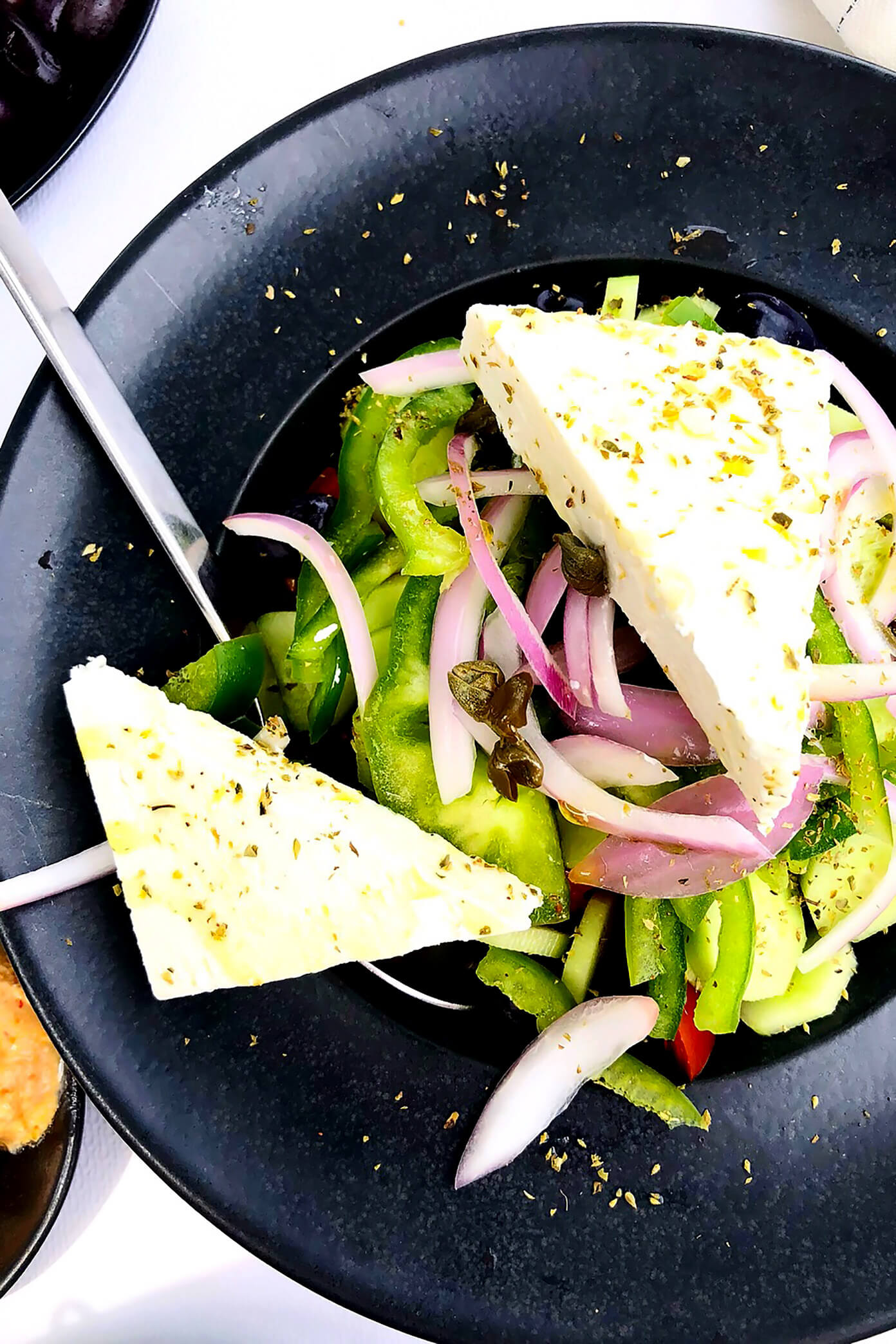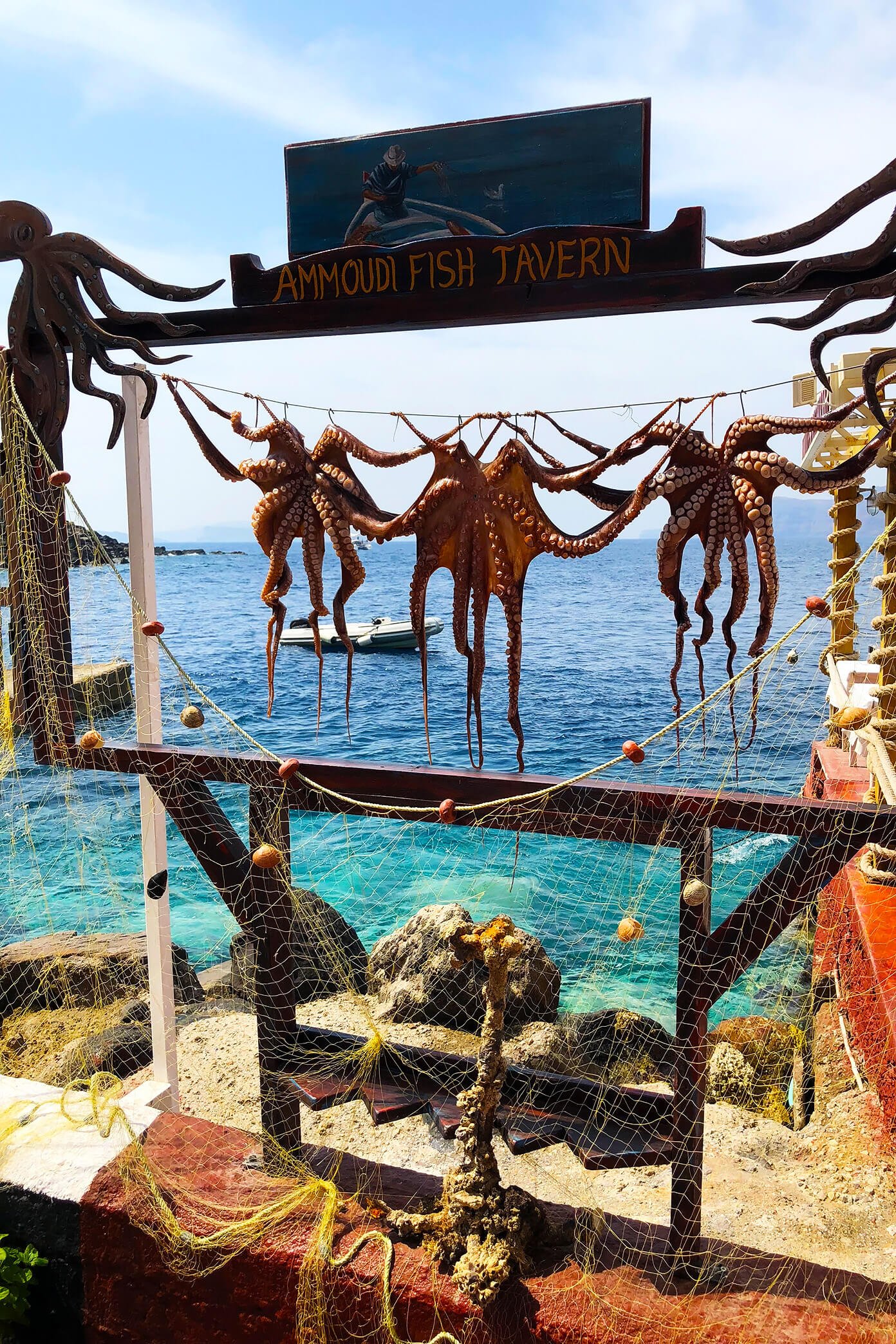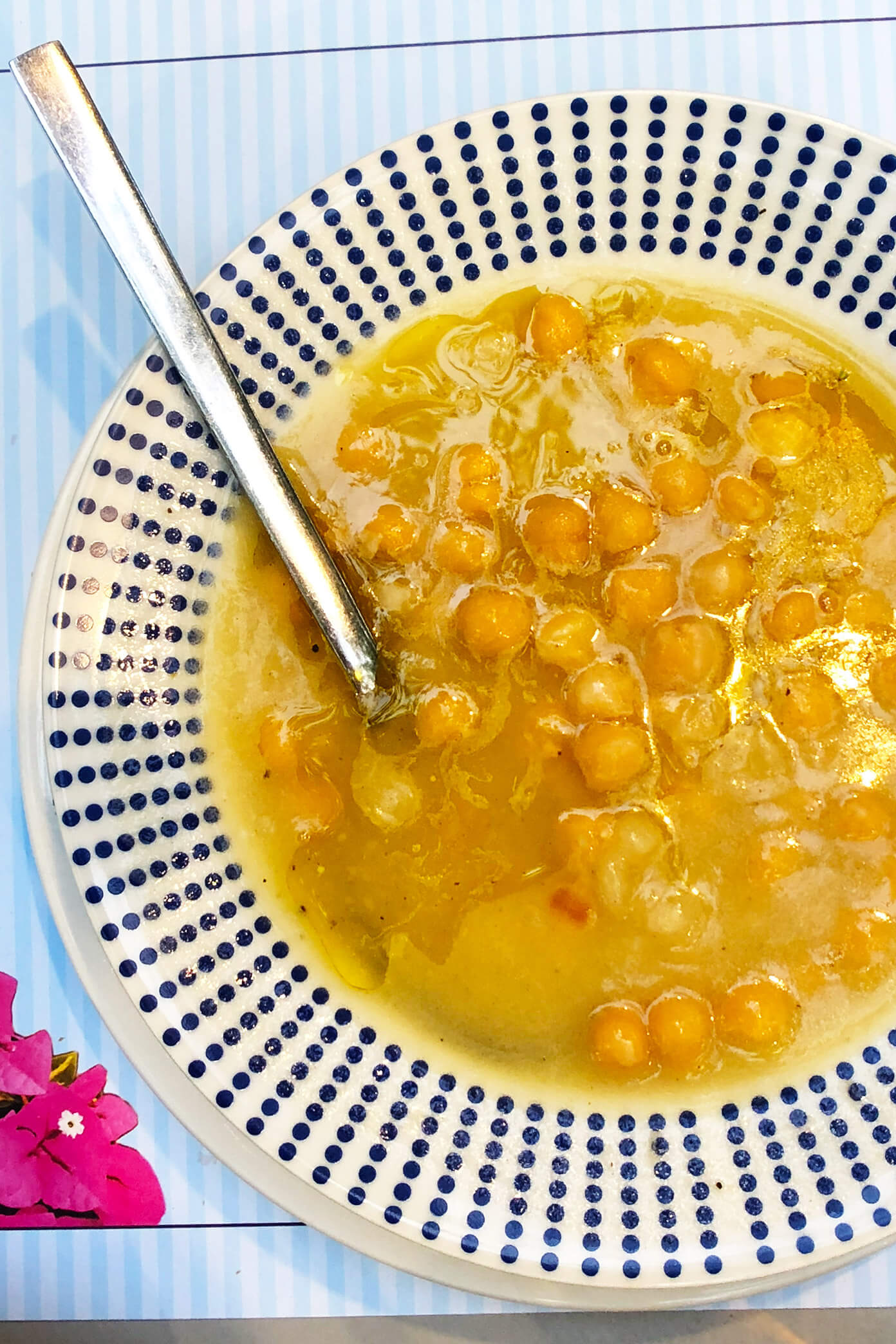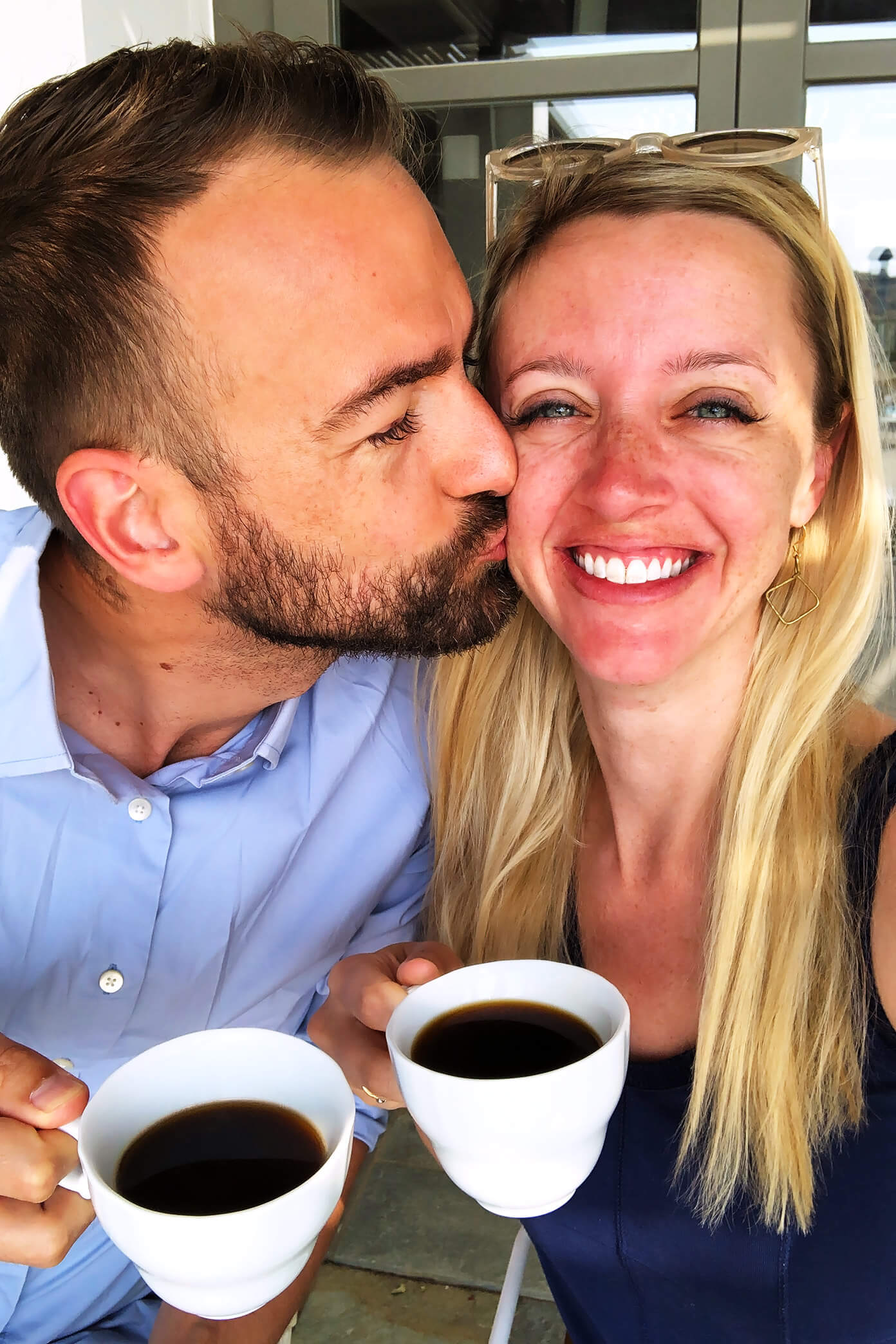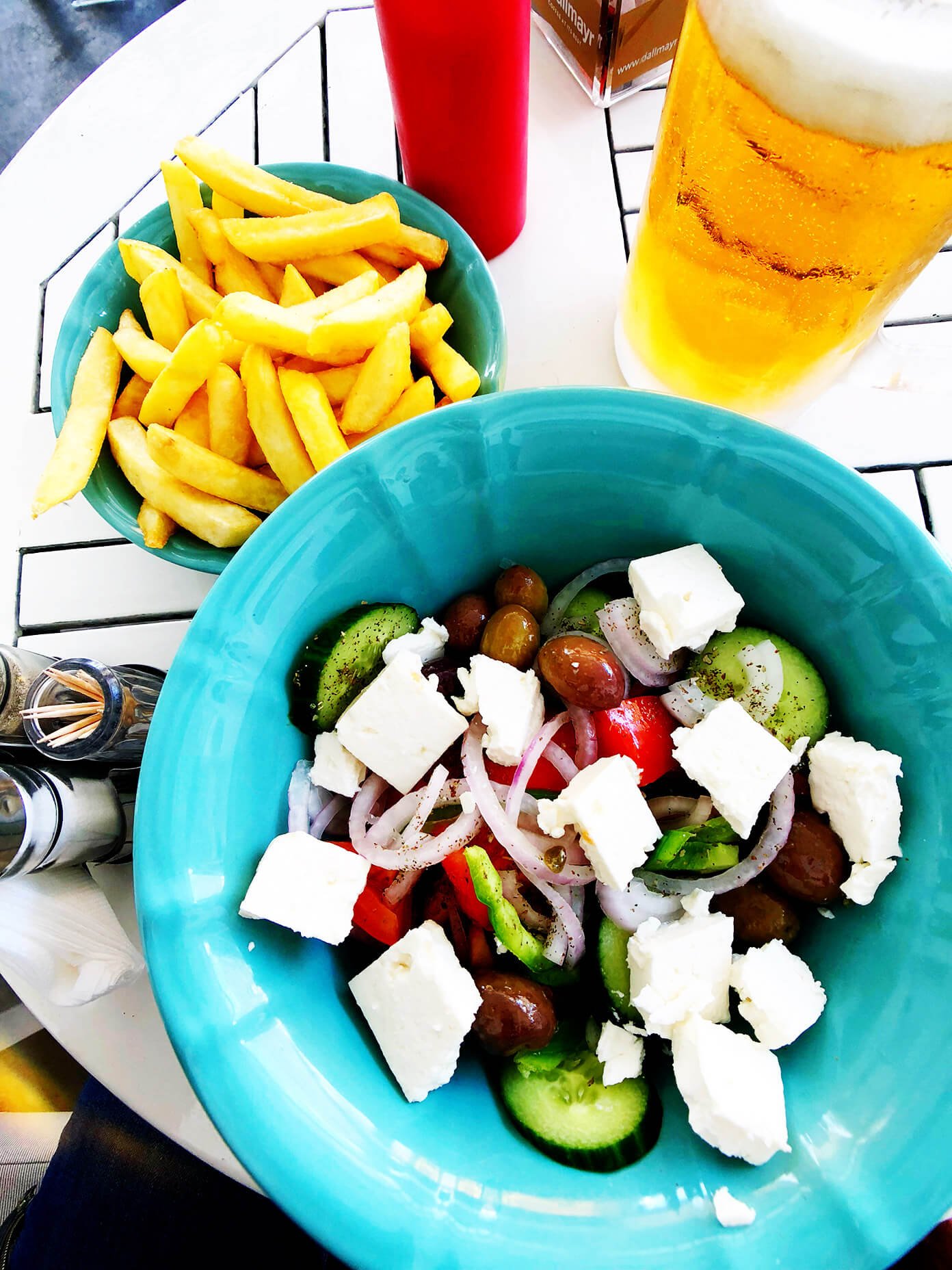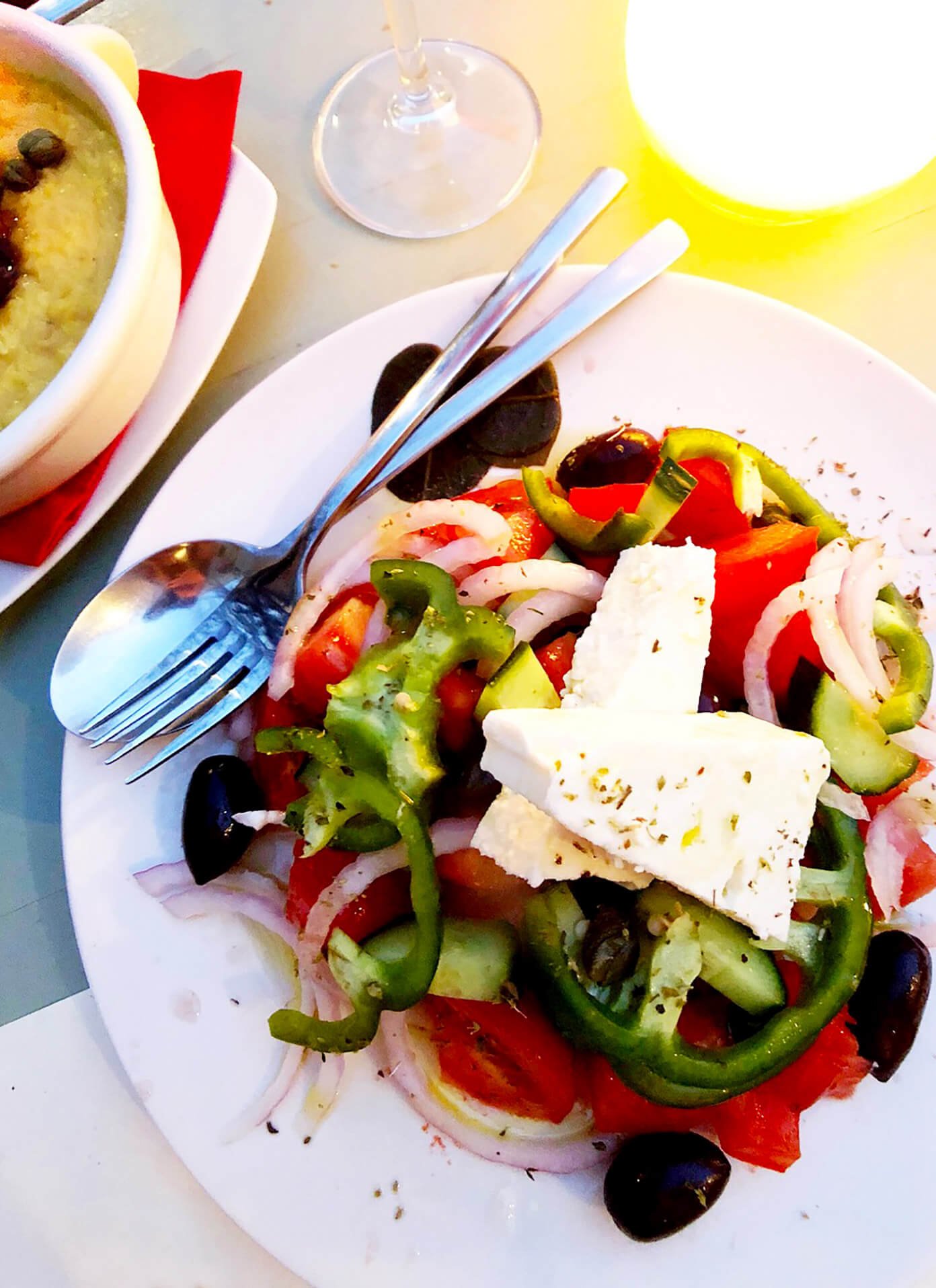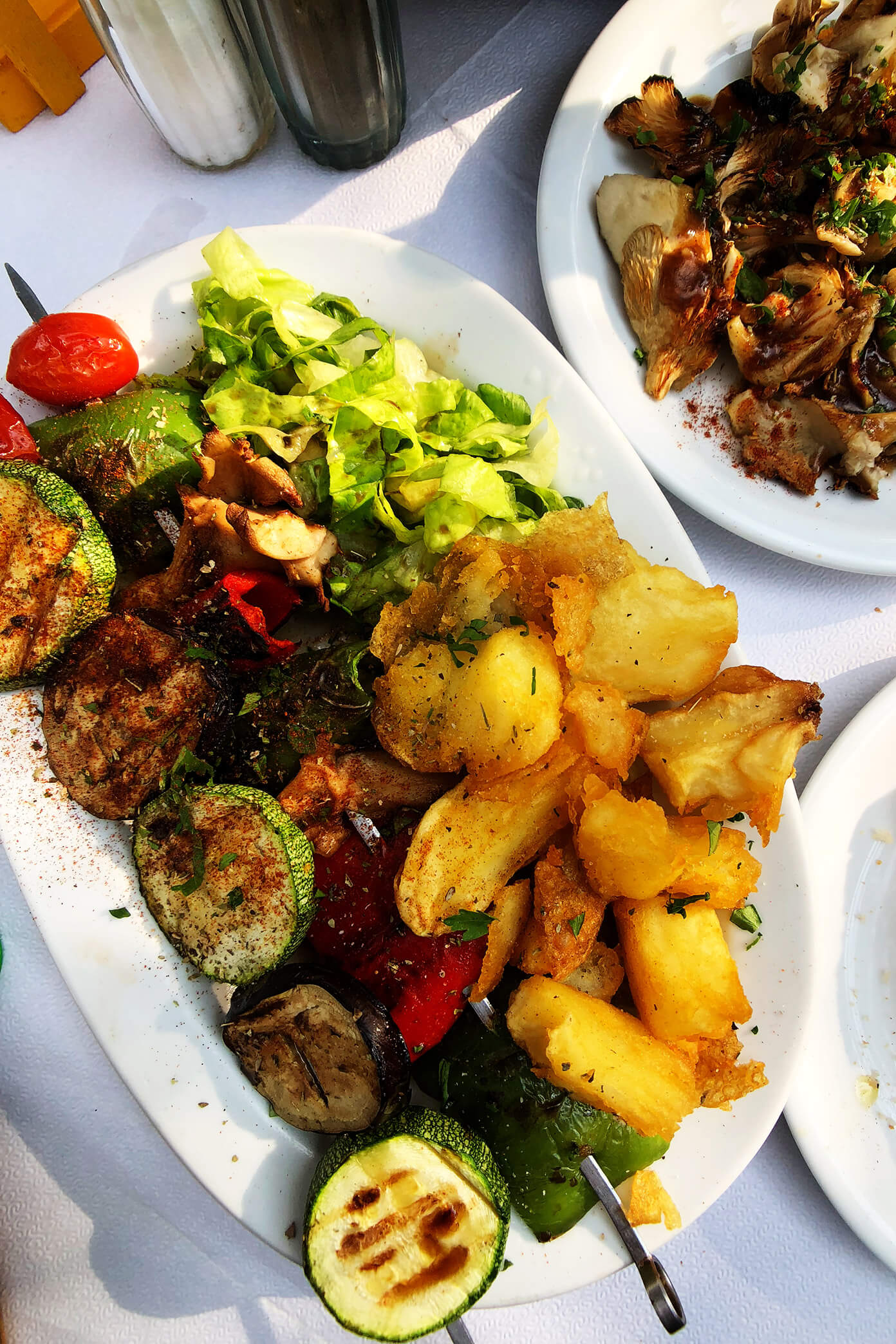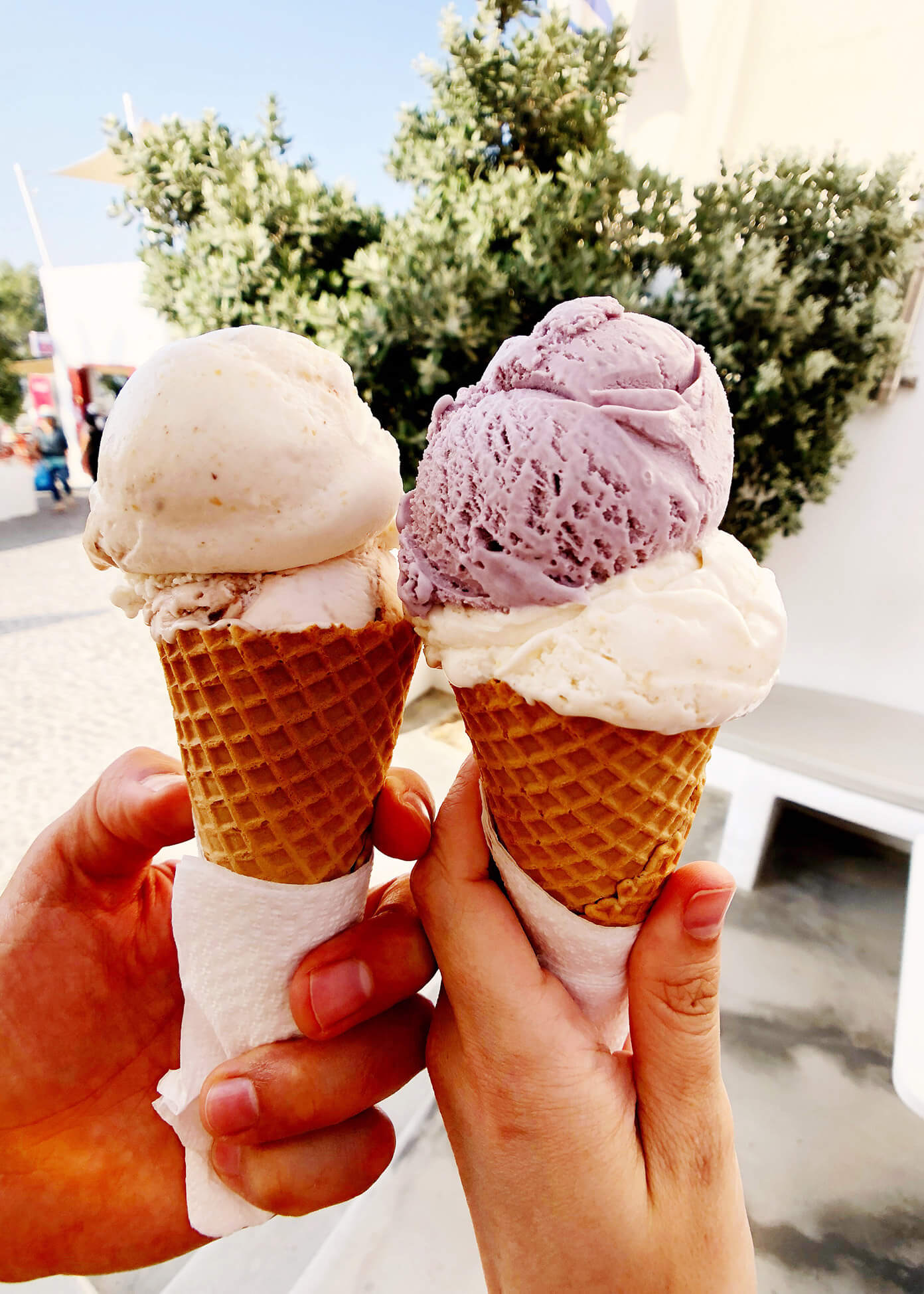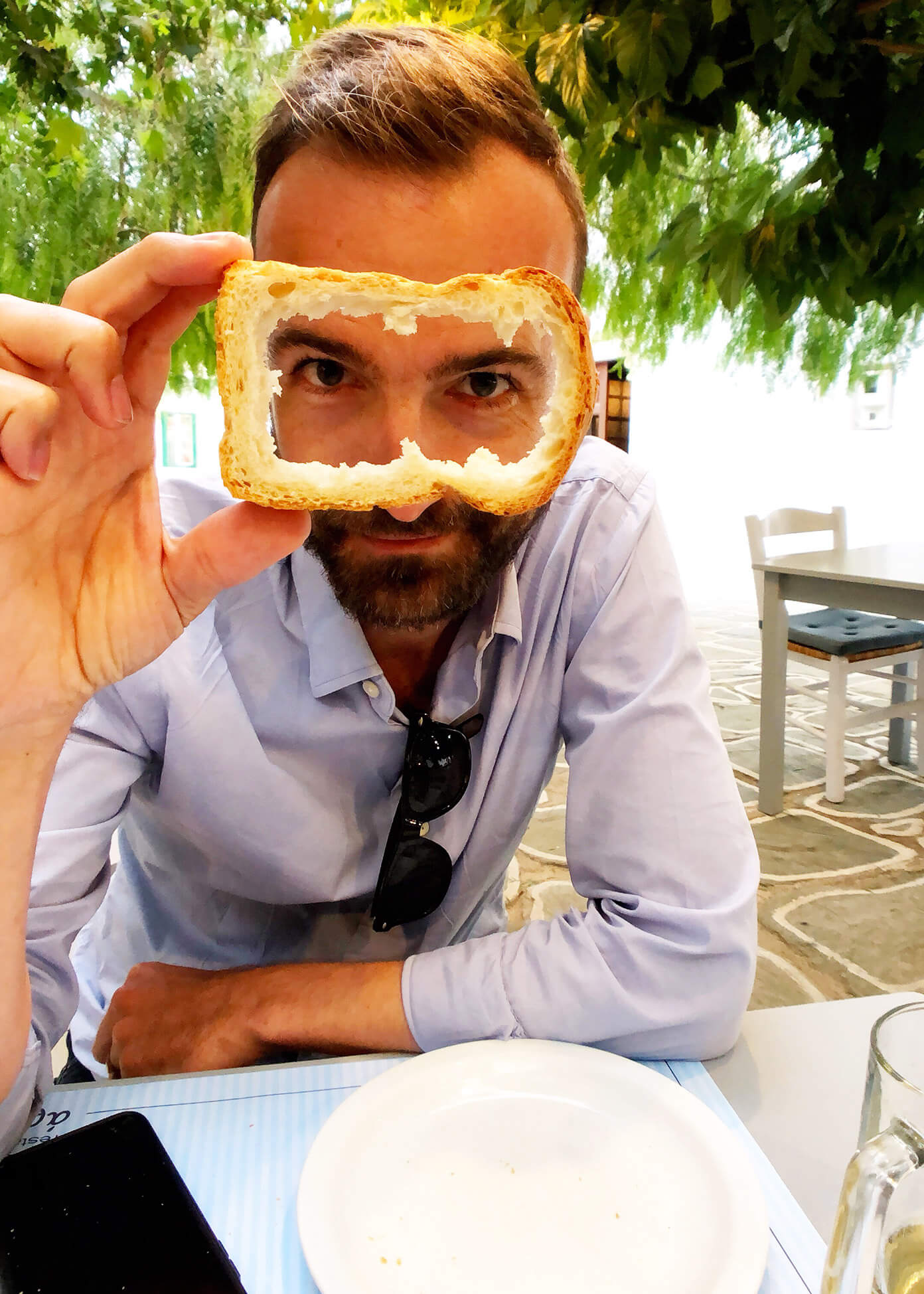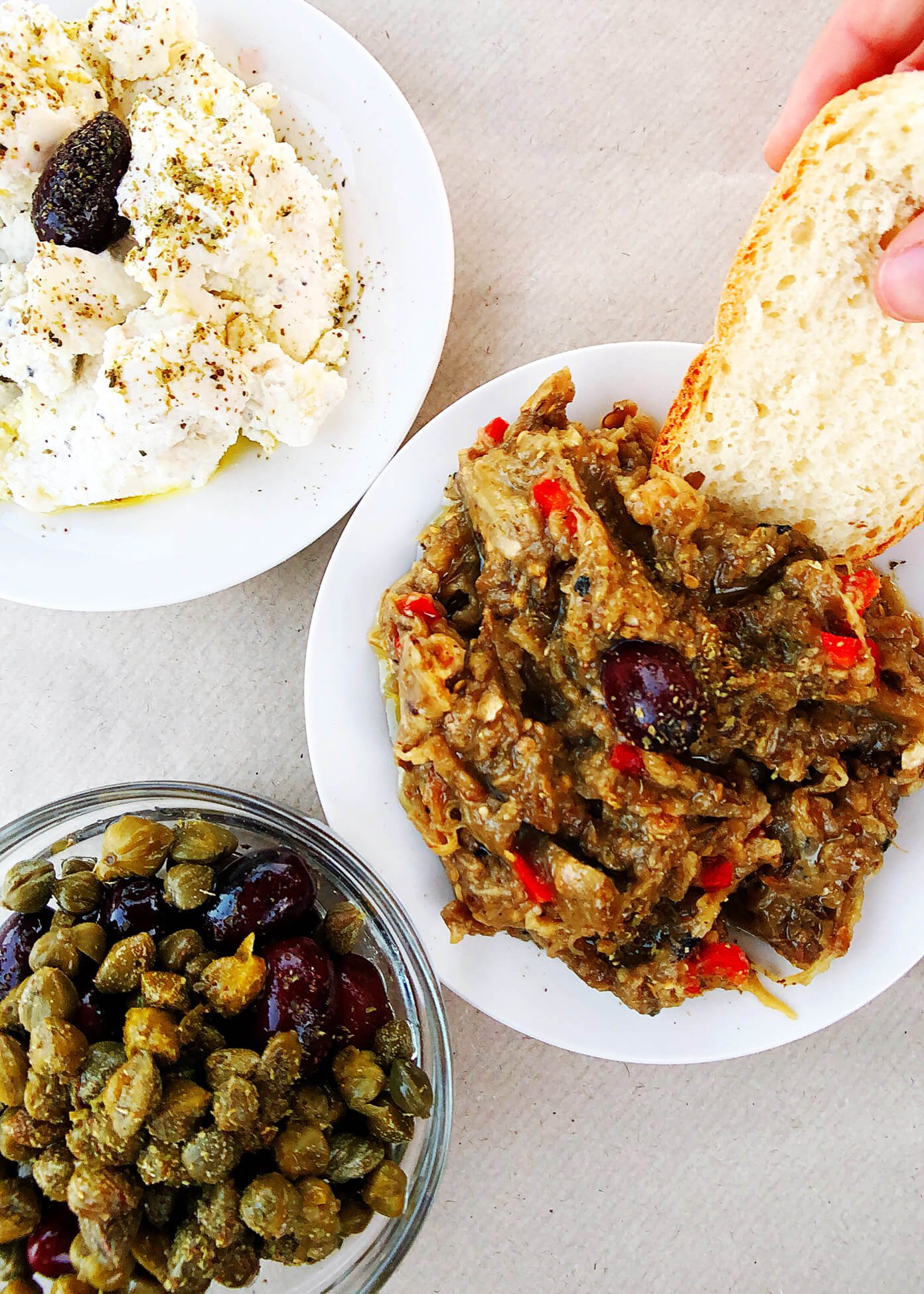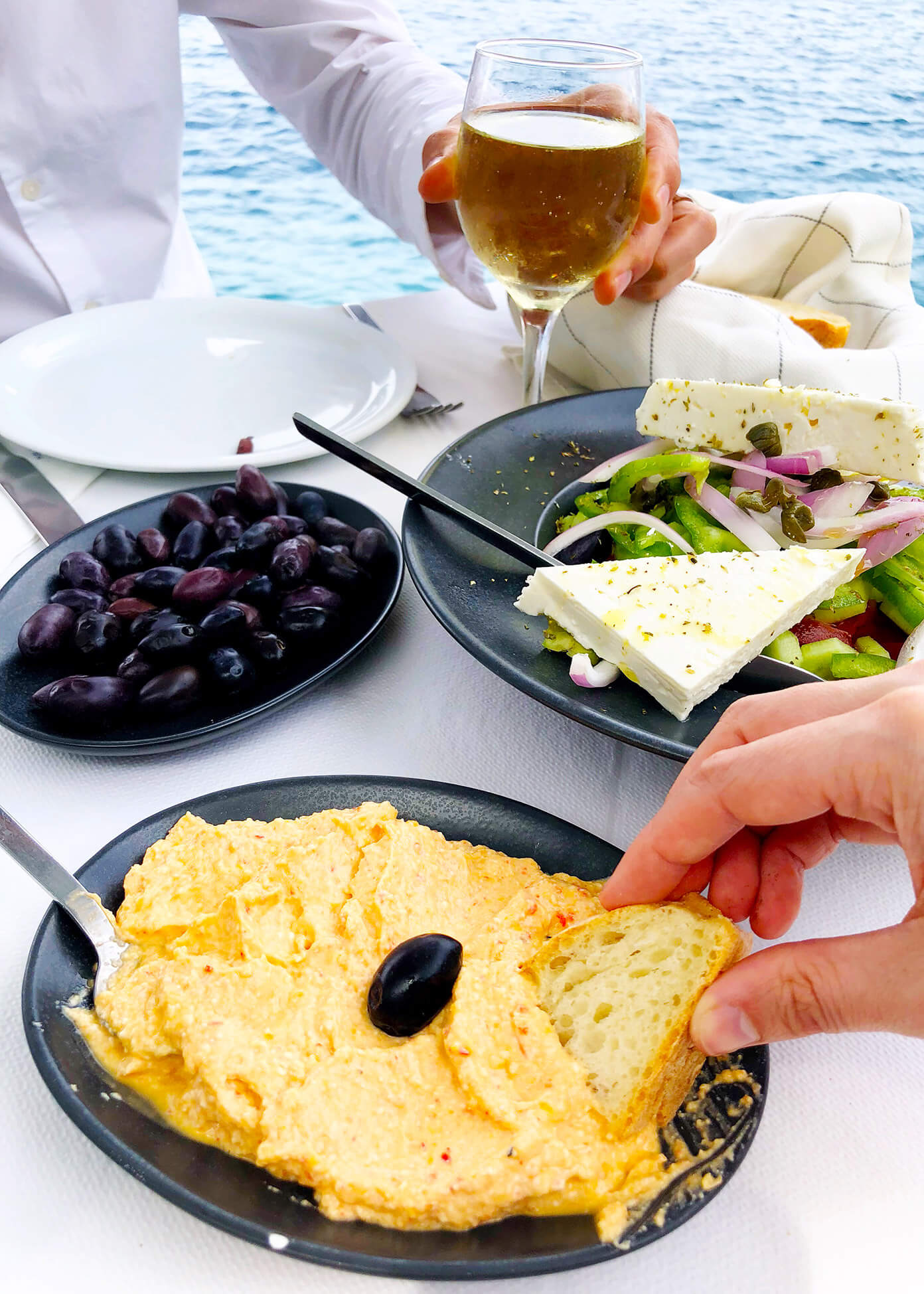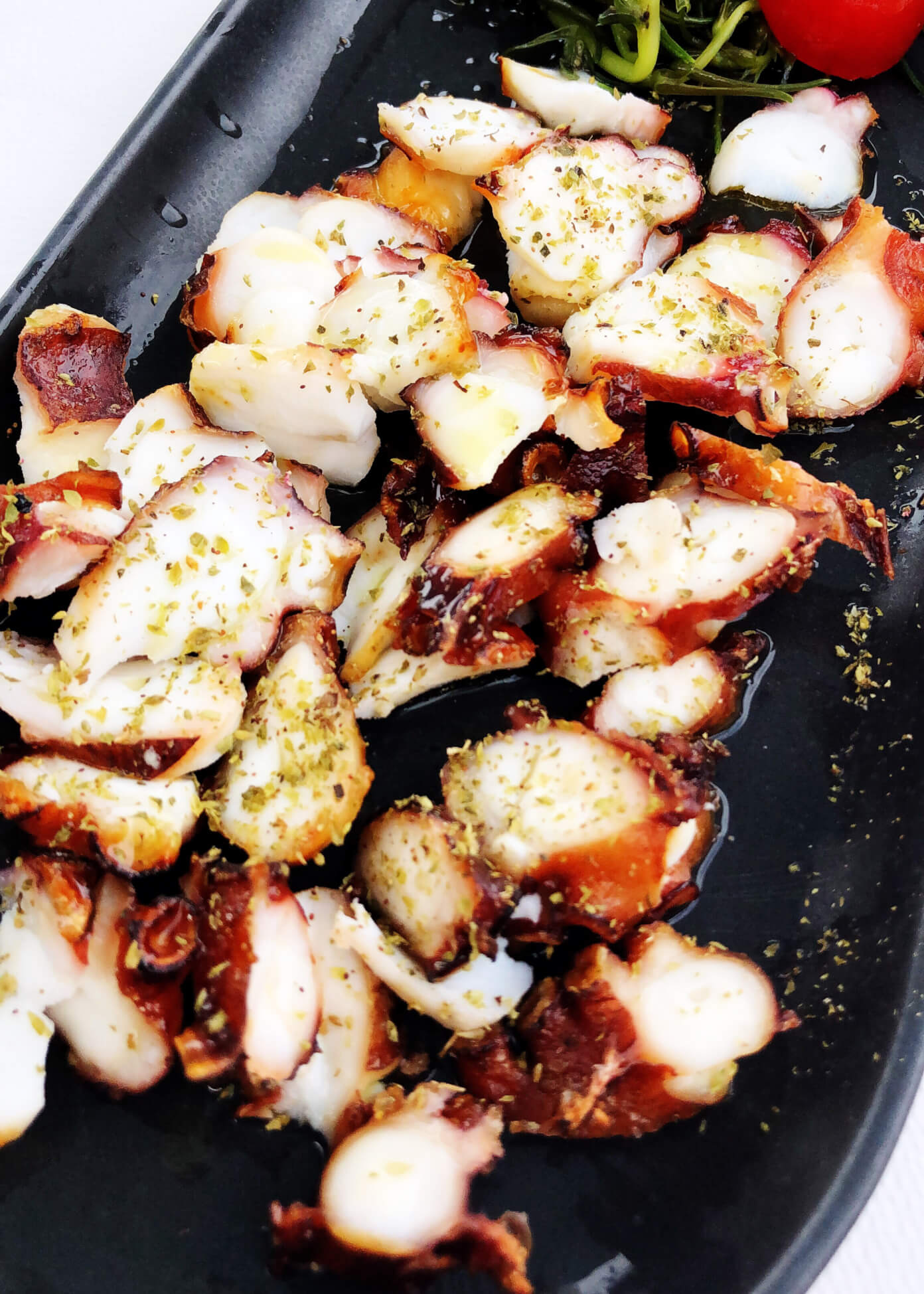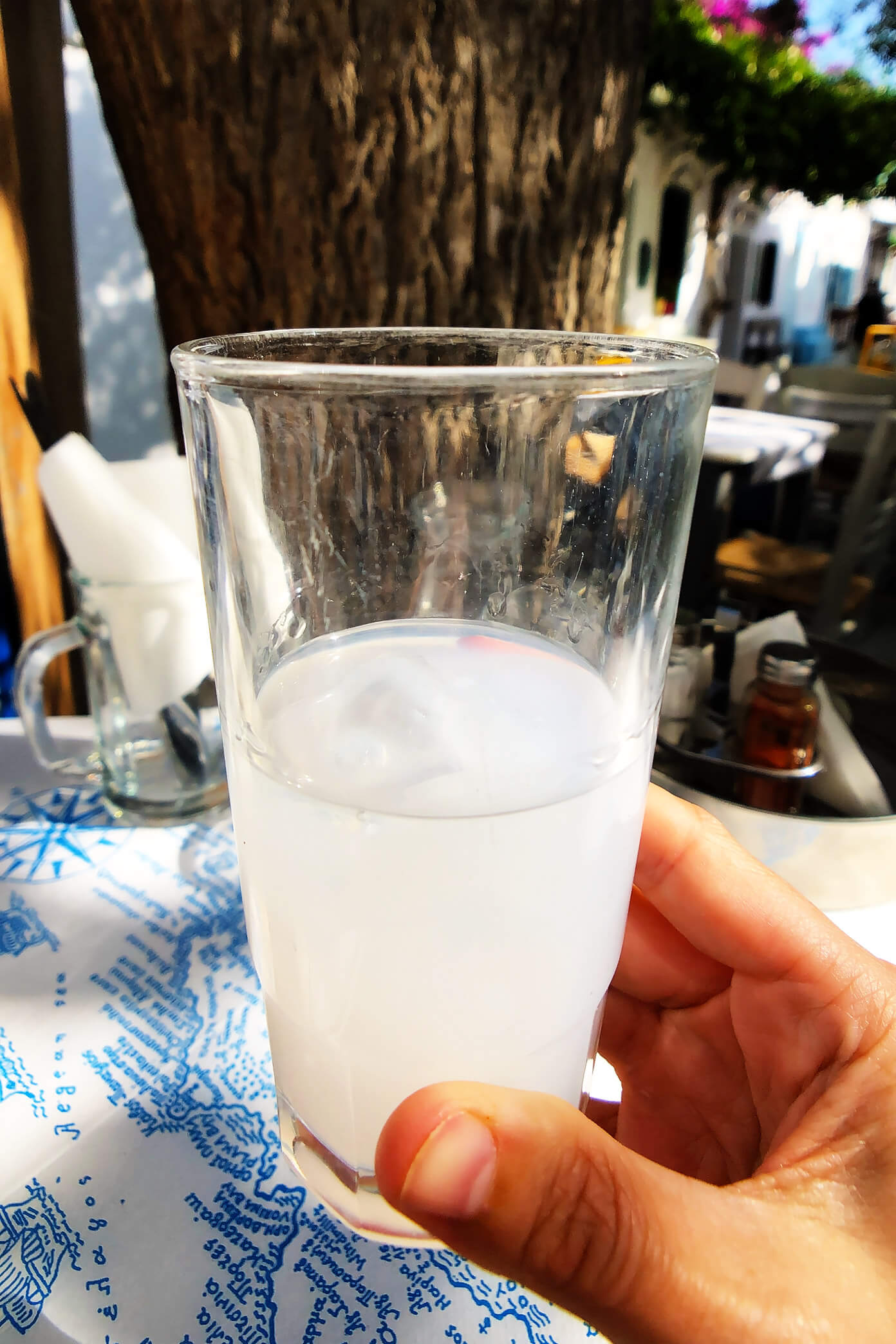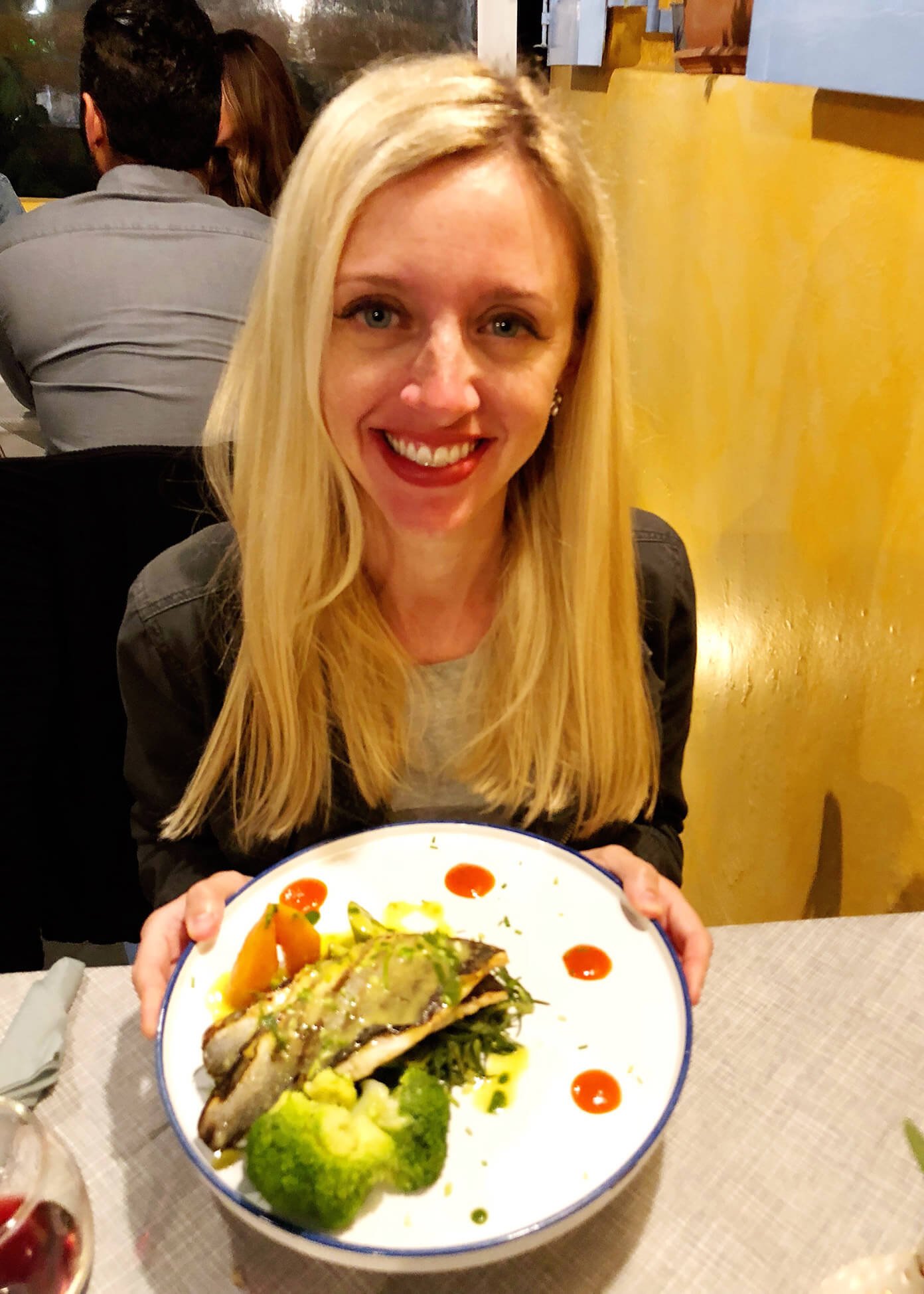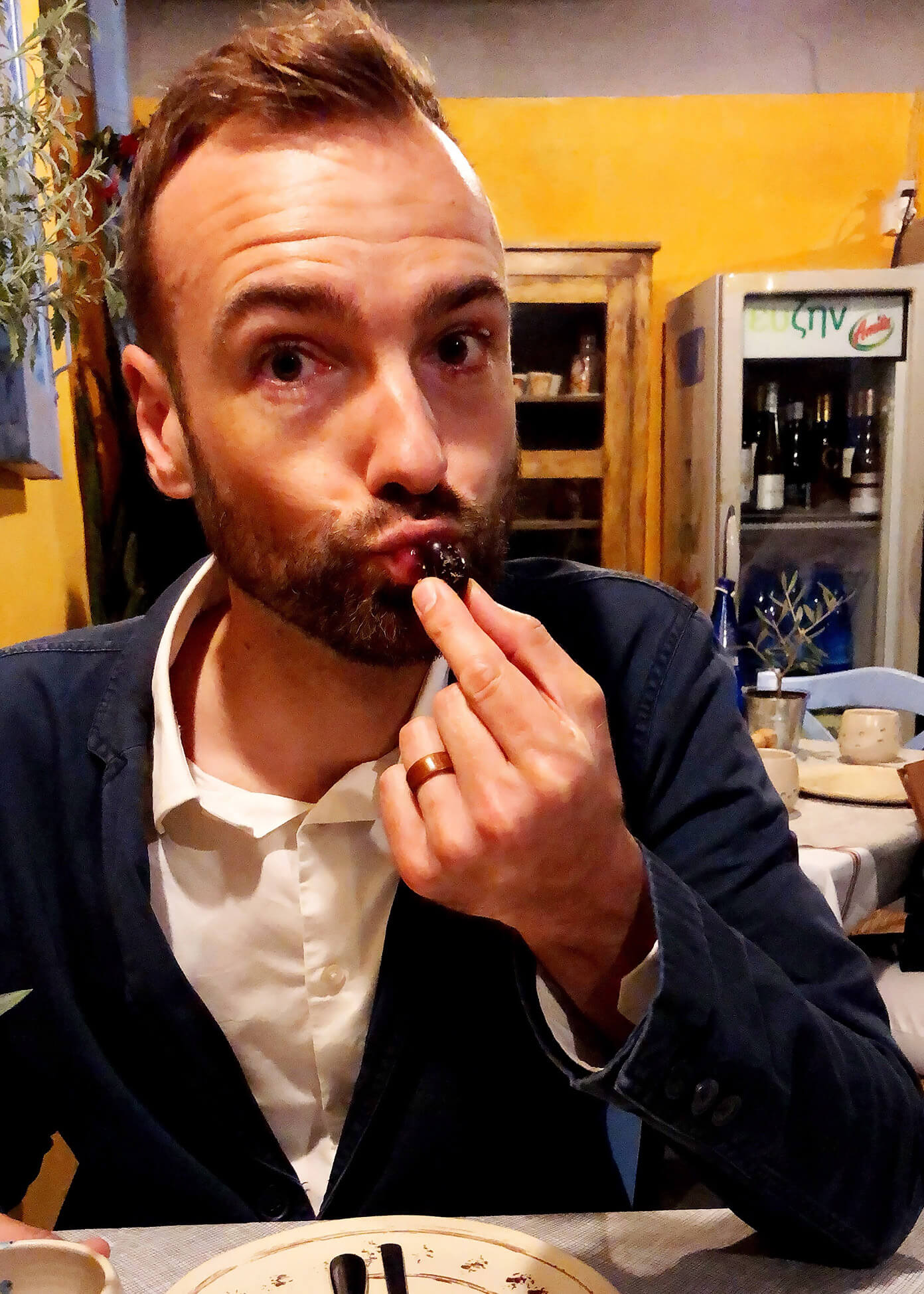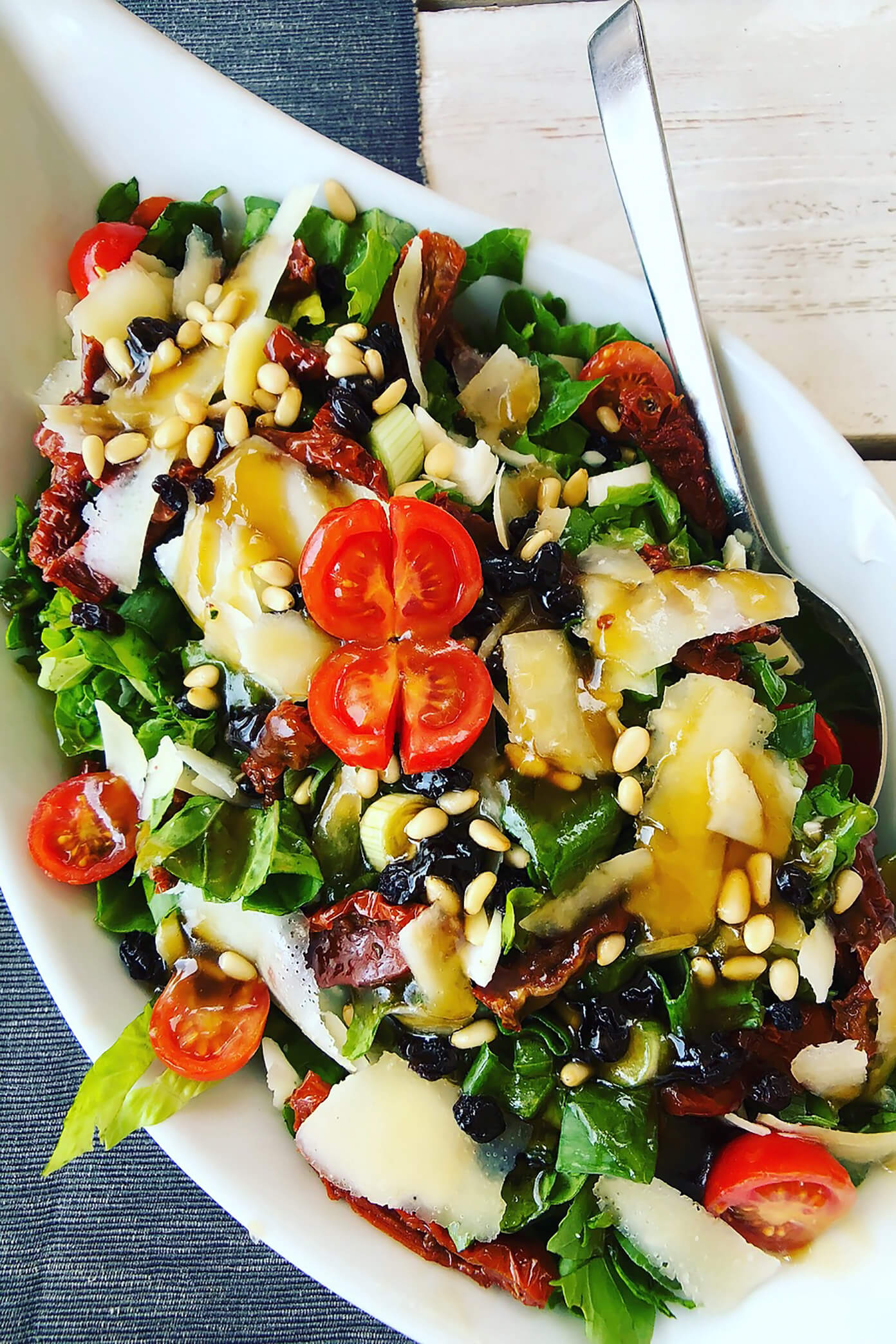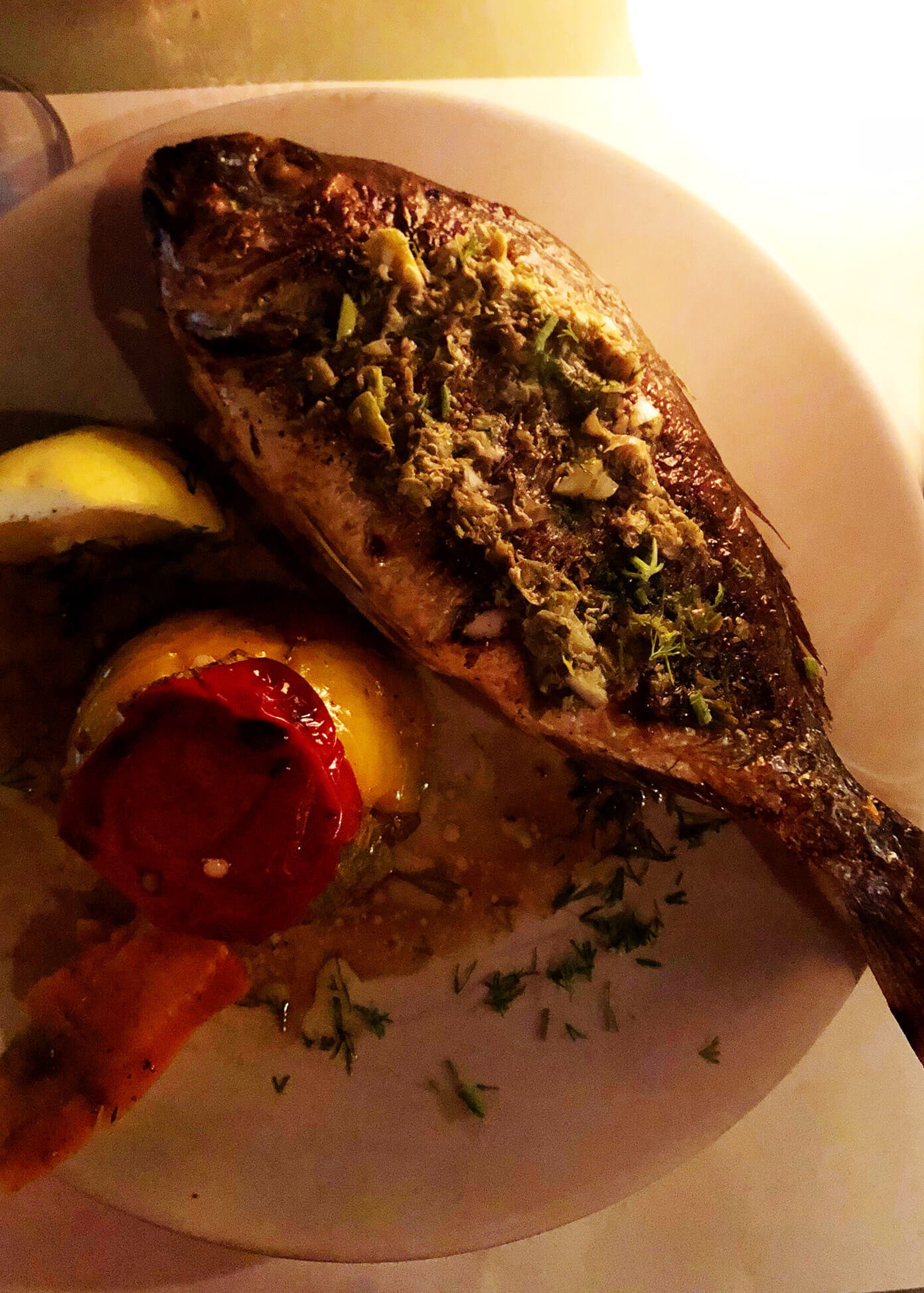 Where To Visit In Santorini and Folegandros:
As I said, our goal for this trip was really just to chill and read and eat. :)  So we didn't make it to many of the sights/activities/excursions that are so popular there with many tourists in Santorini and Folegandros. Whenever we make it back, we would love to rent ATVs, visit more of the beaches around Santorini, drive out to some wineries, and try a caldera cruise. But that said, some highlights of this chillaxed trip included:
Walking, walking, walking: Our favorite thing to do in new places is just wander and walk around as much as possible. We had a great time exploring Oía in Santorini and venturing all around Chora in Folegandros. The only part of the trip we weren't crazy about was our afternoon in Fira. It was really hot the day we were there, the crowds were dense and pushy in the city center, and it just wasn't our fave. So we spent most of our time in Santorini closer to Oía.
Reading, reading, reading: So many of you were asking what I was reading on my Kindle! I caught up on a few loong-form magazine articles while we were there, and also made my way through (Amazon affiliate links):
Atlantis Bookstore (Santorini): A gem of a store tucked away down below on the main street in Oía. We could have spent hours here, just reading all of the little handwritten book recommendation notes sprinkled throughout the store alone. Awesome vibe, awesome staff, and super-awesome books.
Sunsets in Oía (Santorini): As mentioned above, even if you're not staying in Oía, making it up to the little sunset cove one (ideally clear) evening there is a must. Just be sure to come early to stake out a spot if you're going to be up high on the cliff — it gets crowded!
Hiking up to the Church of Panagia (Folegandros): This beautiful church is perched on a hillside above the town of Chora, and a must if you're visiting Folegandros. Just take the zigzagged footpath up a simple 15 minute walk to visit the grounds. (It looks farther away than it actually is.)  And if you happen to be there in the early evening during the summer months, be sure to venture inside to see the church and light a candle. Just a heads up — it gets chilly up there once the sun goes down, so bundle up.