One Little Word 2015: DARE
This post may contain affiliate links. Please read my disclosure policy.
Alright, 2015, I think it's time to shake things up a little.
Why?
Well, 2014 actually went down in the record books as the year that was shockingly, mercifully, and delightfully stable for me. I know, it feels like I should knock on wood just typing that out, but it's true. The years leading up to 2014 were basically anything but stable, and chocked full of just about every huge life transition imaginable. But somehow the waters calmed this past year, and I found myself living in the downtown loft of my dreams, self-employed with a blog that was steady and growing, surrounded by people I loved, traveling a reasonable amount on trips I enjoyed, feeling healthy and happy, and it just all generally added up to a life that already felt like more than enough. So instead of pushing for more, more, more, I kind of decided to proactively "coast" for most of the year and soak it all in. Sure, my friends will tell you that I still worked very hard and kept my social calendar busy. But instead of feeling our industry's familiar push to constantly be comparing and adding and growing, I decided to basically enjoy a year of just keeping the pace. And you know what? It was great.
It still feels great, actually.
But that said, I'm starting to feel that familiar itch to shake things up a bit. And after a more restful 2014, I'm feeling like I have the energy and the curiosity to push the boundaries a bit in 2015, both personally and professionally. Because let's be real — I'm totally an idea girl and love starting things (vs. maintaining/finishing things, which are harder for me). And I love being pushed to take some risks. So…
My word!
Since I love the tradition of choosing one little word for each new year (in lieu of official resolutions), I decided to make dare my word for 2015. I was also considering the words courage, start, risk, discipline, and go. But in the end, as my friend Kathryne recently said to me when we were dreaming up adventures for our upcoming month in Austin, "I respond really well to dares." And I 500% agreed.
For better or for worse, I find major satisfaction in proving to myself (ok, and admittedly also any doubters!) that I can do hard things. I love challenges that involve a bit of risk and adventure. I love the good stories and life lessons that come, without fail, when you attempt to live beyond your comfort zone. And quite frankly, I love to win a good dare. 
My dares!
So yesterday on the plane ride home from Mexico, I brainstormed a short list of a few specific dares I'd like to have for myself this year. This is just a start, but so far I like 'em. (And would invite you to hold me to 'em!)
Work
Dare to blog consistently (and more open and vulnerably) about lifestyle topics that I love beyond food
Dare to explore the idea of adding video to the blog, and also finally release a Gimme Some Oven product or two (stay tuned!)
Dare to partner the blog with a few non-profits I admire, and see if we can work together towards making some cool things happen in the world together
Relationships
Dare to tell the people I love how much they mean to me…much more often.
Dare to go on more dates!! (And be better about asking people to set me up!)
Wellness
Dare to go sugar free for 60 days (beginning next week, stay tuned!)
Dare to try some new workouts this year, and make yoga a more regular part of my life
Dare to be more honest with people about my chronic back pain when its flaring up
Dare to spend more time each day in prayer and scripture
Fun!
Dare to make playing music at home a daily part of my life again, and look into more opportunities to possibly play in a band with friends and learn how to record my own music
Dare to actually read and finish all of my book club books for 2015
Dare to go on at least two mini-retreats for myself during the year, just for fun and reflection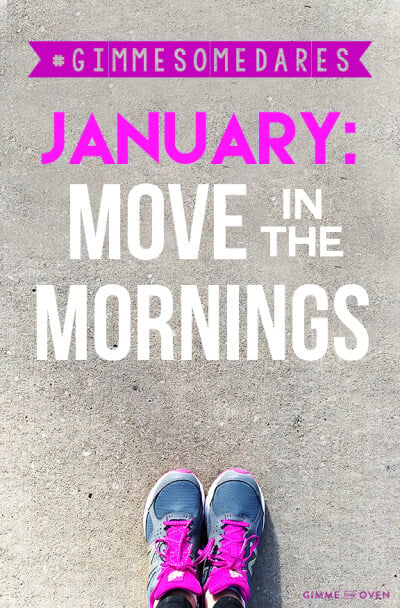 Also, I would love to invite dare YOU…
…to join me! Because dares are way more fun alongside others, right??
Each month during 2015, I will be posting a monthly dare that involves some sort of small daily challenge. Nothing monumental, but something fun that will hopefully make your day all the more energized and meaningful and fun. So for the month of January, we are starting out with this simple dare:
You can read all about it in this post here. But whether it's for 1 minute or 1 hour, the goal is simply to find a way to start your day with movement. I would love to have you join us! (And if you do, be sure to hashtag #gimmesomdares and #moveinthemornings so that I can cheer you on!)
I think it will be really fun!
HAPPY 2015!!!
Anyway, all of that said, more than anything I just wanted to pop in today and wish you all a very happy new year. Hope that it is filled with lots of hope, lots of love, and lots of good people in your life.
I dare you to make it a memorable one!