(Lighter!) Jalapeno Poppers
Everyone will love this Lighter Jalapeno Poppers recipe! It's super easy to make, lighter on calories, but these stuffed jalapenos are packed with great flavor and crunch!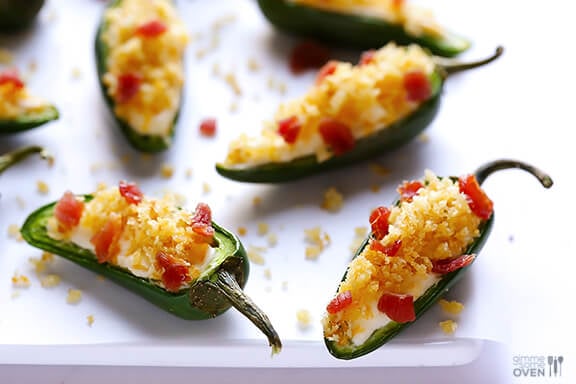 It's that time of year again.  The kids are going back to school, the weather is cooling down, and the summer is drawing to a beautiful close….
…and everyone's jalapeno plants are going absolutely CRAZY.
(Can I get an "amen" from all of you gardeners?)
I'm sure you have already made lots of salsa and chile con queso.  But for those of you looking for a way to use up more of those tasty peppers, I would like to offer my favorite take on a classic — Lighter Jalapeno Poppers!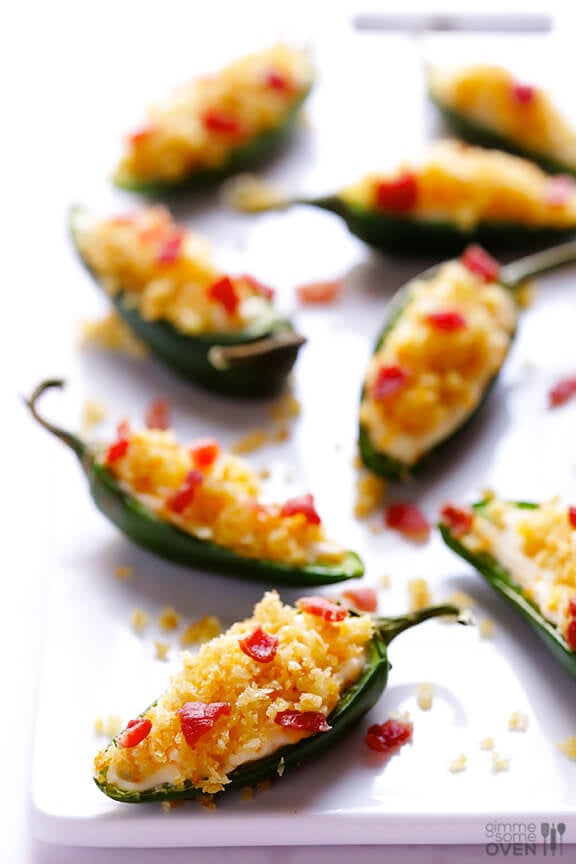 These little guys pack all of the delicious cream cheesy, bacon-y, crunchy, and jalapeno-y flavor of traditional jalapeno poppers.  But with a few little secrets, this recipe for jalapeno poppers is considerably lighter.
How is that, you ask?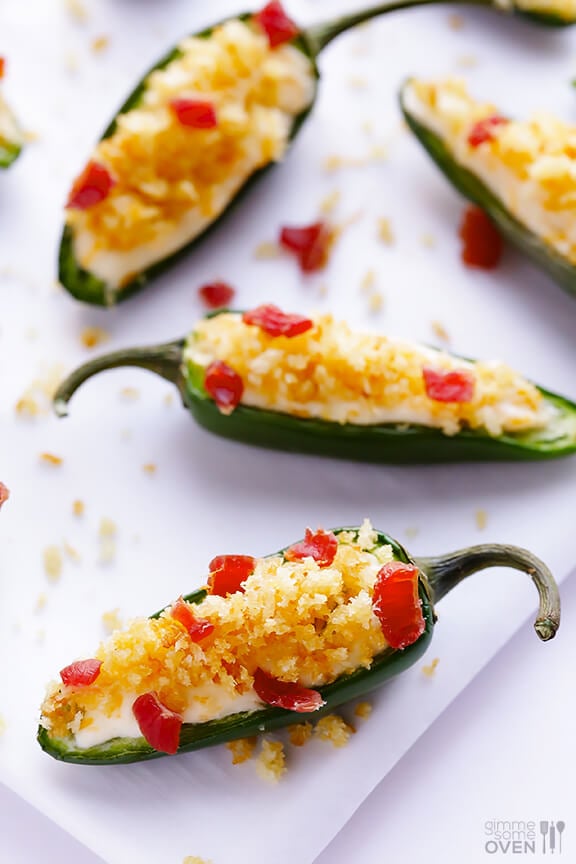 First off, there's no deep-fat frying in mi casa.  I don't really like the flavor or the fat, and let's be honest, I live in a loft and would probably burn the building down with that much hot oil!  So these little baked jalapeno poppers are made in the oven (that's right – Gimme Some Oven!).  And then they are topped with a bunch of crunchy, toasted Panko breadcrumbs.
Second, I go for light or non-fat cream cheese whenever I can.  And with all of the extra flavor in these, you can't even taste a difference.
Finally, as much as I like just anything wrapped round and around with bacon, that limits my ability to enjoy multiple jalapeno poppers without feeling like I'm going to, well, "pop".  So I cooked up some bacon in the microwave between paper towels, to cut back on some grease.  And then mixed the bacon into the breadcrumbs for a better portioned taste of bacon on top.  De-lish.
(Sidenote, my 4-legged photo assistant might have eaten my bowl of bacon bits when I stepped out to get the mail before photographing these.  Look at those guilty eyes!!  I think he should audition for a Beggin' Strips commercial.)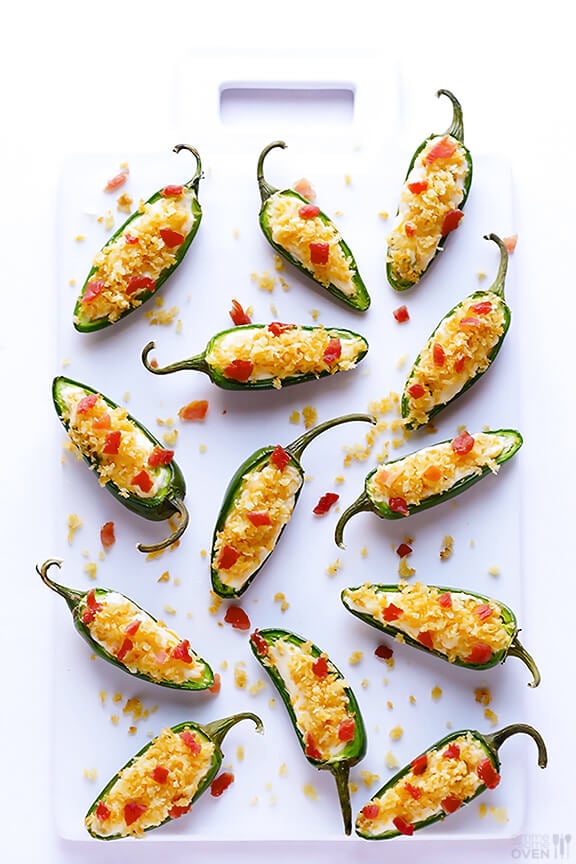 All that said, I absolutely love these lighter jalapeno peppers.  They are perfect for snacking, perfect for entertaining during the big game, and perfect for using up your plethora of jalapenos.  They also happen to be a perfect spicy appetizer for a baby shower!  And I am so thrilled that today I get to join some amazing bloggers in celebrating an amazing blogger and mama-again-to-be — Aggie from Aggie's Kitchen!
I'm sure many of you have seen many of Aggie's delicious and beautiful recipes all over the web and Pinterest.  (If not, I highly recommend starting with her Green Power Salad and Red Wine Berry Spritzer!)  But in addition to being a wonderful cook and blogging friend, she is also getting ready to be a mom of three!  This little one is going to be so lucky to join their family and have Aggie as a mom!!
So to celebrate, a bunch of bloggers are hosting a virtual baby shower for Aggie.  I have listed all of the recipes below, along with my Lighter Jalapeno Poppers recipe.  (Which — since Aggie is Italian as are many of these recipes — you can easily make Italian by swapping the smoked paprika for some thyme, and cheddar for Mozzarella.  Just another fun option!)
Lots of great recipes for a great blogger.  We love you Aggie!
Enjoy, folks!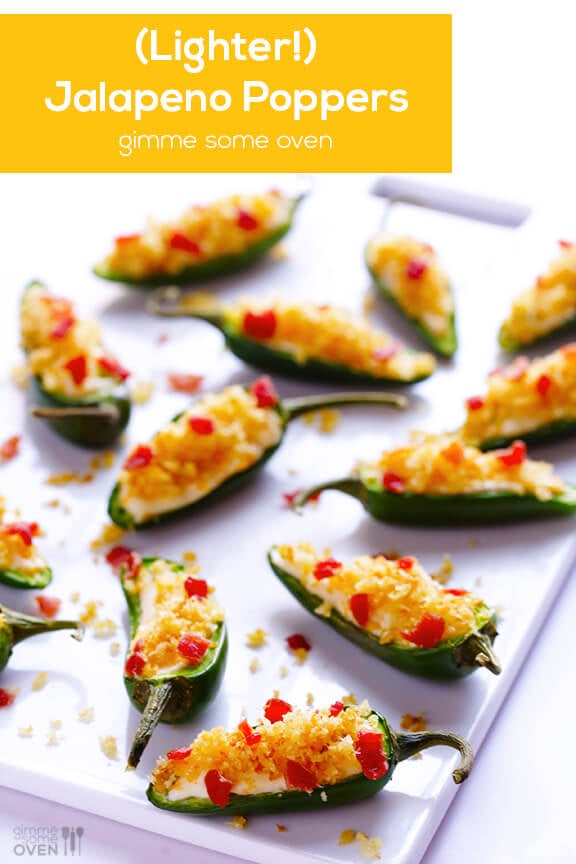 (Lighter!) Jalapeno Poppers
These Lighter Jalapeno Poppers still pack all of the great flavor and crunch of traditional jalapeno poppers…but have a fraction of the fat!
Ingredients:
1/2 cup Panko breadcrumbs
4 strips bacon, cooked and crumbled
8 ounces whipped cream cheese (I used low-fat)
1/2 cup shredded sharp cheddar or Mozzarella cheese
1 tsp. smoked paprika (or thyme, for an Italian twist!)
1/2 tsp garlic powder
1/4 tsp onion powder
dash of salt and pepper
10 jalapeños, halved lengthwise and seeds removed
Directions:
Preheat oven to 350 degrees F. Line a baking sheet with parchment paper; set aside.
In a medium bowl, stir together cream cheese, shredded cheese, smoked paprika, garlic powder, onion powder, and salt and pepper (to taste).
In a separate bowl, toss together Panko and half of the bacon bits.
Spoon the filling into each jalapeño cavity. Then top each jalapeno with a spoonful of the Panko and bacon bit mixture. Place on prepared baking sheet, cavity side up. Mist each of the jalapenos with olive oil (you can use a Misto) or cooking spray. Bake until the filling is melty and the Panko is golden, about 15-20 minutes. (If the Panko starts getting too brown too early, place a sheet of aluminum foil lightly on top of the jalapeno poppers.)
Remove from oven, and sprinkle with additional bacon bits. Serve immediately.
All images and text ©
If you make this recipe, be sure to snap a photo and hashtag it #gimmesomeoven. I'd love to see what you cook!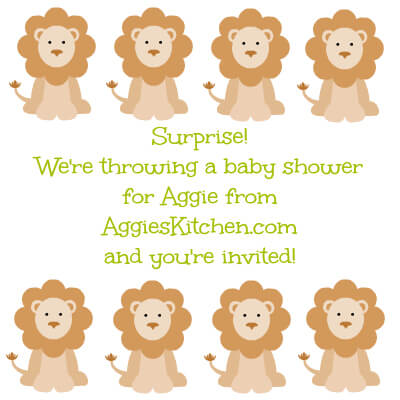 Appetizers
Sundried Tomato Hummus from Robyn of Add a Pinch
Melon & Prosicutto Balls from Paula of bell'alimento
Bruschetta from Sheila of Eat2gather
Jalapeno Poppers from Ali of Gimme Some Oven
Grilled Naan White Pizza Bites from Jamie of Mom's Cooking Club
Watermelon Feta Bites with Basil Olive Oil from Sandy of Reluctant Entertainer
Pesto Caprese Fried Wontons from Julie of The Little Kitchen
Blue Cheese Wedge Salad Crostini from Cheryl of TidyMom
Drinks
Toasted Coconut Milkshakes from Bev of Bev Cooks
Lemon Cream Soda from Angie of Eclectic Recipes
Peach Sorbet Bellini and Spritzers from Shaina of Food for My Family
Non Alcoholic Berry Spritzer from Lisa of Jersey Girl Cooks
Virgin Peach & Raspberry Bellinis from Milisa of Miss in the Kitchen
Italian Basil Sparkling Lemonade from Marly of Namely Marly
Italian Sodas from Laura of Real Mom Kitchen
Cafe Mocha Punch / or Iced Cafe Mocha from Amy of She Wears Many Hats
Salads
Italian Chopped Salad in a Jar {with Creamy Caesar Dressing} from Brenda of a farmgirl's dabbles
Caprese Salad with Mozzarella Crisps from Christine of Cook the Story
Pesto Pasta Stuffed Tomatoes from Suzanne of Kokocooks
Grilled Romaine Caesar Salad from Liz of The Lemon Bowl
Herbed Israeli Couscous Salad with Tomato and Mozzarella from Rachel of Rachel Cooks
Chickpea, Avocado, & Feta Salad from Maria of Two Peas and Their Pod
Lentil and Chickpea Layered Salad from Lisa of With Style & Grace
Entrees
Chicken Cacciatore from Meagan of A Zesty Bite
Zucchini, Bell Pepper & Edamame Stir-Fry from Cassie of Bake Your Day
Potato-Crusted Vegetarian Quiche with Zucchini, Tomatoes & Feta from Dara of Cookin' Canuck
"Straw & Hay" Tagliatelle in Cream Sauce from Flavia of Flavia's Flavors
Grilled Italian Chicken with Veggie & Bow Tie Pasta from Katie of Katie's Cucina
Grilled Naan Pizza with Summer Veggies & Turkey Sausage from Kelley of Mountain Mama Cooks
Smashed Chickpea and Avocado Panini from Kathy of Panini Happy
Desserts
Fresh Blueberry Shortbread with Lemon Cream Frosting from Sommer of A Spicy Perspective
Crostata di Mango from Lora of Cake Duchess
Italian Ice from Kristen of Dine & Dish
Roasted Banana and Nutella S'mores Bruschetta from Jenny of Picky Palate
Italian Cream Cake from Deborah of Taste and Tell
Panna cotta from Leslie of The hungry housewife
Fortune Cookies from Shari of Tickled Red
Baby Vanilla Bean Scones a la Starbucks from Tara of Unsophisticook