Lighter No Bake Cheesecake
This post goes out to all of you lovebirds for Valentine's Day.
But it especially goes out to all of you single lovebirds — just as lovable, if you ask me — this Valentine's Day.  I made this recipe for you.  :)  And with nearly half of the U.S. adult population being single nowadays, there are apparently a lot of you!!
That's kind of a wild thought, isn't it?  Almost half of the adults you'll cross paths with this Valentine's Day are not married, and (at least statistically speaking) most of those are not sharing the holiday with a "special someone".  So what's a single person to do on Valentine's Day?  Well, as a single girl, I have a few ideas.
For starters, I think that making a batch of this lighter no-bake cheesecake should be at the top of your list.  It's crazy delicious, made healthier with Greek yogurt and light cream cheese, and you can make it in nice little individual portions that are perfect for one or sharing with your friends.  (I will be sharing it with mine!)
But more than that, I vote that your day — and everyone's Valentine's Day — be filled with a ridiculous amount of love.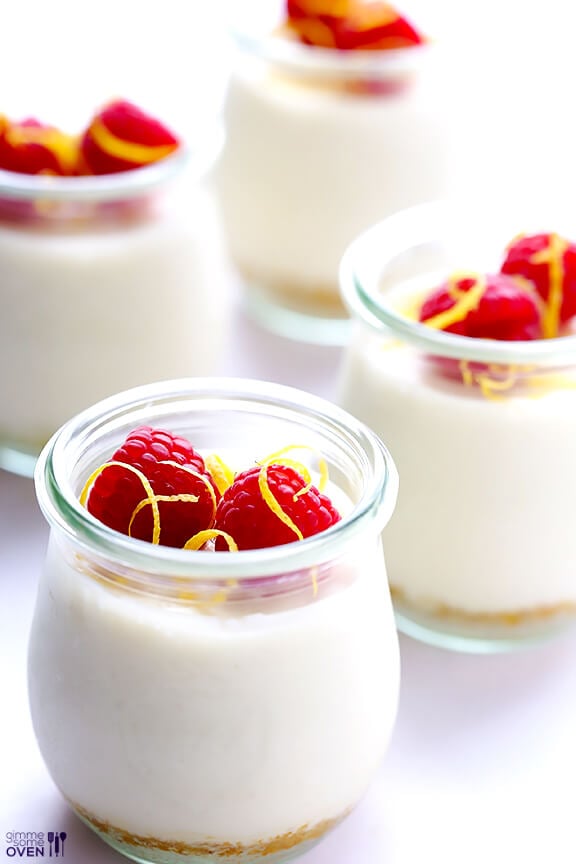 Ok, now trust me, this is not some idealized sunshine-and-roses, wishful-thinking, put-on-a-happy-face, glass-is-half-full spin on Valentine's Day.  I know that the day can be really hard if you're single, especially if you're in a place where you're really wishing that you weren't.  Believe me, I know.
But if there's one tiny life lesson I've learned with Valentine's Day over the years — uber-cliche as it may sound — it's that the day is what you make of it.  If I spend it focused on the relationship in my life that I haven't found, chances are that my day is totally going to suck.  (Says the girl who has chosen that route too many times.)  But if I spend the day focused on the many relationships (plural!) in my life that I absolutely adore, and even better if I can spend it with some of those people, chances are that the day is going to be oh-so-much better.  I might even (gasp!) totally have a good day.
So if you by chance also find yourself in the single boat this Valentine's Day, here are a few small tips for avoiding the "sad" Single's Awareness Day (have I mentioned that I hate that term, btw?) and instead having a genuinely lovable Valentine's Day:
1. Make A Plan: Don't just play the day by ear and "see" if something fun turns up.  Plan it in advance so that you have things to do, and so that you also have something to look forward to that day.
2. Spend Time WITH People: Now this is coming from an introvert who enjoys time alone — don't be alone on Valentine's Day!!  Ok, if staying in with a book or a hot bath or a glass of wine is really what sounds best to you, all power to you.  But more often than not, I end up getting down on V-Day if I'm alone and spend too much time in my head.  So scheduling lunches, or happy hour, or something fun that evening with friends is key to enjoying the day.
3. Do Something Special For Yourself: Listen, all of the Valentine's Day classics — chocolate, fresh flowers, a massage, a nice dinner, a great bottle of wine, etc — are not just for couples!  If you love chocolate, go out and buy yourself your absolute favorite bar as a treat.  Or if you would love a massage, schedule it and enjoy every last minute.  The day is about love.  So honor yourself and give yourself a "gift" of something special.
4. Do Something Special For Others: See #3 for ideas, especially for your single friends.  It will mean a lot.  But even more, do something special for anyone you love in your life.  It could be as simple as a little homemade Valentine.  It could be a little text.  It could be helping scrape the snow off their car.  Think about what would mean the most to those people (I know it's cheesy, but the 5 love languages concept is a pretty spot on), and make the small or grand gesture to show them how much you love 'em.
5. Eat A Decadent Dessert: I mean, this is a food blog.  I can't mention Valentine's Day without mentioning dessert, the ol' Hallmark of Valentine's Day.  It's the one holiday a year when decadent, rich desserts are totally encouraged.  And when it comes to cheesecake, there's definitely no twisting this girl's arm.  But here's the thing — decadent desserts don't have to be a diet-killer, or make you feel potentially worse about yourself after eating them.  There are plenty of healthier alternatives out there.
And — OH! — you guessed it.  This lighter no-bake cheesecake recipe is one of 'em.  ;)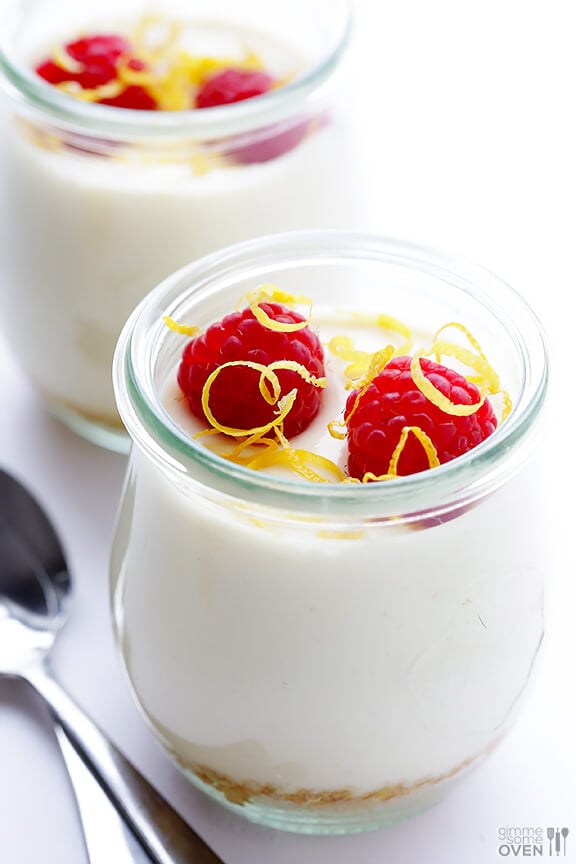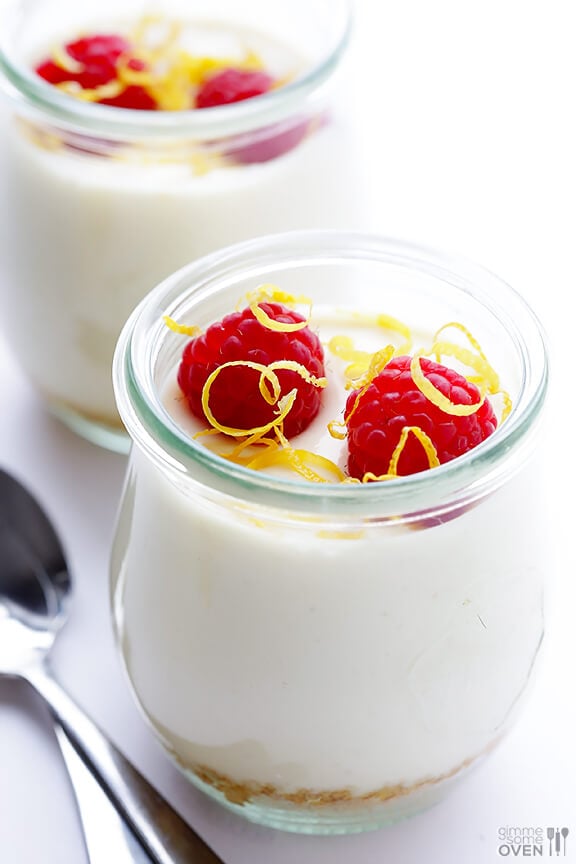 Now many of you know that I've already found my go-to baked lighter cheesecake recipe.  It's also made partly with Greek yogurt, and is as thick and creamy and rich and flavorful as you could ever desire.
But when it comes to no-bake cheesecakes, I've had a harder time finding a healthier alternative.  Most no-bake cheesecakes are either made with whipped cream (or the fat-free version, which is basically corn syrup), or lots of gelatin or cornstarch as thickeners.  I don't find either alternative to sound very healthy.
So I searched online and did some experimenting and recipe testing, and finally discovered that some low-fat cream cheese and thick (see notes below) Greek yogurt can definitely achieve the same results, but without the sky-high calorie and fat content of traditional cheesecake.  And it's perfectly thick and creamy and rich and flavorful too!!!
But the best thing?  This no-bake cheesecake recipe can be ready to go in under 15 minutes.  You seriously have to try it.  Here's the how-to:
Basically, the main step is just to combine the filling ingredients together.  One step.  You can either do this in a food processor, blender, mixer, or (if you're really feeling strong) whisk it all together by hand.
Then stir together a 2-ingredient graham cracker crust.  Pop a few Tablespoons of it into a small jar or serving dish…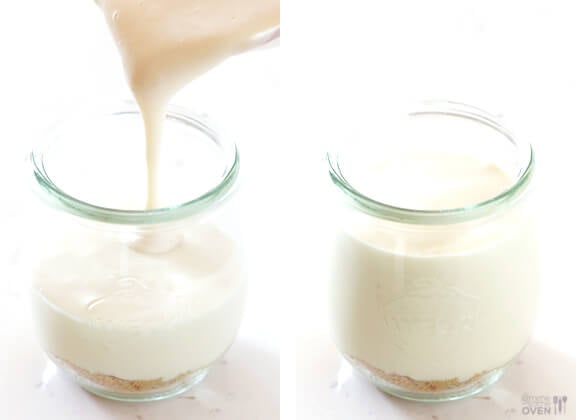 …then top that with your cheesecake filling.
And voila!  No baking necessary.  Just pop the cheesecake in the fridge to firm up for a few hours, and then dive in.  Or if you're really feeling impatient, just dive in immediately.  The filling tastes like classic cheesecake, and is perfect for whatever toppings you might be craving.  I went with simple raspberries and some lemon zest, but go with whatever you "love", especially on Valentine's Day.
I hope you all enjoy this one.  And to all of you lovebirds out there — single or matched with a lovebird of your own — I wish each of you a truly happy, meaningful Valentine's Day this year!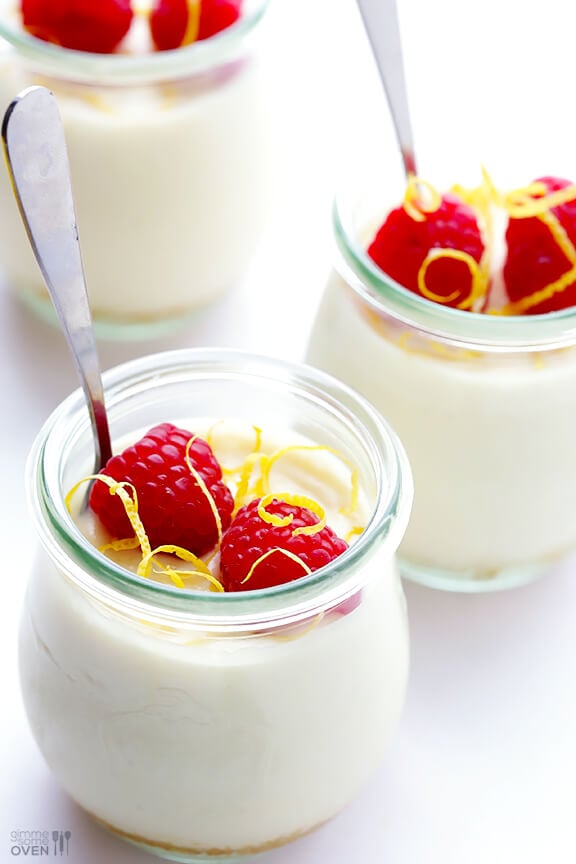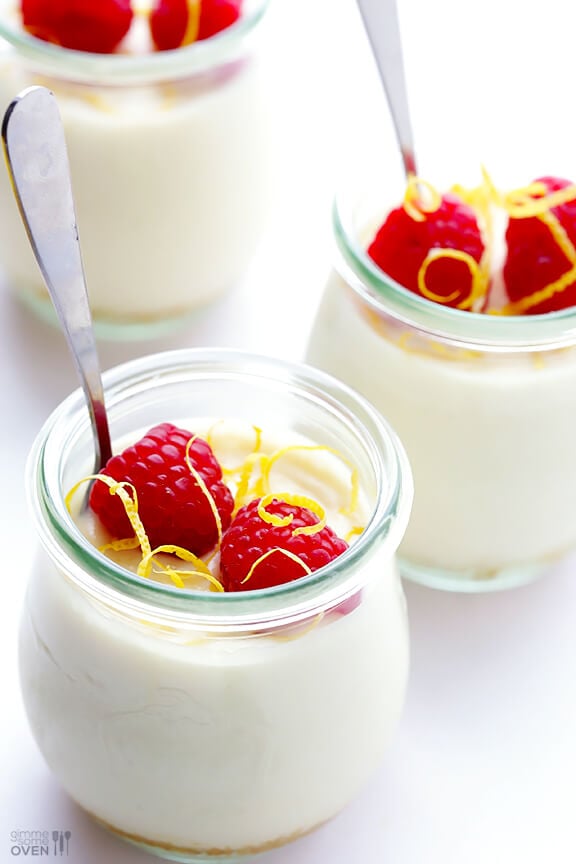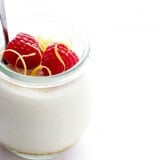 (Lighter) No Bake Cheesecake
This delicious no-bake cheesecake recipe is made lighter with Greek yogurt, and still tastes like the real thing!
Ingredients:
Graham Cracker Crust Ingredients:
2/3 cup graham cracker crumbs
2 Tbsp. melted coconut oil or butter
No Bake Cheesecake Ingredients:
2 (8 oz.) packages low-fat cream cheese
1 cup low-fat vanilla Greek yogurt (**must be strained if it's watery, see note below)
1/4 cup honey
2 Tbsp. lemon juice
1 Tbsp. vanilla extract
pinch of salt
Directions:
To Make The Graham Cracker Crust:
Stir graham cracker crumbs and oil/butter together until combined. Add 2 loosely-packed tablespoons of crust to the bottom of each jar or serving dish, and use your fingers or a spoon to pack it down firmly.
To Make The Cheesecake:
Add all ingredients to a food processor, and pulse to combine, scraping the edges of the bowl once or twice to be sure that all ingredients are blended. Spoon about 2/3 cup of the mixture into each jar or serving dish on top of the graham cracker crust.
Refrigerate for 2-3 hours until set. Serve topped with berries, lemon zest, other desired toppings, or plain.
**Note about the Greek yogurt: It is VERY important that your Greek yogurt is thick for this recipe. If it is too thin, the cheesecake will not set up and will have more of a pudding consistency. I used Fage Total 2% Greek yogurt for mine, and it worked perfectly. But if your Greek yogurt is not thick — for example, if you poke a spoon in it vertically and it falls over — just strain it through a cheesecloth to remove the excess water. Then measure out 1 cup with the Greek yogurt that has been strained.
(However, I should note that even if the cheesecake does not set up perfectly, it will still be delicious!
If you make this recipe, be sure to snap a photo and hashtag it #gimmesomeoven. I'd love to see what you cook!
*I used tulip jars from Weck Jars
**If you do not want to make individual mini cheesecakes, you can pour the filling into a pie plate for a larger cheesecake.  You will just need to triple the crust recipe.