mailbox monday: "stocking a spice cabinet"
This post may contain affiliate links. Please read my disclosure policy.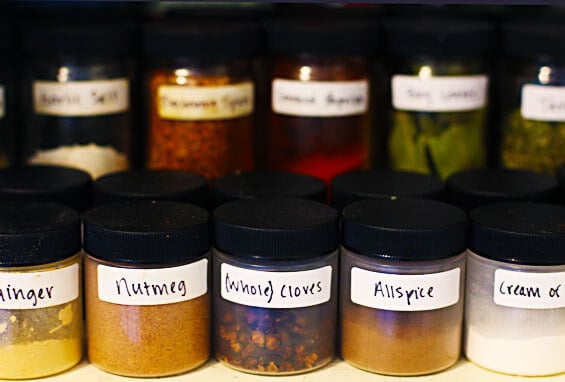 Hey Ali!
My name is Jessica and I just found your blog through Foodgawker. I really love it!
Whenever you have time, I wondered if you might answer a quick question. I'm a total beginner when it comes to cooking, and still don't have many spices in my pantry to cook with. At this point I probably can't afford to buy all of the spices that a lot of recipes call for. But if I were to try and stock my spice cabinet with some basics, what would you recommend?
Thank you for your time.
Sincerely,
Jessica
~~~~~~~~~~~~~~~~~~~~~
Hey Jessica!
Oooh – good question. I definitely ran into the same challenges when I began cooking. Spices are super-fun, but the cost of stocking up on herbs and spices can sure add up quickly! (And spices definitely have expiration dates, so if you're not using them regularly, it may not be the best way to spend your grocery budget…)
But if you're just getting started, here is a list of basics I'd recommend having on hand:
Bay leaves
Cayenne
Chili Powder
Cinnamon (ground)
Cumin
Cloves (I'd recommend ground vs. whole)
Curry Powder
Ginger (ground)

Nutmeg (ground or whole if you have a grater)

Oregano
Rosemary (I prefer ground, but you can use the regular dried leaves)
Smoked Paprika
Thyme
I also really recommend picking up two grinders to have fresh cracked black pepper and sea salt. Must-haves in my book!
Also, I almost always have fresh cilantro, parsley, lemons (for lemon zest and juice), and limes (for zest and juice) on hand in the fridge. These four ingredients are so much better fresh than dried!
I would also say that with spices, it's worth going with quality brands — especially for the basics. There really can be a difference in taste, quality, and freshness. I have a local spice vendor that I love in Kansas City (at the downtown City Market, for all you locals!), but then also buy my spice jars and occasionally some other spices at Penzey's, or at the grocery store.
Bottom line, start with what you can, and don't be afraid to experiment and substitute if a recipe calls for something that you don't have. That's why seasoning is a verb as well as a noun — you can keep adding a little bit more and more until it tastes just right. :-)
Anyway, those are some of my quick recommendations! If other Gimme Some Oven readers have suggestions, please chime in too!
Happy cooking!
~Ali
To submit a question for "Mailbox Monday", simply click the "Contact" button at the top of the page. Would love to hear from you!!