7-Ingredient Easy Zuppa Toscana (Creamy Gnocchi Soup with Kale and Sausage)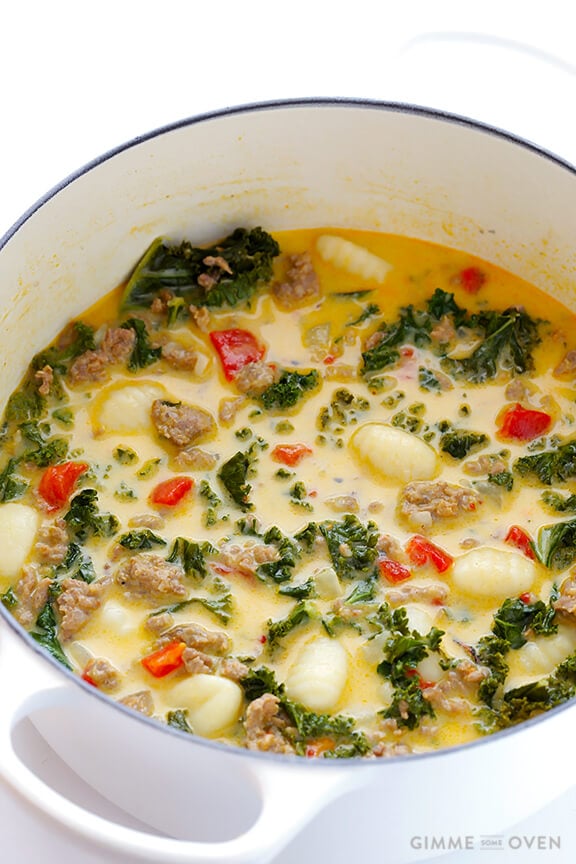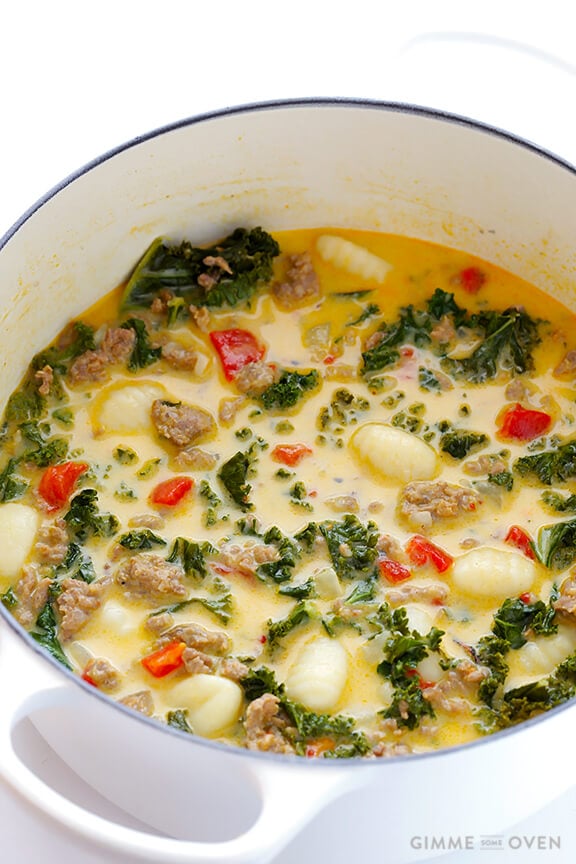 One of my favorite things about meeting new friends is getting to visit their homes for the first time.
Ok ok, I'll admit, often I'm totally "that friend" who will figure out a way to casually invite myself over, because I love getting to see where someone lives.   I love taking in the neighborhood, I love seeing what sort of house they chose, I love getting a sense of his or her decorating style, I love nosing around old photos, I definitely love scoping out their books, and really, I love just having a visual for where my friends spend their days.
Even better than seeing their place, though?  Meeting their family.
It's context at its best, and usually makes all sorts of things click into place about someone.  Everything from seeing resemblances in a mother and daughter's eyes, to realizing that he picked up that funny catchphrase from his dad, and of course, to hopefully hearing (my favorite!) all sorts of family stories galore.  Our families certainly don't define us, but they sure are a big part of the stories of our lives.
I've had the pleasure of visiting the homes and even meeting the families of countless friends over the years.  But a few months ago I had the fun privilege of actually getting to visit the home and meet the family behind my favorite Italian food brand — DeLallo.  I have already been head over heels over their products for years.  But oh man, getting to spend a few days cozied up in their guesthouse in Pittsburgh, meeting the family, spending time with their rockstar team and some of my favorite blogging friends, and cooking up and enjoying some of the best homemade Italian food ever?!?  It's official.  I love them even more.
So to harken back to my trip full of Italian comfort food, I'm sharing this amazing (and amazingly easy) 7-ingredient creamy gnocchi soup today.  I realized it's a very close riff to the popular Zuppa Toscana Soup from Olive Garden.  But this version is made easy with delicious gnocchi, ready to go in less than 30 minutes, and is molto delizioso!
But before I get to the recipe, I wanted to share just a few photos with you from my trip…
I know.  You were expecting Florence, right?!
Well, without a doubt, all of DeLallo's products harken from the delicious tastes of Italy.  But the company actually is headquartered in Pittsburgh, which is where a group of us gathered last month.  This was actually my first time in the city, and I had heard rumors of its best-kept-secret-ness from friends.  And as it turns out, it's totally true.  I really loved the city.
This is probably, in part, due to the amazing tour we received the first day.  Upon arrival, we spent a few fun hours in the Andy Warhol Museum (the balloon room is a must).  Then had an epic dinner at Butcher and the Rye (literally everything we tried was amazing).  And we walked across one of their many beautiful bridges to spend the evening at a Pirates game (which was a blast, although shhh, don't tell my Royals).
Then went "home" to the literal DeLallo family cottage, which is nestled in the woods near the DeLallo store and has been added onto to become the most incredible guesthouse for visitors (complete with the most incredible kitchen).  They even gave us all slippers to make us feel right at home, which I happen to still be wearing as I'm typing out this post.  :)
The next morning, we took a cool walk through the woods to visit the DeLallo store, which I actually did not know even existed until a year or so ago.  Yes, we all get to enjoy DeLallo's products in our grocery stores.  But those lucky Pittsburgh-ans (Pittsburgh-ers?) get to go shopping in the gourmet food store which is the home base and creative force behind much of the DeLallo brands.
Let's just say that if I could fly up there each week to do my grocery shopping, I would.  This store was an absolute food lover's paradise.  And I would also say that it's a food stylist's paradise, as everything from the largest wheel of cheese to the smallest lemon was absolutely beautiful, and would inspire just about anyone to cook with fresh and healthy ingredients.
Anthony DeLallo, the grandson of the founder, took us on a tour of the store so that we could hear the stories behind so many of the products.  And let me tell you, this guy knows his food.  We learned everything about the differences between male and female eggplant, to the true meaning of extra-virgin olive oil, to the history behind the yeast that was carried over from Europe to make DeLallo's famous bread (fascinating), to all sorts of answers to the hundred little questions we had.  It was inspiring to see his pride in the family brand, as well as catch a glimpse of the knowledge and family history that have gone into making such high-quality products.
Afterwards, we came back to the cottage and snuggled up in our slippers and padded down to the kitchen to do what I love best — cooking with friends.  Even better?  Cooking Italian food with friends.
Our DeLallo friend, Giulianna (there in the background with the dark blue shirt) gave us a lesson in how to make homemade pasta…
…and then we turned it into homemade mushroom ravioli, and then covered it in a sage butter sauce.  Which, yes, was just as heavenly as it sounds.  :)
We also relaxed out in the sunshine in the back deck, where they recorded this fun little video of our group…
And then we spent the rest of the day just soaking up one another's company, hanging out in the kitchen around the table, trading stories, snacking on even more good food (I could live on DeLallo's spicy sausage, by the way), and just generally appreciating the gift of sharing good days together.  It was a reminder to me of the power of good food to bring people together, which is why I learned how to cook in the first place, and I'm so grateful to DeLallo for being such an inspiration and a resource to do just that — both across the country in Pittsburgh, and right in my own kitchen.
So speaking of my own kitchen, let's get to this soup recipe that I made to share with you today!
As I noted in the title, this one calls for a whopping 7 ingredients: chicken stock, fresh kale, gnocchi, Italian sausage, roasted red peppers, onion, and heavy cream.  (Or if you want to lighten it up a bit, you can use chicken Italian sausage and evaporated milk.)
Just brown up the sausage and onion in a large stockpot or (affiliate link) Dutch oven, stir in the roasted reds and chicken stock, bring it all to a simmer, and then add in the chopped kale and gnocchi and heavy cream at the end.  So simple, and ready to go in less than 30 minutes.
The Italian sausage definitely provides the bulk of the seasoning in this recipe, so I highly recommend going with hot Italian sausage, even if you're usually a mild person.  The flavor gets dispersed over multiple servings in the soup, and the extra kick is subtle but needed.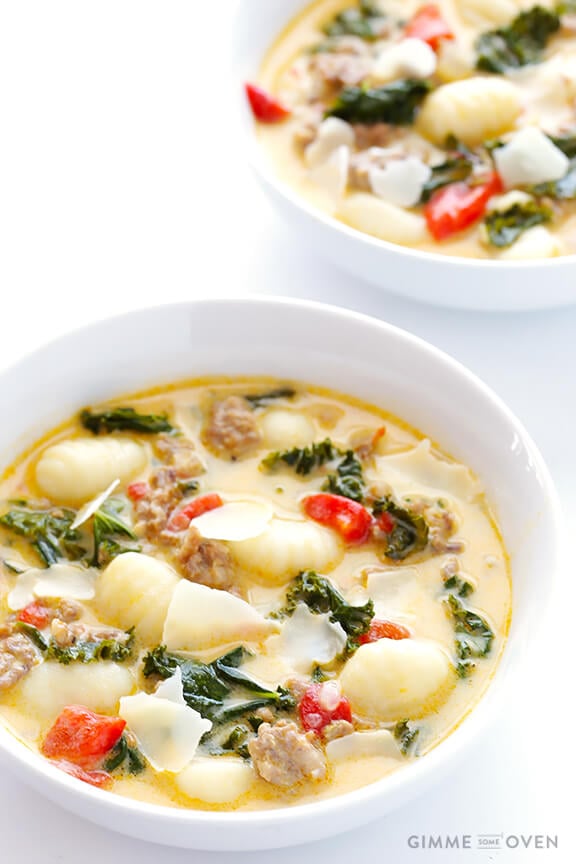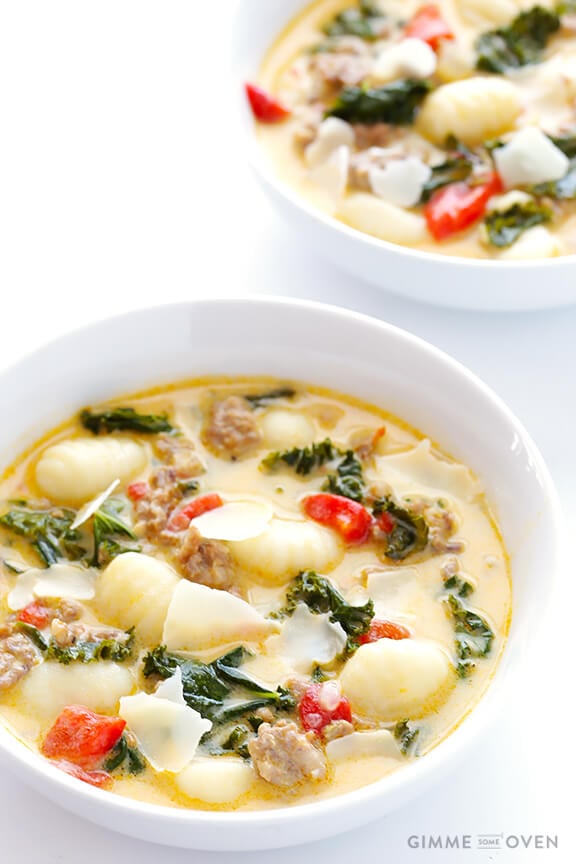 And as I also mentioned above, I used DeLallo's potato gnocchi in this recipe instead of the sliced potatoes that are often used in Zuppa Toscana.  They save you the step of having to wash and slice up potatoes, plus the only take a few minutes to cook and are wonderfully chewy and delicious.
It's comfort food at its best, and absolutely perfect for sharing with friends and family to create your own memories around the table.  I hope you love it as much as I do.  :)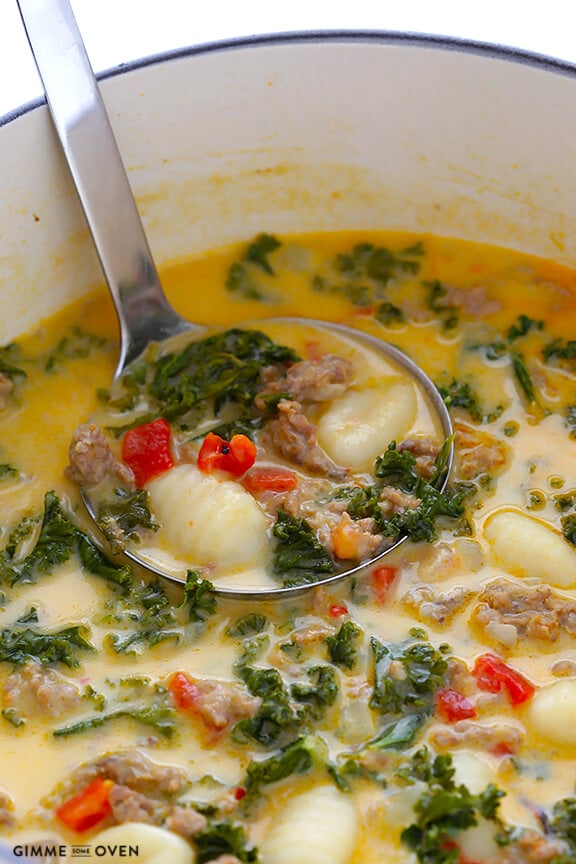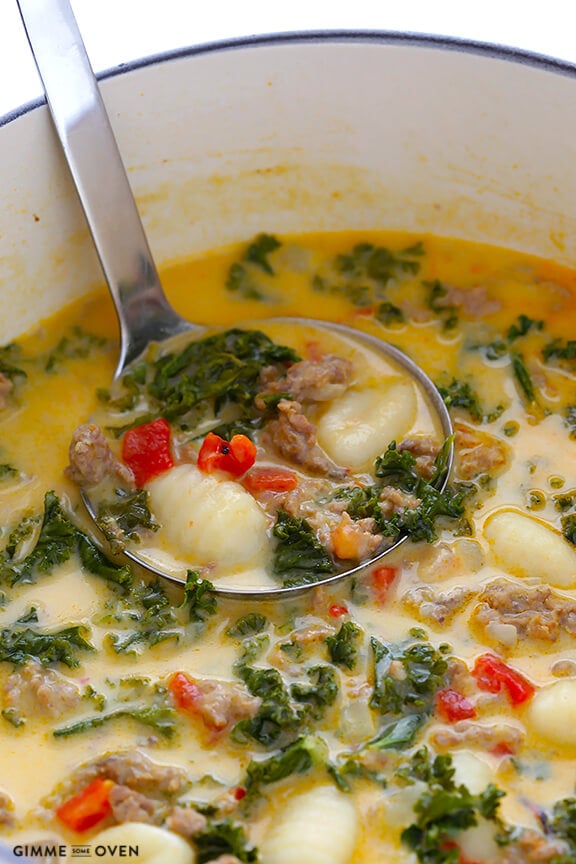 7-Ingredient Zuppa Toscana (Creamy Gnocchi Soup with Sausage and Kale)
If you love this classic restaurant-style soup, you'll love the easy homemade version made with gnocchi, sausage and kale! Ready to go in less than 30 minutes.
Ingredients:
1 pound ground hot* Italian sausage
1 small white onion, peeled and diced
4 cups good-quality chicken stock
1 (12-ounce) jar DeLallo roasted red peppers, drained and diced
1 bunch kale, roughly chopped (and stems removed, if desired)
1 pound DeLallo potato gnocchi
1/2 cup heavy cream
salt and pepper
optional toppings: freshly shaved or grated Parmesan cheese, crumbled bacon
Directions:
Add Italian sausage and diced onion to the large stockpot or Dutch oven.  Cook over medium-high heat until the sausage is completely browned, stirring occasionally and breaking up the sausage with a spoon.  Drain out as much of the excess grease as possible.
Then add in the chicken stock and diced roasted red peppers, and bring the mixture to a simmer (still over medium-high heat).  Once it reaches a simmer, reduce heat to medium-low and add the kale and gnocchi and stir to combine.  Continue cooking for 5 minutes, or until the gnocchi are cooked through and tender.  Stir in the heavy cream.  Season to taste with salt and pepper.  (I used about 1 teaspoon salt, 1/2 teaspoon pepper.)
Serve warm with desired toppings.
You can also refrigerate this in a sealed container for up to 3 days.
*I highly recommend using "hot" Italian sausage for this recipe.  With so few ingredients, the sausage is actually the ingredient that provides most of the seasoning for this soup.  And much of the heat will be dispersed over the multiple servings.  So unless you're really averse to spicy food, take the chance and go hot with this one!
(And if you can't find hot Italian sausage, you can also add in some crushed red chili flakes instead.)
All images and text ©
If you make this recipe, be sure to snap a photo and hashtag it #gimmesomeoven. I'd love to see what you cook!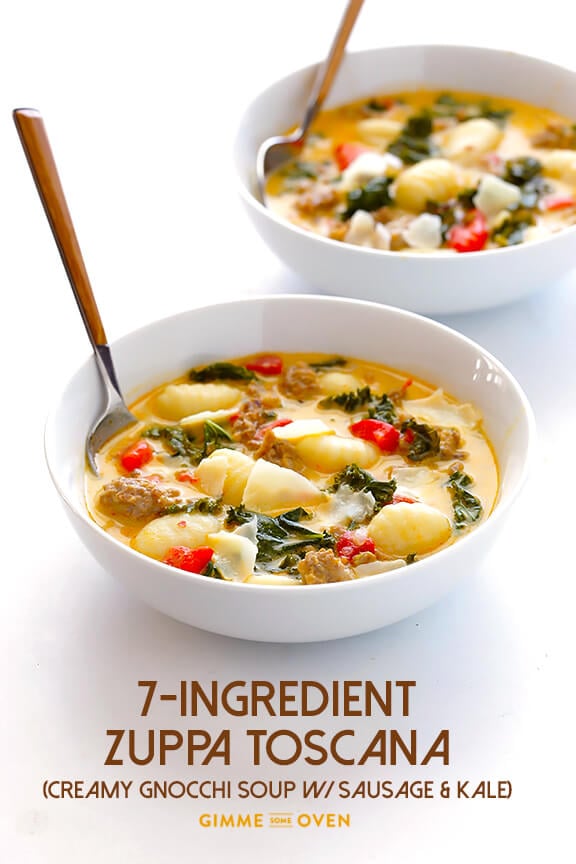 This is a sponsored post in partnership with DeLallo Foods and also includes affiliate links.  I have been creating Italian recipe with their delicious products to share with you this year, but all opinions are my own as always.  Thanks for supporting them and the brands which help make this site possible.  And big thanks to DeLallo for inviting us to stay in their home and meet the family.  :)