Maple Latte
A few weeks ago when I was traveling through the Phoenix airport with my friend Kristen, we stopped to grab some coffee before our final flight of the day.  When we walked into the cute coffee shop, we noticed that the fall flavors had just been released, and my eyes instantly went to the pumpkin spice lattes.  But when Kristen asked the barista for her favorite recommendation, she actually suggested a maple latte.
I happen to be a huge fan of maple syrup, ever since I (finally) started splurging for the real deal a few years ago.  So I was game to give it a try.
It turns out that maple lattes are actually quite lovely!  The maple in ours was definitely sweet, but not overpowering.  And the flavor was oh-so-comforting.  We both agreed it felt a little like drinking pancakes!
So of course, when I came home, I had to make one for myself. :)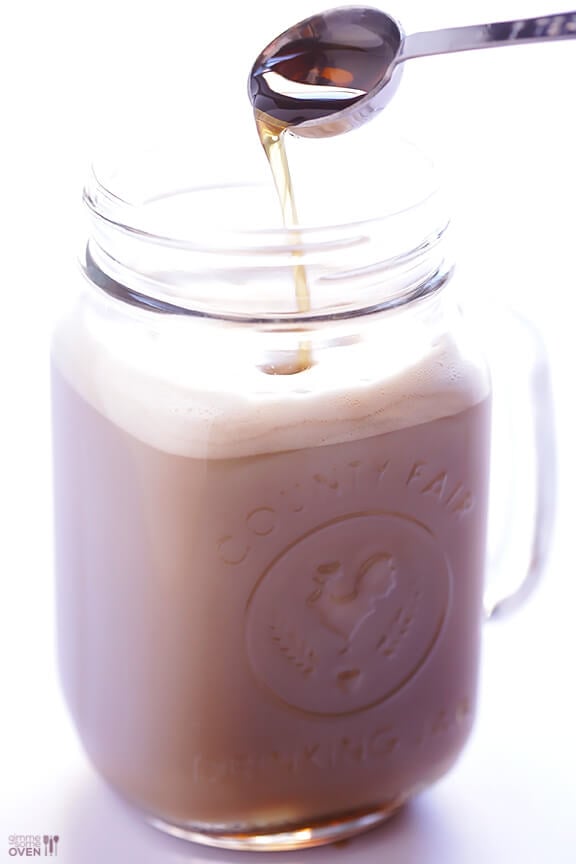 Let's just say it turns out that making a maple latte is ridiculously easy.
I was toying with the idea of trying to reduce the maple syrup down to make some kind of concentrated syrup.  But alas, it already is syrup!!  So a few tablespoon-fulls in my latte turned out to be enough to do the trick.  Then I added a tiny splash of vanilla and a pinch of cinnamon in for a little extra fall-ish-ness.  And of course, I couldn't resist adding on a little whipped cream so that I could use these cute maple sprinkles I just bought.  Cute, cozy and so comforting.
This is definitely going to be my new #shotofcoffee for awhile!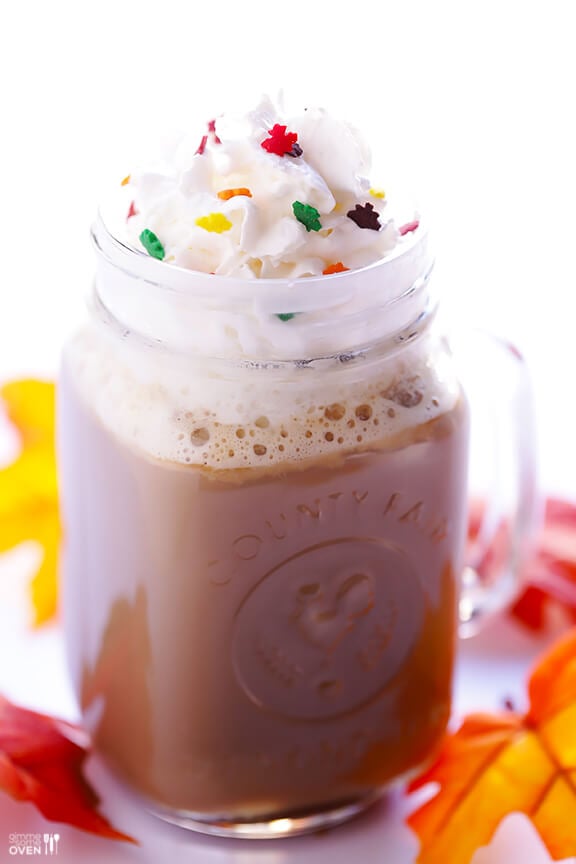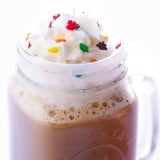 Maple Latte
Maple syrup makes for a perfect autumn maple latte.
Ingredients:
1 1/2 cups cold milk
1/3 cup espresso
3 Tbsp. maple syrup
1/4 tsp. vanilla extract, store-bought or homemade
small pinch of ground cinnamon
Directions:
Heat and froth milk until steaming (see note below). Pour espresso into mug, then top with milk. Stir in maple syrup, vanilla extract and cinnamon to taste. Top with milk froth.
*You can heat milk in a small saucepan over medium heat, in the microwave, or with a steam attachment on an espresso machine. Stop heating when the milk is steaming (before it boils). To froth without an espresso machine, I like to use an immersion blender or just a whisk.
All images and text ©
If you make this recipe, be sure to snap a photo and hashtag it #gimmesomeoven. I'd love to see what you cook!