Spicy Baked Chicken Parmesan
This Spicy Baked Chicken Parmesan recipe is made with a crispy seasoned panko crust, and topped with a zesty marinara sauce, melted mozzarella, and lots of fresh basil.  It's surprisingly simple to make, and SO delicious.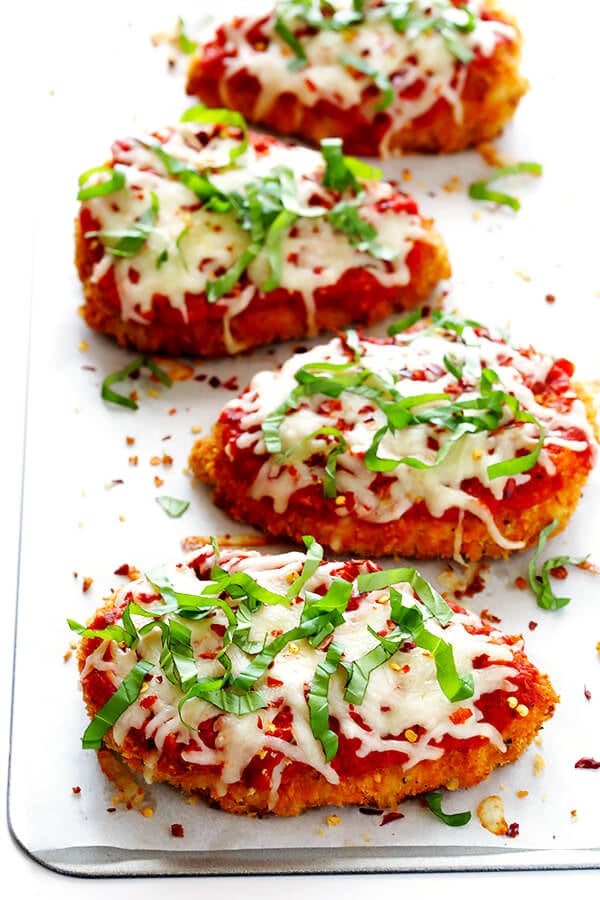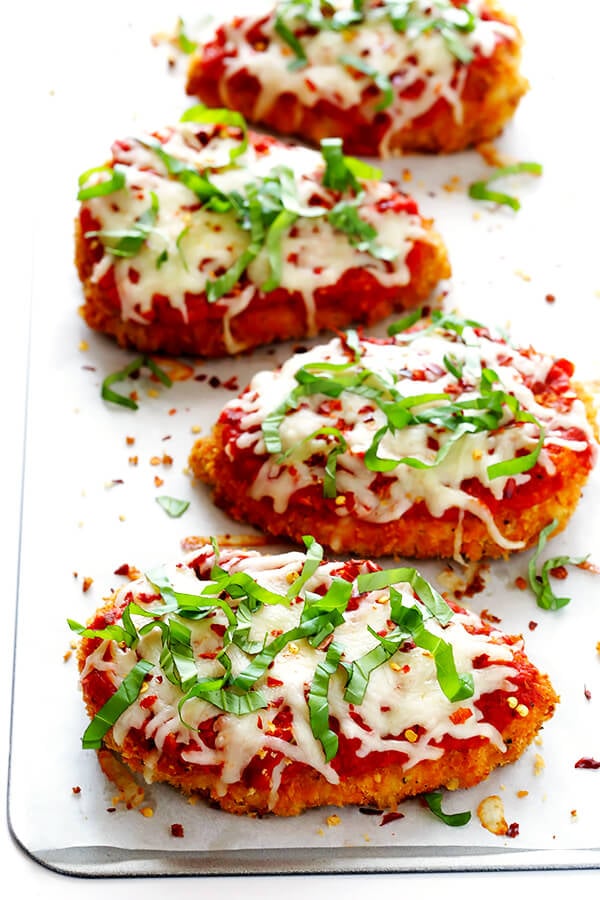 I am that rare girl who doesn't really like fried chicken.
For better or worse, the credit for this probably goes to my mom, who is an amazing cook but never had a fryer in the house, or cooked any sort of deep-fried meals for us.  It just wasn't her thing, which meant that it wasn't really our thing either.  Every now and then, though, I would happen across a bucket of KFC at a church picnic, or order some chicken nuggets at a drive-through or something, which always tasted good.  But back then — and even still today — I just never really found myself craving deep-fried food.  And half of the time that I have indulged in it, my stomach is quick to remind me that it's not used to all of the oil that accounts for the "deep" in deep-fried chicken.  Oof.
That said, though, one peek through the blog archives will show you that I do have a fondness for oven-fried chicken.  And quite frankly, I love it better than the deep-fried "real thing".  You still get all of that delicious crispy and flavorful coating, thanks to some toasted Panko and seasonings.  But I love it because you don't have to mess with all of that splattering oil (and, um, extra calories and fat), and your oven will do all of the work for you.  I mean, I feel like I named a blog about this or something…gimme some oven, baby!  ;)
So as you may have guessed from this rambling introduction, today's recipe is indeed a "baked" oven-fried version of an Italian classic that's often a little too greasy for me at restaurants.  It's also kicked up a notch with a however-hot-you-want-it spicy marinara sauce, sprinkled with some mozzarella and fresh basil, and considerably easier to make at home than you might think.  (And all of your deep-fried food lovers probably will never notice the difference.)
Who's ready for some Spicy Baked Chicken Parmesan?!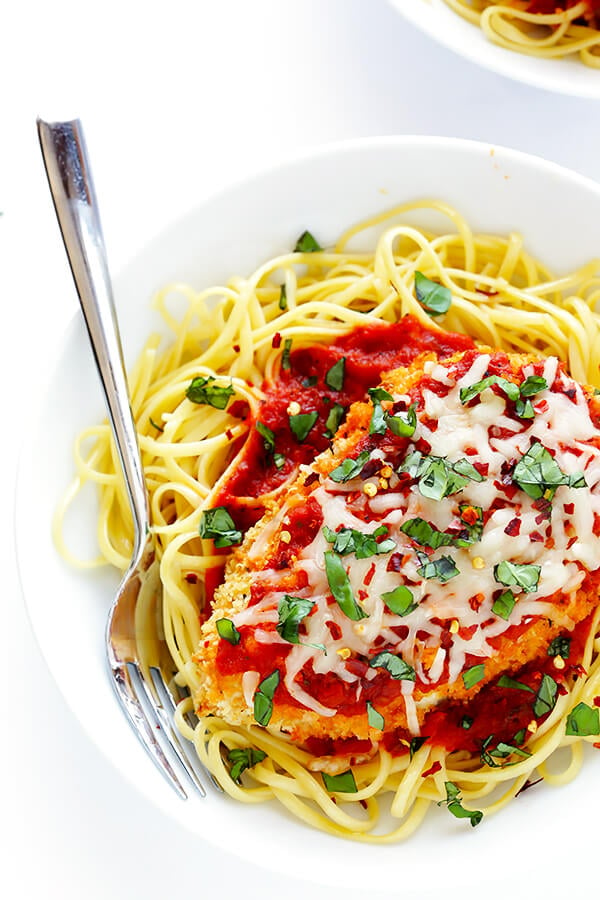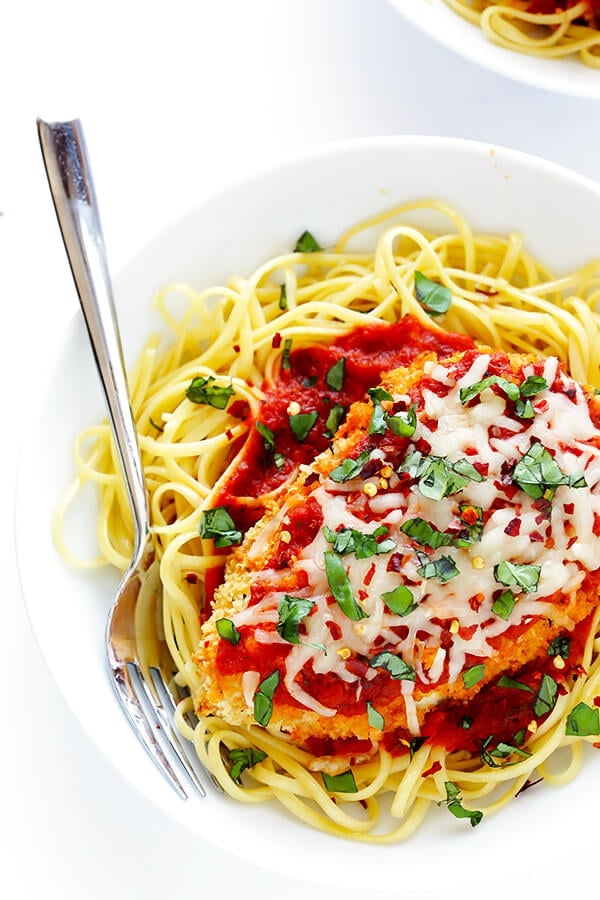 Oh my goodness, looking at these photos makes me already want to cook this all over again.  (<– And I've already made it three times this month just testing out the recipe!)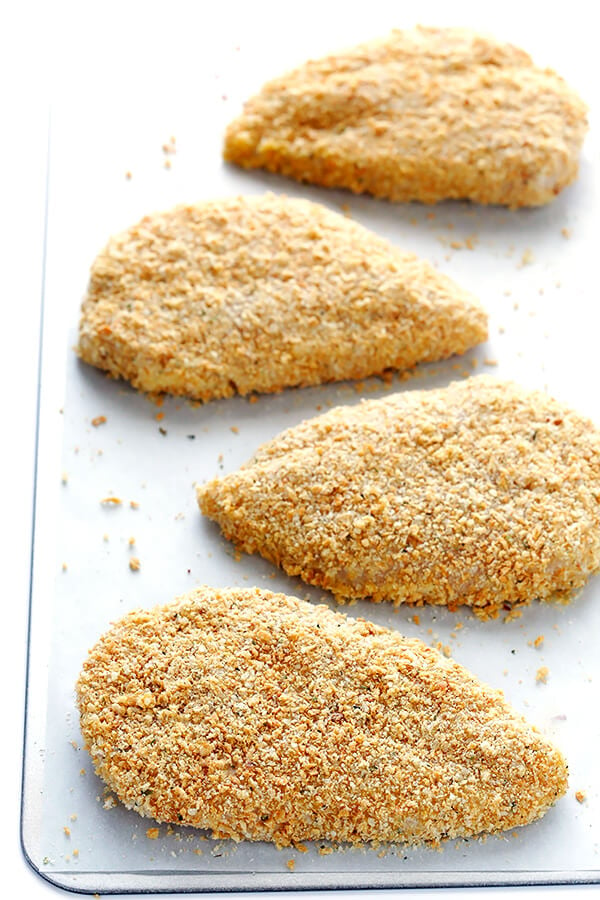 To make it, pound out some small chicken breasts until they reach about 1/2-inch thickness.  (<– This will help them cook more evenly.)  Then season them with salt and pepper, dip them in flour, egg, and a simple toasted Parmesan panko mixture.  Lay them out on a baking sheet.  And instead of frying them, we're going to oven-fry them until they're nice and golden and juicy and cooked through.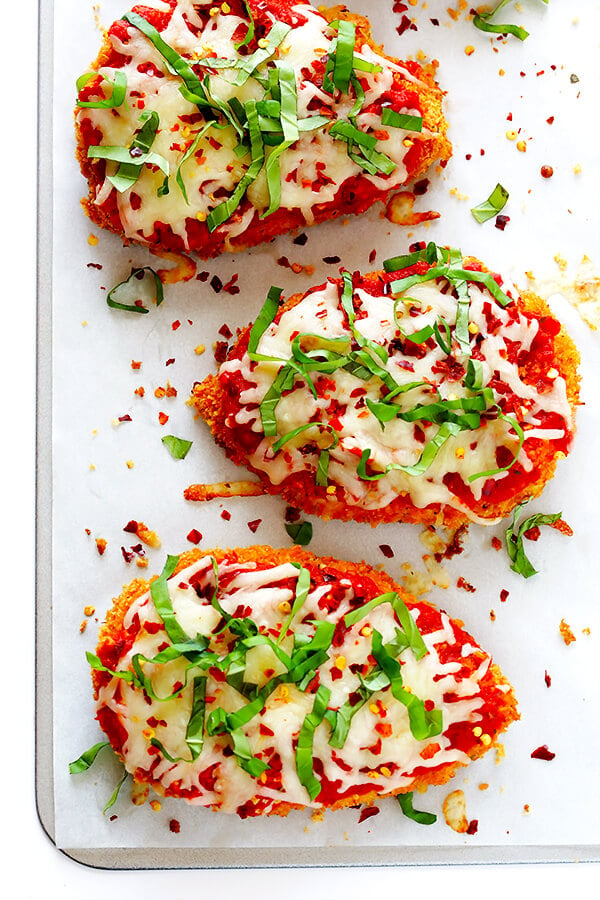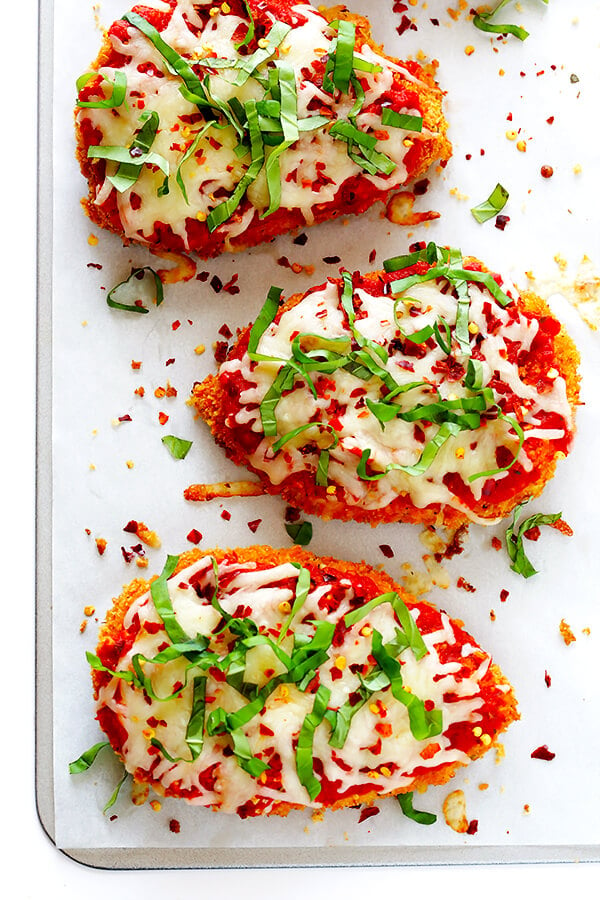 Then just layer them up with some homemade marinara sauce (or you can use your store-bought sauce to save time, maybe with some extra crushed red pepper added to it), shredded mozzarella, and fresh basil…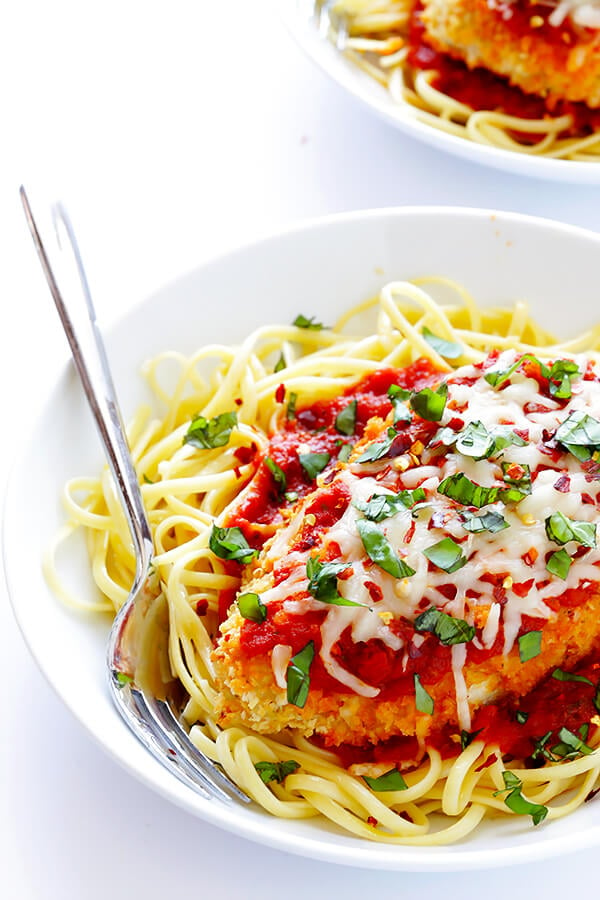 …and they'll be all ready to serve in minutes.
Feel free to go the traditional route and serve the baked chicken parmesan over a bed of pasta.  Or I also just love serving it alongside some roasted veggies and a big Italian salad for a healthier twist.  (Or for a different twist, feel free to cut the chicken up into bite-sized pieces and make chicken parmesan nuggets, just being sure to cut down on the baking time.)  You choose.
Just enjoy it.  :)
Spicy Baked Chicken Parmesan
This Spicy Baked Chicken Parmesan recipe is made with a crispy Panko crust, covered in a spicy marinara sauce and melted mozzarella, and topped with lots of fresh basil.
Ingredients:
Spicy Baked Chicken Parmesan Ingredients:
4 small* boneless skinless chicken breasts (about 2 pounds total), pounded to 1/2-inch thickness
salt and pepper
1/2 cup flour (all-purpose, or whole-wheat, or whichever flour you prefer)
2 eggs, whisked
1 batch crispy panko crust, see below
cooking spray
2 cups spicy marinara sauce, see below (or you can use your favorite store-bought sauce**)
1 cup shredded mozzarella cheese
1/2 cup thinly-sliced fresh basil leaves
optional topping: crushed red peppers
Crispy Panko Crust Ingredients:
2/3 cup panko breadcrumbs
1/3 cup finely-grated Parmesan cheese
1 teaspoon Italian seasoning, store-bought or homemade
coarse sea salt and freshly-cracked black pepper
Spicy Marinara Sauce Ingredients:
2 tablespoons olive oil
6 garlic cloves, peeled and minced
1 (28-ounce) can crushed tomatoes
1/4 teaspoon crushed red pepper flakes, or more/less to taste (I like 1/2 teaspoon)
1 1/2 teaspoons coarse salt
1/4 teaspoon dried oregano
1/4 teaspoon black pepper
1 large sprig of fresh basil
Directions:
To Make The Spicy Baked Chicken Parmesan:
Preheat oven to 425°F.  Line a baking sheet with parchment paper, or spray it with cooking spray.
Begin by making the crispy panko crust, as described below.
Spread the flour out evenly on a plate, add the eggs to a medium bowl, and spread the (prepared) panko mixture out on a plate.
Season the chicken breasts on both sides with salt and pepper.
Dip one chicken breast in the flour until it is evenly coated on all sides, shaking off the excess.  Then dip it in the whisked eggs until it is completely coated.  Then finally dip it in the panko mixture until it is evenly coated on all sides, and place it on the prepared baking sheet.  Repeat with the remaining chicken breasts.
Mist the chicken breasts with some cooking spray (or I like to use an olive oil mister).
Bake for 20 minutes, flipping the chicken over after 15 minutes.  Then remove from oven, and spread a large spoonful of the spicy marinara sauce on top of each chicken breast, followed by about 1/4 cup of the shredded mozzarella.
Bake for another 5 minutes, or until the chicken is cooked through and no longer pink inside.
Remove and sprinkle with fresh basil and (if desired) extra crushed red pepper flakes.  Serve immediately.
To Make The Crispy Panko :
Preheat oven to 425°F.
Spread the panko breadcrumbs out on a large baking sheet in an even layer.  Bake for 3-5 minutes, or until the breadcrumbs are toasted and golden.  (Keep an eye on them so that they don't burn!)  Remove from the oven.
In a medium mixing bowl, combine breadcrumbs, Parmesan, Italian seasoning, and a pinch of salt and pepper, and whisk until combined.
To Make The Spicy Marinara Sauce:
Heat oil in a large saute pan over medium-high heat. Add garlic and saute for 1 minute, stirring frequently, until fragrant. Add in the tomatoes, red pepper flakes, salt, oregano and black pepper, and stir to combine. Gently stir in the sprig of fresh basil. Continue cooking until the sauce reaches a simmer. Then reduce heat to medium-low and continue to let the sauce simmer for about 15 minutes, or until the oil on the surface is a deep orange. It will be reduced and thickened. Discard the sprig of basil, and season the sauce with additional salt and pepper if needed.
Remove from heat and serve immediately, or store in a sealed container in the refrigerator for up to 5 days. Or freeze for up to 3 months.  (This recipe will make more sauce than you need for the Spicy Baked Chicken Parmesan, so save the leftovers for later!)
*I like using smaller (7-ounce) chicken breasts for this recipe, that I pound to 1/2-inch thickness.  But if you purchase chicken breasts that are considerably larger, you can halve them horizontally so that you have two thinner chicken breasts.  Just adjust the cooking time if needed for thicker or thinner chicken.
**If you go the store-bought sauce route but want to make it spicier, just simmer a jar of store-bought sauce on the stove on medium heat with a pinch of two of crushed red pepper (to taste) while you prepare the rest of the meal.
All images and text ©
If you make this recipe, be sure to snap a photo and hashtag it #gimmesomeoven. I'd love to see what you cook!