20-Minute Moo Shu Pork (or Chicken)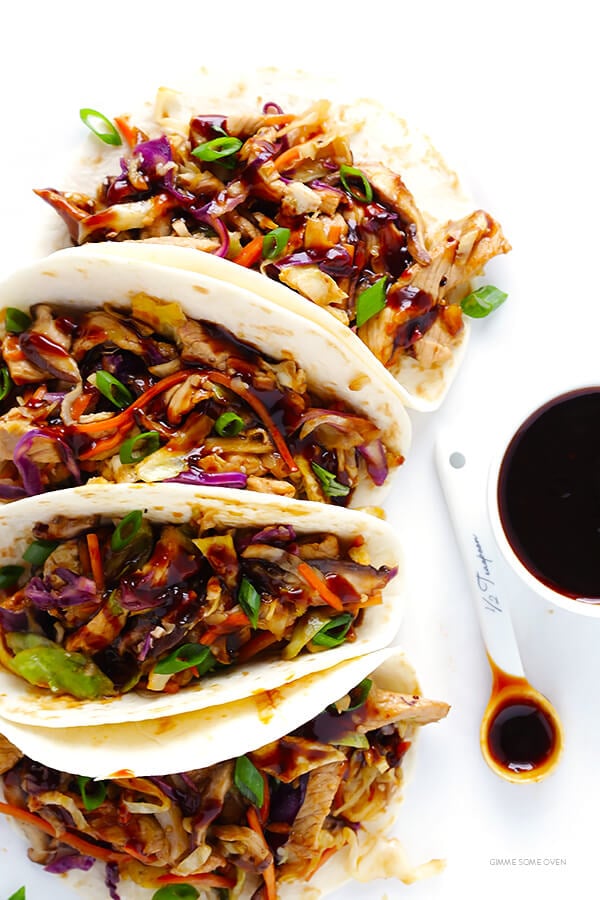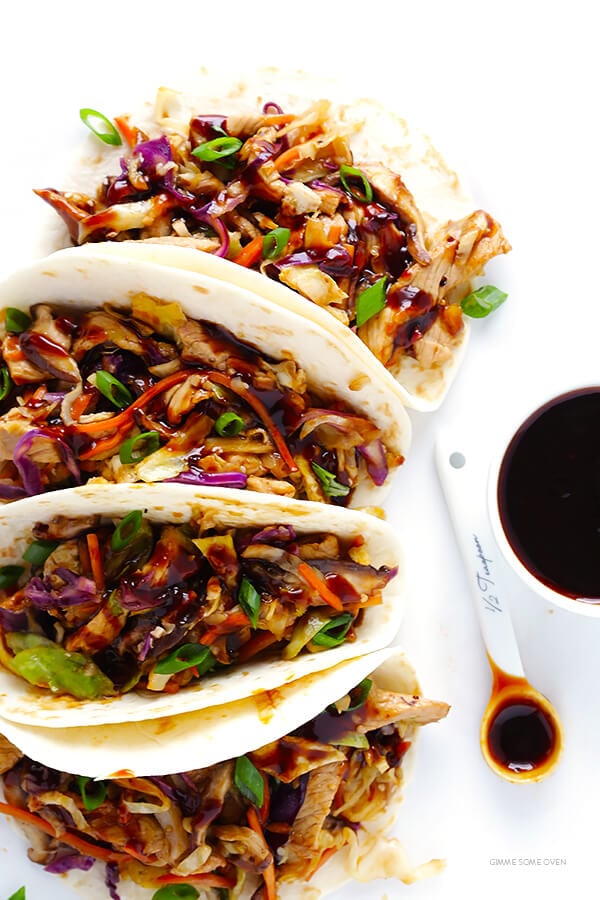 Haaaaaaaallelujah!
Daylight Savings has finally arrived!  And I could not think of a better reason to lose an hour of sleep and wake up a little groggy.  Because I don't know about you, but I'm one of those people who feels like the extra hour of daylight in the evening is freaking life-changing.
Seriously.
I mean, sure, I'm all for some extra sun shining through my window in the mornings to help get me out of bed in the winter.  But if given the choice between sun in the morning, and glorious, warm, bright, makes-you-feel-like-there's-actually-more-of-the-day-left in the evenings after work, I will choose DST any day in a heartbeat.  (In fact, yes, I'm totally one of "those people" who wishes Congress would let us keep saving daylight year-round….)  But in the meantime, I'm fully appreciating every second of these sunshiny evenings that celebrate the beginning of this warm season to come.
And one of my favorite things to do when it's light out in the evenings?  You'd better believe it — cook!  It nearly felt like summer here last night, so I decided to whip up a quick batch of my new favorite "better than takeout" recipes that I'm recently obsessed with making — moo shu!  (Or moo shoo, mu shoo, it seems that the spelling options are endless.)  It has been one of my long-time favorite dishes to order when I'm doing Chinese takeout.  And after studying the ingredients, I recently decided it was worth a try to make at home.
Turns out, Moo Shu Pork (or Chicken!) is super quick and easy to make, it's chocked full of fresh and vibrant ingredients, and it's full of those bold sweet and savory flavors we all love.  But best of all, it can be ready to go in 20 minutes, so you can get on with your evening out in the warm spring sunshine.  ;)
Let's make some!
20-Minute Moo Shu Pork Recipe | 1-Minute Video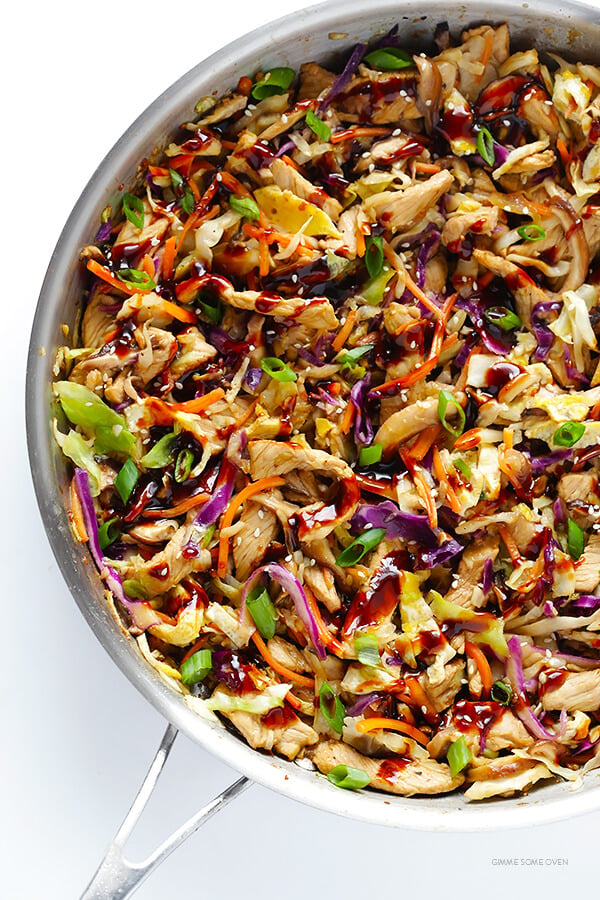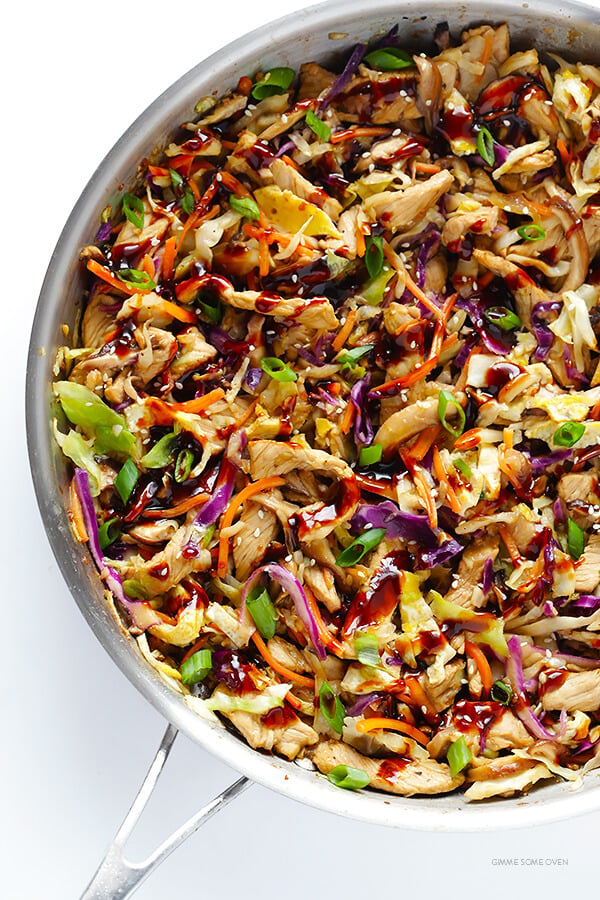 So, I was a little too excited about a few shortcuts I discovered to making Moo Shu extra-speedy at home:
Instead of taking the time to chop up a green and purple cabbage and some carrots — you guessed it — just buy a bag of your favorite cole slaw!  (Organic, if you can.)  I found one with green and purple cabbage, but either or both colors will do.  I really loved the pop of the purple against the other colors.
Instead of chopping up a bunch of mushrooms (and traditional moo shu uses shiitake and wood-ear/black mushrooms), I just went for the prepared package of thinly-sliced shiitake mushrooms.  If you can't find them pre-sliced, you can obviously slice them yourself.  And if you can't find shiitakes, white button or baby-bella mushrooms will also work.
Instead of taking the time to make those homemade flour Mandarin pancakes — which I love at Chinese restaurants — I took the easy route and just used some Mexican flour tortillas.  Not quite the same, but still delicious and ultra-easy.
Other than that, the basic stir-fry instructions are pretty simple!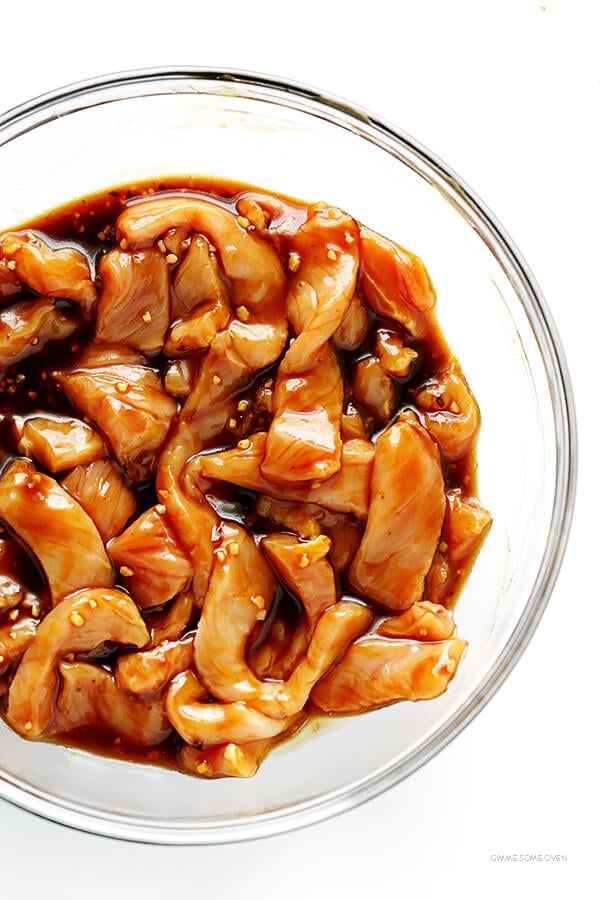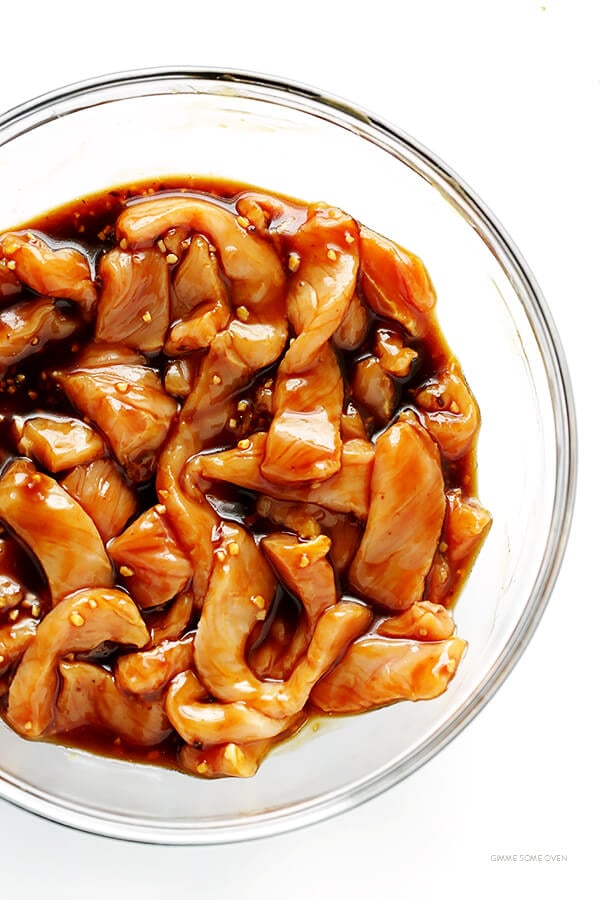 Just whip up a simple marinade, and toss half of it with your thinly-sliced pork or chicken, setting aside the second half of the marinade to be used in cooking.
Then while the meat marinates, cook your eggs.  And then saute the meat (discarding its marinade).  And then saute the veggies.  And then toss the reserved marinade in the pan and saute everything all together until it's cooked and evenly-coated in the sauce.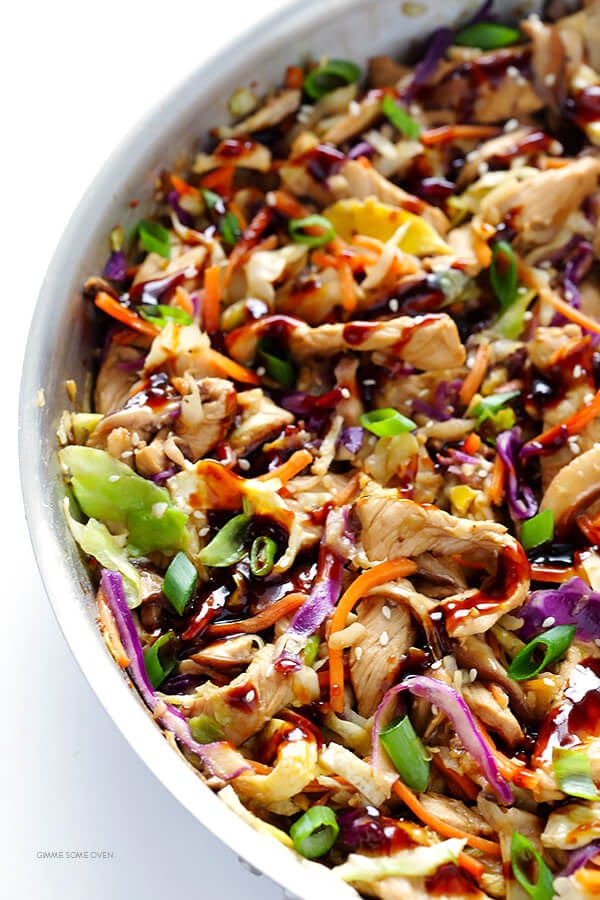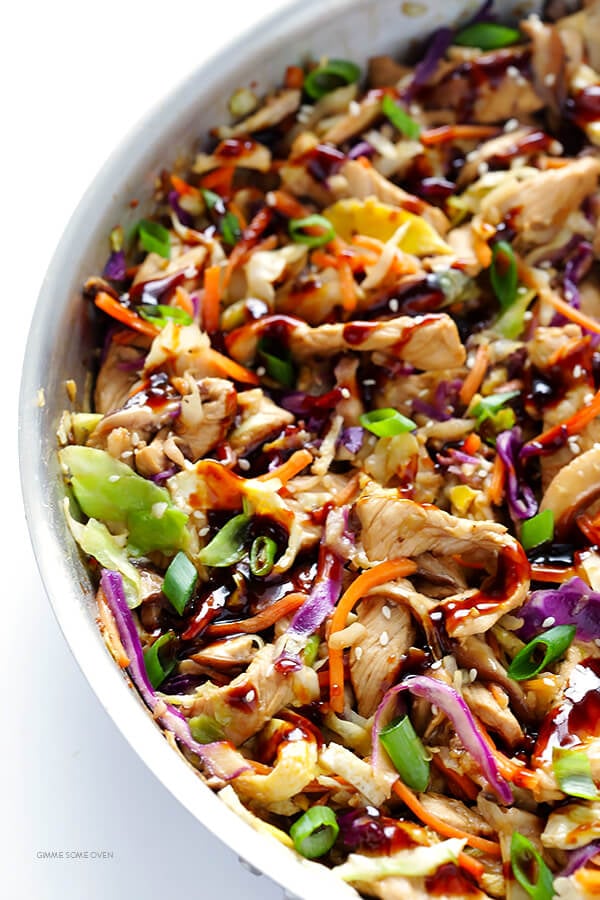 Then, this rainbow of deliciousness if going to be yours to enjoy.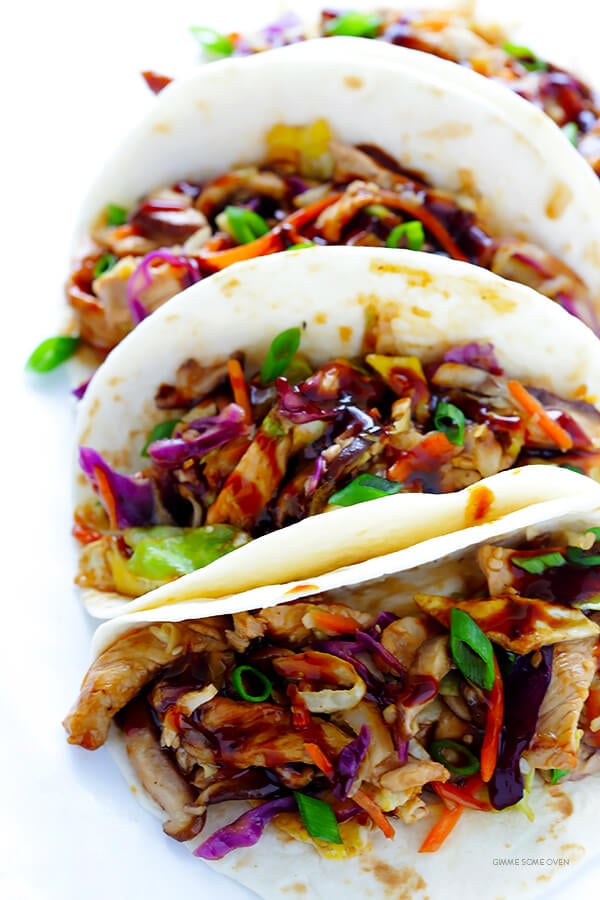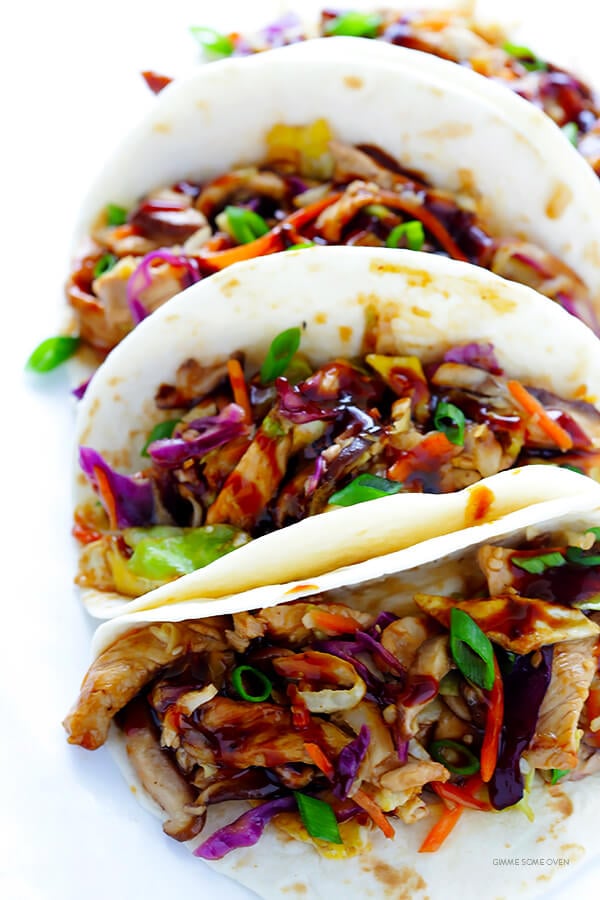 Serve it up in some flour tortillas, or lettuce cups, or over a bed of rice, or whatever sounds good.  Then drizzle with a little extra hoisin if you'd like.  And voila — a delicious batch of homemade Moo Shu is ready for dinner!
Totally easy.  Totally colorful.  Totally packed with veggies and protein.  And totally delicious.
Enjoy!  And happy DST to all of you!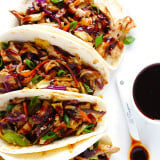 20-Minute Moo Shu Pork (or Chicken)
This 20-Minute Moo Shu Pork (or Moo Shu Chicken!) recipe is quick and easy to make, full of fresh and delicious flavors, and it tastes just as good as the restaurant version!
Ingredients:
Marinade Ingredients:
Moo Shu Ingredients:
1 pound boneless pork chops (or boneless skinless chicken breasts), sliced into very thin strips
marinade (see below)
3 tablespoons peanut or vegetable oil
2 large eggs, whisked
1 (14-ounce) bag coleslaw
8 ounces shiitake mushrooms, stemmed and thinly-sliced
4 scallions, thinly sliced (green parts only)
for serving: flour tortillas, lettuce cups, rice or quinoa
optional toppings: extra hoisin, extra soy sauce, extra thinly-sliced green onions, toasted sesame seeds
Directions:
To Make The Marinade:
Whisk all ingredients together in a medium mixing bowl until combined.  Separate the marinade into two portions — one to marinate the meat, and one to serve as the cooking sauce.
To Make The Moo Shu Pork:
Add the thinly-sliced pork (or chicken) to half of the marinade, and toss until the meat is evenly coated in the marinade.  Set aside for 5 minutes.
While the meat is marinating, heat 2 teaspoons oil in a large saute pan or wok over medium heat.  Add the whisked eggs, and let them sit and until they are cooked and form a large omelet.  Transfer the eggs to a separate cutting board, and set aside.  When you have a chance (while the pork is cooking), chop the omelet into small, thin pieces.
Return the pan to the stove, and increase heat to high heat.  Add 1 more tablespoon of oil, and then use a pair of tongs (or a fork) to lift the meat out of the marinade and transfer it to the pan, discarding the marinade.  Saute the pork, breaking it up and stirring it with your tongs occasionally, until it is cooked and tender, about 3-4 minutes.  Then transfer the pork to a separate plate, and set aside.
Add the remaining oil to the pan, along with the cole slaw, mushrooms, and half of the scallions.  Saute for 2-3 minutes, or until the cabbage begins to wilt and softens.
Add in the reserved marinade for the sauce, and toss to combine.  Cook for an additional 2 minutes.  Stir in the cooked pork and chopped eggs, and toss until combined.  Taste, and season with extra salt and pepper (and/or hoisin or soy sauce) as needed.  Sprinkle with the remaining green onions.
Serve immediately with flour tortillas (or lettuce cups, rice, or quinoa), and garnish with optional toppings if desired.
I just drizzled some extra (warmed) hoisin on top of the skillet before serving, and also drizzled a little extra on the tacos because I'm obsessed with hoisin.  But feel free to just use as little or more as you'd like.
If you make this recipe, be sure to snap a photo and hashtag it #gimmesomeoven. I'd love to see what you cook!
This post contains affiliate links.